Rava Laddu is a South Indian Sweet made with semolina, sugar, ghee, cashews and raisins. Rava is the Indian term for semolina & laddu are sweet balls. Also known as suji ladoo in other parts of India, these are usually made during festivals & are great to gift. These rava ladoo are delicious, aromatic and have a melt in the mouth texture with a slight crunch.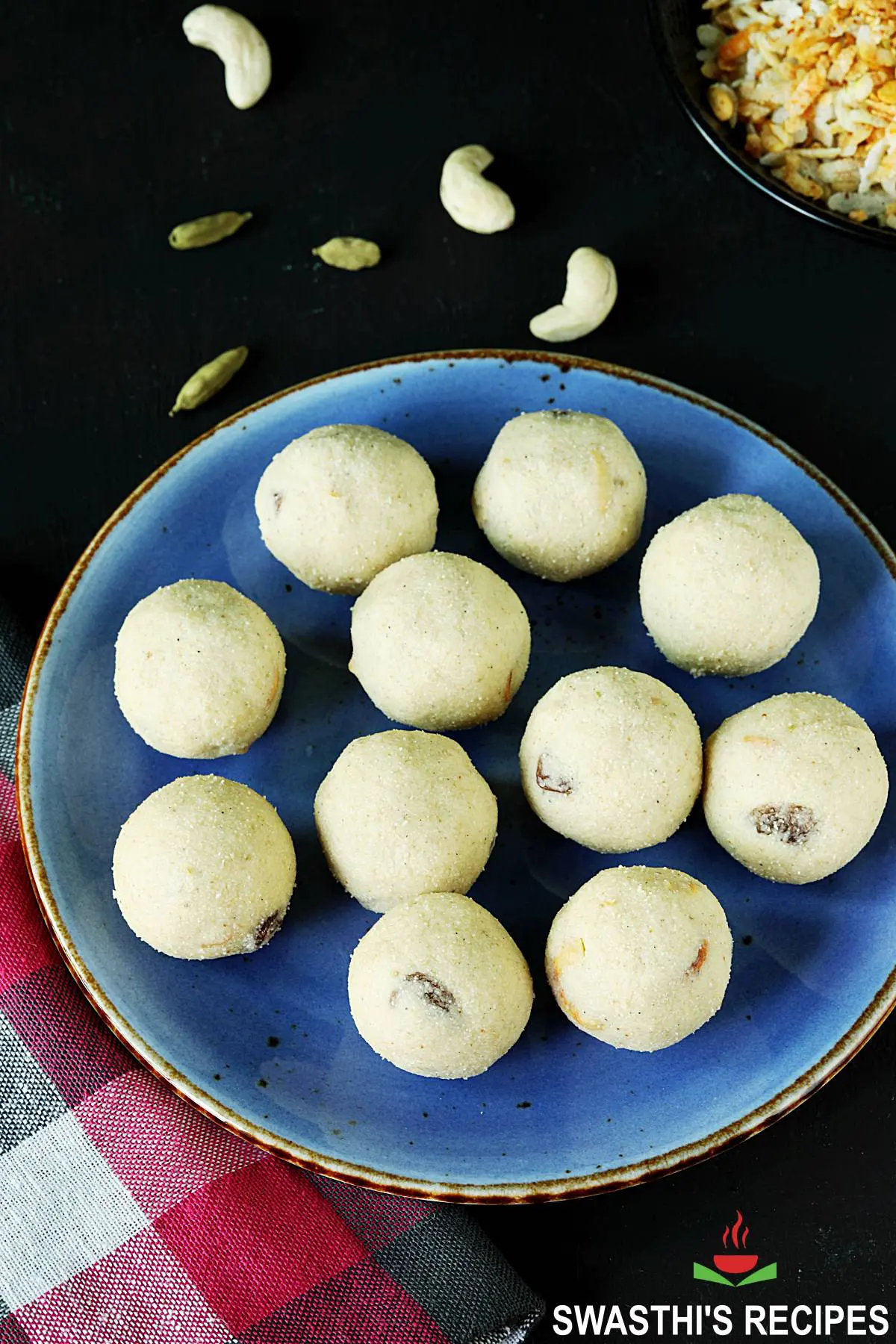 About Rava Laddu
Rava laddu are sweet balls made primarily with semolina (rava, suji) as the main ingredient. Various ingredients like ghee, coconut, sugar, jaggery, cardamoms, cashews and raisins are also used. These are traditionally made during Indian festivals like Ganesh Chaturthi, Navaratri, Diwali and Sankranti.
Ladoos are Indian traditional ball shaped sweets made with flour, sugar, cardamom powder and pure ghee. In rava laddu recipe, flour is replaced with fine semolina which is the star ingredient.
While rava laddu are immensely popular in the Telugu speaking state of Andhra Pradesh, these are also made in other South Indian states of Tamil nadu, Karnataka and even in the western Indian state of Maharashtra.
There are a few different ways of making these rava ladoos. In Maharashtrian cuisine it is made with sugar syrup. In this post I share my Mom's recipe, made in Andhra style.
Like Besan ladoo these are also made with only pure ghee and no water, sugar syrup or milk is used. So they have a good shelf life and can be stored at room temperature for a month.
However if you do not prefer ghee at all you can still make these with milk. But the texture of the ladoos made with milk is different.
So if you want to make rava ladoo with milk, make the mixture & store it in a jar for up to a month. When needed just take a portion of this to a bowl and bind it with some milk. It only takes 5 to 6 mins to bind 4 to 5 ladoos.
These rava ladoos can also be made vegan by using thin coconut milk.
More ladoo recipes
Coconut ladoo
Besan ladoo
Boondi ladoo
Maladu
How to Make Rava Laddu (Stepwise photos)
Roast Semolina
1. To a heavy bottom pan, add 1 cup semolina and ¼ cup desiccated coconut. Begin to dry roast on a medium heat stirring continuously for even roasting.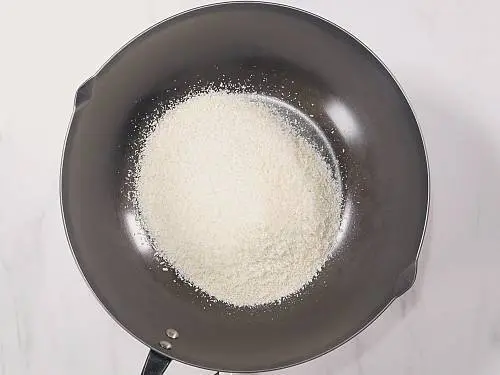 2. After 6 to 7 minutes you will begin to smell it good. Turn off the stove. Rava should be crunchy& light at this stage. It should get an even light golden color & do not brown it. Keep this aside to cool.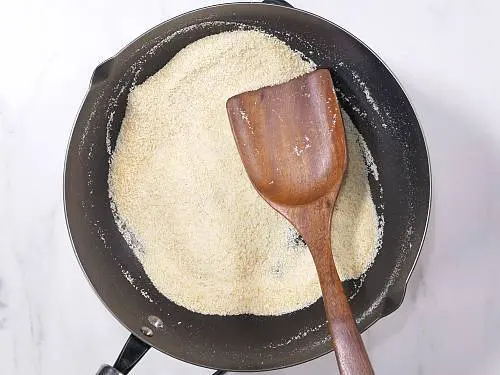 3. Meanwhile add ¾ cup + 1 tablespoons sugar (165 grams) to a grinder jar. If you prefer less sweetness, you can reduce it. I use as mentioned. Also add cardamom powder or 3 whole cardamoms.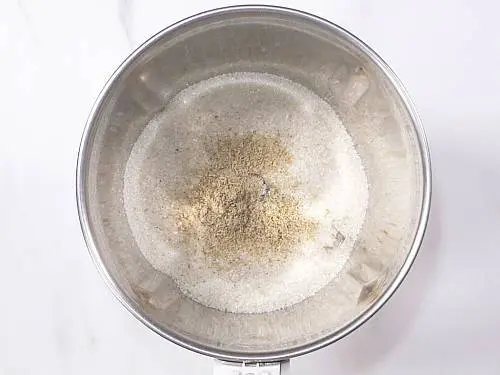 4. Grind it to a fine powder. Let the sugar rest in the jar for 3 to 4 mins.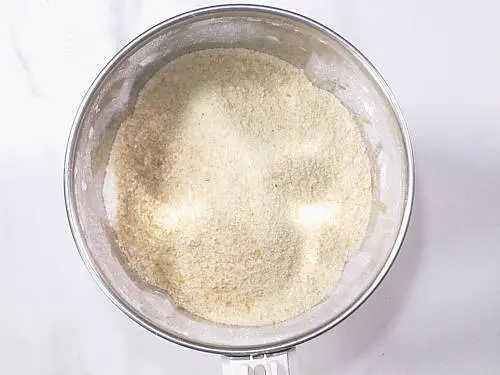 5. Then add roasted semolina and coconut. Grind it again well. Take a generous pinch of this powdered semolina and taste test it. It should be slightly coarse and not too coarse. You should feel the slight crunch in the semolina. If it is too coarse then grind it further for a little longer.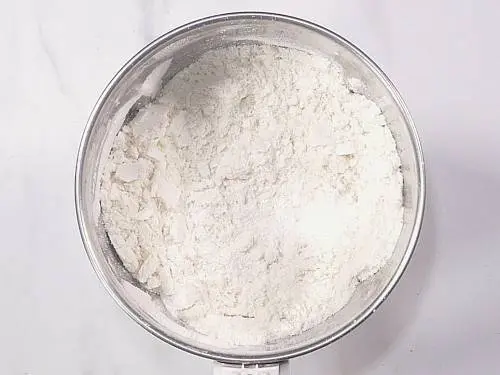 6. Transfer to a large mixing bowl and keep aside. If you prefer to use milk, then transfer this to a clean air tight jar and store it. When needed, add some roasted nuts and pour little warm milk and bind it.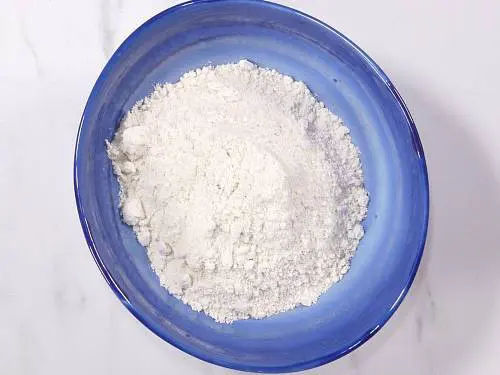 Fry Nuts
7. Pour 4 tbsps + ¾ tablespoon ghee to a hot pan. Add cashews and fry them until light golden. Then add raisins and give a good stir. Turn off.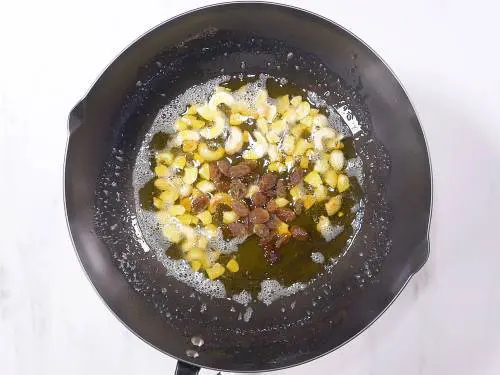 8. The residual heat will fry the raisins further.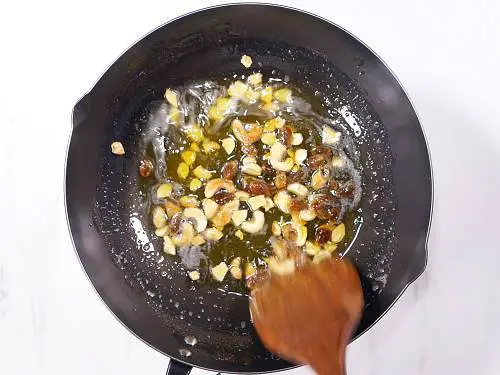 Shape Rava Ladoo
9. Then pour this hot ghee along with nuts & raisins to the rava ladoo mix. Ensure you don't use your hand immediately as the ghee is very hot. Use a spoon and mix it well to incorporate with the mix.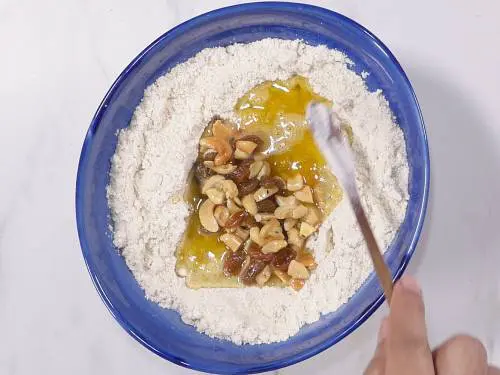 10. Then use your clean dry hand and mix everything well.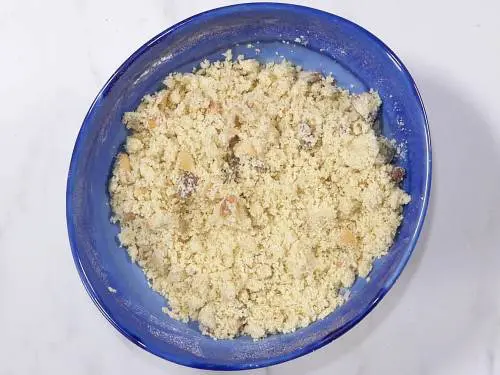 11. While the mixture is still slightly hot, take small portions of this to your palm and press down well to bind it. You will need to press down each rava ladoo at least for 60 to 90 seconds. (Check video). If the mixture does not bind well to ladoo, heat a few tablespoons of ghee and pour the hot ghee & mix. You can also use milk. I did not use more ghee or milk but this may vary depending on the temperature or weather conditions.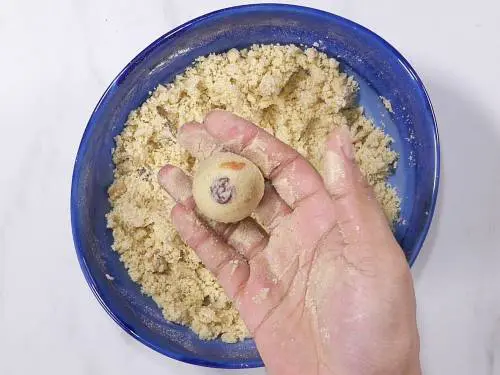 11.Cool them completely. Store in an air tight jar and keep in a dry place free from moisture. They will last for a minimum of 1 month.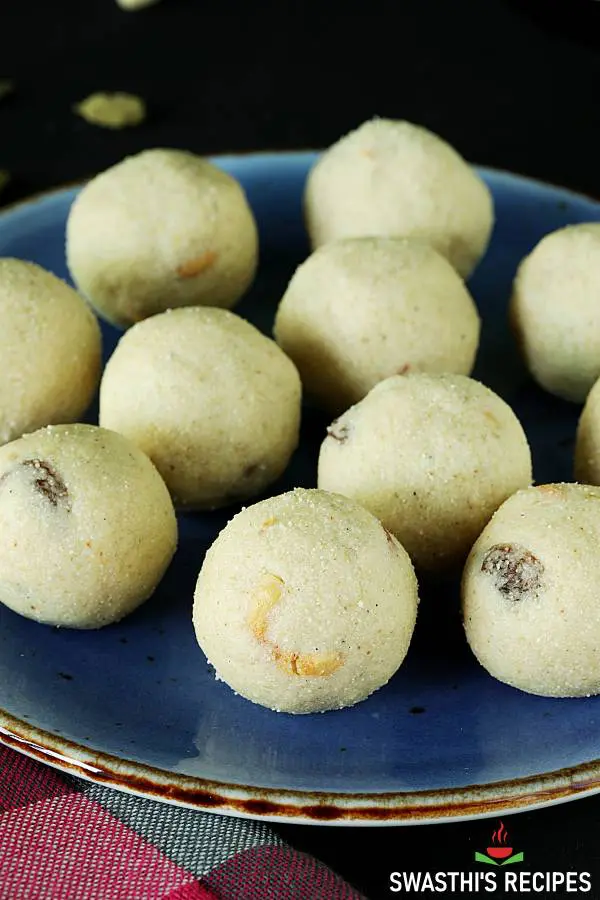 Ingredients & Substitutes
Coconut (fresh vs copra vs desiccated coconut): My mom always made these with copra (dried coconut) as it is more nutritious. You can use desiccated coconut or copra.
If you want to use fresh coconut, then dry roast it separately on a very low heat until all the moisture evaporates. Ladoos may not keep good for more than 7 days. So refrigerate them.
Ghee (ghee vs milk): Please use good quality ghee. I prefer this homemade ghee. Do not use overcooked ghee as it alters the flavor of ladoos & the taste of ghee will be overpowering.
For a low fat ladoos, you may use half ghee and half milk for binding or only milk but that alters the texture and flavor. In this case use up the ladoos on the same day.
Semolina (fine suji vs broken wheat): To make these most commonly, Bombay rava (upma rava) is used. But they can also be made with chiroti rava.
If you do not have Bombay rava and want to use broken wheat or daliya then simply grind the rava first in a blender until coarse and then roast it. You have to roast the rava a little longer. With broken wheat you have more of a nutty aroma due to the bran.
Sweetener (Sugar vs jaggery): Sugar is the best sweetener for these rava laddu. But you can use jaggery if you want. It won't taste the same and in fact none at home liked these with jaggery.
If you taste the sugar version you may not like the jaggery suji ladoos. Store bought jaggery powder is the best and avoid using ball jaggery.
Nut powder: For a more nutty rava ladoos, substitute coconut with almond or cashew meal. For this you can use toasted nuts, blend them in your blender first and set aside. Then powder the sugar.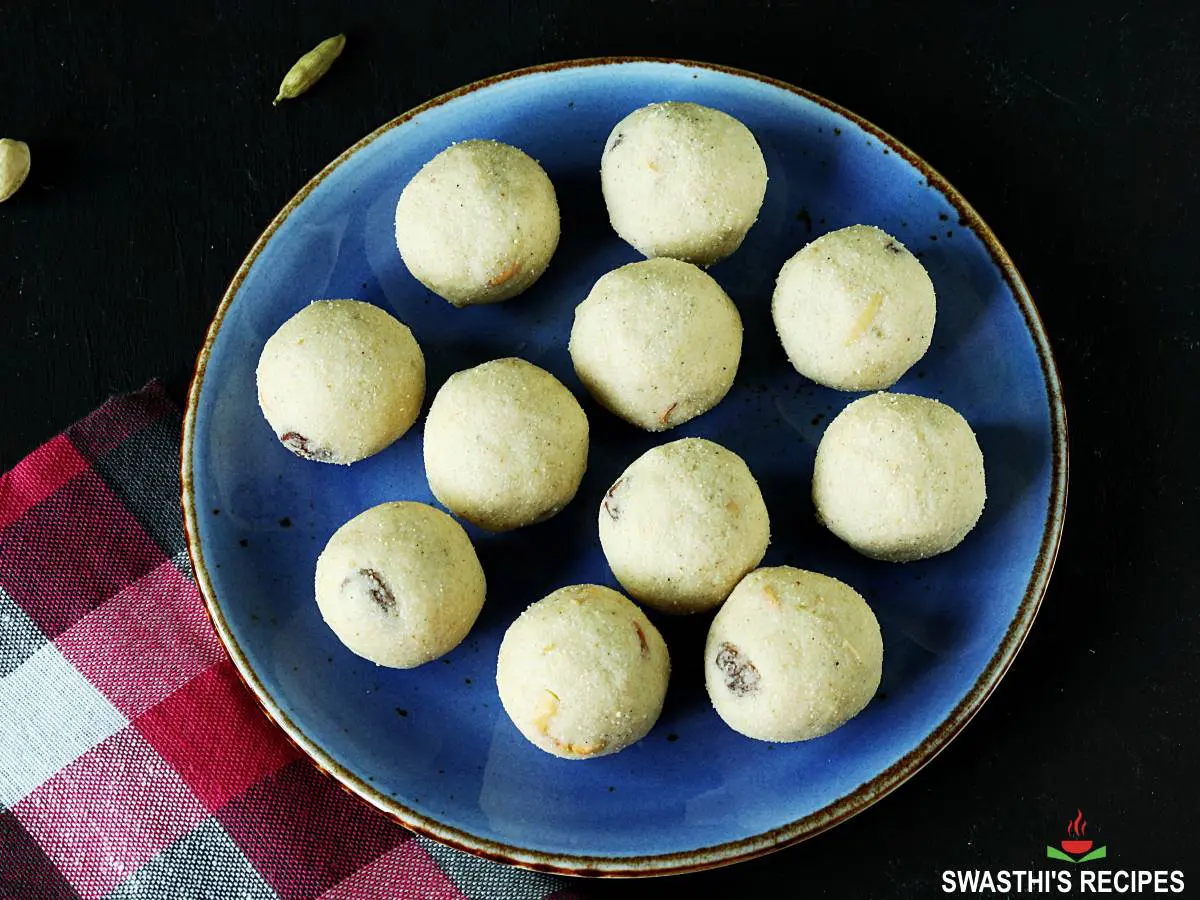 Pro Tips
Frying rava: The key to making good rava laddu is to fry the rava well on a low to medium flame. It should begin to smell good, aromatic & not have a raw flavour. Do not brown it as the aroma completely changes. Also use a heavy bottom pan.
Texture of rava ladoo mixture: Rava ladoo is not made with fine powder. The main taste comes from the slightly crunchy rava in the ladoos. So always powder the roasted rava to a slight coarse powder and not super fine.
If you make it fine like flour, the ladoos will stick to the mouth while you eat.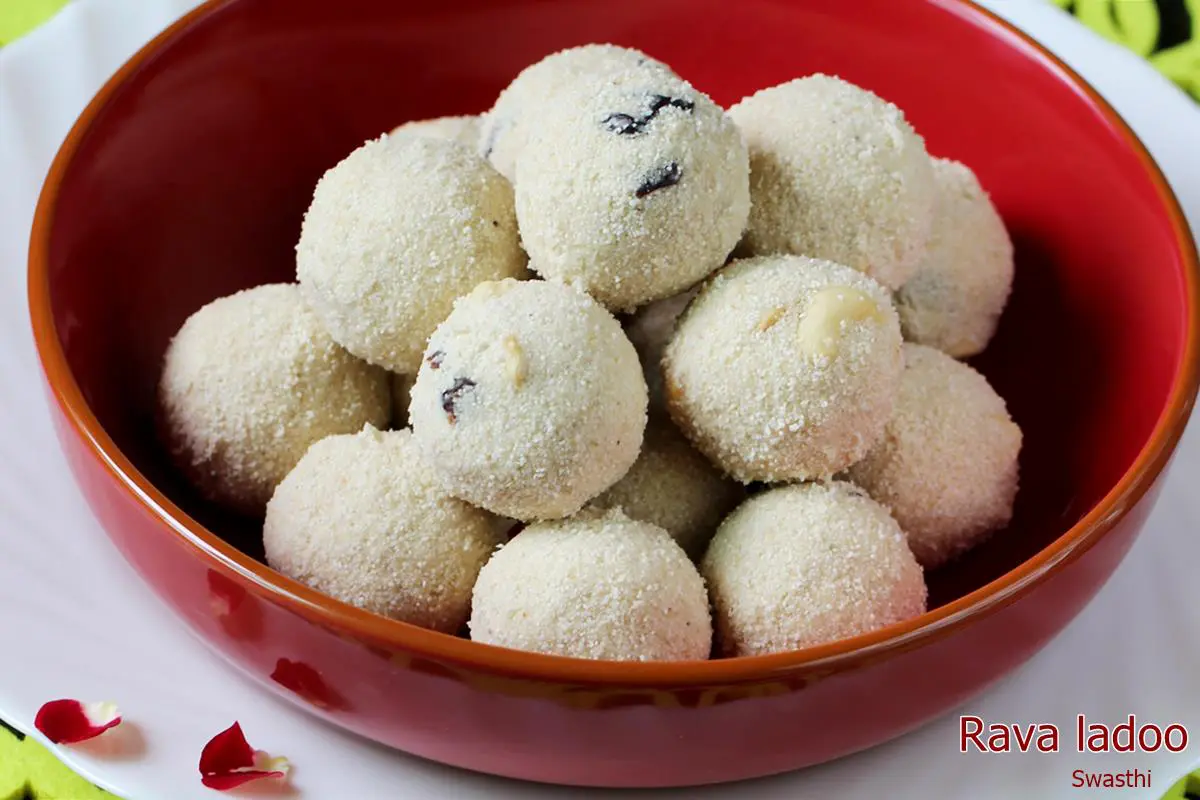 Faqs
Can I make rava laddu with wheat rava or daliya?
Yes you can use whole wheat rava or daliya which is the broken wheat. To use this, grind the rava to a coarse texture in a small grinder and then roast it as mentioned in the recipe. But note that this takes a little longer than roasting the semolina. Since it has more bran the ladoos will taste nutty and has more aroma of the bran/ wheat.
Can I use oil for making rava ladoo?
I won't suggest using oil for these ladoos. Instead use milk for binding the ladoos, dry roast the semolina and nuts. But you will miss the aroma of ghee.
How can I make vegan rava laddu?
Dry roast semolina and nuts and avoid ghee. For binding use coconut milk. You can also grind half cup coconut with ¼ cup water until smooth. Extract the coconut milk by strain it through a muslin cloth. Start with only 3 tbsps and add more if required. Note these ladoos are good to consume immediately or within a few hours.
Can I use jaggery to make these rava laddu?
Yes you can use but the taste will be completely different. You can simply blend powdered jaggery with powdered rava. Then add hot ghee and mix well to form ladoos.
Why did my ladoos not set or bind?
Ghee is the only binding ingredient used here. If your ladoos does not set well it means enough ghee has not been used. Melt more ghee and add only a tbsp. at one time and try to bind them. The other reason can be that you did not put enough pressure to bind the mixture. This mixture requires little pressure from your hands to bind well.
How to store these rava laddu?
Store them in an air tight jar at room temperature for a month. If you use fresh coconut, jaggery or milk in the recipe then the shelf life will be lesser. So refrigerate them.
Related Recipes
Recipe Card
Use fine semolina also known as Bombay rava or upma rava.
If you prefer to use only milk and avoid ghee completely, then read my tips in the post.
If you use copra you may not need the extra 3/4 tablespoon ghee as copra releases some oil when powdered.
This recipe is not forgiving, so stick to the measurements. If you change the quantities the mixture may not bind to ladoos.
Bind the mixture to ladoos when the mixture is slightly hot. It won't bind if the mixture cools down as the ghee hardens.
I use the same quantity of ghee mentioned in the recipe. But it may vary slightly depending on the temperature or weather conditions.
Alternative quantities provided in the recipe card are for 1x only, original recipe.
For best results follow my detailed step-by-step photo instructions and tips above the recipe card.
Nutrition Facts
Rava Laddu Recipe | Rava Ladoo
Amount Per Serving
Calories 165
Calories from Fat 54
% Daily Value*
Fat 6g9%
Saturated Fat 4g25%
Cholesterol 10mg3%
Sodium 1mg0%
Potassium 51mg1%
Carbohydrates 26g9%
Fiber 1g4%
Sugar 14g16%
Protein 2g4%
Calcium 3mg0%
Iron 1mg6%
* Percent Daily Values are based on a 2000 calorie diet.