Thokku in Telugu means "Pounded" (crushed) and Tomato Thokku literally translates to Tomatoes that have been crushed with spices. Made in various ways, tomato thokku is a simple side dish that is a staple in South Indian homes, especially in Andhra Pradesh and Tamil Nadu. This tomato thokku is the simplest you can make without actually have to crush the tomatoes. A lot lesser work because you don't actually have to cook, cool & crush the tomatoes in a grinder.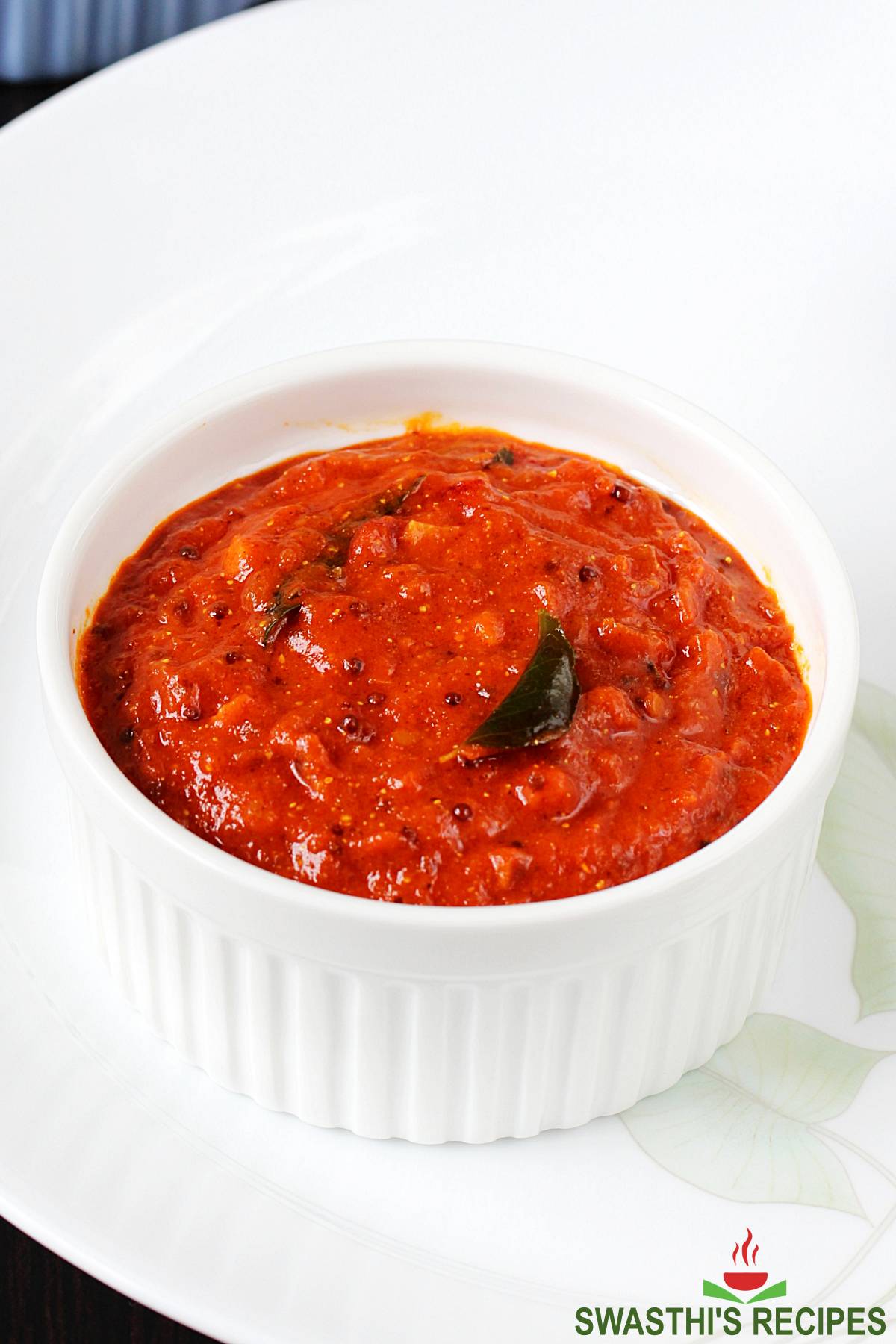 In South India, You will find many ways of making tomato thokku, ranging from a simple basic chutney like condiment to a pickle like tasting dish. So there is no one right or wrong way to make a tomato thokku.
In traditional Telugu speaking households, many kinds of Thokku are made with various ingredients like, using raw green mangoes, unripe tamarind, fresh red chilies and even with green unripe tomatoes and ripe tomatoes.
Mamidikaya thokku, Chintakaya thokku, Mirapakaya thokku are some of such preparations. Some kinds can be preserved for longer than a year while the rest do not keep good for longer than a day.
About Tomato Thokku
Basically a Thokku is made by slightly crushing the ingredients in a manual stone motar using a pestle. This traditional equipment helps in achieving a coarse texture and retain the flavours of the spices.
Thokku made using such stone motar & pestle taste much flavorsome as they are not crushed in a high speed electric grinders which actually diminish the flavours. Since the modern world has moved away from such equipment, tomato thokku in the present days is made in numerous ways.
This Tomato thokku tastes tangy, hot, spicy, slightly sweet & has a traditional thokku like coarse texture. It goes well with plain rice, snacks and with all breakfasts like idli, dosa, parathas and uttapam. I can say this recipe is a cross between the Tomato Chutney and the Tomato Pickle I have shared earlier.
You can also make a big batch as it stores well for a month & can be easily tweaked to your taste. You can reduce the red chilli powder to make it less spicy.
Since this is a no-blend dish, deseed the tomatoes before cooking. Also use ripe tomatoes that are not too sour. The recipe is divided into 2 simple steps – first sauté and cook the tomatoes. Lastly add the spice powder and temper the thokku.
More Recipes
Tomato Chutney
Easy Tomato Rice
Tomato Bath
Tomato Rasam
How to Make Tomato Thokku (Stepwise photos)
Preparation
Heat a pan with 1 tablespoon oil. When the oil is hot add ¼ teaspoon mustard seeds and 1 tablespoon fine chopped ginger. Saute them well until the ginger turns fragrant but not burnt for about 30 to 60 seconds.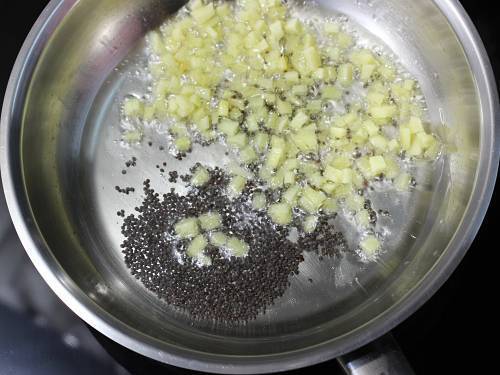 Then add 500 grams of chopped deseeded tomatoes and ½ teaspoon salt. Saute them for 2 to 3 mins.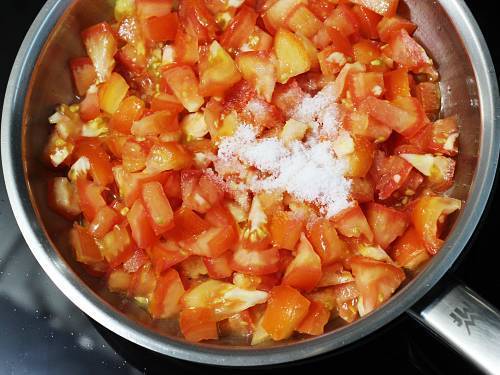 Cover the pan and cook until completely mushy and soft.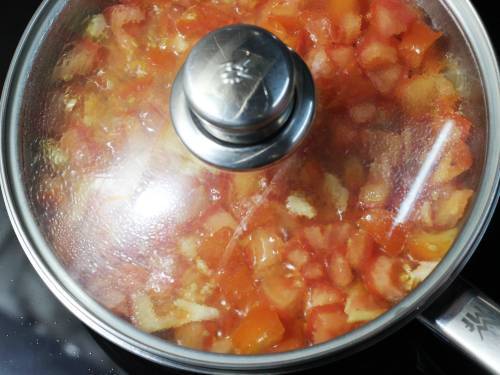 Open the pan and give a good stir. Cook until the mixture turns slightly thick. You will need to evaporate the juices a bit. If the tomatoes are too chunky, mash them with a spatula.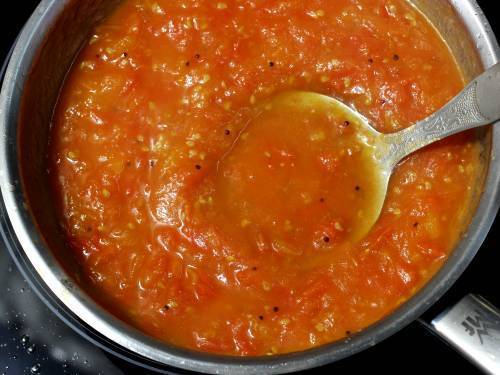 This is the consistency you must be looking for before adding the spice powders. Then add 1 tablespoon jaggery (sugar), 1/8 teaspoon turmeric & 2 tablespoons red chilli powder. I also add ½ teaspoon mustard powder and ¼ teaspoon roasted methi seeds powder. Use them only if you like the flavors. Mustard powder imparts a pungent flavor and roasted methi seeds powder will impart slight bitter tones with a nutty aroma.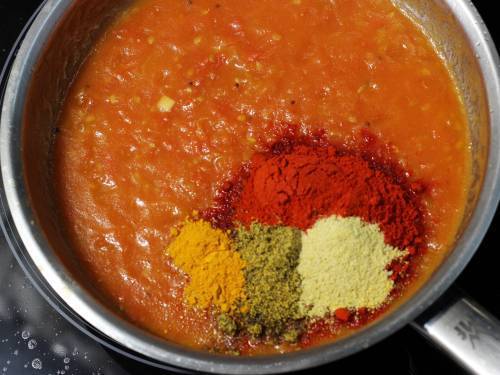 Give a good mix & taste test. Add more salt & red chilli powder if needed. Cook for 2 mins and turn off. Do not overcook at this stage.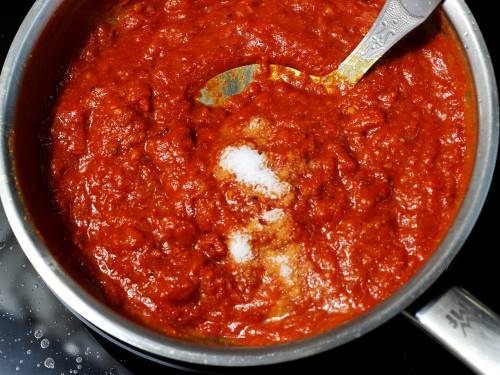 Temper Tomato Thokku
In another small pan, heat 1 to 2 tablespoons oil. Then add ¼ teaspoon mustard seeds ½ tablespoon ginger (optional). When the ginger turns fragrant, add curry leaves and hing. Turn off when the curry leaves turn crisp.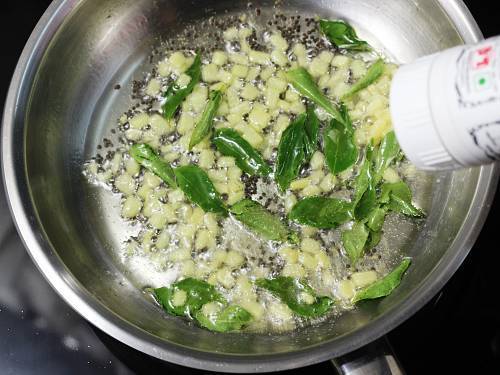 Pour this over the hot tomato thokku. Give a good stir and cool completely before storing in a glass jar. This keeps good at room temperature for 2 days and a couple of months in the fridge. This tomato thokku develops a good flavor after a day.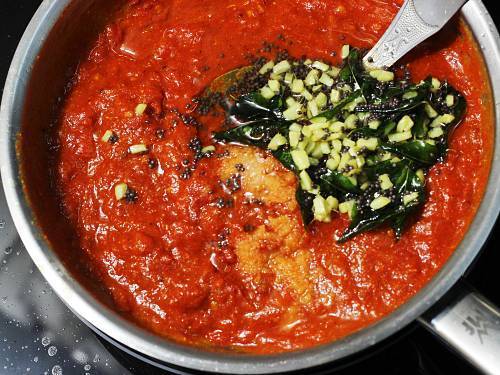 Serve tomato thokku with any snacks, breakfasts and even with plain rice. We usually mix this with hot rice and ghee.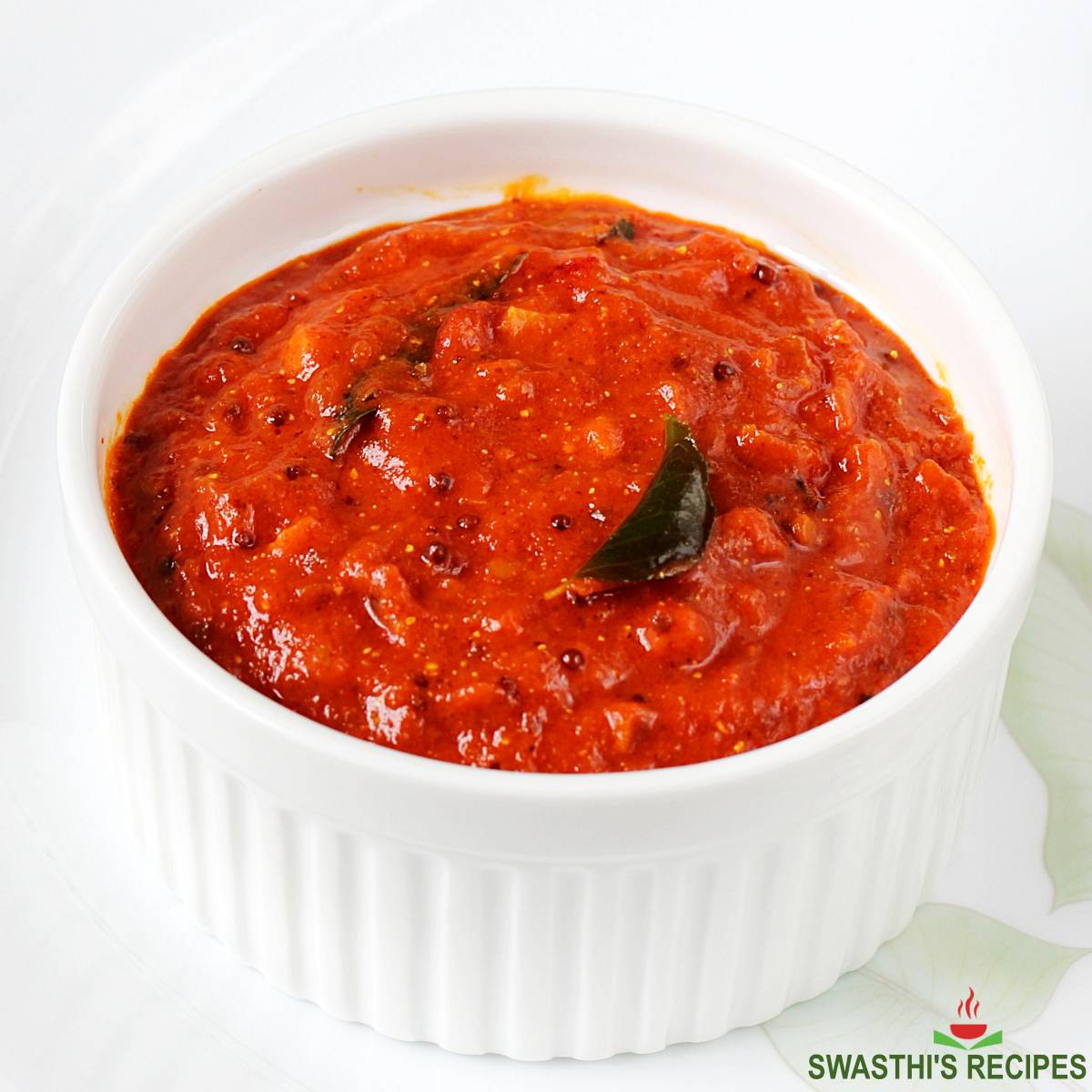 Recipe Card
To store it longer use more oil and cook the thokku for a little longer until it turns thick and begins to release oil on the sides.
Nutrition values are per serving – 1 teaspoon
Alternative quantities provided in the recipe card are for 1x only, original recipe.
For best results follow my detailed step-by-step photo instructions and tips above the recipe card.
Nutrition Facts
Tomato Thokku
Amount Per Serving
Calories 13
Calories from Fat 9
% Daily Value*
Fat 1g2%
Saturated Fat 0.1g1%
Trans Fat 0.003g
Polyunsaturated Fat 0.3g
Monounsaturated Fat 1g
Sodium 41mg2%
Potassium 43mg1%
Carbohydrates 1g0%
Fiber 0.3g1%
Sugar 1g1%
Protein 0.2g0%
Vitamin A 252IU5%
Vitamin C 3mg4%
Calcium 4mg0%
Iron 0.1mg1%
* Percent Daily Values are based on a 2000 calorie diet.