Sunnundalu are traditional sweet balls made with urad dal, jaggery/sugar, cardamoms and ghee. Also known as sunni undalu, these are a ladoo variety popular in Andhra Pradesh, South India. Sunnundalu are made during festivals, religious occasions & celebrations. These are also offered to the deities, growing kids, pregnant women and people recovering from sickness. These high protein & high fat ladoos are said to strengthen the body by providing essential nutrients.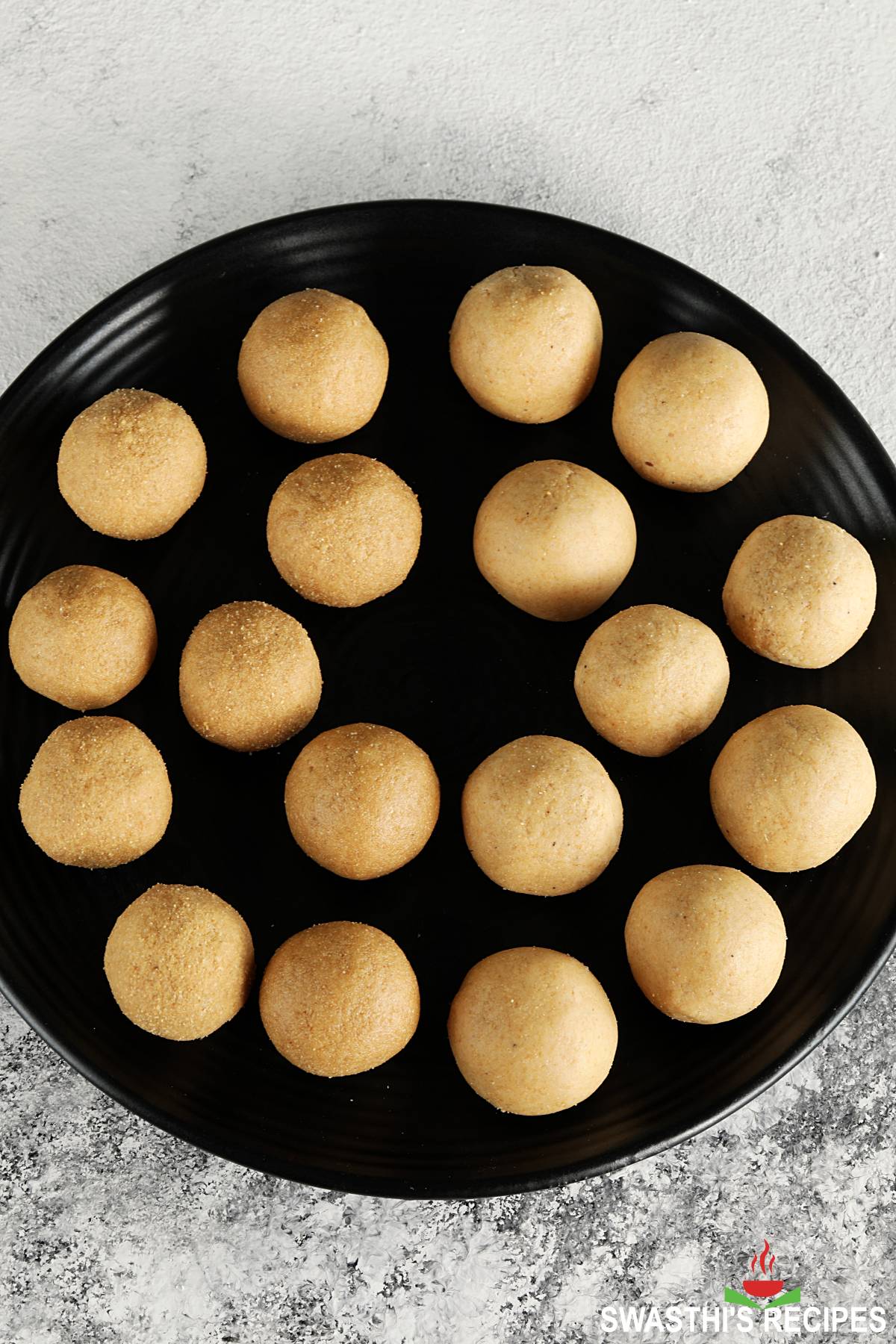 In this post I share how to make sunnadalu 2 ways – with sugar and with jaggery.
Sunnundalu
Traditionally Sunnundalu are made with black urad dal, i.e whole urad with the skin intact. These are roasted on a medium heat until super aromatic and the dal inside turns golden. Later they are cooled down and passed through a stone mill/grinder (thiragali) to split and separate most of the husk.
A small portion of the husk is still stuck to the urad dal and this adds more fiber and flavor to the ladoos. But times have changed and most people now make these with white urad dal because of the absence of stone grinder & the tedious work involved.
In the past, sunnundalu were a staple in many homes especially with growing kids. Most Telugu Speaking families make these at least once or twice a year for Sankranti, Dasara or Ugadi. A lot of people also make these to gift someone near and dear during festivals/ Pooja or Vratham.
Many people also make the mixture ready and store it for several months. Just add ghee and make the ladoos whenever required to satisfy your sweet cravings.
Sunnundalu are delicious, aromatic and addictive only if made right. My post will help you address bitter ladoos, sticky ladoos & chewy ladoos with my step by step instructions.
These urad dal ladoos can be made with sugar or jaggery. But somehow I am partial to the sunnundalu made with sugar & love these. My entire family likes the jaggery version more for its caramel like flavor. So I really cannot suggest which one is better than the other.
If you do not offer foods made with sugar to deities. Bellam sunnundalu are perfect for naivedyam.
More Ladoo Recipes
Besan Ladoo
Moong Dal Ladoo
Coconut Ladoo
Rava Ladoo
How to Make Sunnundalu (Stepwise Photos)
Preparation
I made 3x recipe so you will find more quantities in the pictures. You may skip these steps of rinsing but I always do it to get rid of any pesky stuff on the surface. Even organic lentils may have some unwanted residue.
Add 1 cup urad dal to a bowl and rinse them well thrice. Be quick while you rinse don't let the lentils soak in water for too long. Drain to a colander. Shake it gently to get rid of excess moisture.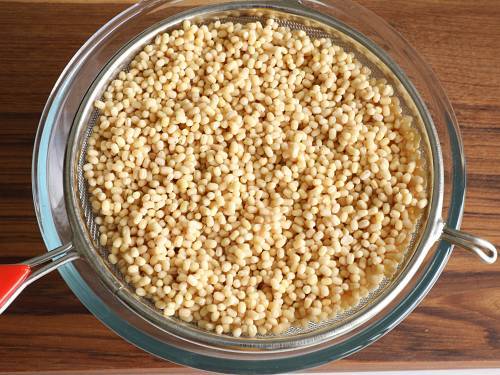 Transfer them to a clean cloth and pat dry. Or You may simply spread in a tray and let fan/air dry for 10 mins.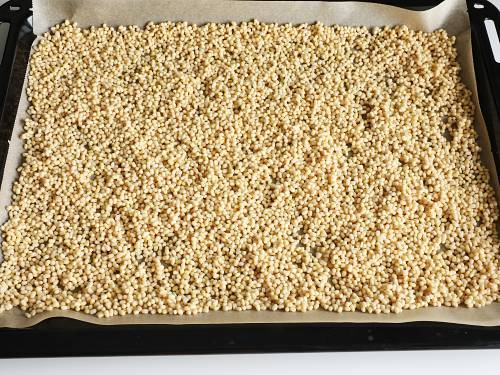 With Rinsed lentils: Transfer to a large pan and begin to roast stirring continuously on a high flame for 5 mins. Reduce the heat to medium and roast for 2 mins. Later reduce to low and dry roast for 3 to 4 mins.
With Unwashed lentils: To roast the unwashed lentils start on a medium low heat & roast for 5 mins. Keep stirring continuously so they don't burn. Reduce the heat to lowest and keep roasting until crunchy, deep golden and aromatic.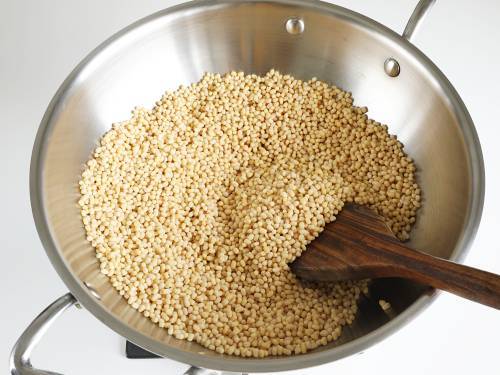 At the end of roasting, urad dal should look deep golden, taste nutty and smell very aromatic. Immediately move the pan away from the stove and keep stirring for another 1 minute. Cool a bit and taste test a few roasted lentils, they should not taste raw or sticky.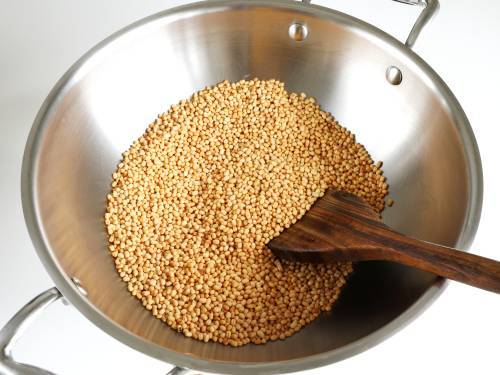 Cool completely and transfer to a grinder.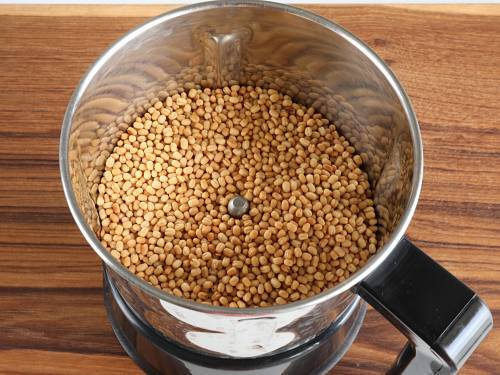 Grind to a slightly coarse powder, as coarse as super fine semolina like chiroti rava. Take a few pinches of this mixture and taste it. You should feel a very fine crunch but not too coarse. Also make sure you don't make it too fine because no one likes if they stick inside the mouth.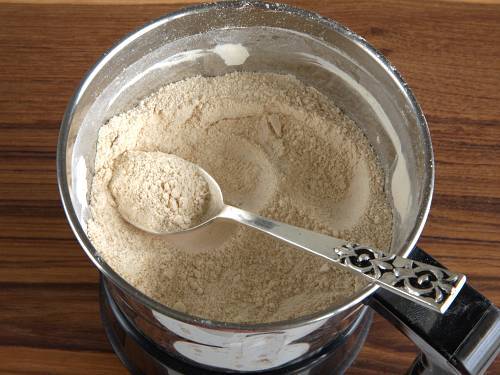 Transfer to a mixing bowl.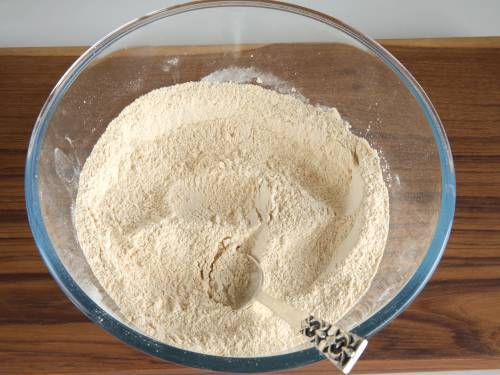 Sunnundalu with Sugar
Add 10 tablespoons organic sugar to a grinder. If you use refined sugar, use lesser. Also add 3 to 4 cardamoms.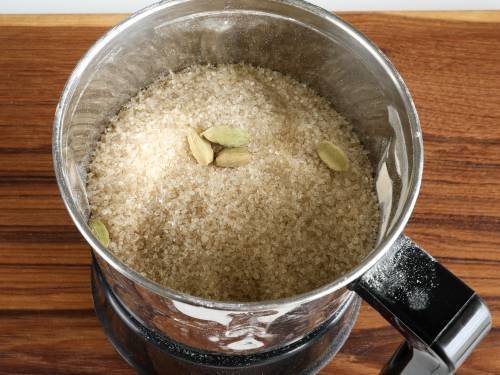 Make a very very fine powder. Test this as well.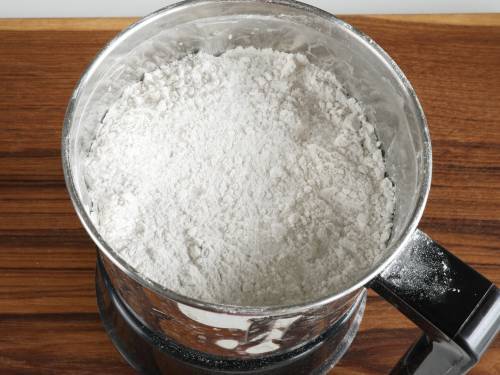 Add the powdered sugar (retain a few tablespoons in the grinder) to the urad dal flour and mix them well.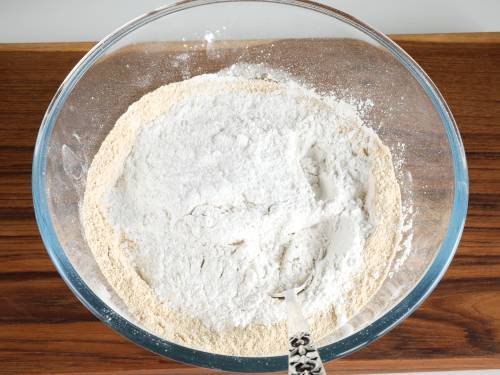 Taste test and add more powdered sugar if you want. I add all of it. At this stage if you want you may transfer it to a air tight glass or steel jar and store at room temperature for several months.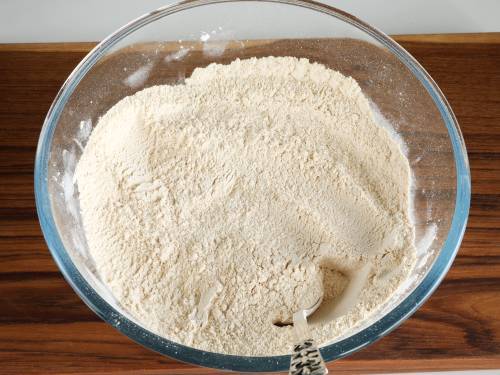 Urad Dal Ladoo with Jaggery
Add ½ grated or powdered jaggery. I used 140 grams. Mix with a spoon.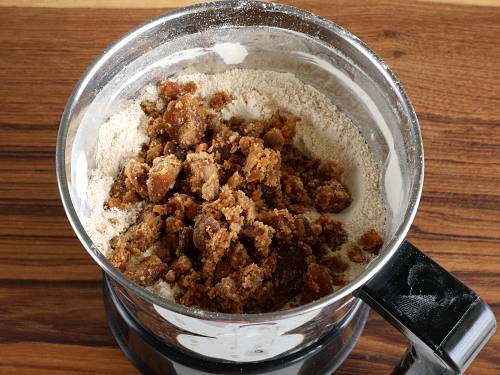 Grind all of them together. Taste test and add more if you want. I used about ¾ cup. Note that store bought jaggery powder is different so you may need more.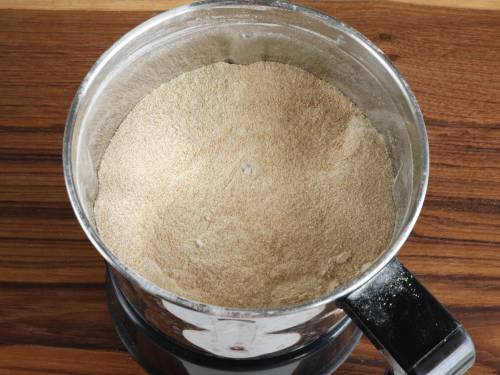 Shape Sunnundalau
Measure half cup ghee to a small pot or bowl. Heat it either on the stove or in the oven (not microwave). I usually heat a pan and then place this on the pan. this way your bowl won't become too hot but the ghee just melts and becomes hot.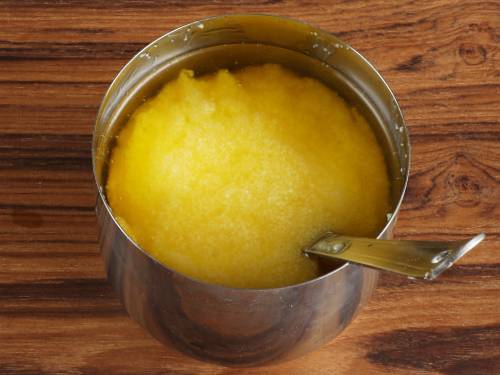 Ensure your ghee has no moisture else the ladoos won't keep good for longer.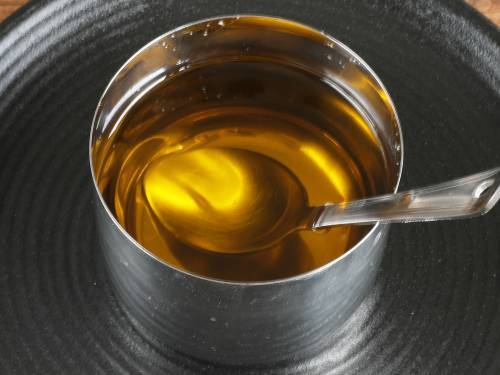 Start by adding 4 teaspoons of slightly hot ghee. Keep adding more as you require.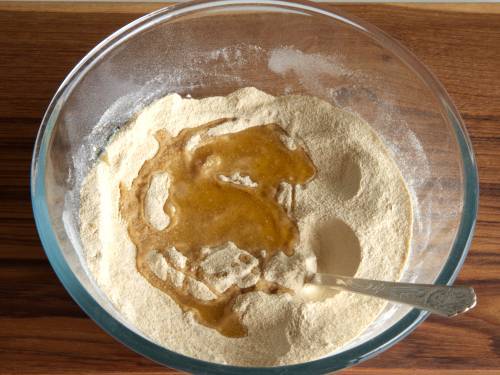 Mix only a portion of the flour with the ghee.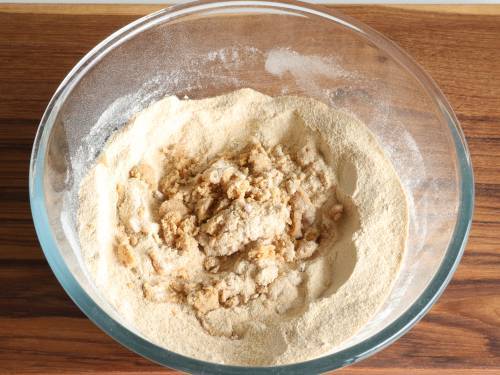 Sunnundalu mixture should look like very fine wet sand. Take 3 to 4 tablespoons of this mixture with your fingers and press down into your palm to shape ladoo. If the ladoo crumbles it means it needs more ghee. If it is soggy and out of shape, it means too much ghee. So mix in some more dry ladoo mixture.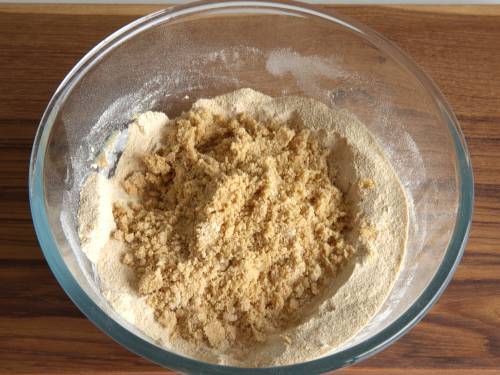 You can make big or small according to your choice.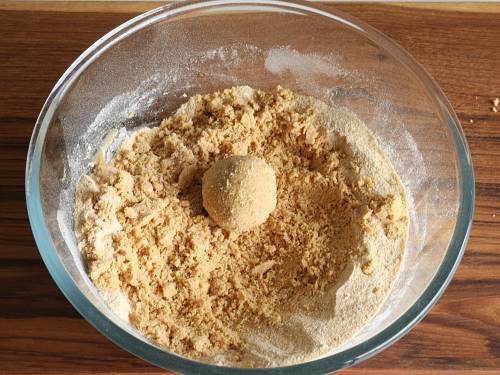 Place them on a plate. Let cool and then smoothen them again by rolling in your hand. These were the ladoos with jaggery.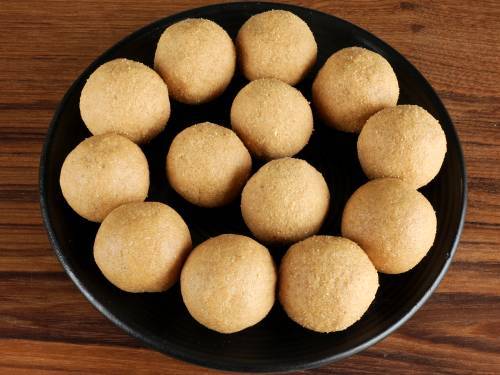 Make the sugar ladoos too the same way. Sunnundalu mixture with sugar takes up lesser ghee because the sugar melts a bit when you add slightly hot ghee. These are sunnundalu made with sugar.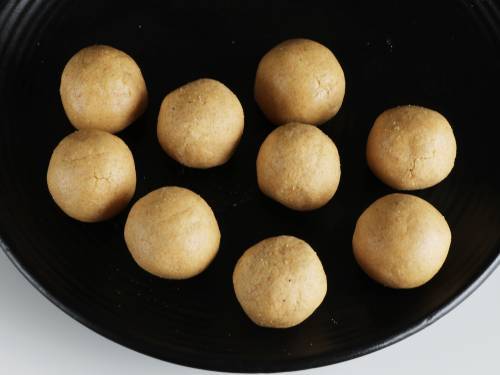 Store them in a air tight jar away from moisture. If you use jaggery finish them in a week or store them in the refrigerator. The ladoos made with sugar keep good for a month at room temperature.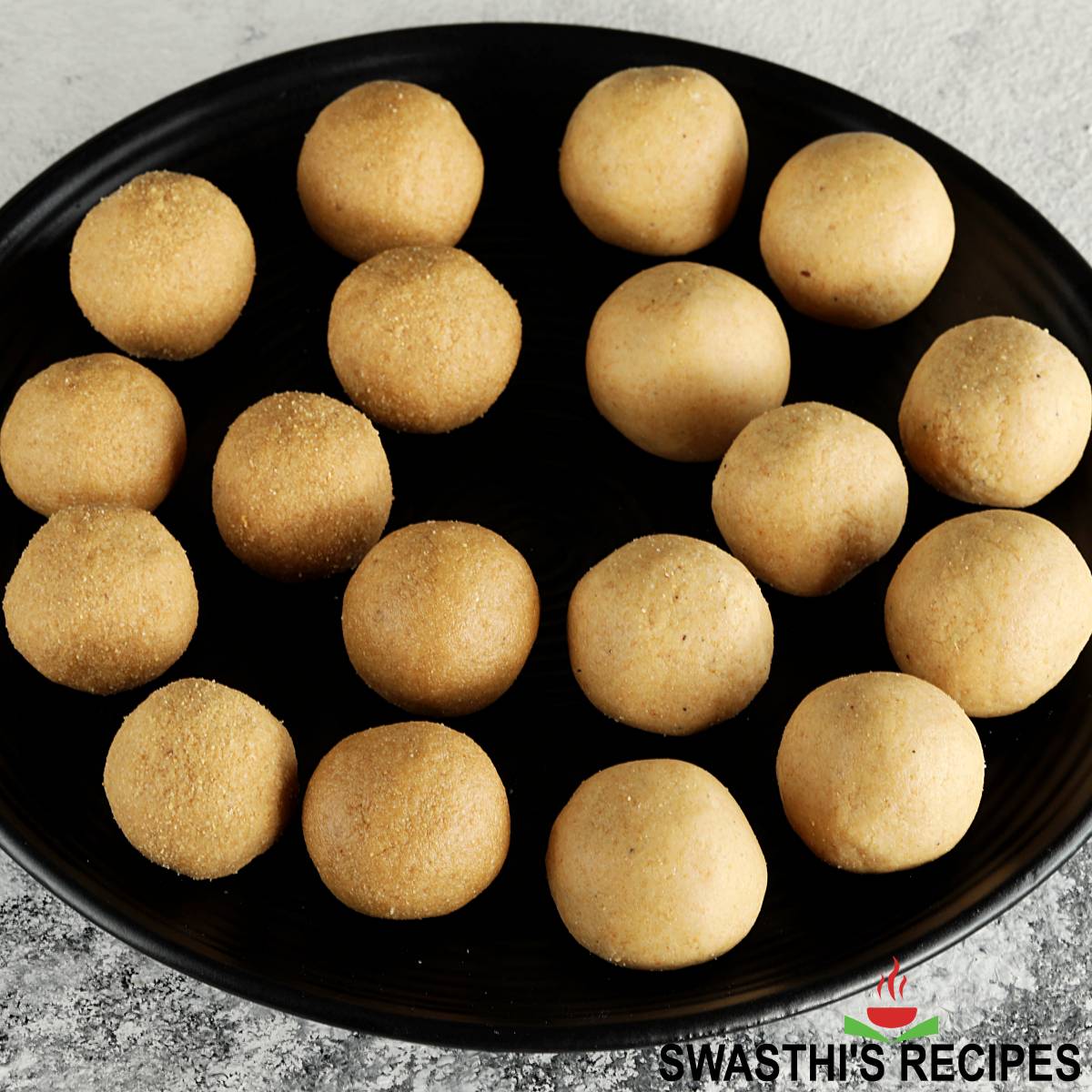 Pro Tips
Avoid Sticky Ladoos: Your urad dal flour should be slightly crunchy and not too fine like flour. However it should not be too coarse. If it is too fine it sticks inside your mouth.
Avoid Bitter Ladoos: Sometimes lentils take on bitter taste due to aging. Use fresh stock of urad dal. Also taste test before you use them for the ladoos. Also rinsing the dal helps in reducing bitter taste.
Raw Taste: Make sure you roast the urad dal very well until they are cooked through from inside. Taste test the roasted lentils to make sure they are well roasted. Unroasted urad dal can make sticky ladoos.
Don't skimp on Ghee: Ghee helps in digestion and use it generously. If possible use organic ghee made from cultured butter. It is easily digestible. Each ladoo has less than half tablespoon oil
Recipe Card
If your ghee is not cooked properly, it will reduce the shelf life. If so you may want to heat it well to make sure there is no moisture in it. Cool it a bit and use only when it is slightly hot.
Jaggery and jaggery powder are not same. Both differ in the moisture levels and sweetness. I have used the traditional jaggery here. If you use store bought jaggery powder, you may need to add more jaggery and ghee too.
Alternative quantities provided in the recipe card are for 1x only, original recipe.
For best results follow my detailed step-by-step photo instructions and tips above the recipe card.
Nutrition Facts
Sunnundalu Recipe
Amount Per Serving
Calories 158
Calories from Fat 45
% Daily Value*
Fat 5g8%
Saturated Fat 3g19%
Polyunsaturated Fat 0.3g
Monounsaturated Fat 1g
Cholesterol 12mg4%
Sodium 2mg0%
Potassium 195mg6%
Carbohydrates 24g8%
Fiber 6g25%
Sugar 13g14%
Protein 5g10%
Vitamin A 8IU0%
Vitamin C 1mg1%
Calcium 14mg1%
Iron 2mg11%
* Percent Daily Values are based on a 2000 calorie diet.
Sunnundalu recipe first published in March 2013. Updated and republished in August 2022.