Ganesh Chaturthi Wishes to Everyone! It is believed that Lord Ganesha loves Modaks & Ladoos. Let us celebrate this big day with traditional, delicious and rich homemade foods. In this post I share plenty of recipes that will help you make all kinds of toothsome foods that you can offer to the Lord during Ganesh Chaturthi. I also have plenty of ideas that make great gifts to share with your families & friends.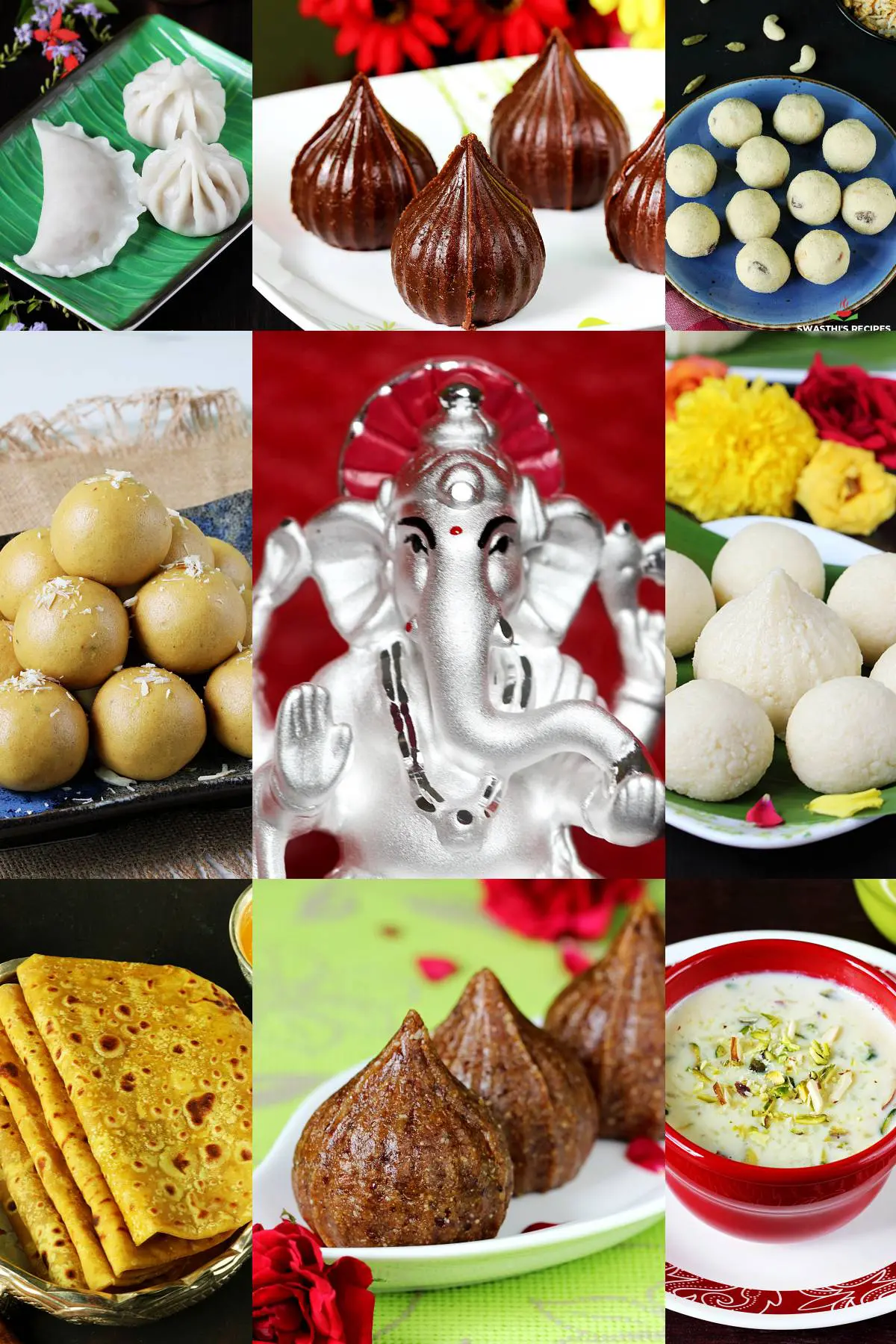 Ganesh Chaturthi Recipes
Ganesha fondly known as the "Lord of all Beginnings", the "Lord of wisdom & intelligence", is the divine son of Hindu Lord Shiva & Goddess Parvathi. Hindus across the globe believe that all good things should start with his name.
Be it a newborn's first ceremony or a new job, new home, new business – all start with a Ganesh Pooja. Ganesha is worshipped as the remover of obstacles, one who bestows his blessings & shows us the path to success.
About Ganesh Chaturthi
Ganesh Chaturthi is a Hindu festival that marks the birthday of the childlike God, Ganesha. Every year it falls on the 4th day of the Hindu calendar month Bhadrapad (Usually August or September). This year it is celebrated on 31st August.
This festival is celebrated for 10 days, the first day starts with bringing the clay idol of the Lord, home or to the pandal. He is worshipped for 10 days with grandeur and much devotion.
If you have grown up in South India or in the Western Indian states of Maharashtra, Gujarat and Goa, every year this festival brings back childhood memories which are absolute treasures for a lifetime.
Decorating the Pooja mandap either at home or in the community pandals, bringing new clay Ganesha, wearing new clothes, performing the puja, enjoying delicious foods, visiting as many pandals as possible, inviting home friends and relatives are some of the most common activities we all do (or did) in India.
Making various kinds of foods to offer Lord Ganesha, is a tradition that has been passed on to us for generations. So mostly traditional foods are prepared for offering and other kinds of foods are also made to share with others.
I have handpicked these recipes so it's easy for you to decide. I have not included any meal ideas as every family has their own traditional menu. Here is what you will find in this collection:
Featured Ganesh Chaturthi Recipe
Modak Recipe
Steamed Modak also known as Ukadiche Modak are sweet dumplings with coconut and jaggery filling. These are made during Ganesh Chaturthi to offer to God Ganesha.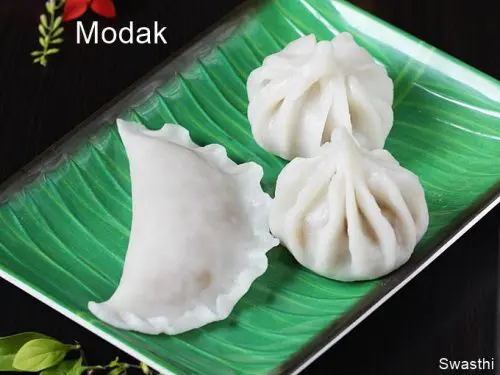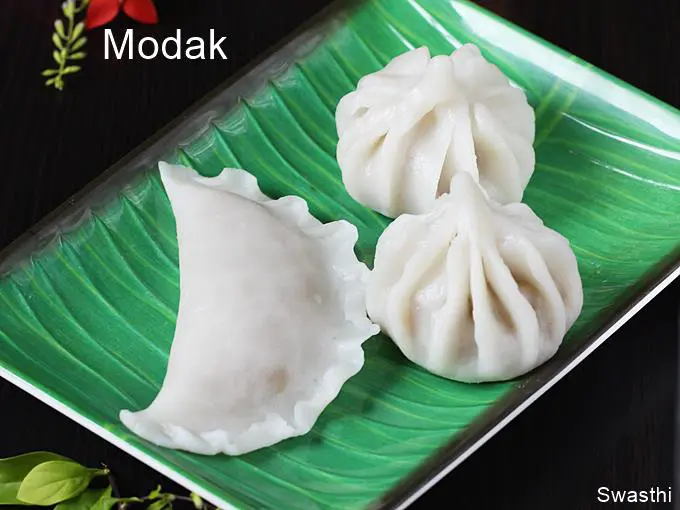 complete recipe
Modak Recipes for Ganesh Chaturthi
Modak is believed to be the most favorite food of Ganesha. It is a dumpling that is mostly steamed and has a filling of fresh grated coconut and jaggery. However there are many more modern recipes which are made by food enthusiasts. Here are some from this blog:
Modak Recipe – In this post I show how to make modak with and without mould. This is a traditional recipe that rice flour for the outer covering and the stuffing is made with coconut and jaggery. I also have a video of the recipe
Rava Modak – As the name says, these are made with a covering of rava also known as semolina. These are faster to make when compared to the traditional version. In the traditional version we steam the dough once and then after shaping the modak, they are steamed again. But these are steamed only once so you save a lot of time.
Chocolate Modak – Making these is a fun & these turn out better than any chocolate dessert. These modaks make a great gift to friends and relatives. Made with mawa, cocoa powder and sugar, it is simple and easy to make them.
Dry Fruits Modak – These are made with a mix of dry fruits like dates, nuts and seeds. There is no added sugar in these and they can be offered to the Lord or gifted as well. Dry fruits modak are quick to make and don't require you to make the outer covering.
Malai Ladoo Modak – Call these ladoo or modak, shape these however you want – Ladoo modak is what we call these at home! They have the texture of kalakand, are juicy and simply delicious. These are made with paneer, milk and sugar.
Sesame Modak (Kozhukattai) – These modaks have a filling made with sesame seeds and jaggery. The outer covering is made the same way as the traditional modaks. I love the fact that the stuffing can be made ahead which saves a lot of time on the day you want to make them.
Fried Modak – These have a crisp crusty and flaky covering similar to the samosa covering. The stuffing is made with desiccated coconut and jaggery for better shelf life.
Ragi Modak – If you have someone in the family who can't indulge in the rice flour modaks, you may try these.
Peanut modak – Made with a stuffing of roasted peanuts, jaggery and cardamom powder. The filling can be made ahead. You can also use this filling to make the fried modaks.
Puran Poli
Puran Poli is a Classic Maharashtrian flatbread with a sweet stuffing. Made with chana dal and jaggery, these addictive poli are delicious, healthy and are traditionally made during Ganesh Chaturthi. I also have a video for this recipe.
Ladoo Recipes
Ganesh Chaturthi is incomplete without ladoos, a small traditional sweet ball made with with nuts, flour, coconut and jaggery or sugar. These are some of the popular sweets you can make during Ganesh Chaturthi.
Coconut Ladoo can be made in many ways. This post shows you how to make them in 3 ways – using jaggery, sugar and milk or with store bought condensed milk. You also have the option to use fresh or desiccated coconut as per your convenience.
Rava Ladoo are a great sweet treat to share with your friends and relatives during the festive season. Make with semolina, ghee, coconut (optional) and sugar these have a melt in the mouth texture with a nice crunch.
Besan Ladoo are sweet gram flour balls. Make the perfect aromatic besan ke laddu with this recipe. This post also shares plenty of tips to make the best.
Boondi Laddo are also made with gram flour but a batter is made first which is dropped to hot oil to form boondi. These boondi are added to sugar syrup and formed to balls. In a lot of places boondi ladoo are very specially made and offered to Ganesha for Chaturthi Pooja.
Badam Ladoo are a guilt-free sweet snack you can make in 2 ways (included in the post). To make them healthy you may use jaggery and copra. Again these are great to gift during the festive season.
Ragi Ladoo are delicious wholesome festive treats made with ragi flour, nuts, jaggery and ghee.
Moong Dal Ladoo are made with split moong dal balls, jaggery, jaggery and nuts. These have a mouth-in-the-mouth texture like besan ladoo but easier to make than the besan ladoo.
Dry Fruits Ladoo are one of the fastest selling sweets in the shops during Ganesh Chaturthi. Made with various dry fruits and nuts like dates, cashews, almonds etc, this homemade version is healthy and delicious too.
Halwa & Kheer Recipes for Ganesh Chaturthi
Halwa and kheer dishes are a perfect item to include in your festive meal. Most of these are great to make ahead and refrigerate. So you can reheat and serve them on the subsequent days during the 10 day Ganesh Chaturthi festival.
Carrot Halwa : In this post, I share 4 ways to make Gajar ka halwa – with fresh milk and with condensed milk. If you plan to offer to the Lord, use fresh milk instead of condensed milk because condensed milk has additives and it is not a fresh food.
Sheera Recipe: Also known as suji halwa is a classic you can make anytime, either to offer or for a family meal. If making for a meal and not offering, you can also make this ahead and refrigerate for 3 to 4 days. Reheat in the pressure cooker the day you want to serve it.
Pineapple Sheera is a variation of the sheera made with pineapples. Pineapples are available in plenty during the festive time. A lot of people make this specially for Ganesh Chaturthi. It can be offered during the Pooja.
Rice Kheer is the Indian version of rice pudding. No festival is complete without kheer. I usually try to fit this in our festive menu on one of the 5 days, if not on the Chaturthi.
Semiya Payasam is a quick kheer version made with semiya aka seviyan. In this post I share 2 ways to make this in the stovetop in a pot and in an instant pot. I also have the tips to make this using jaggery.
Badam Halwa is more of a fancy version of the sheera, here we use almonds either the whole nuts or almond meal/flour. The post shares the recipe from scratch using whole almonds and also a quick version with store bought almond flour, made in the IP.
Moong Dal Halwa is a traditional North Indian halwa made with moong lentils, sugar and ghee. This recipe takes time so plan and make it ahead. It keeps good in the refrigerator for 3 to 4 days. Reheat and serve it for a meal or share with your guests.
Burfi Recipes
Coconut Burfi: I have shared 3 ways to make the coconut burfi. With fresh coconut and milk, with coconut and condensed milk and the last one with mawa and coconut.
Badam Burfi is an indulgent sweet made with almonds or almond flour & sugar. I have shown 2 ways to make this from scratch using whole almonds and also using store bought almond meal.
Kaju Katli makes the most amazing and luxurious sweet you can gift your loved ones during this festive season. I have the super perfect recipe that helps you make the best katli.
Rava Burfi is semolina burfi. This slightly crispy and delicious burfi has a melt-in-the mouth texture with amazing flavors of ghee, milk, gram flour and coconut.
Besan Burfi is a traditional North Indian Burfi made with gram flour, ghee and sugar.
Milk Powder Burfi comes together in a flash and this is a fun recipe to try! This recipe gets done under 30 mins.
Kalakand: This instant version is yet another easy and quick sweet you want to make it for the occasion. This juicy and delicious kalakand is finger-licking good and addictive.
Snacks for Ganesh Chaturthi
Now comes the most interesting section of snacks, chaats and fritters. Here are some handpicked snacks recipes which I think are made time and again during these 10 days.
Khaman Dhokla : Ganesh Chaturthi is perfect time to enjoy these soft, fluffy and best khaman dhokla. Make this ahead, refrigerate and reheat before serving.
Aloo Tikki : These delicious, crisp and easy to make aloo tikkis can be made plain or with a paneer peas stuffing. For a healthier & easier option you may air fry or bake these.
Misal Pav: This spicy misal pav is full of flavors and deliciousness. I also share a homemade masala which actually elevates the flavors of the dish.
Sabudana Vada is a classic vada variety made during festivals. Whether you are fasting or not these make a perfect snack to indulge during the festive time. Air fry these for a healthier option.
Ragda Patties: This ragda patties is just like what you get on the streets of Mumbai. I have an easy recipe to make it in a instant pot or pressure cooker.
Shankarpali: Crispy, crunchy sankarpali are a must in many homes during Ganesh chaturthi. These are made ahead and stored to munch on during the 10 day festival. Kids will love these!
Namak Para is a salty version of the diamond cuts. These are made with whole wheat flour and pair well with tea or coffee!
Dal Vada are a classic snack made with mixed lentils, spices and herbs. I also have the air fryer and oven instructions.
Batata Vada are Maharashtrian Style Stuffed potato vadas.
Corn Vada are easy sweet corn and lentil fritters.
Grandma's Tips for Prasad
These tips & traditions may not be followed by a lot of people in the modern days and are sure from the Grandma's times but they are easy to follow if you wish to. These tips have been mentioned here just to share the less known or forgotten traditions. Devotion is of utmost importance!
Ganesh Chaturthi is celebrated in many states in India so traditions and customs differ from region to region.
At home, we cook and offer only fresh homemade foods cooked on the same day. Any food that is prepared the previous days is considered stale & not offered to Lord Ganesha. Please feel free to follow your family traditions regarding this.
The only few things we prepare the previous day is to grate jaggery, make ghee, make cardamom powder, make rice flour, roast semolina & nuts. These are mostly some tasks that come under preparation and don't come under cooking.
We also use all new packs of groceries and not use those which are already used for consumption. Ganesha is special! So everything should be fresh and new. A lot of people, especially from the farming communities also reserve fresh stock of food produce for Ganesha during the harvest season because he is the Lord of all Beginnings.