Modak Recipe with and without mould. Modak is believed to be one of the favorite sweets of Lord Ganesha. Also known as Kudumu, kadubu, modakam or kozhukattai in regional languages, these are sweet stuffed dumplings offered to Lord Ganesha as prasad / Naivedyam during Ganesh Chaturthi puja. Some people also make these for the Sankasti chaturthi puja every month. In this post I share 2 ways to shape Modaks with lots of troubleshooting tips.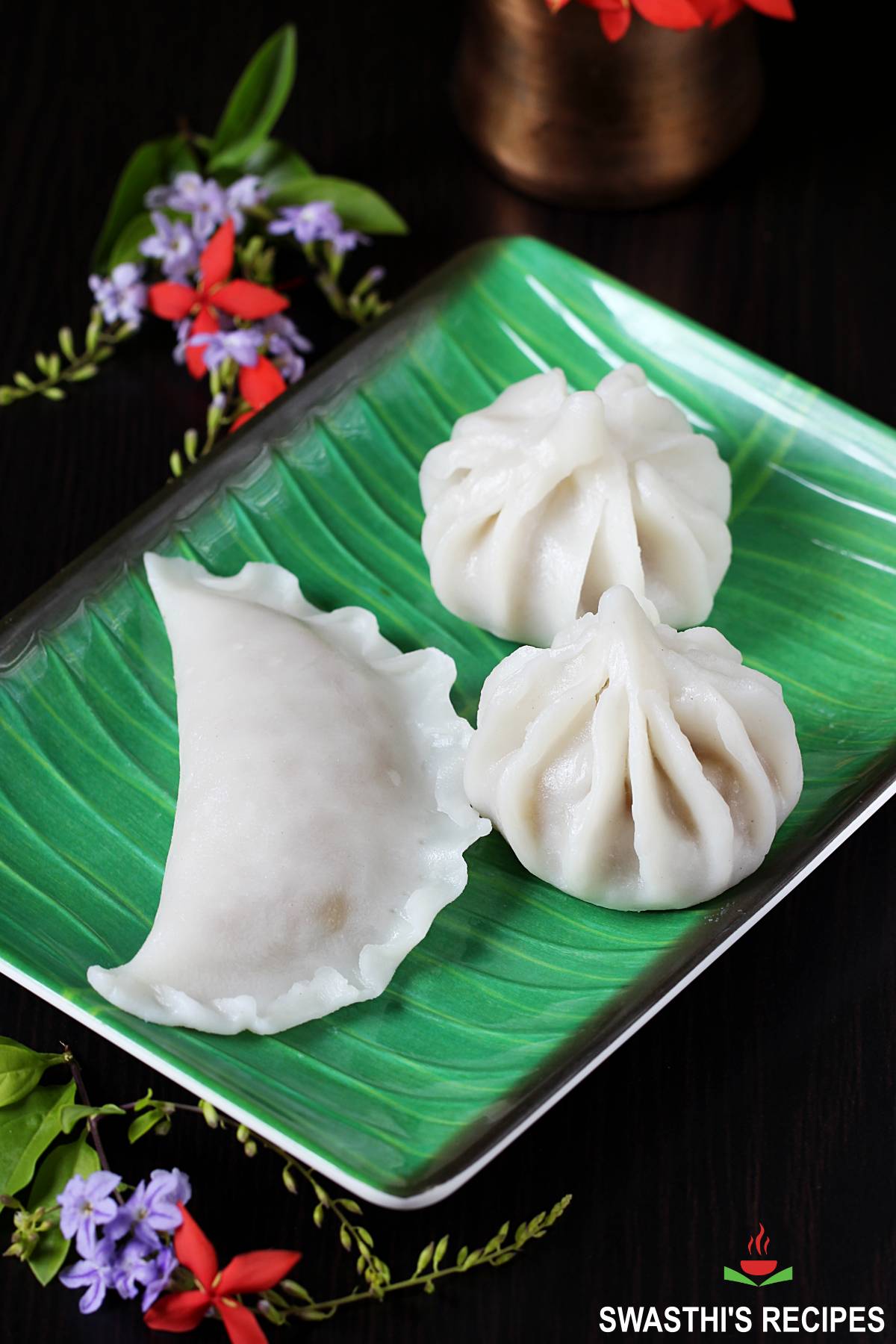 Ganesha, the son of Lord Shiva & Goddess Parvathi is the Hindu deity of Wisdom & intellect. He is revered as the remover of obstacles in life. So a lot of Hindus offer their prayers to Lord Ganesha round the year, before their daily routine begins.
Ganesh Chaturthi also known as Vinayaka chaturthi is a festival celebrating the birth of Bhagwan Ganesha. Hindus believe that Ganesha loves modak hence he is also called as modakapriya, one of the 108 names mentioned in the Ganesha Ashtothram. So modak is made in almost every home celebrating this special day.
About Modak
Modak are Maharashtrian festive dumplings made with rice flour dough & a sweet coconut jaggery filling. These are offered to the Hindu deity, Ganesha during the 9 day Ganesh Chaturthi Festival. Traditionally these sweet dumplings are handmade, filled with the sweetened coconut and then steamed. The filling is delicately flavored with cardamom powder and sometimes even with nutmeg.
In Marathi these are called as "Ukadiche Modak" meaning "Steamed modak". The process of making modak involves steaming at 2 levels. The dough is steam cooked once while it is made. Small portions of the dough is then shaped, filled & then they are steamed to finish off the cooking.
Modaks are also made in many other states with different fillings like sesame jaggery, chana dal jaggery or peanut jaggery. A lot of people also make the stuffing according to their family traditions.
In this post I have shown the coconut jaggery filling. This recipe makes 11 large modaks. If you have the tradition of offering 21 to the Lord, you can either make smaller modaks or simply double the recipe.
How to Shape Modak
There are 2 ways modaks can be shaped. One way is to use mould & the other to shape them with hand. Making modak using a mould is super easy. Modak moulds are easily available in the Indian market or Indian stores throughout the year.
If you live in a country/ place where the moulds are not available then they can be handmade following my step-by-step photos. I show 2 ways to make them without mould.
I also share a lot of tips for making perfect filling & perfect dough after the step by step photos. You can also check the video too.
You can find the complete collection of Ganesh Chaturthi Recipes Here. I have shared 9 kinds of modak recipes on the blog. Here are some more
Rava modak
Fried modak
Sesame seeds modak
Chocolate modak
Dry fruits modak
Malai modak
Ragi modak
You can also check these Andhra style Vinayaka Chavithi Recipes
How to Make Modak (Stepwise Photos)
Prepare the Stuffing
1. Heat a pan with 1 tsp ghee. I have not used poppy seeds since they are not available in the Country I live. A lot of people use them. If you prefer, add 1 tablespoon white poppy seeds and briefly fry them on a low flame for 30 to 60 seconds.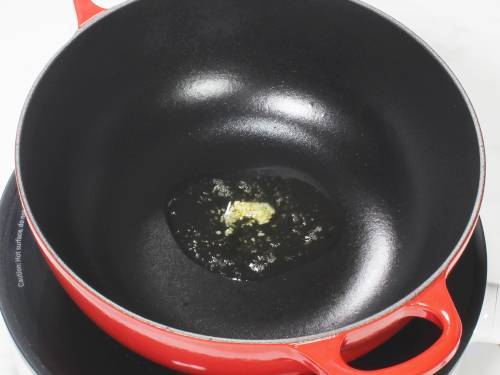 2. Add 2 cups (200 grams) grated fresh coconut.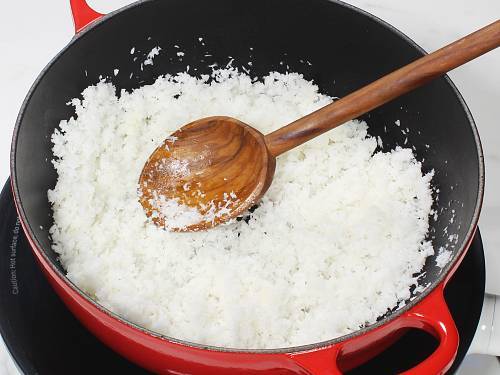 3. Next add ¾ to 1 cup jaggery. I used 1 cup (150 grams jaggery powder). If you prefer lesser sweet you may add ¾ cup.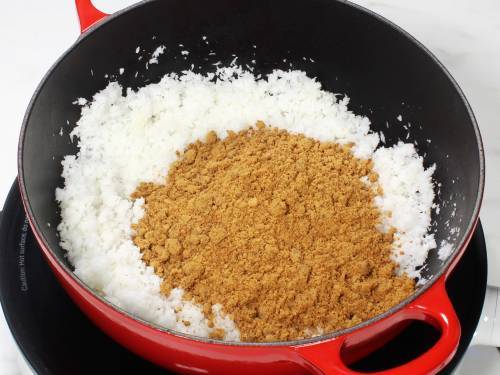 4. Stir and begin to cook on a medium flame. The mixture may turn gooey after a while depending on the kind of jaggery. Continue to cook until all of the excess moisture evaporates and begins to dry up. Add cardamom powder and nutmeg (optional). Avoid overcooking as the filling can become hard. Check video to know the right consistency. Turn off the stove. Set this aside to cool completely.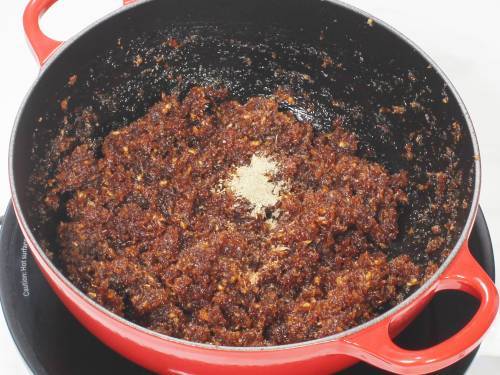 Make Dough
5. Pour 1 cup water to a pot or pan. Add 1 pinch salt and 1 tsp ghee to the water. Bring it to a rolling boil.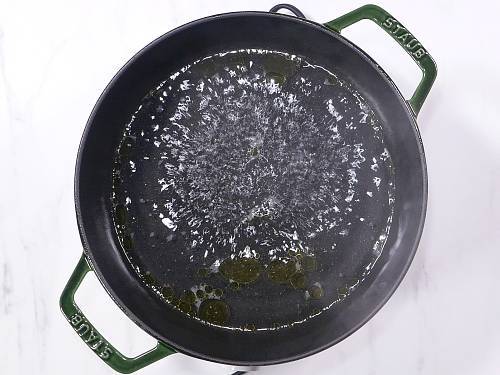 6. Turn the flame to low, add 1 cup flour (150 grams) and quickly mix well.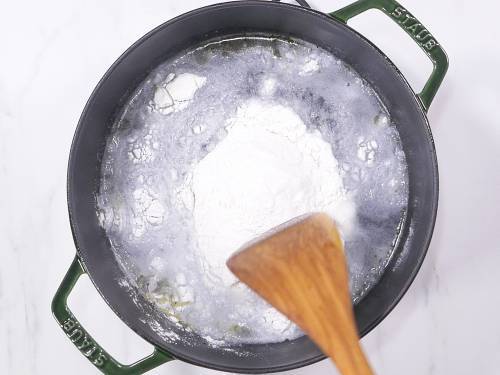 7. The flour turns to a lumpy mixture.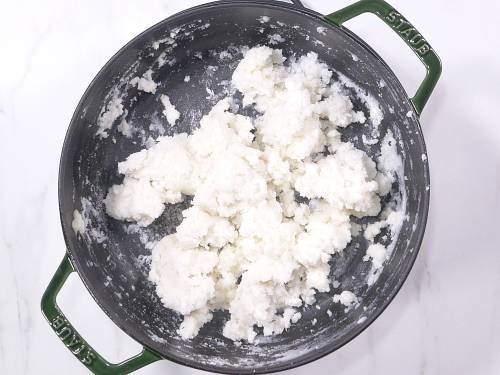 8. Cover and turn off the stove. Remove from the stove and let it steam in the residual heat. While this cools prepare your steamer and a basket. You can either grease the steaming basket or spread a muslin cloth.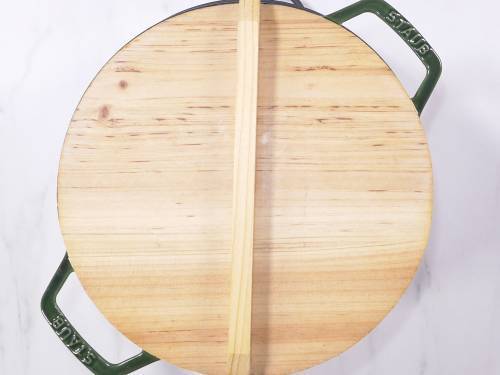 9. When the mixture cools down to slightly hot, transfer the mixture to a wide bowl. Do not allow it to cool down completely. The mixture will be crumbly and dry. If required sprinkle little hot or warm water and knead it to a smooth crack-free & non-sticky dough. I use about 2 tablespoons hot water at this stage. Check video to know the right texture.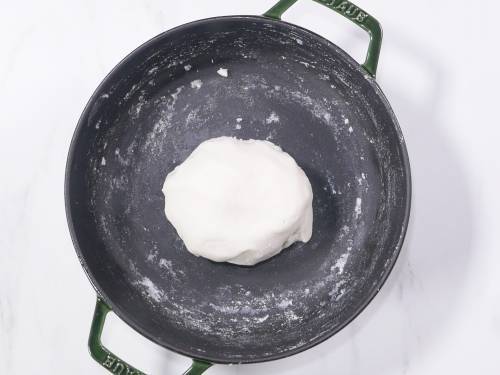 10. Divide the mixture to 11 parts. If using mould then divide according to the size of your mould. If you have small ones, then you can make 16 balls. With larger mould you will get only 9. I cannot give the accurate number as the moulds come in different sizes. Knead each one to soft ball. Cover them with a moist cloth.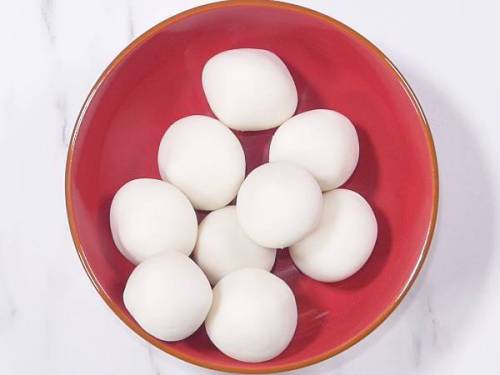 Make Modak without Mould
11. Take a ball, dip your fingers in a bowl of water. Using your thumb make a dent in the center. Begin to spread the dough in a circular motion with your thumb and fore fingers using both hands.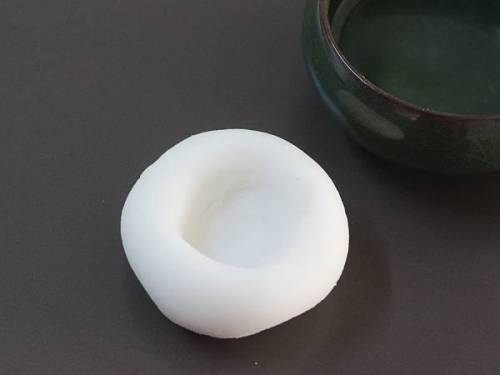 Dip your fingers in water as needed while you work on it. If the dough turns sticky, you can use ghee instead of water.
Method 1
12. We need a evenly shaped round puri. The edges have to be thinner than the center. With the help of thumb and forefinger gently pinch off very little dough to make a pleat on the outer side. With half to 3/4 inch apart you can make as many pleats as possible. Place 1 to 1.5 tbsp. cooled coconut jaggery mixture in the center.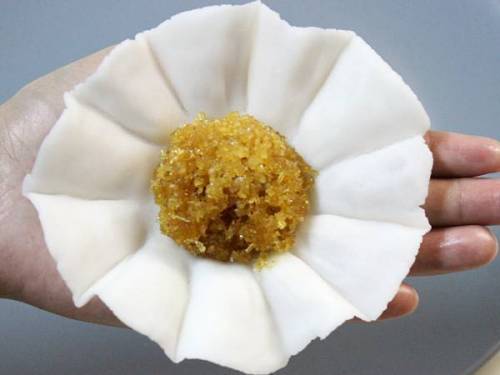 13. Bring together all the pleats gently and seal giving a good shape. Keep them aside on a greased steaming basket or moist cloth lined over a steam basket. (check picture below). Remember to keep the modaks covered with a damp cloth.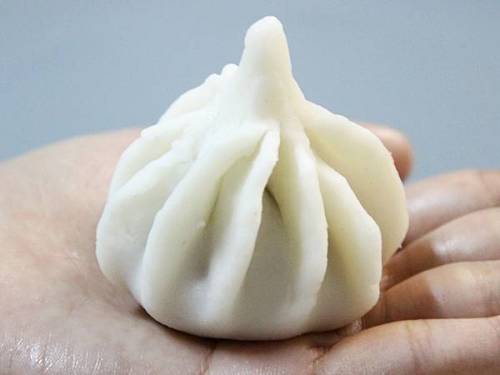 Method 2 – Make Modak
14. You can also make a cup shape out of the rice dough first and then pinch off little dough on the sides to make pleats. Put the filling in the center.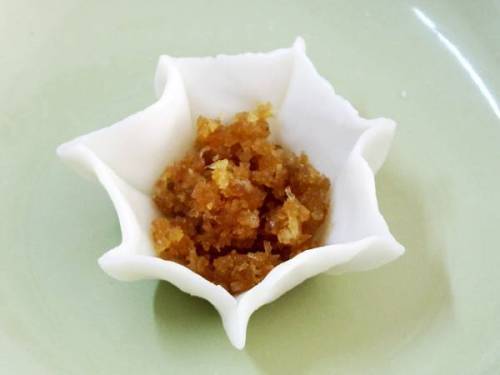 15. Then join the edges. But the first method I have shown is fairly easy for beginners.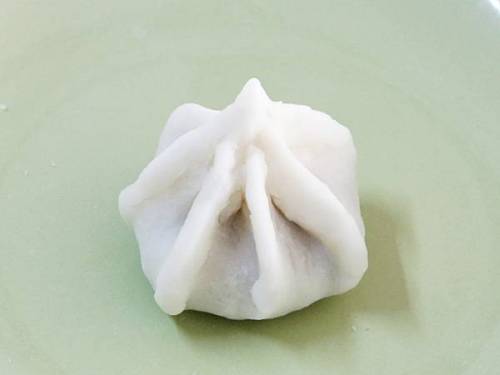 16. If you find the above methods difficult, you can try this one. You can also shape this like a Kadubu or karanji. Make a puri, place the coconut jaggery mixture on one half.
17. Cover with the other half. Seal off by pressing both the edges with moist fingers (dip fingers in water). Tuck in little dough from the edges to give a nice finish. You can also use a greased fork to give a nice design. Keep the modakams covered with a moist cloth.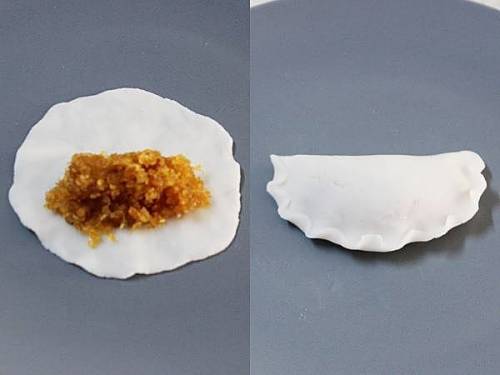 18. These were the handmade modaks before steaming.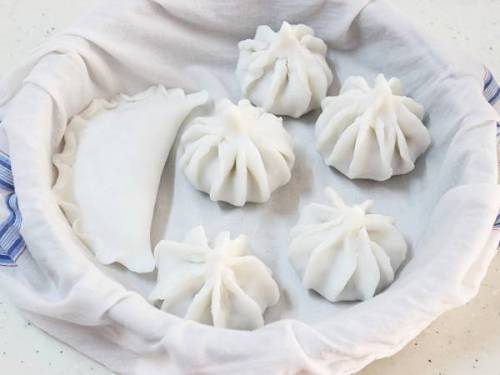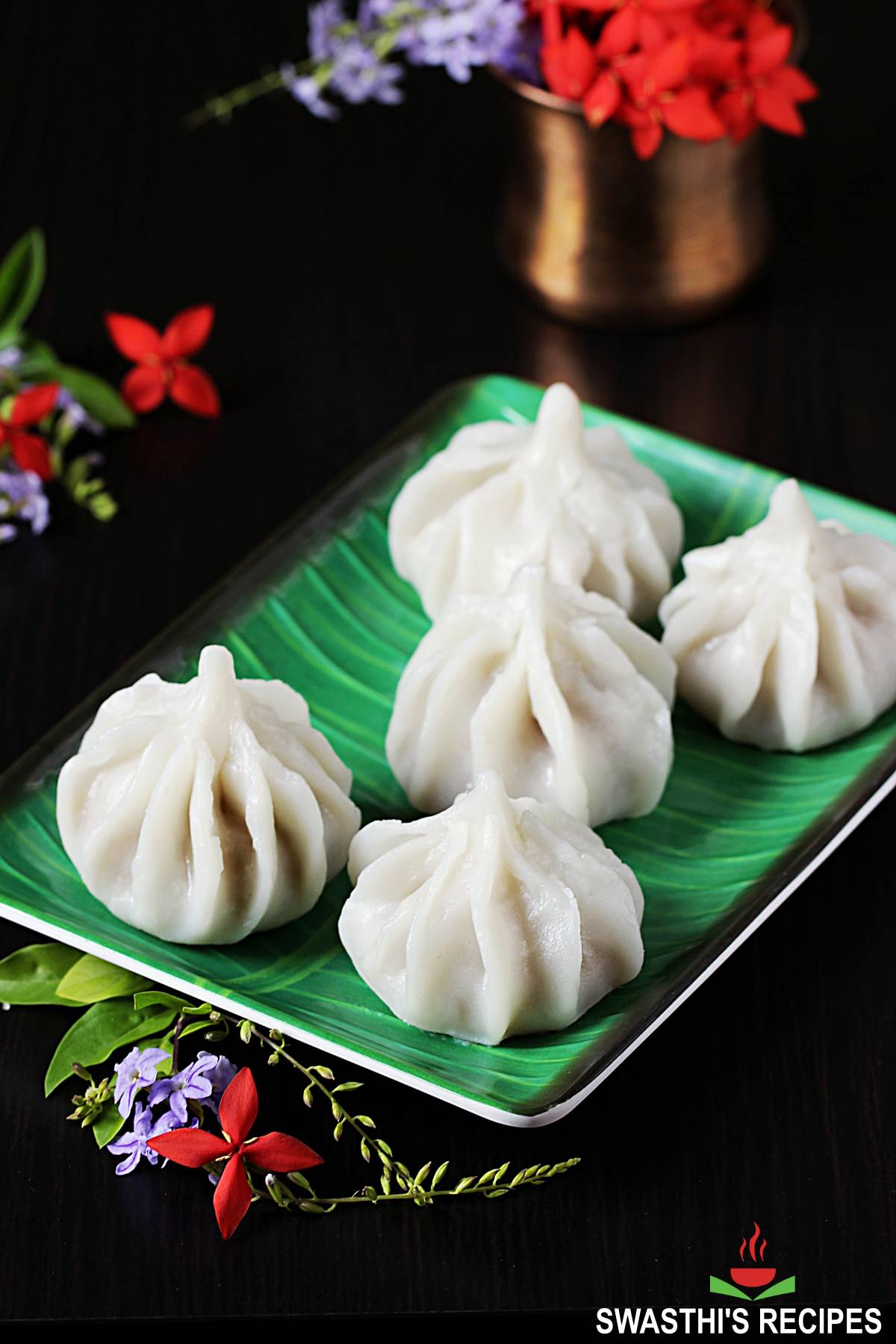 With Mould
19. Grease your Mould with ghee.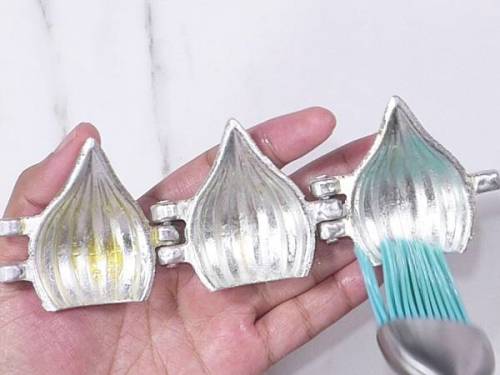 20. Close the mould and keep a dough ball inside. Press down the dough to the sides of the mould, making space in the center.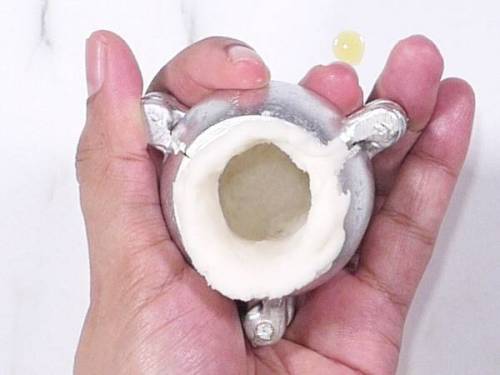 21. Press down the coconut filling gently.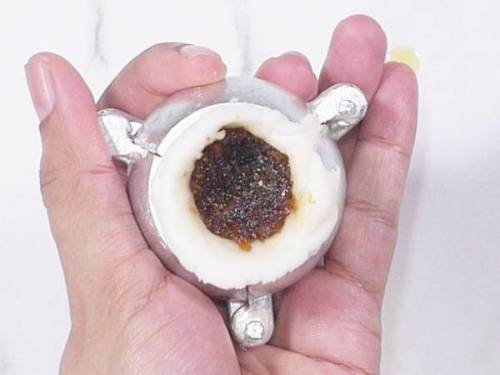 22. Seal the modak with the excess dough that comes out. Or you can also close the opening with more dough. Open the mould and remove the modak carefully. Always remember to keep them covered with a damp cloth until they go for steaming.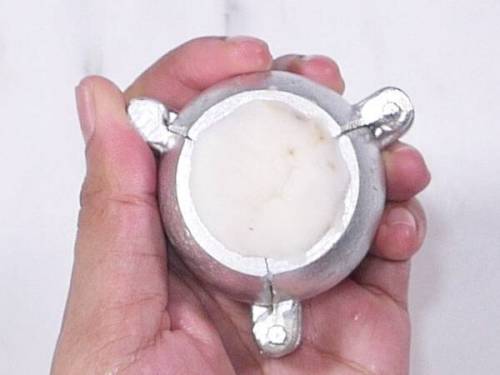 Steam Modak
23. On a medium high flame, bring 1.5 to 2 cups water to a rolling boil in a steamer or a pot or cooker. Grease the steam basket or Spread a thin cotton cloth in a wide bowl or a steam basket.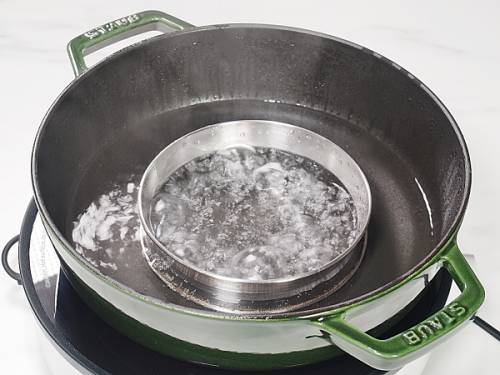 24. Place the modak in the basket and steam for 10 minutes. I sprinkled some saffron over them before steaming. Switch off and rest for a while.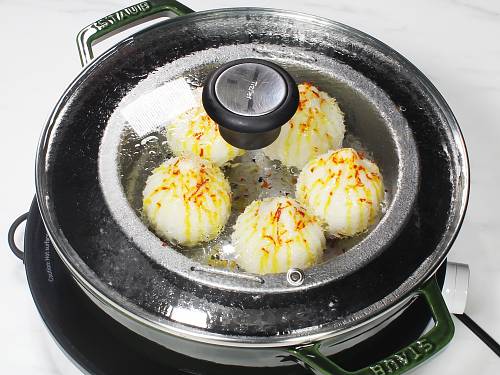 Offer steamed modak to Lord Ganesha. We do not offer very hot foods to God during pooja. So I cool down slightly and then offer.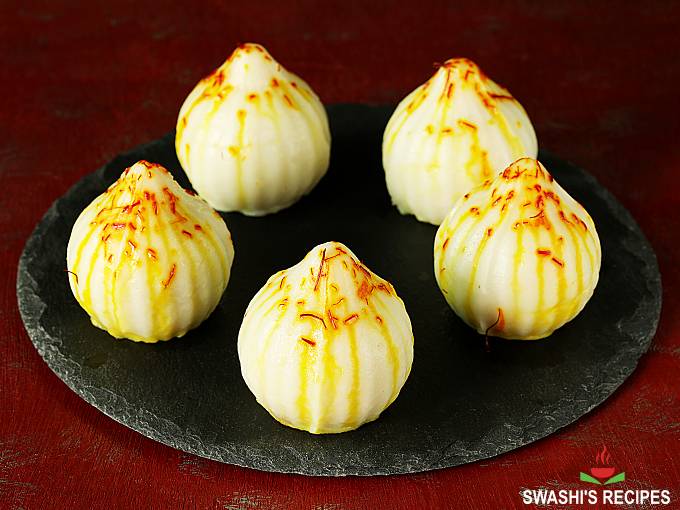 Pro tips
Flour : water ratio – 1 cup rice flour usually needs a little over 1 cup water to make a perfect dough. It may take more but not less. So add 1 cup flour to 1 cup boiling water, mix and rest. Sprinkle 2 to 3 tablespoons more hot or warm water while kneading to get a smooth dough. The quantity of water required depends on the kind of rice flour.
Kneading the dough properly with enough hot or warm water is the key to get soft modak covering. So feel free to sprinkle more water as required taking care not to add a lot. After kneading the rice flour dough has to be soft and crack free.
Always keep the dough covered with a damp cloth until it is used up. This prevents the dough from drying and cracking while shaping.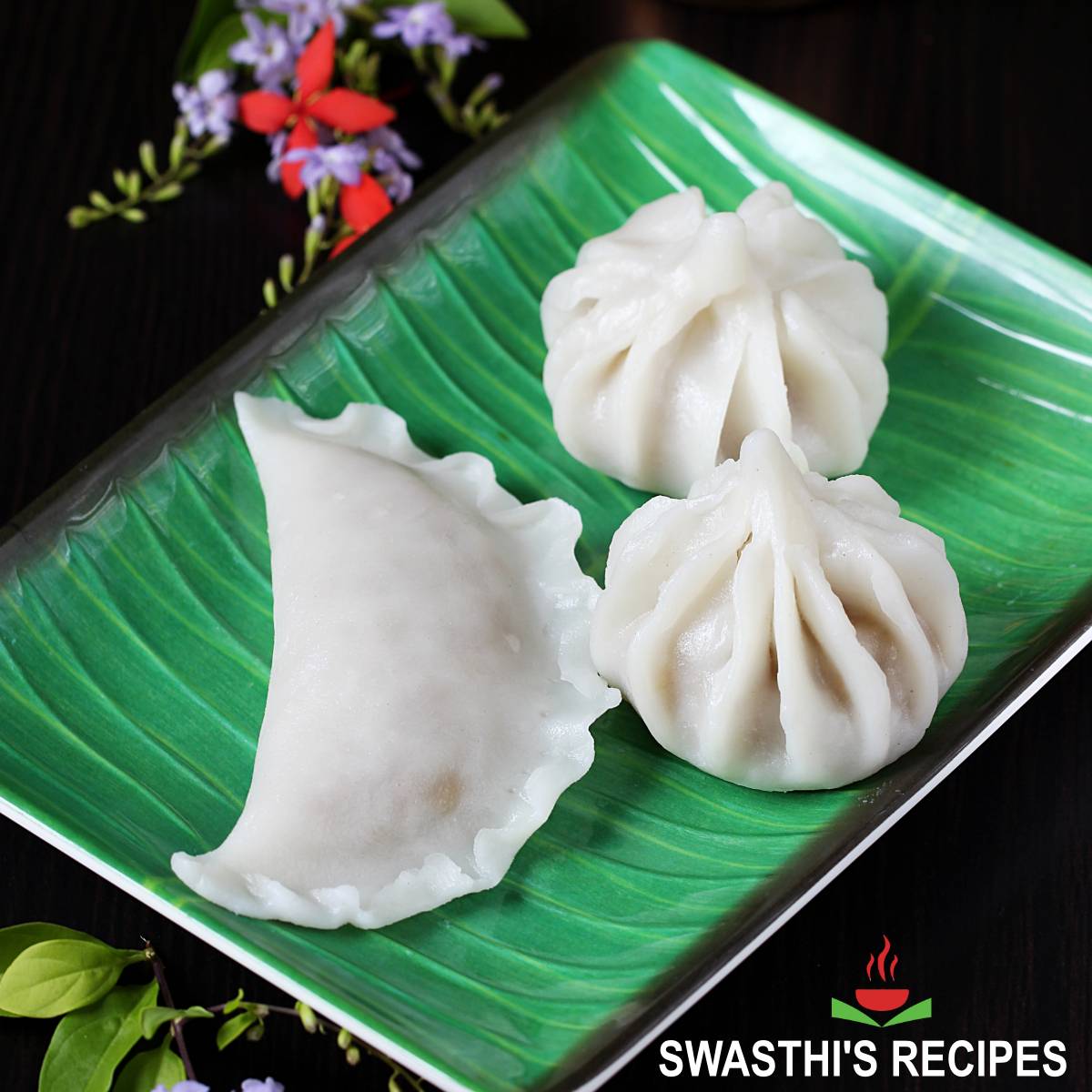 Troubleshooting dough
Dough cracks while shaping modaks: This means the dough is dry and needs some more moisture. Sprinkle some warm water and knead the dough.
Dough is sticky: If you follow the recipe correctly it is unlikely for the dough to become sticky. Sticky dough means there is more moisture in the dough, sprinkle 1 teaspoon rice flour to the dough and knead well again.
Tips to make the stuffing
Cook jaggery and fresh coconut until the mixture looks almost dry. Too much moisture in the mixture will ooze out melted jaggery while steaming the modaks.
Tips to shape the modak
Do not spread the rice dough too thin as the covering will break. Shaping modak with hand needs some practice. So try with a smaller batch first if you are a beginner.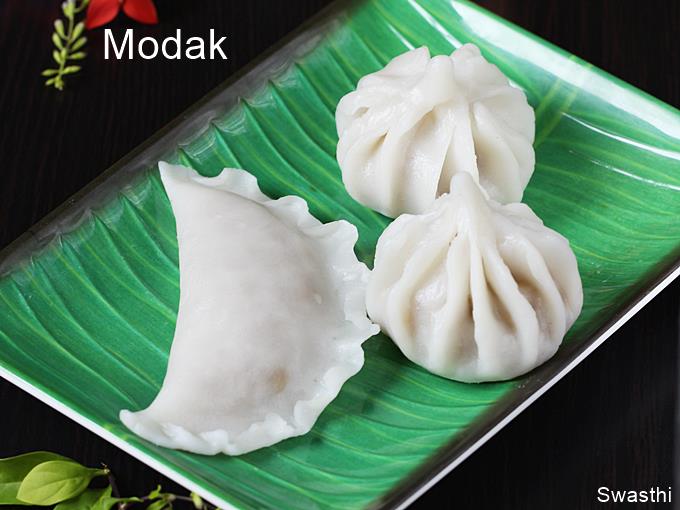 Choosing ingredients
Rice flour: To make modak, fine & smooth rice flour is needed. It is the quality of flour that decides the texture of your modak. With fine flour they turn out smooth without any cracks. Most Indian grocery stores carry them and some brands even sell specific one labelled as modak flour or kozhukattai flour.
If you are skeptical about the store bought flour, sieve it just to ensure it is super fine.
We make modak with homemade flour. Making the rice flour at home does take some time as the rice needs to be soaked, drained and then ground in the grinder. Then lastly it is sieved.
Coconut is the key ingredient used to make the filling. If making for prashad/bhog or naivedyam we break a fresh coconut and then scrape it. However you may use frozen or fresh coconut as per your convenience.
Jaggery is the only sweetener I use to make modak. However if you live in a country where it is not available, then feel free to use light brown sugar. Make sure to use jaggery that is clean free from stones, debris or dust. You can also hand pick the dust particles and discard while you grate.
Faqs
What kind of rice flour is used to make modak?
Traditionally flour made from white raw rice is used as it is super fine, more starchy and sticky which helps in binding the dough well while shaping. If you live outside India use rice flour from an Indian brand. There are many different kinds of rice flour available in the market which may not be suitable for modak.
Can I use sugar to make modak?
Modak are traditionally made with jaggery and not with sugar. Though the recipe can be made with sugar, it is less preferred & a lot of people avoid refined foods for offerings.
Why is my modak dough too dry?
It may look dry initially but as you begin to knead the dough, the steam trapped inside will make it smoother and more moist. However if kneading does not help, simply splash some warm water and knead. Every rice flour is different and sometimes aged rice flour requires a few tablespoons more water.
Why is my dough too sticky?
Using more water to steam the dough makes it sticky. So try to use the right amount of water. Alternately you may add a few tablespoons of dry flour to soak up the excess moisture in the sticky dough. This helps to fix it.
Why did my coconut and jaggery stuffing turn hard?
Over cooking coconut and jaggery can easily harden the stuffing. You may simply grind that in a grinder with a splash of water or sprinkle some water and warm it.
Why do my modaks crack?
Modak covering can easily crack if the dough or the shaped modaks dry out. So always cover the dough and the prepared modaks with a moist cloth.
Why did my modaks turn soggy from inside after steaming?
If your coconut and jaggery mixture is undercooked, it is likely going to release moisture when you steam the modaks. This causes the modaks to turn soggy from inside.
I cannot eat rice, what can I substitute it with?
You can use semolina also known as suji instead of rice, to make the outer covering. Alternately you may use mawa, dry fruits mixture or wheat flour to make the outer covering. Rava modak, fried modak, dry fruits modak and mawa modak are some substitutes to ukadiche modak.
Related Recipes
Recipe Card
Make sweet filling for Modak
How to Make Modak with Mould
How to make Handmade Modak
Make sure you use good quality fresh fine flour. You can also make your own fresh flour at home.
Making rice flour for modak
Wash & soak 3/4 to 1 cup raw rice in water for at least 2 hours. Drain the rice to a colander and leave it for 30 mins.
Spread on a cotton cloth and air dry or fan dry for 30 to 40 mins. When the rice is slightly moist then powder them in a mixer.
Sieve it through a fine flour sieve. Dry the flour in a tray until it turns completely dry. It may take few hours.
Refrigerate and use within 2 weeks.
Alternative quantities provided in the recipe card are for 1x only, original recipe.
For best results follow my detailed step-by-step photo instructions and tips above the recipe card.
Nutrition Facts
Modak Recipe
Amount Per Serving
Calories 194
Calories from Fat 54
% Daily Value*
Fat 6g9%
Saturated Fat 5g31%
Cholesterol 3mg1%
Sodium 7mg0%
Potassium 66mg2%
Carbohydrates 32g11%
Fiber 1g4%
Sugar 19g21%
Protein 1g2%
Vitamin C 0.6mg1%
Calcium 11mg1%
Iron 0.6mg3%
* Percent Daily Values are based on a 2000 calorie diet.
Modak Recipe was Originally published in Sept 2015. Republished in August 2022.