This Tomato Chutney is the perfect partner for all your savory Breakfasts & Snacks, even for your plain rice. Made traditionally with ripe tomatoes, spices and herbs, this South Indian Tomato chutney is finger-licking good with a punch of flavors. This Spicy and tangy delicious chutney is usually eaten with Idli, Dosa, Pongal, Uttapam and many snacks. But it also goes fantastically well with everything – Sandwiches, Pakoras & Parathas.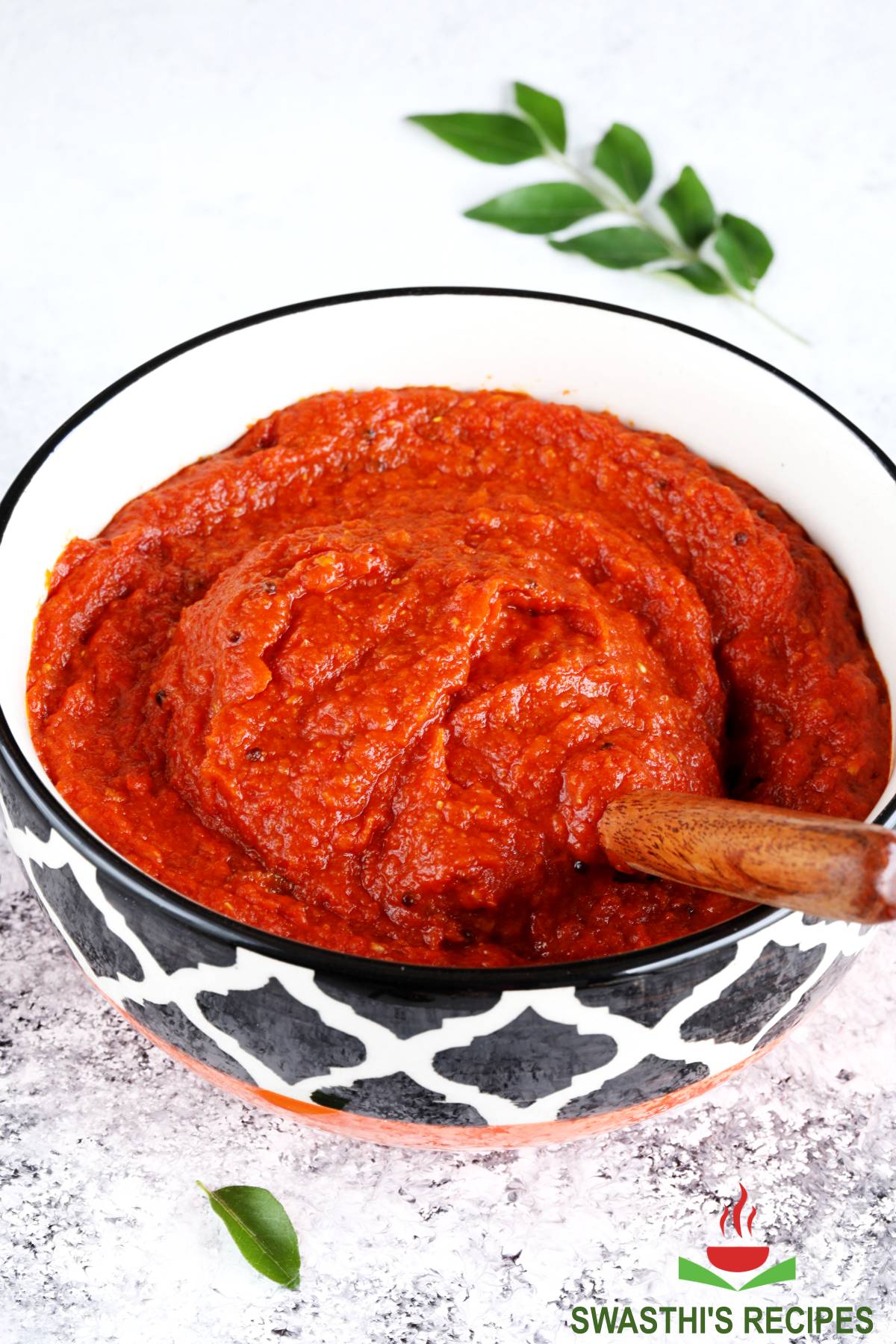 About Tomato Chutney
Tomato Chutney is a Chutney variety from Indian cuisine, made primarily with fresh ripe tomatoes. Various spices and fresh herbs are used to flavor up and balance the tang & sweetness of the ripe tomatoes.
Tomato chutney is made in various regions of India so the preparations vary widely. Each family may have a different recipe made to suit their taste & liking. While there are sweet and spicy chutneys, this hot, tangy and spicy chutney belongs to South Indian cuisine & is a staple.
Traditionally tomato chutney was made by crushing roasted tomatoes, garlic, chilies, tamarind, cumin seeds and salt in a mortar pestle. Nothing else was added to it. However home cooks have been innovative overtime and now it is made in many ways.
About The Recipe
In this post I share 2 recipes to make Tomato Chutney. The first recipe helps you make spicy and hot tomato chutney with pantry staples like tomatoes, garlic, cumin, chilies, oil and salt. You can also store this in the refrigerator for 3 to 4 weeks.
The second chutney is the Onion Tomato Chutney which is also delicious, nutty, and spicy and flavorsome. This is something similar to the Andhra Tomato Pachadi but tastes very different. But this cannot be stored for longer than 2 days. The addition of lentils & onions reduces the shelf life of this chutney.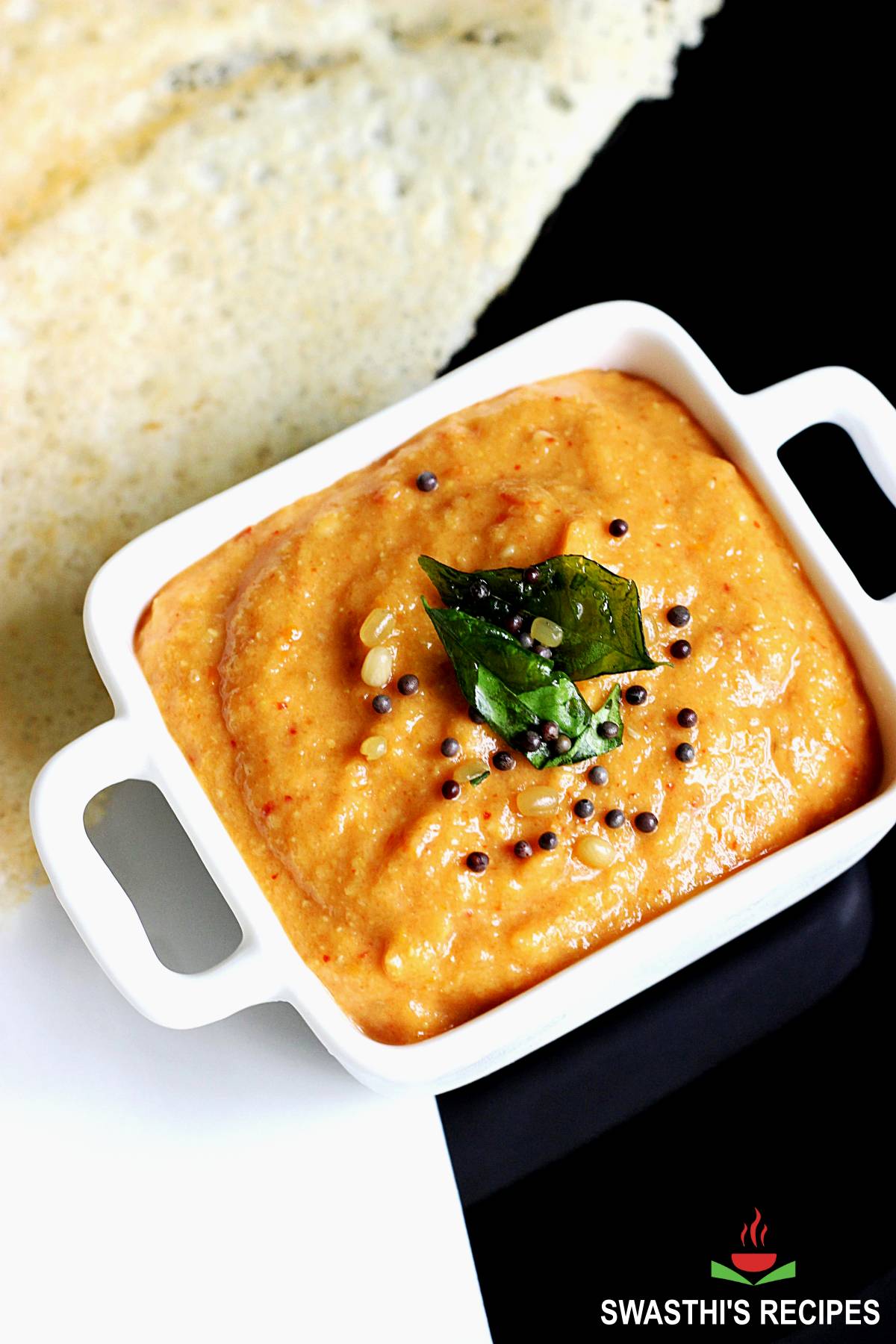 I love to make a large batch of the first recipe as it stores well. We serve it with everything, right from parathas, idlis, dosas, and snacks to plain rice & ghee. I make the onion tomato chutney specifically for the breakfasts and snack to finish up on the same day. You can also make a thick chutney to go with the rice.
This Tomato chutney (recipe 1) may somewhat look like a pickle, but actually tomato chutney differs from Tomato Pickle in many ways. Tomato pickle has plenty of ground spices like methi, mustard and red chilli powder. Also a lot of oil and an acidic ingredient (like tamarind) is used as a natural preservative. This helps the pickle keep good for a year.
How to Make Tomato Chutney (Stepwise photos)
I made a large batch of this tomato chutney to last for 2 to 3 weeks. But I have given the recipe for a smaller batch, to make 2 to 3 servings.
Preparation
1. Rinse 250 grams of ripe tomatoes (half pound) under running water.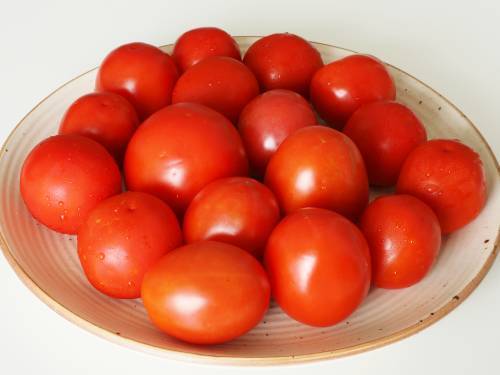 2. Remove the core and slice the tomatoes.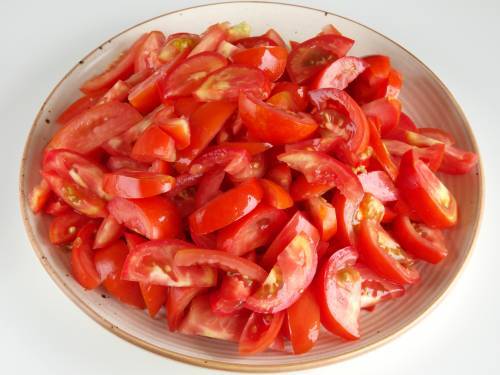 3. Pour half tablespoon oil to a hot pan. When the oil becomes hot, reduce the heat to medium or low. Add half teaspoon cumin seeds. As you see the seeds begin to sizzle, add 3 to 4 dried red chilies (5 grams) and fry until crisp.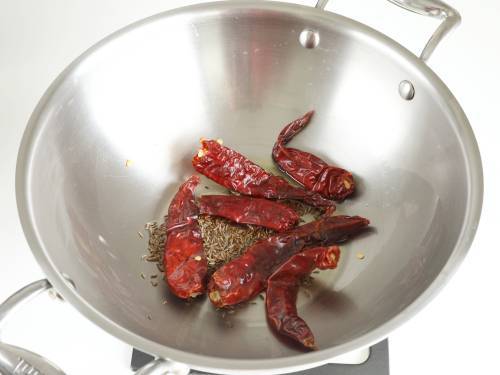 4. Add 2 to 3 garlic cloves (about 5 grams) and 1/3 inch peeled & sliced ginger (3 grams, optional).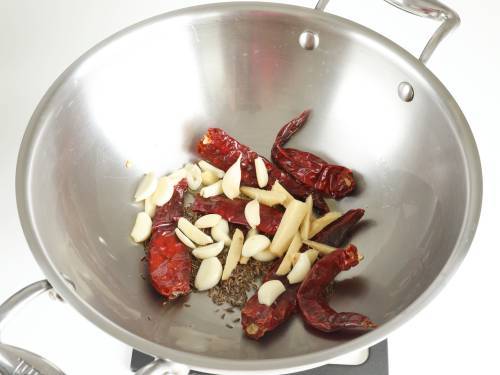 5. Fry until they turn aromatic for about 2 minutes. Add 1/8 teaspoon turmeric.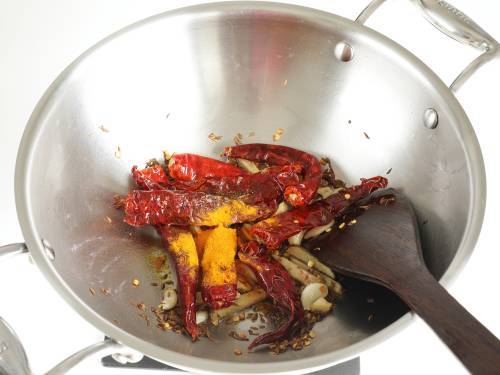 6. Add sliced tomatoes and ¼ teaspoon salt.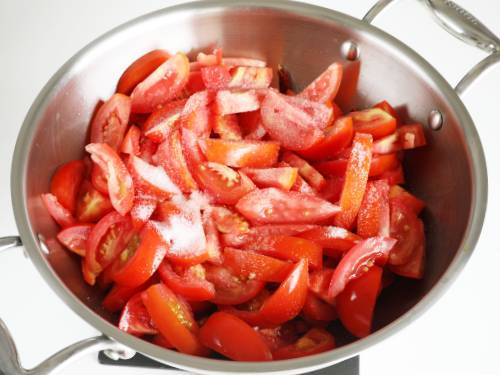 7. Cook until the tomatoes are mushy and most of the juices evaporate. To begin with you can start on a high heat and then reduce as they cook. If you prefer a slightly runny chutney you may turn off when there are little juice left in the pan. But note that will reduce the shelf life. Cool this completely.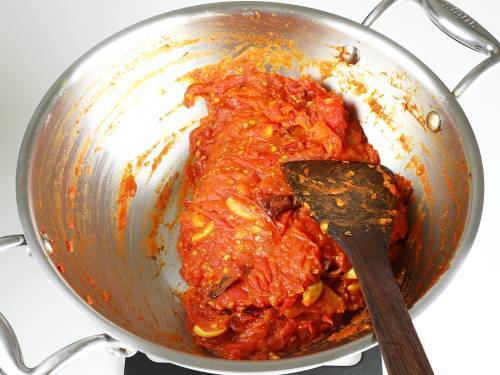 Make the Chutney
8. Add this to a grinder and blend to a smooth chutney without adding any water.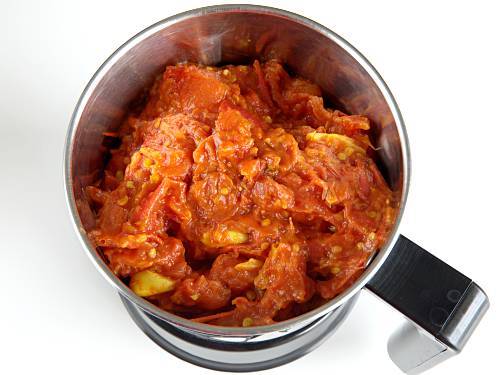 9. Taste test for salt and add more if required.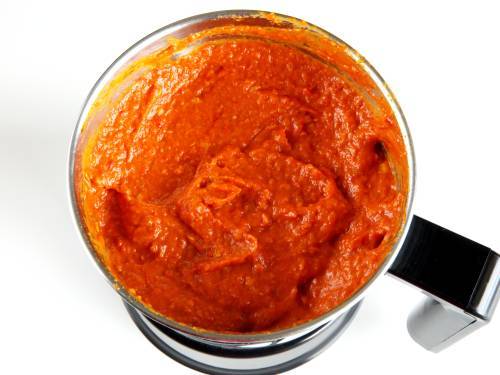 Temper Tomato Chutney
10. Pour half tbsp oil into a pan and heat. You can use the same pan after wiping down with kitchen tissues. Lower the heat and add 1/8 teaspoon mustard seeds (one pinch), 1 to 2 crushed garlic cloves and 1 small dried broken red chilli. Cook till the garlic is fragrant and chilli is crisp. Next add 1 small sprig curry leaves and fry till crisp.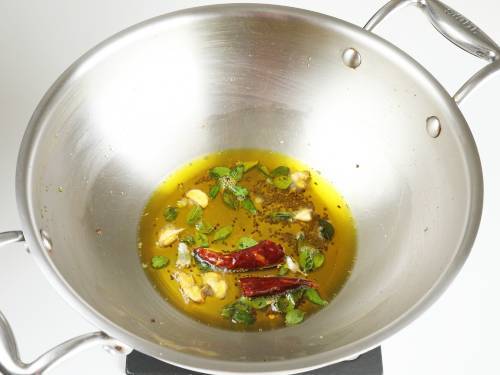 11. Skip this step if your chutney is already hot. Stir in 1/8 to ¼ teaspoon Kashmiri red chilli powder (optional) and immediately transfer the tomato chutney. Adjust the spice level to your choice/ taste.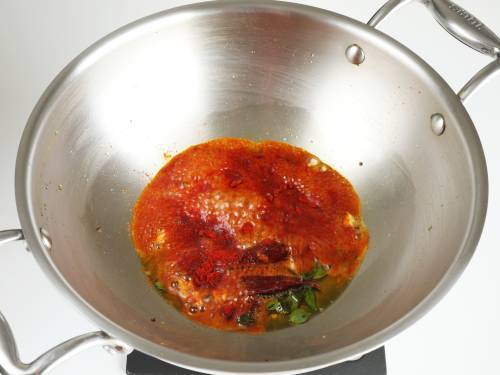 12. Saute for 1 to 2 minutes after mixing well. If you wish to store the chutney for longer, saute for another 2 to 3 minutes till the mixture is very hot.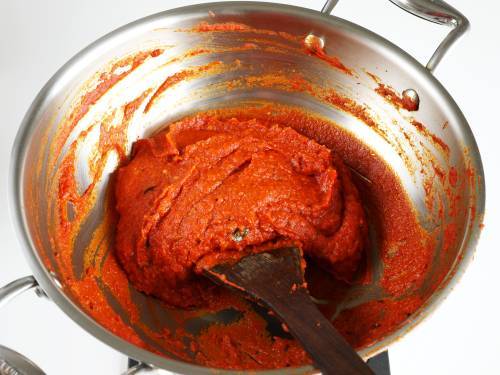 13. Cool it completely. Transfer to a clean and dry glass jar if u want to preserve this for 3 to 4 weeks. Store in the refrigerator. I prefer to store them in smaller containers and I feel the chutney keeps better and fresh this way. You may temper it again if you want.
For a creamy chutney, you can also stir this with a tablespoon of thick yogurt before serving. This goes well with everything again, but not with rice.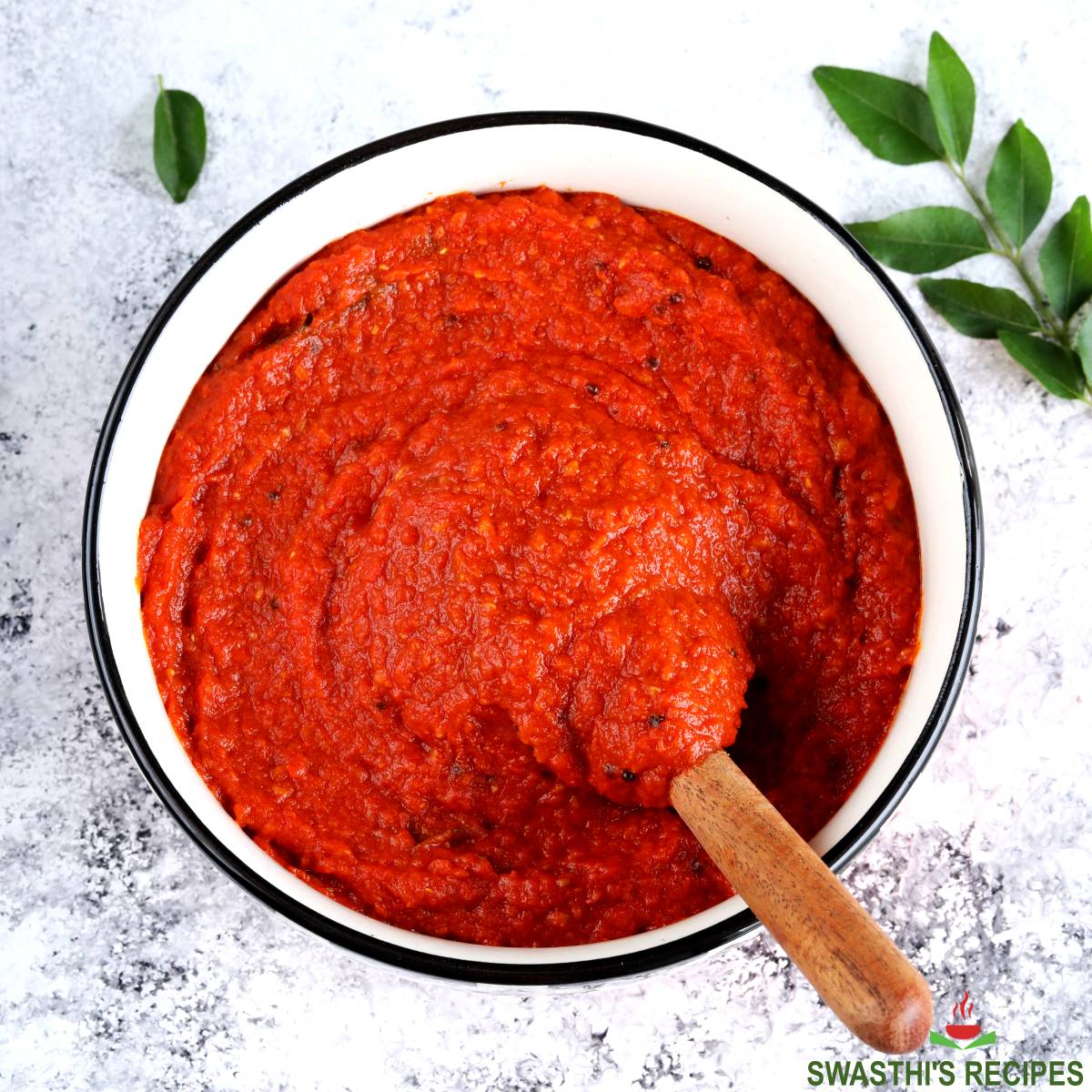 Reheating: If you make a large batch and refrigerate it, you may scoop out a few tablespoons of chutney to a small bowl. Bring a few tablespoons of water to rolling boil. Pour it over the chutney and mix well. This brings the chutney to room temperature but will thin down. The other way is to heat in the pan or in the IP for 2 to 3 mins depending on how cold your chutney is.
Recipe 2
How to Make Onion Tomato Chutney (Stepwise Photos)
Preparation
1. On a medium heat, dry roast 1 tablespoon chana dal (bengal gram) and ½ tablespoon urad dal till golden and aromatic. If you do not have dal, you can use 2 tablespoons peanuts. Roast them until golden and aromatic. Next add ½ teaspoon cumin seeds to the hot pan & toss for a while. Set aside to cool.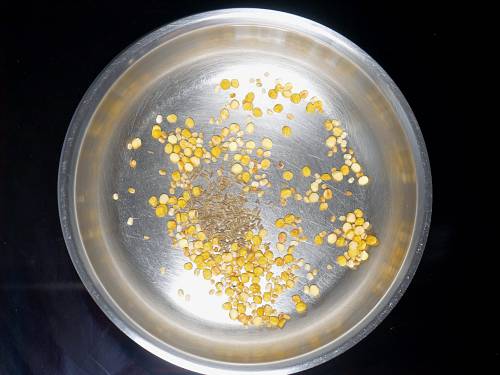 2. Pour 1 tablespoon oil to a pan and fry 4 to 6 red chilies till crisp. Do not burn them.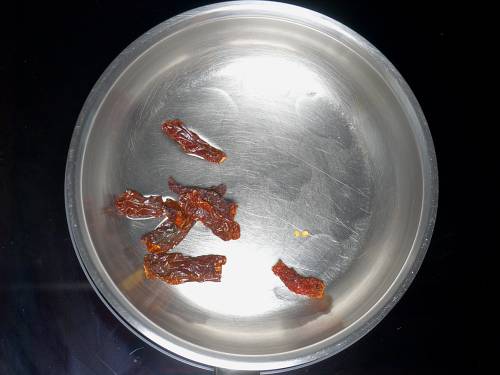 3. Add 1 medium onion cubed and 1 to 2 garlic cloves. Fry them as well for about 3 to 5 minutes or until the raw smell of onions goes away. You can also brown the onions lightly. Some people like to add garlic directly to the blender for the raw flavor. You can also do that.
[Substitute: If you don't eat onions and garlic, you may skip onions here and just use ginger instead of garlic]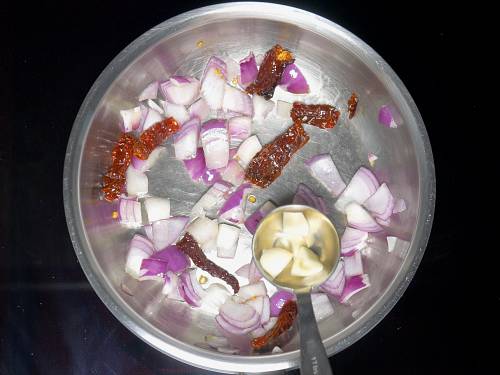 4. Add 3 large chopped tomatoes, ½ teaspoon salt and 1/8 teaspoon turmeric. Fry all of these until mushy. I do not add tamarind to this chutney as the tang from tomatoes is sufficient. If you prefer you can add very little.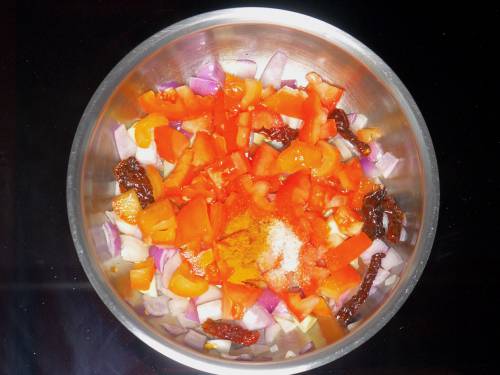 5. The raw smell of onions and tomatoes should go away. Next set aside to cool completely.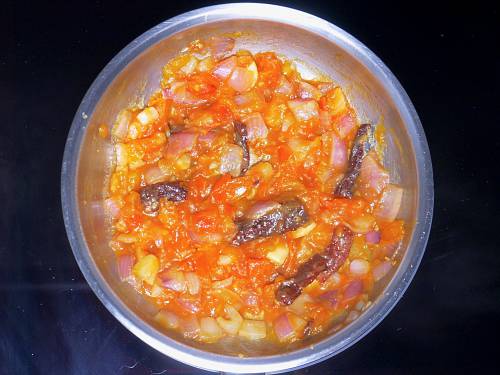 Grind Onion Tomato Chutney
6. Next add red chilies, cumin and roasted dals as well to a blender jar.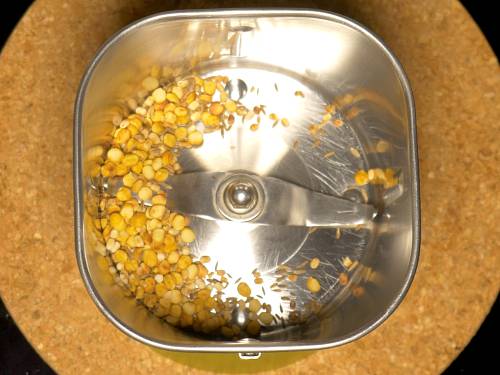 7. Make a fine powder. You can also blend all the ingredients together but I prefer to blend the dal finely first.
8. Add garlic, tomatoes and onions.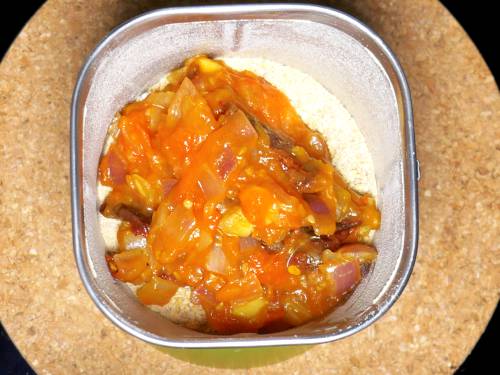 9. Next blend to a smooth or coarse texture to suit your liking. If using peanuts you may need to pour little water to adjust the consistency. Taste test and add more salt.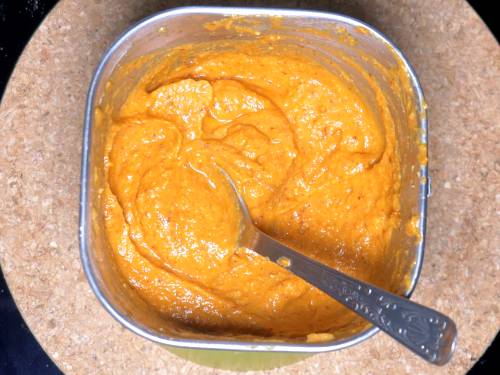 10. Lastly heat 1 teaspoon oil in a pan. Add ¼ teaspoon mustard seeds and ¼ teaspoon urad dal. Fry until the dal turns golden. Add curry leaves and red chilies. Turn off when the leaves turn crisp. Sprinkle hing.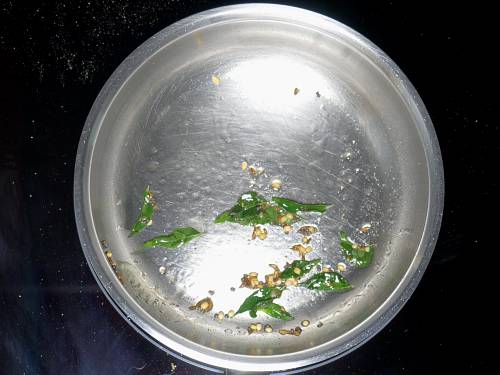 Finally pour this to the chutney. I usually use the same pan I sauteed the tomatoes in, for the tempering. So I add the chutney to the pan after tempering since the oil is too little.
Serve tomato chutney with breakfasts or snacks.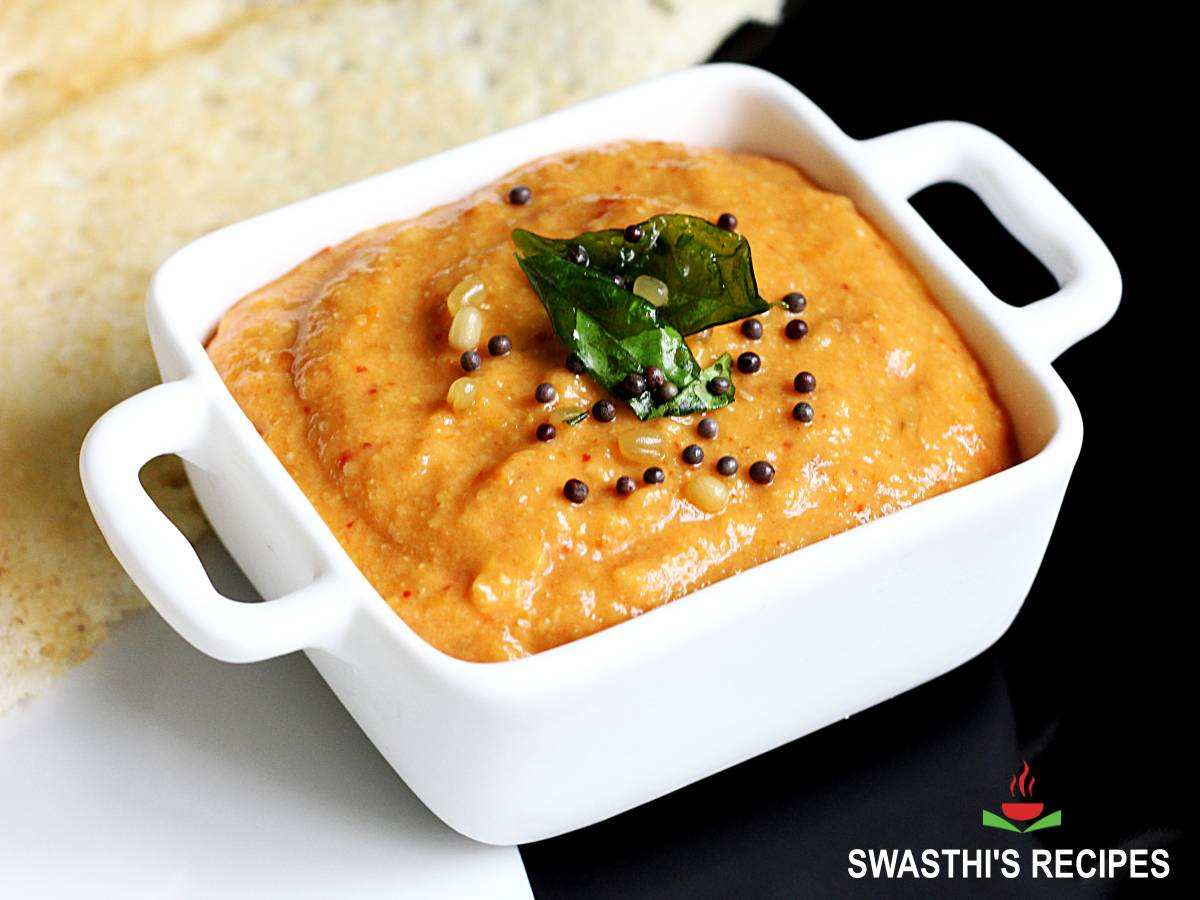 Serving Suggestions
Most South Indians serve chutney with breakfasts like idli, plain dosa, medu vada and even with plain rice & ghee. I also use this tomato chutney to serve with snacks, sandwiches, pakora and rolls. Smear the chutney on bread or rotis then add your favorite filling. You will love this!
I also smear this over the rotis for making kathi rolls for my kids. Tomato chutney can be made ahead & refrigerated for 2 days. A tadka or tempering to the refrigerated chutney brings back freshness to the chutney.
Pro Tips
There are tons of variations one can make to the basic tomato chutney. Here are the variations you can make to your tomato chutney using the following ingredients.
Onion tomato chutney – Onion is one of the main ingredient used to bring in a mild sweet aroma and balance the tang from tomatoes. However onions are an optional ingredients and can just be skipped in the recipe. You can also replace onions with shallots.
Red chilies are most commonly used to add spice and heat to the tomato chutney. However they can be replaced with green chilies but the chutney turns out to be extra hot. Also red chilies will yield a bright color to the chutney.
We do not eat very spicy foods so I have used red chilies. For extra heat do add in some green chilies.
In the onion tomato chutney recipe, the amount of onions, tomatoes and red chilies can also be altered to suit ones taste. The color of the chutney may vary based on the type and number of red chilies used.
Tempering tomato chutney with mustard, curry leaves & red chilli takes it to a new level and adds aroma. However if you are diet conscious you can skip it.
Variations
Peanuts or dal – In some parts of Andhra pradesh , chana dal & urad dal are used to make most chutney varieties as both these roasted lentils help to balance the heat and add a nutty aroma & taste.
In recent times, we have been loving peanuts in this tomato chutney. If you love the flavor of roasted peanuts then do try them. More details in the recipe card.
Garlic or ginger – Garlic or ginger is one of the key ingredients in any chutney to add a unique aroma. Traditionally raw garlic is added to most chutneys but roasting it reduces the pungent smell. If you do not eat garlic, then just use ginger.
I have not used tamarind, you can add in a bit for that unique flavor and taste.
If making tomato chutney for rice, avoid making it runny and cook the tomatoes until the moisture evaporates completely.
More Chutney recipes
Peanut chutney
Coconut chutney
Onion chutney
Faqs
What is tomato chutney?
Tomato chutney is an Indian condiment made with tomatoes as the main ingredient. Various spices and herbs are used to flavor up the chutney.
How long does tomato chutney last?
This chutney lasts for 2 days at room temperature and for a couple of months in refrigerator.
What to eat with tomato chutney?
Eat this with Indian breakfasts like idli, dosa & parathas. It also goes well with snacks like pakoras and sandwiches. It is also eaten with rice and ghee.
Related Recipes
Recipe Card 1
How to Make Tomato Chutney
You get the best tasting tomato chutney by using 2 kinds of tomatoes (sweet & tangy).

If you make a large batch, increase the saute and cook time accordingly.
Alternative quantities provided in the recipe card are for 1x only, original recipe.
For best results follow my detailed step-by-step photo instructions and tips above the recipe card.
Nutrition Facts
Tomato Chutney Recipe (Onion Tomato Chutney for Dosa)
Amount Per Serving
Calories 94
Calories from Fat 54
% Daily Value*
Fat 6g9%
Saturated Fat 1g6%
Trans Fat 0.02g
Polyunsaturated Fat 2g
Monounsaturated Fat 4g
Sodium 208mg9%
Potassium 368mg11%
Carbohydrates 9g3%
Fiber 2g8%
Sugar 5g6%
Protein 2g4%
Vitamin A 1188IU24%
Vitamin C 90mg109%
Calcium 29mg3%
Iron 1mg6%
* Percent Daily Values are based on a 2000 calorie diet.
Recipe Card 2
How to make Tomato Chutney
3 tablespoons of sesame seeds can be used as a substitute to dal or peanuts.
Alternative quantities provided in the recipe card are for 1x only, original recipe.
For best results follow my detailed step-by-step photo instructions and tips above the recipe card.
Nutrition Facts
Onion Tomato Chutney
Amount Per Serving
Calories 120
Calories from Fat 27
% Daily Value*
Fat 3g5%
Sodium 13mg1%
Potassium 410mg12%
Carbohydrates 19g6%
Fiber 4g17%
Sugar 8g9%
Protein 4g8%
Vitamin A 715IU14%
Vitamin C 113.2mg137%
Calcium 33mg3%
Iron 2.1mg12%
* Percent Daily Values are based on a 2000 calorie diet.
This post was first published in April 2015. Updated & republished in July 2022.