Double ka Meetha is a royal Mughlai delicacy of golden fried bread simmered in an aromatic creamy and rich thickened milk. Delicately scented with cardamoms, saffron and rose water, this Hyderabadi Double Ka Meetha is as popular as its counterpart Hyderabadi Biryani. A traditional special or festive Hyderabadi meal is incomplete without this bread ka meetha. Make it on the stovetop or in the oven with this easy recipe.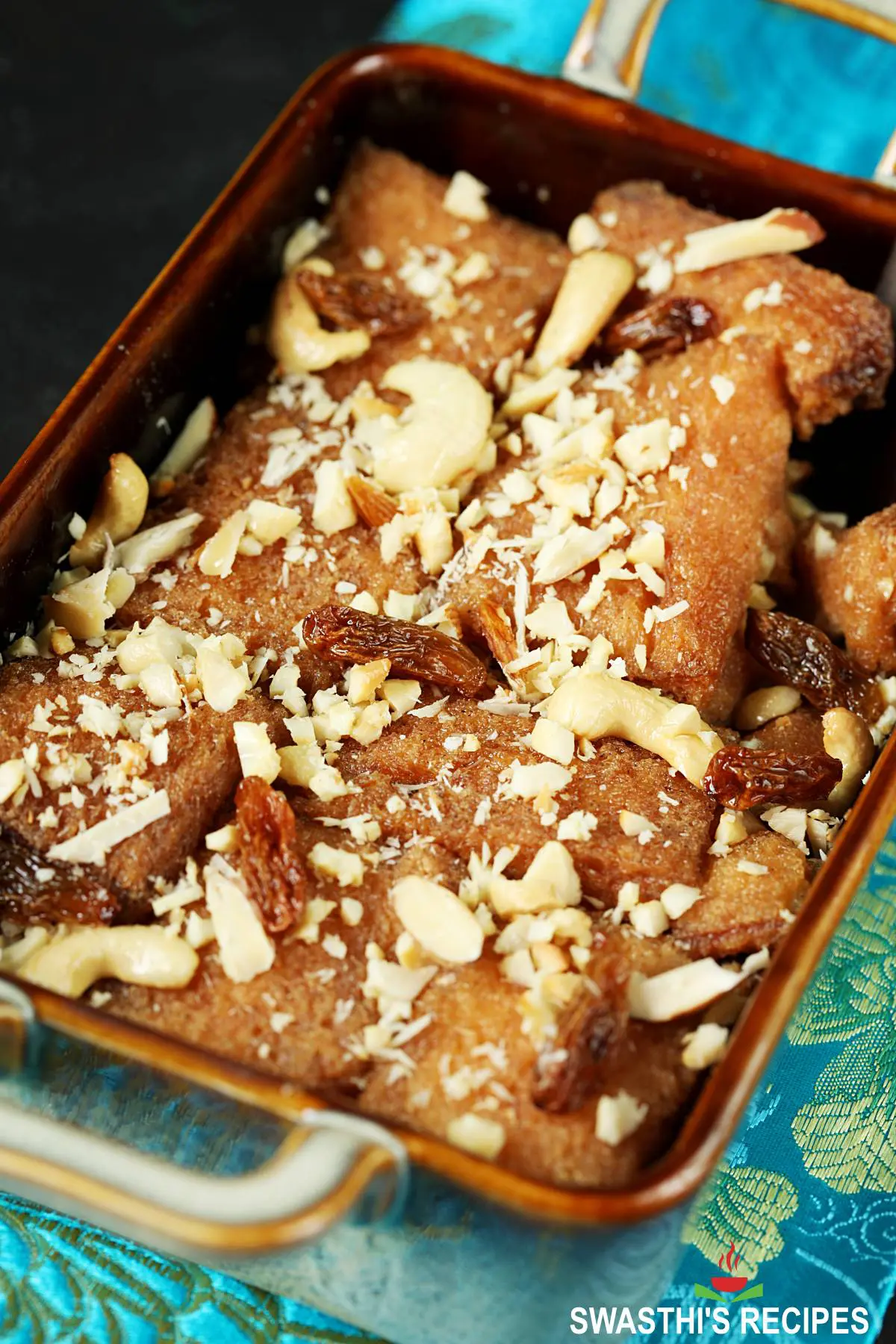 About Double Ka Meetha
For the uninitiated, Double ka Meetha is the Mughlai style Indian bread pudding served as an after-meal dessert. The word "Double" comes from the local Indian dialect "Double roti" that refers to "Sandwich Bread". Meetha is a Hindi and urdu word for "sweet". So it is called as Double ka Meetha or Bread ka meetha.
Apart from weddings & parties, this delicious sweet pudding is served with Non-vegetarian Biryani meal or Bhojanam in some standard restaurants specialized in Andhra/Hyderabadi cuisine.
To begin with cubes of thick air dried white bread are deep fried in ghee until crispy and crusty.
These are sweetened with a flavored sugar syrup and then simmered briefly in full fat milk or evaporated milk. The fried bread soaks up all of the liquid resulting in a flavorsome, juicy & delicious mouth-melting dessert.
Double ka Meetha is garnished lastly with chopped nuts. There are a lot of colorful garnishing options like using khoya/mawa, condensed milk, tutti fruttis, edible silver and many more.
About My Recipe
There are numerous ways to make Double ka Meetha. Ask any Hyderabadi for a bread ka meetha recipe and you are likely to see dozens of variations, each customized to their family taste and preferences.
This recipe is made the simplest way in a Hyderabadi local style with minimal ingredients. This double ka meetha is juicy, has tons of flavors and literally melts in your mouth without making you feel heavy.
White bread, ghee, evaporated milk, sugar and flavoring spices are the key in this recipe. A generous amount of nuts, raisins (optional) & khoya (optional) are used for garnishing.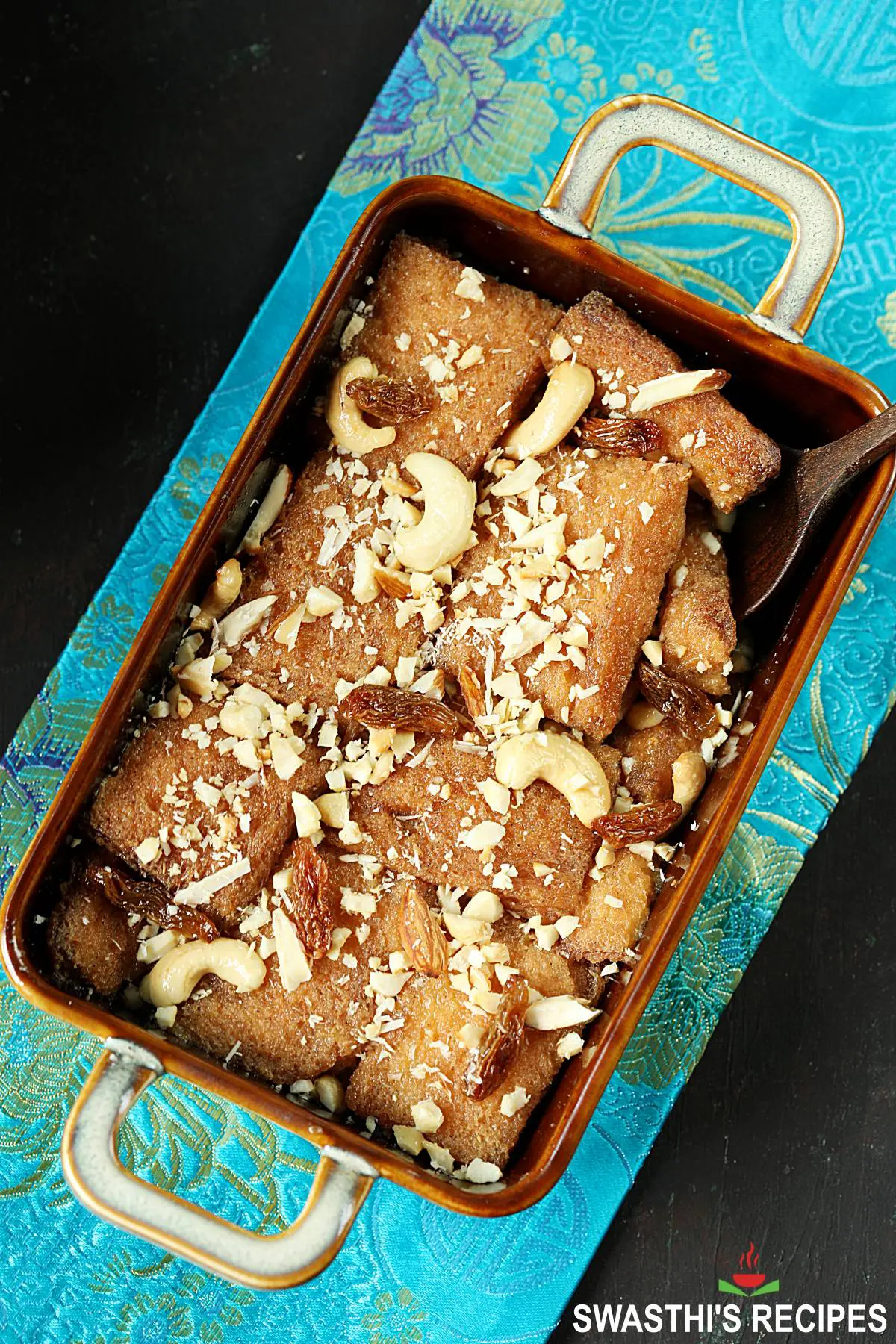 Key Pointers
I use evaporated milk to impart some richness to the dessert and this also cuts down the cook time. If you are not accessible to evaporated milk, check my pro tips section below. I also share 2 ways to make your own evaporated milk at home.
I have given the recipe for a small batch that serves 4 to 5 but my actual recipe is for a larger batch (3x as seen in the pictures below) which can serve up to 12 to 15. If you are making this to serve as a after-meal dessert it can serve up to 18 (3x recipe).
Traditionally double ka meetha is made in a wide cookware known as lagan. Any wide cookware works similarly. Using a wider cookware prevents the bread from becoming too soggy & the bread holds its shape. Your entire batch of double ka meetha is cooked uniformly.
To make the dish faster use store bought crustless bread, canned evaporated milk & silvered almonds.
How to make Double ka Meetha (Stepwise Photos)
To make a larger batch, scroll down to the recipe card and select 2x or 3x and prepare the ingredients.
1. Here are the ingredients for a smaller batch
¼ to ⅓ cup organic sugar (may reduce if using refined sugar)
1 pinch saffron (kesar)
¼ teaspoon cardamom powder
8 cashews split
4 almonds (sliced, optional)
1 tablespoon raisins (optional, not in the pictures)
orange food color as required (optional)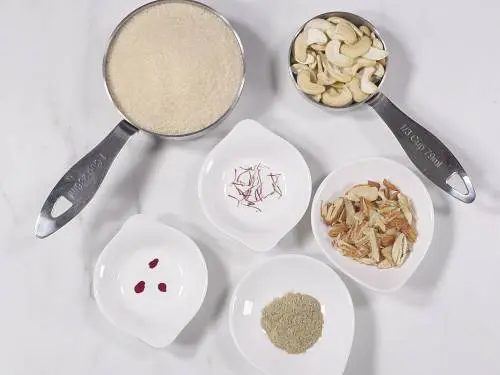 2. You will need 4 thick bread slices. Avoid using chewy bread. If not using crustless bread, trim the edges to remove the crust. Arrange them on a wide tray.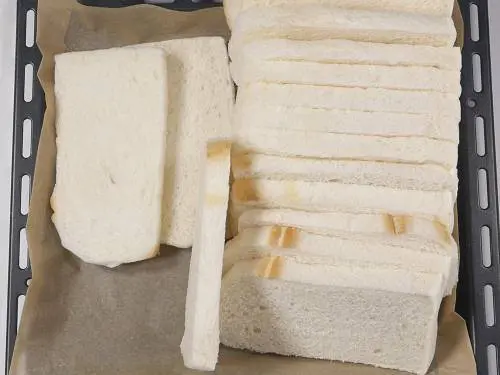 3. Air dry/ sun dry or toast bread in an oven or air fryer until the bread slices are a bit dry and moist-free. I prefer to toast the bread at 300 F or 150 C for 3 mins on each side. In the air fryer, I do them at 320F/160 C for 1 min in a preheated air fryer. Place a wired rack over the bread.
4. Cool completely. Cut them to 2 inch pieces.
Fry the Bread & Nuts
5. Add ⅓ cup ghee to a small kadai and heat it on a medium flame. When the ghee is medium hot, add the bread pieces.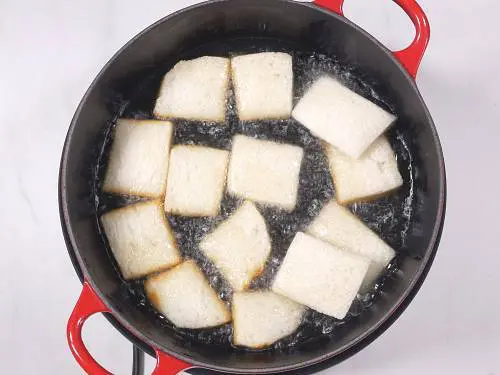 6. Turn the pieces with a medium spoon to the other side and deep fry until golden & crisp. Do not over fry and avoid frying at high temperature. It just takes 30 to 40 seconds for a well-fried batch of bread to burn so be extra cautious.
7. When the bread turns light brown/ deep golden, remove them to a cooling rack or a steel colander. Before frying the next batch of bread, make sure the flame is low and then regulate it to medium as required.
8. Add a tablespoon ghee and heat it. Fry the nuts until light golden. If you want add raisins and fry until they turn plump. Remove them to a plate.
Make Sugar Syrup
9. Add sugar, saffron, cardamom powder and ⅓ cup water to a small pot.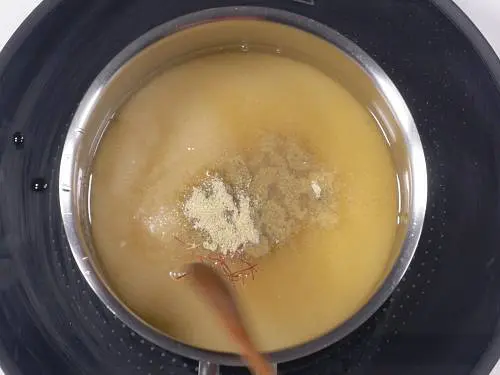 10. Mix well and dissolve the sugar, bring this to a rolling boil and turn off.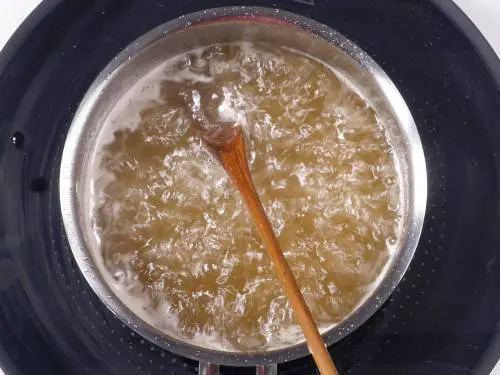 11. Add 1 teaspoon rose water or a few drops essence and food color (optional). Keep this in a warm place.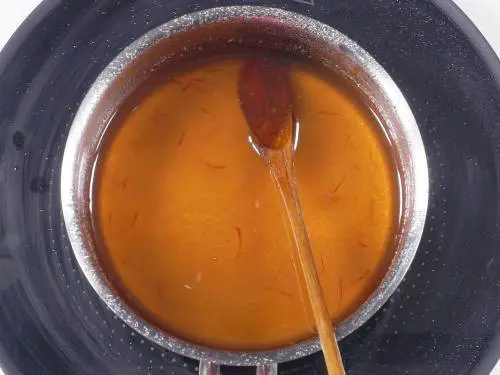 Make Double ka Meetha
12. Make sure there is a layer of ghee coated all over the pan. I use the same pan used for frying nuts. Arrange the fried bread in a single layer in a wide pan. (for 2x & 3x, add only half of the bread). Pour the sugar syrup all over the fried bread. If making 2x or 3x, pour half of the sugar syrup.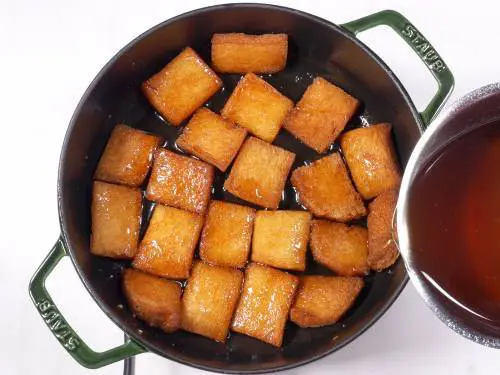 13. Immediately pour the evaporated milk. If making 2x or 3 x, pour half of the evaporated milk.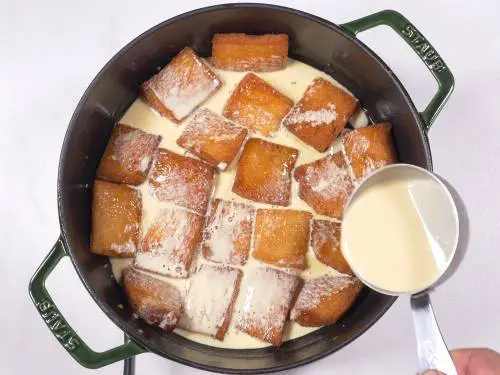 14. Since I made a larger batch, I added rest of the bread and poured the sugar syrup. If you want you may retain some of the syrup in the pot. You can add it later if you want. Avoid making more than 2 layers as the bread on top won't soften & your bottom layer will be too soft.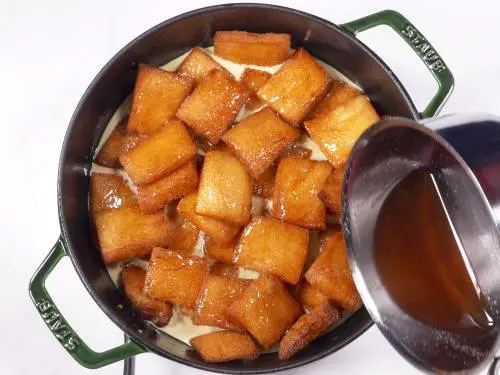 15. Pour the rest of the evaporated milk all over the bread.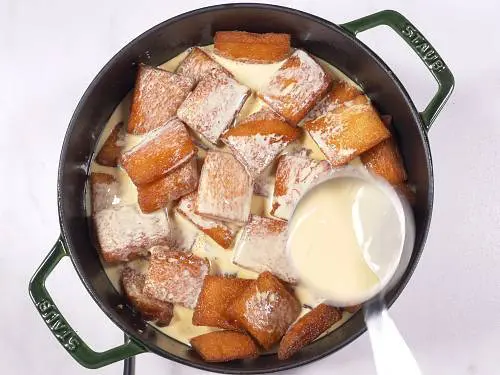 16. Gently shake the pan. Turn on the stove to medium heat and cook for 2 to 3 mins, until bubbling hot.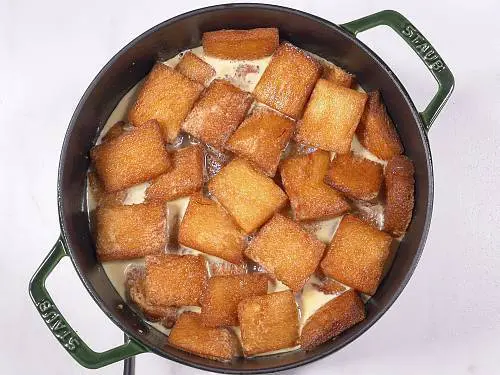 17. Continue to cook on a low heat until you see all of the milk is absorbed and only the syrup is left at the bottom. Take care not to burn.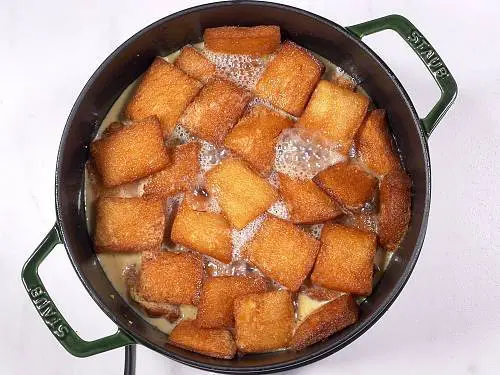 18. Here is a look at the bottom. You will see little syrup.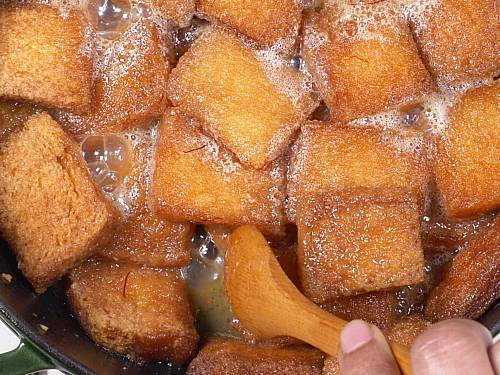 19. Turn off the heat and cover the pan. Let the bread rest in the pan for 10 mins.
20. Your double ka meetha should be soft, juicy and mouth melting, yet the bread should hold its shape.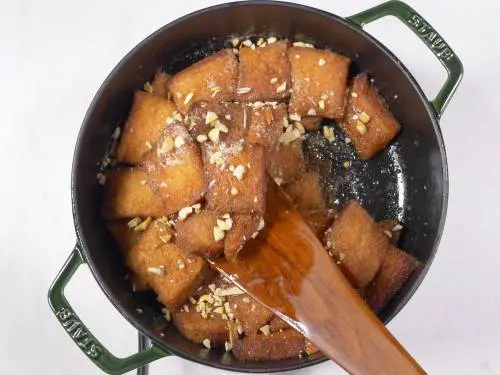 Garnish with fried nuts, khoya (optional) and edible silver if you want.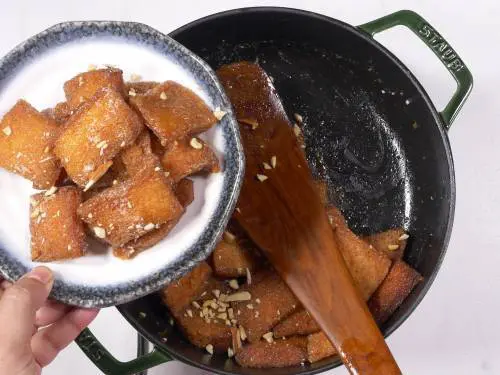 Oven Baked Double ka Meetha
Layer the fried bread in a pan and pour the syrup, followed by evaporated milk. Repeat this process and make another layer. Cover and let rest at room temperature for 10 minutes. Later gently remove the liquid that collects at the bottom of the pan. Pour this back all over the bread.
Repeat this 4 to 5 times after every 5 mins until the bread is softened completely. For the last time remove the liquid and set aside.
Bake this in a preheated oven at 300 F or 150 C for 5 minutes. After 5 minutes pour the liquid that you set aside and bake for another 10 minutes or till the bread is slightly crispy on top.
Garnish with chopped nuts, khoya and fried raisins if you want.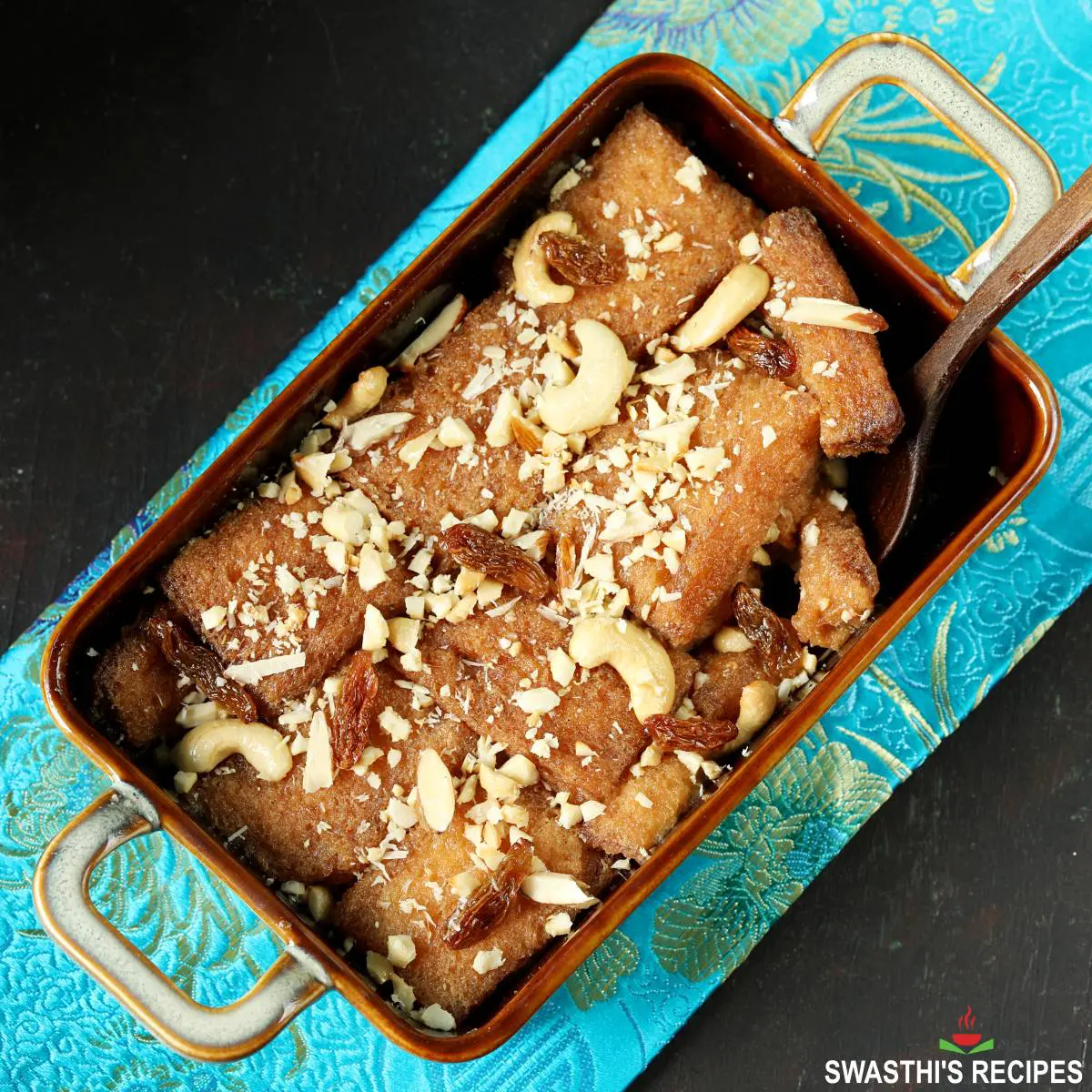 Pro Tips
Air dry/sun dry/ oven dry or air fry the bread to reduce moisture in the bread slices. This way bread won't soak up too much ghee when fried.
Oil/ghee for frying: I prefer a mix of oil and ghee for personal preference. I use organic steam refined flavorless coconut oil mixed together with ghee. Using other kinds of oil is going to impart the flavors to your sweet which really don't taste good. Using only ghee makes double ka meetha heavy but still very good.
I do not suggest using oils like sunflower, peanut etc which can easily ruin the flavors.
Bread: Traditionally a specific kind of bread known as meetha ka bread is sold in local bakeries which is mostly preferred due to the thickness and dry nature. For best results use thick slices of bread. I personally prefer white bread or milk bread for the flavor they impart.
Flavor: Saffron, cardamoms and rose essence/flavor or rose water can be used. Please note that rose essence/flavor and rose water are different. Use edible quality flavorings only.
Color: Using food color is optional and you may opt to use only saffron for a mild color. Orange & red are the most common colors used. I used organic food color made with beets which actually did not make a difference.
Make your own evaporated milk by boiling 1¾ cups milk and simmer stirring often until it reduces to half. Whisk well for 3 to 4 minutes until all of the cream breaks down. You don't need to strain the milk. The other way is to dissolve half cup unsweetened khoya in ¾ cup hot milk. Boil this until it reduces to ¾ cup.
Related Recipes
Recipe Card
Avoid using chewy bread.
If you want more soggy double ka meetha, just use more evaporated milk.
I use organic sugar which is a little low in sweetness. ⅓ cup for 1x works perfectly for me. You may use the same amount and start with lesser syrup while pouring, saving a little to adjust later. Alternately you may use only ¼ cup sugar for a low sweet. 
I made 3x recipe so you will see more quantities in the pictures. For oven instructions check the stepwise photo instructions.

2x & 3x recipe – Arrange half of the fried bread and pour half of the syrup followed by half of the evaporated milk. Repeat layering the bread, followed by the syrup and then the evaporated milk. Do not make more than 2 layers as this makes your top layer dry and bottom too soft.
Alternative quantities provided in the recipe card are for 1x only, original recipe.
For best results follow my detailed step-by-step photo instructions and tips above the recipe card.
Nutrition Facts
Double Ka Meetha Recipe
Amount Per Serving
Calories 301
Calories from Fat 153
% Daily Value*
Fat 17g26%
Saturated Fat 9g56%
Trans Fat 0.01g
Polyunsaturated Fat 1g
Monounsaturated Fat 5g
Cholesterol 40mg13%
Sodium 162mg7%
Potassium 203mg6%
Carbohydrates 33g11%
Fiber 1g4%
Sugar 18g20%
Protein 6g12%
Vitamin A 91IU2%
Vitamin C 1mg1%
Calcium 157mg16%
Iron 1mg6%
* Percent Daily Values are based on a 2000 calorie diet.