This Lamb Curry greets you with a wide range of exotic flavors!!! Delicious & rich fall-apart lamb, slow cooked to perfection in a curry sauce made with aromatic spices and herbs. This Lamb Curry is the perfect comfort food & you will love it for everything – flavors, texture and richness. Serve it over steamed rice or with Naan, Chapati, pav, artisan breads or any flatbread of choice.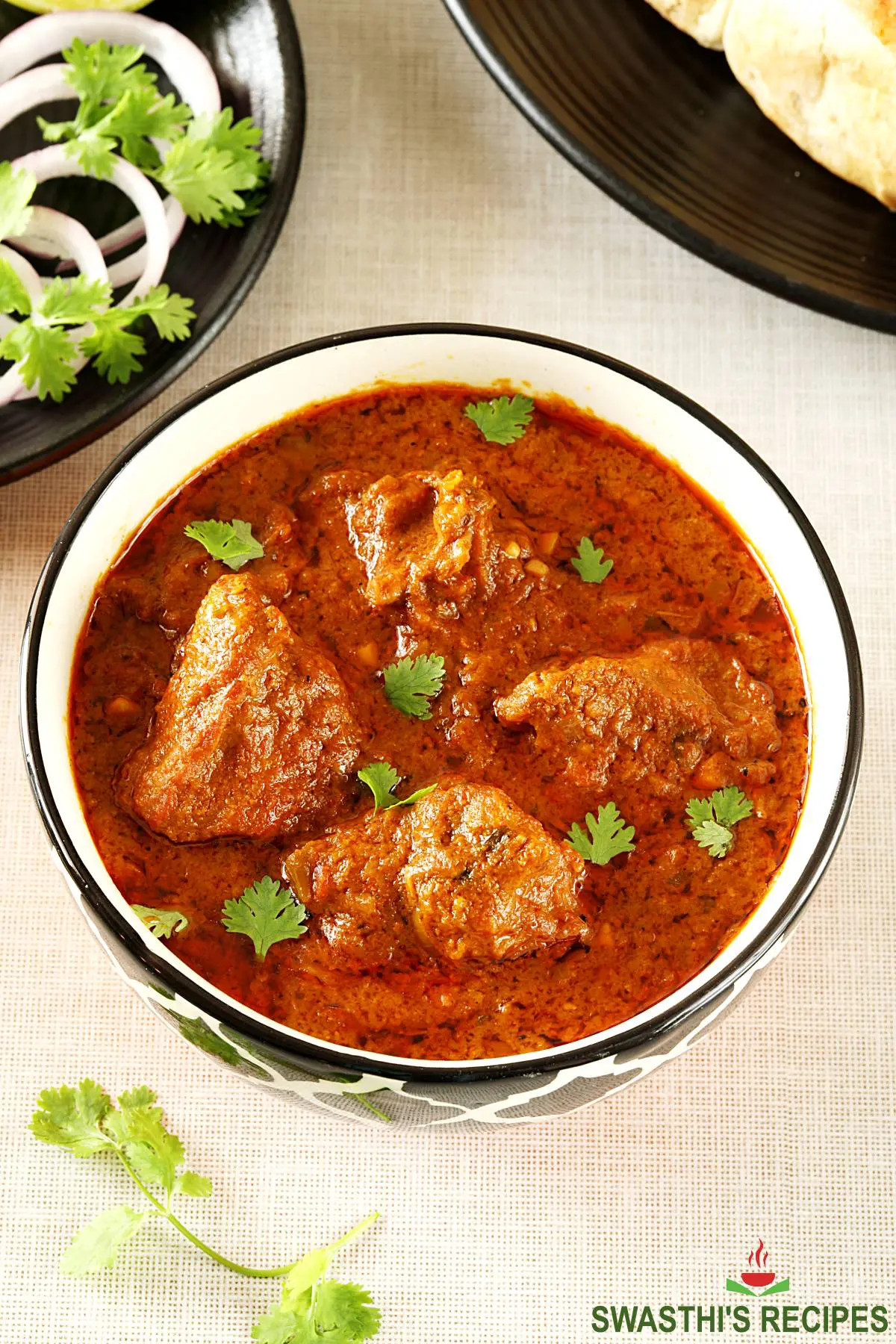 Though you can make this lamb curry in a pressure cooker or slow cooker, here I share the method to cook it in a heavy bottom pot or Dutch oven on the stovetop.
About Lamb Curry
To make this Lamb Curry we first marinate the meat with ground spices, herbs and plain yogurt. If you do not prefer dairy in your dish, you may use lemon juice or vinegar. This marinade tenderizes the meat, imparts deeper flavors and removes the gamey taste & flavor.
Resting the meat in the marinade also reduces the cook time.
We later braise the lamb slowly for a while and simmer with hot water to bring out the flavors from the marrow/bones. Meanwhile we make a flavorful onion tomato masala and add it to the simmering lamb.
This slow cooked Indian Lamb Curry takes about 2 hours but the results are simply amazing! It is full-flavored, delicious and the meat is fall-apart tender.
For this recipe, we personally prefer bone-in lamb shoulder, leg or shanks. Bone-in meat imparts the unique flavors of marrow to your curry. However if you prefer using bone-less meat, cut down the spices or optionally use stock or bone-broth/ yakhni.
This recipe is very rewarding but patience is the key – everything is slow cooked to achieve those perfect results. It is spicy & mildly hot but not so hot to turn off a majority of people. If you want more hot, use a different kind of hot chili powder in place or Kashmiri.
More Lamb Recipes
Lamb Vindaloo
Lamb Rogan Josh
Keema Recipe
How to make Lamb Curry (Stepwise Photos)
Marinade
1. To a small bowl add the following spices & mix them well. Keep aside.
2 to 3 teaspoons Kashmiri red chili powder (adjust to taste, or a mix of smoked paprika & cayenne)
2 to 3 teaspoons garam masala (or meat/ biryani masala, adjust to taste, read notes in the recipe card)
½ teaspoon ground turmeric
¾ to 1 teaspoon cumin powder (ground cumin)
1 tablespoon coriander powder (ground coriander)
2 teaspoons salt (more to adjust)
½ tablespoon Kasuri methi (dried fenugreek leaves, do not use more, optional)
I use all fresh homemade spice powders. If you think yours don't smell fresh, you may use more.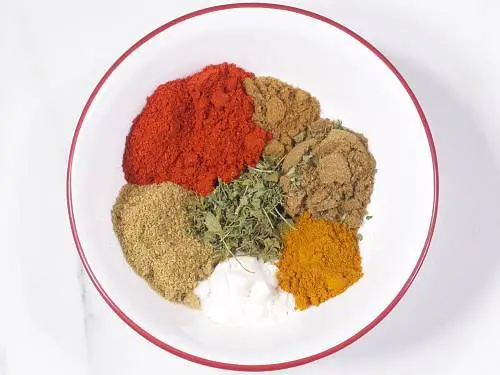 2. For this recipe I use 4 tablespoons chopped fresh mint leaves (1 cup leaves loosely measured). If you don't have you may leave out. You will need ¼ cup plain yogurt. I use this homemade Indian Curd. Whisk it well with a fork until smooth.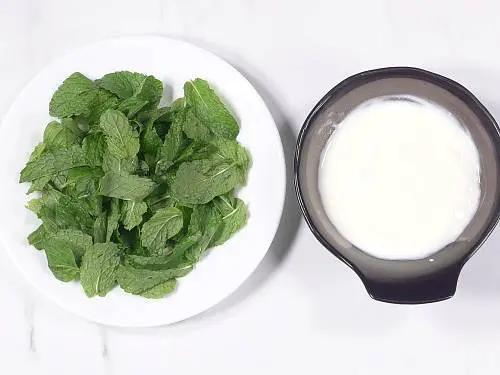 4. Use 1 kg (2.2 lbs) lamb for this recipe and drain any liquid/water completely. If you want you may trim off any excess fats, especially any yellow fats are best removed and discarded.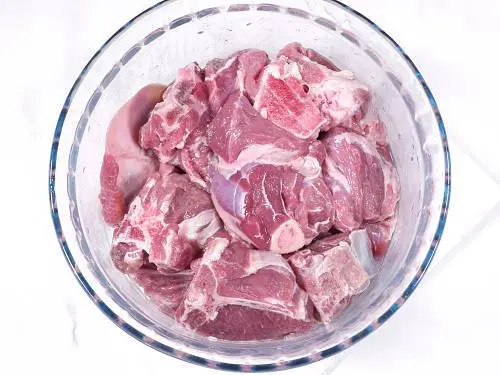 5. Add half of the prepared spice powder, 1 tablespoon ginger garlic paste (or grated) and yogurt to the lamb.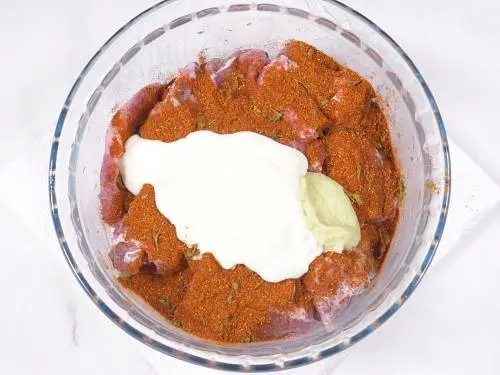 6. Mix well to coat each piece of lamb and cover the bowl. Rest at room temperature for at least 1 hour or overnight in the refrigerator.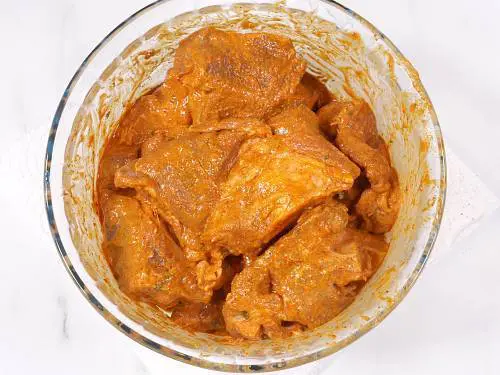 Braise the Lamb
7. The following whole spices are optional but they infuse another layer of flavors to your dish. If you prefer not to use them, add more garam masala before finishing the dish.
1 large bay leaf or 2 small
6 green cardamoms
3 to 4 inch Ceylon cinnamon piece
2 black cardamom (optional, I don't crush, if you want you may)
1 to 2 star anise (optional)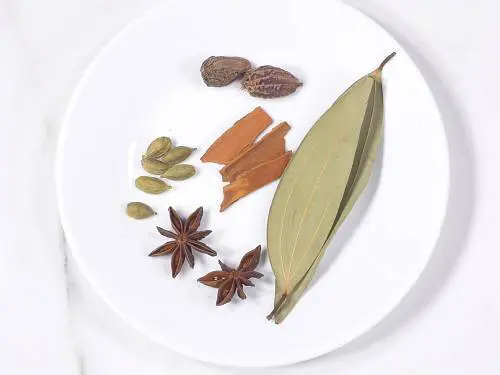 8. Heat 1 to 2 tablespoons ghee in a heavy bottom pot or Dutch oven. Add the whole spices. When they begin to sizzle add the chopped mint leaves and let them fry on a low heat until aromatic, for a minute or 2.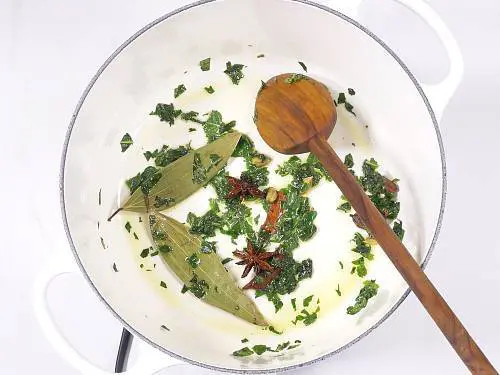 9. Add the marinated lamb and begin to braise on a low to medium heat for 10 minutes. Meanwhile on another burner, heat 2 cups of water in a pot.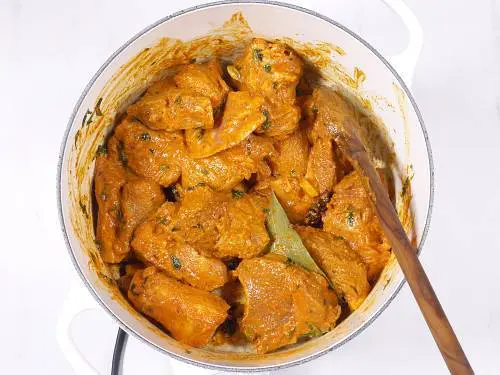 10. You will see the color of the meat begins to change. Keep stirring as the spice marinade can easily burn.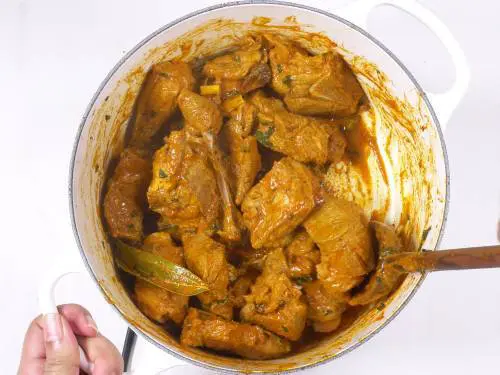 11. After 10 minutes, pour 2 cups of hot water (not boiling hot). Mix well and rise the heat to medium. Bring the water to a boil and cover. Simmer on a low to medium heat for 1 hour. Keep stirring after every 15 minutes, add more hot water in batches as required. Make sure the meat is not burning at the bottom. I use a total of 5 cups, added in batches (2+2+1). This can vary depending on the meat & kind of cookware.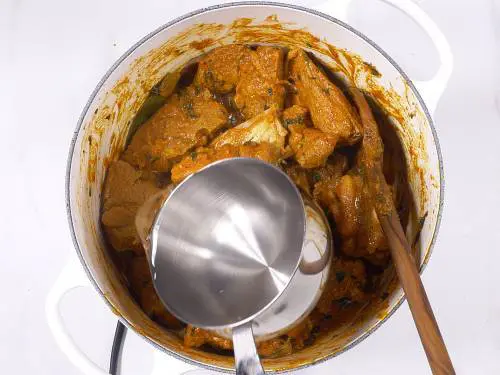 12. Meanwhile prepare the following to make the curry.
2 cups onions fine chopped (2 large, avoid purple onions)
1½ cup (300 g) tomatoes (fresh ripe tomatoes chopped or pureed or 1 cup bottled like passata)
1 tablespoon ginger garlic paste or grated
1 to 2 green chili peppers (slit & deseeded, optional)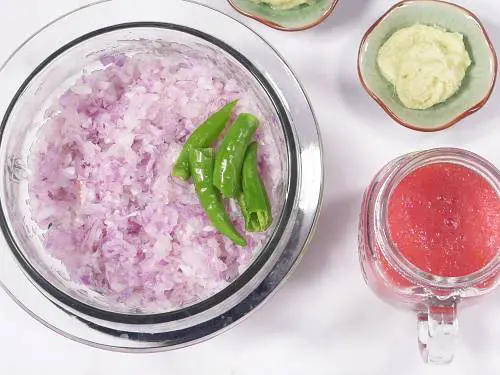 13. Heat 4 tablespoons oil. You may reduce oil but it really takes a lot of time to cook the onions with lesser oil. Add onions and green chilies. Saute on a medium heat for 6 to 7 mins. Reduce the heat to low or medium-low and saute until they turn golden but not burnt. This step takes about 15 to 20 minutes. Avoid frying on a high heat as the onions can taste bitter.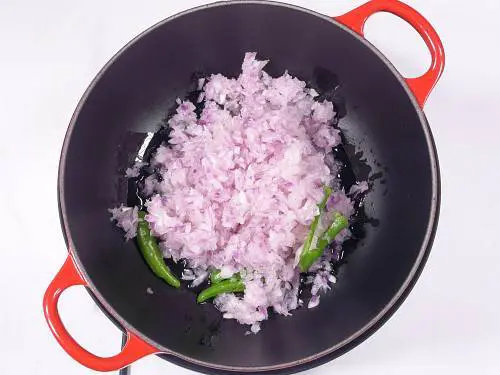 14. Add 1 tablespoon ginger garlic paste and saute for a minute or 2, until aromatic. Meanwhile check the lamb and pour hot water as required.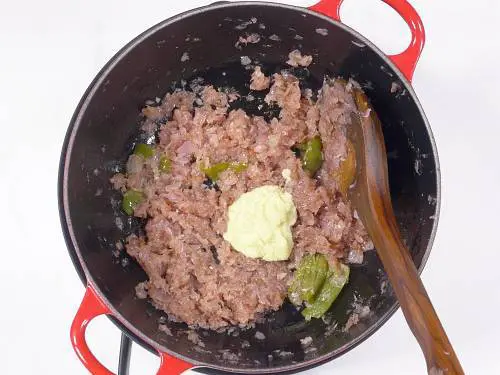 15. Turn off the heat and quickly stir in the spices.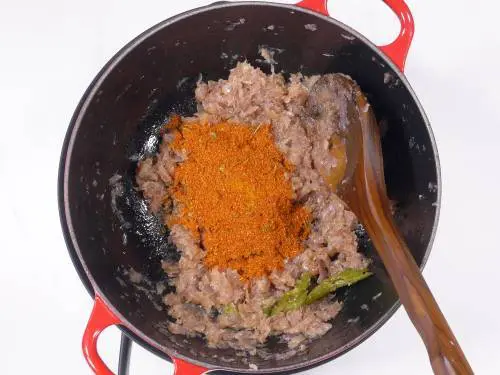 16. Pour the tomato puree.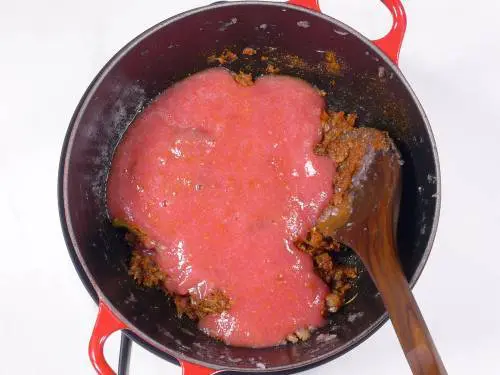 17. Saute for a few minutes until the tomatoes loose their raw flavor.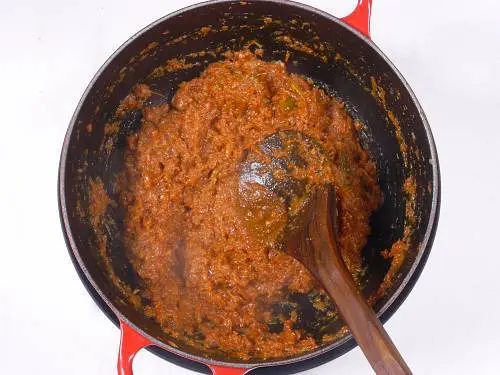 18. After 1 hour, my lamb was looking like this. I poured 5 cups hot water totally as it cooked.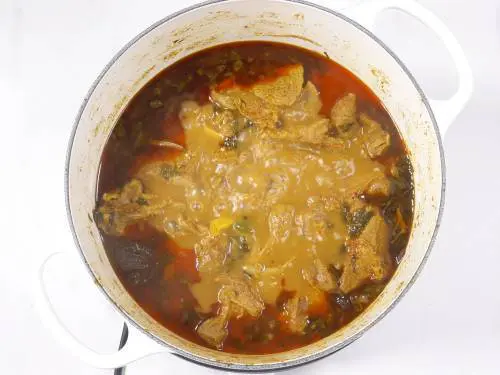 19. Add the onion tomato masala. Mix well and continue to cook on a very low heat until the lamb is fully tender. After adding the onion tomato masala, it is important to keep stirring after every 5 to 7 minutes else the curry is likely to get burnt. If it is too thick you may add more hot water. But I have never used more than 5 cups for this recipe.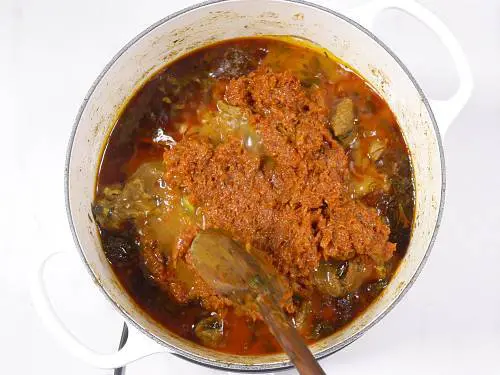 20. This is how it should look when it is done. It took me another 50 minutes to cook fully. The curry looks a bit runny but will thicken upon cooling. Taste test and add more salt, garam masala & kasuri methi if required before finishing the dish. I do it after resting the dish for a few hours. Scroll down to know what I actually do before serving.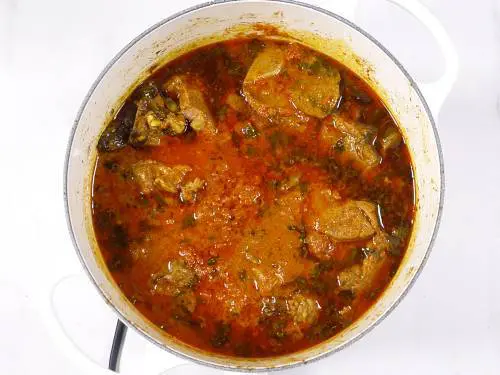 Serving
Garnish Lamb Curry with chopped coriander leaves. As the curry rests it is likely to turn darker and thicker.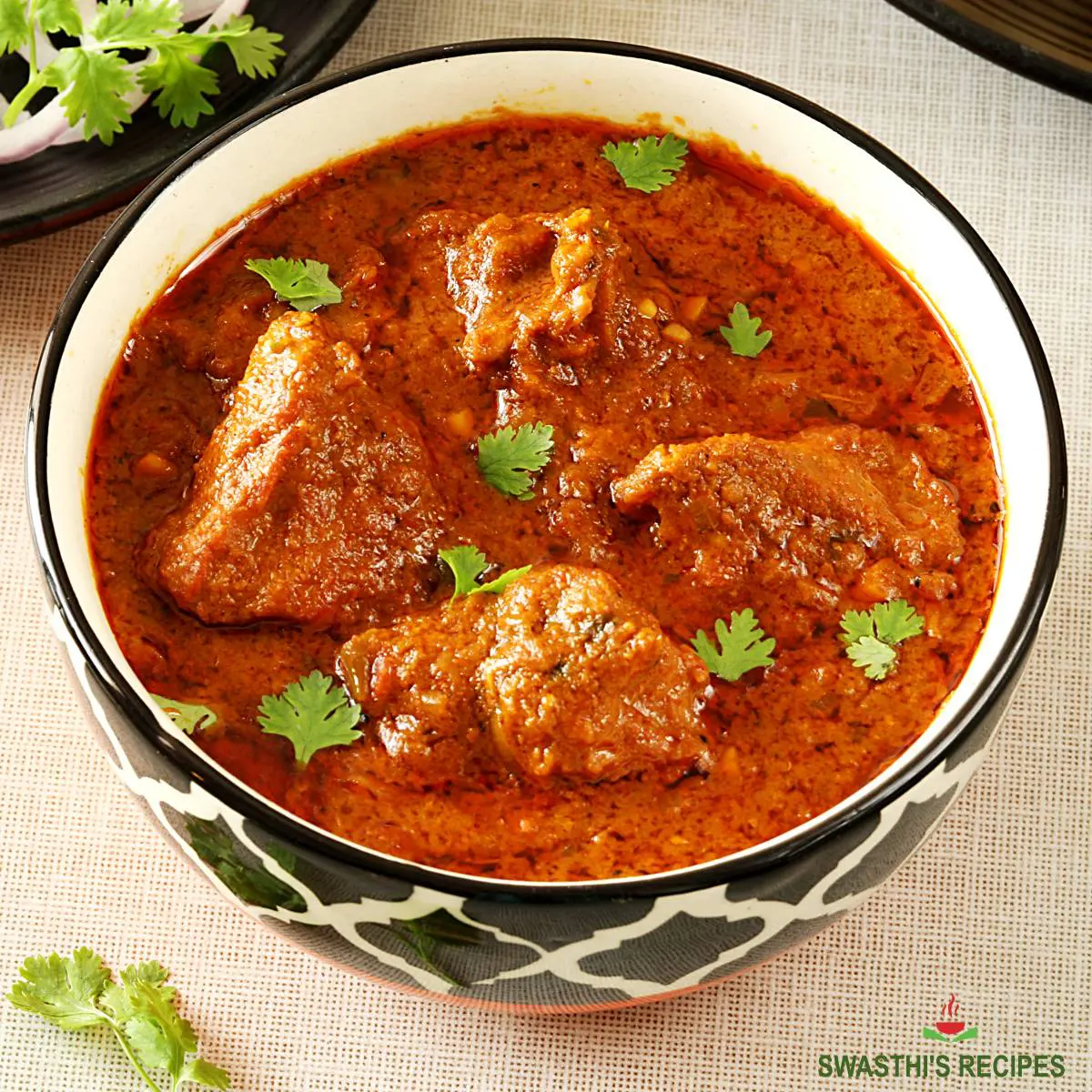 I always rest the dish for a minimum of 2 to 3 hours so the flavors develop. It tastes best after resting or even the next day. I reheat before serving and adjust the spices – 1 teaspoon each of salt, garam masala, kasuri methi and black pepper for more heat. If your dish is not spicy you may add some smoked red chilli flakes and freshly cracked black pepper but not red chilli powder.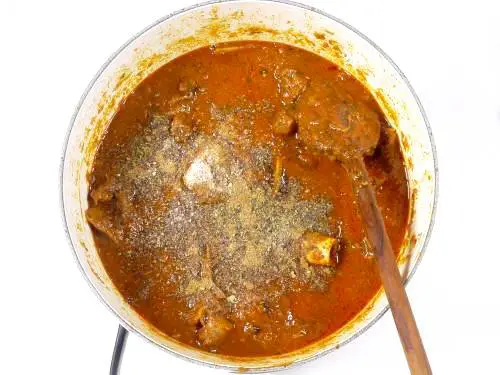 Lamb Curry becomes thicker & darker as it rests. A lot of times I also do a simple tadka with 1 tablespoon ghee, 1 to 2 red chilies, 1 inch ginger juliennes and pour it over the hot Lamb curry.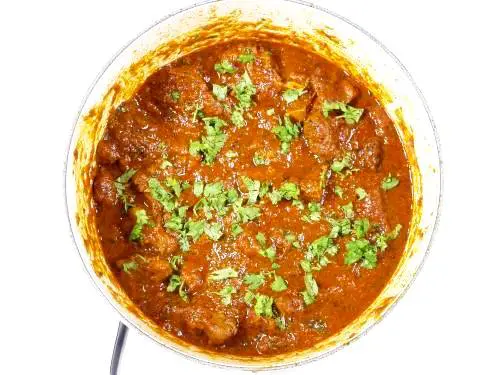 Pro Tips
Fats – Oil/ Ghee: Do not reduce the quantity of fats in this recipe. You need to saute the onions well in enough oil else it takes forever for them to become golden/ brown. Serve smaller portions if you can't eat high fat foods. I prefer to use oil for the curry and ghee to braise the meat.
Curd/ Plain yogurt: A lot of Indian recipes use a lot more yogurt and lesser tomatoes for this kind of a curry. This recipe uses lesser dairy to make it a lighter dish.
Garam Masala: You can use garam masala, biryani masala or meat masala. The strength of each garam masala/ spice powder is different and it depends on the brand. I personally love this Biryani Masala for this lamb curry. This spice powder is not very pungent but has plenty of sweeter flavors that aids digestion and reduces the acidic nature of lamb meat.
Recipe Card
2.2 lbs (1 Kg)

bone-in lamb

(shoulder or leg cut or bone-less)

¼

cup

plain yogurt

(for substitutes read notes)

2 to 3

teaspoons

Kashmiri red chilli powder

(adjust to taste, read notes)

½

teaspoon

turmeric

2 to 3

teaspoons

garam masala

(or meat masala, adjust to taste, read notes)

¾ to 1

teaspoon

cumin powder

1

tablespoon

coriander powder

2

teaspoon

salt

(more to adjust)

6

tablespoons

oil

or ghee (divided, more if you prefer)

1

bay leaf

6

green cardamoms

3

inch

cinnamon piece

2

black cardamom

(optional)

1 to 2

star anise

(optional)

2

cups

onions

fine chopped

1½ cup (300 g)

tomatoes

(fresh tomatoes chopped or pureed or 1 cup bottled like passata)

1 to 2

green chilli slit

( deseeded, optional)

2

tablespoon

ginger garlic paste

(or minced, divided equally)

4

tablespoons

mint leaves

(pudina, fine chopped)

4 to 5

cup

hot water

(cut down for boneless, adjust as needed)

½

tablespoon

kasuri methi

(dried fenugreeks leaves, optional)

¼

cup

coriander leaves

(fine chopped, optional)
To make the dish dairy-free, use 1½ tablespoon vinegar or 2 tablespoons lemon juice. If the marinade is too dry, splash some water.
I use Kashmiri red chili powder. To substitute use sweet paprika in combination with cayenne. 
Use fresh and aromatic spices. Store bought garam masala is not as aromatic as the homemade so you may need to adjust the quantities. I use garam masala or biryani masala or meat masala for this.
Also note that using too many spices can make your dish taste bitter.
Alternative quantities provided in the recipe card are for 1x only, original recipe.
For best results follow my detailed step-by-step photo instructions and tips above the recipe card.
Nutrition Facts
Lamb Curry Recipe
Amount Per Serving
Calories 725
Calories from Fat 153
% Daily Value*
Fat 17g26%
Saturated Fat 2g13%
Trans Fat 0.04g
Polyunsaturated Fat 5g
Monounsaturated Fat 7g
Cholesterol 2mg1%
Sodium 995mg43%
Potassium 8020mg229%
Carbohydrates 136g45%
Fiber 41g171%
Sugar 86g96%
Protein 31g62%
Vitamin A 26937IU539%
Vitamin C 491mg595%
Calcium 501mg50%
Iron 14mg78%
* Percent Daily Values are based on a 2000 calorie diet.