Make Chocolate Ice Cream at home with just 4 ingredients! Classy, ultra-smooth & creamy, this chocolate ice cream is the perfect summer treat. This recipe is simple, quick and comes together under 15 mins, all the time it takes is to freeze. This Chocolate Ice cream recipe is eggless and no ice cream machine needed.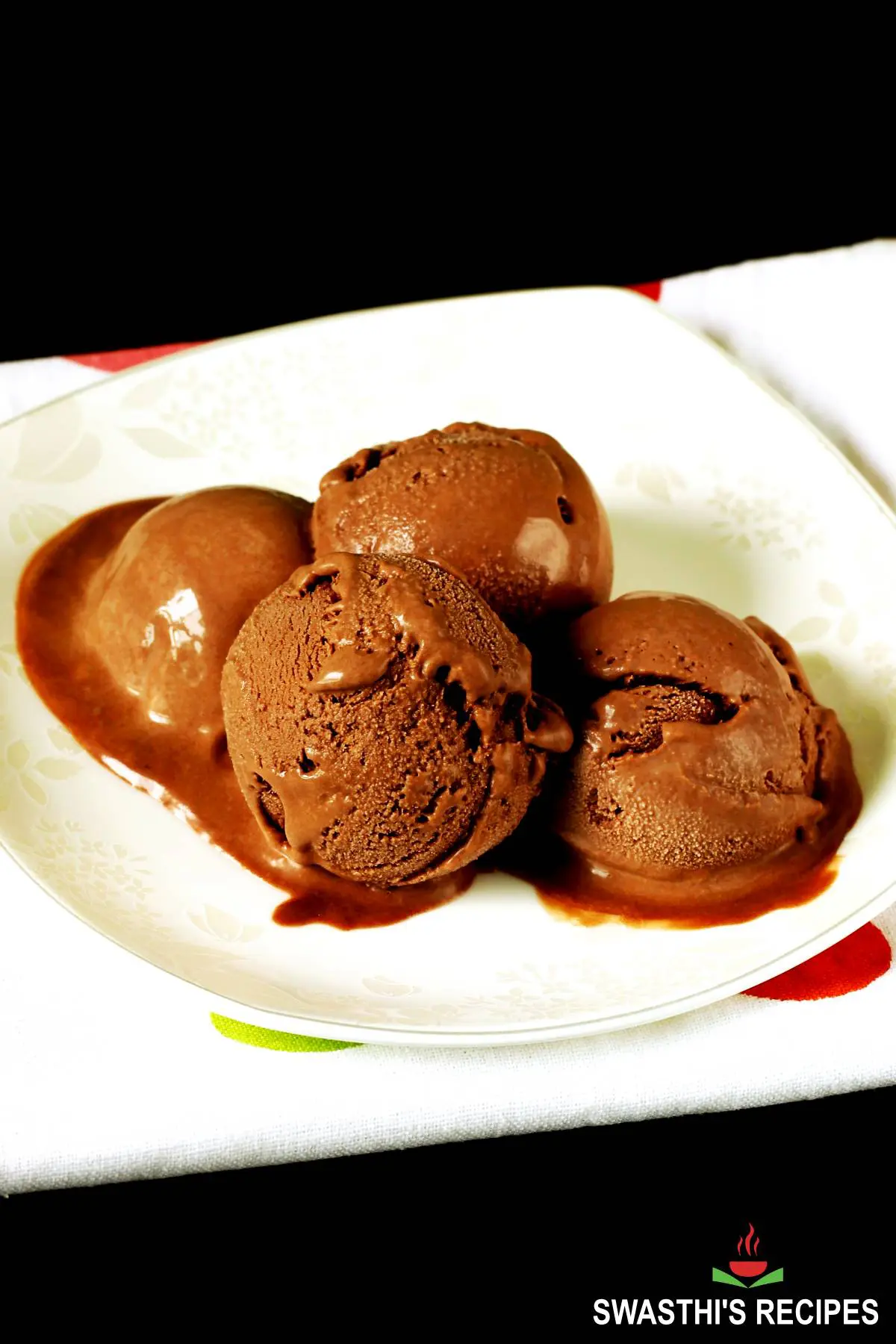 Humans have been making frozen milk treats for hundreds of years. One such example is a Kulfi that served as ancestors to the modern ice creams brought over from Europe to the United States. Nowadays, ice cream is not only the province of royalty. Everyone can enjoy ice cream!
Sometimes you just want a few scoops of chocolate ice cream to satisfy that sweet tooth without the extra effort of making traditional French style ice cream which requires eggs.
About Chocolate Ice Cream
Enter this homemade chocolate ice cream that can be made without an ice cream machine and without eggs!
Like the Indian Kulfi, this recipe uses sweetened condensed milk. Modern sweetened condensed milk was invented in the 1850s by Gail Borden, who heated milk and treated it with sugar to inhibit bacterial growth. Not only does this canned milk last longer, it also serves some important functions for giving this chocolate ice cream its delicious texture.
Condensed Milk
The fat and sugar in condensed milk not only give the ice cream sweetness and a nice mouthfeel, they also help deter ice crystal growth. This helps keep the ice cream from freezing into a solid block; instead, you get a scoopable, creamy texture.
Heavy Cream
The heavy cream in the recipe serves a similar purpose. On top of assisting with texture and keeping away ice crystals, whipped heavy cream also incorporates air into the recipe and allows it to replicate the air content (overrun) of commercial ice creams without needing an ice cream machine.
Instead of dense semi-frozen cream, your homemade ice cream remains light and fluffy without the churn!
Cocoa Powder
But what about arguably the most delicious part of the ice cream, the cocoa powder? This is what gives the ice cream its intense flavor. Cocoa powders have no additional sweeteners and so are quite bitter on their own. On top of that, they often come in two varieties: natural and Dutch-processed or alkalized cocoa powder.
While you can use either in this recipe, keep in mind there will be some flavor differences.
Natural cocoa powder has a lower pH and therefore more acidity. It will still give you that delicious chocolate taste you know and crave.
Dutch-processed or alkalized cocoa powder is cocoa powder treated with alkaline solutions to raise its pH and make it less acidic. This gives the cocoa powder a darker color and richer, earthier flavor.
Sometimes you can find cocoa powders that are a mix of natural and Dutch-processed cocoa. No matter what kind of cocoa powder you use, you'll want to use the highest quality you can afford to give you the best flavor in your ice cream.
Now you know everything you need to make an easy homemade chocolate ice cream with no machine, no eggs, and very little effort. So what are you waiting for? Try this homemade chocolate ice cream today!
More Ice cream recipes.
Butterscotch ice cream
Vanilla ice cream
Custard powder ice cream
Pista ice cream
Mango kulfi
How to Make Chocolate Ice Cream (Stepwise photos)
1. Add condensed milk and vanilla extract to a bowl. (1 tin sweetened condensed milk (397 grams, 14 oz can) & 2 teaspoons vanilla extract)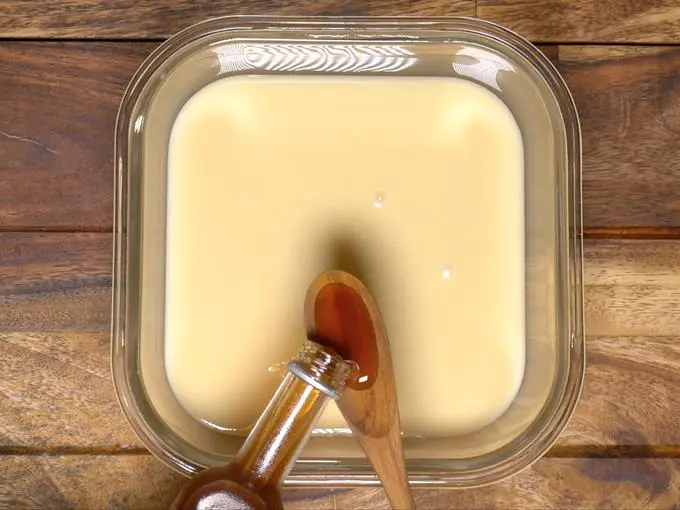 2. Add ½ cup cocoa powder.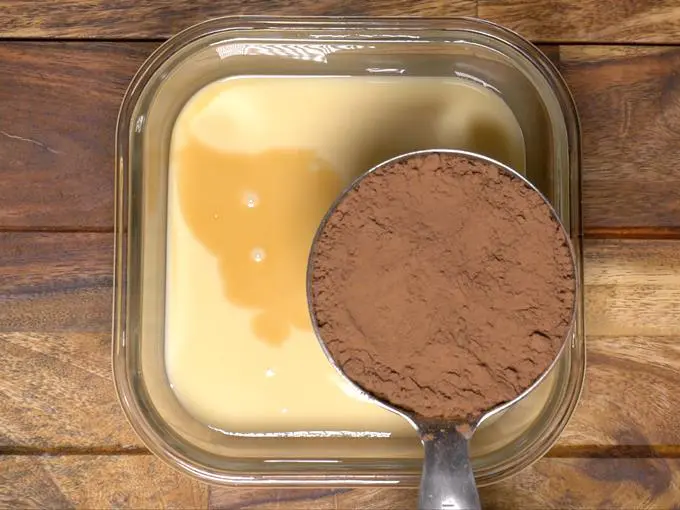 3. Give a good mix to incorporate the cocoa into the condensed milk.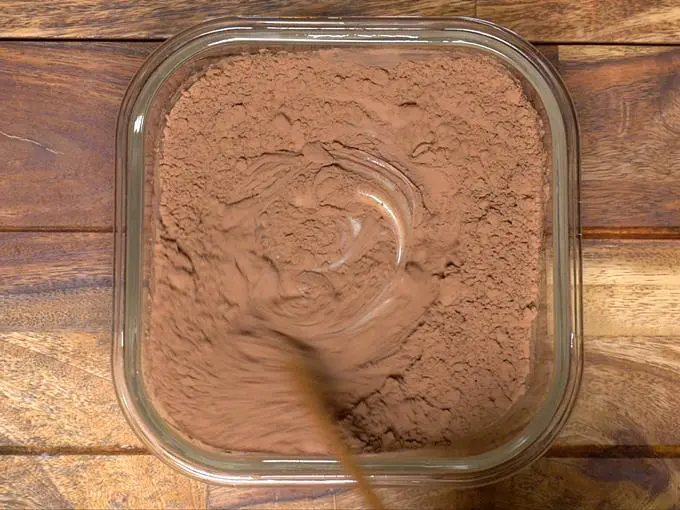 4. The mixture has to be without any lumps of cocoa.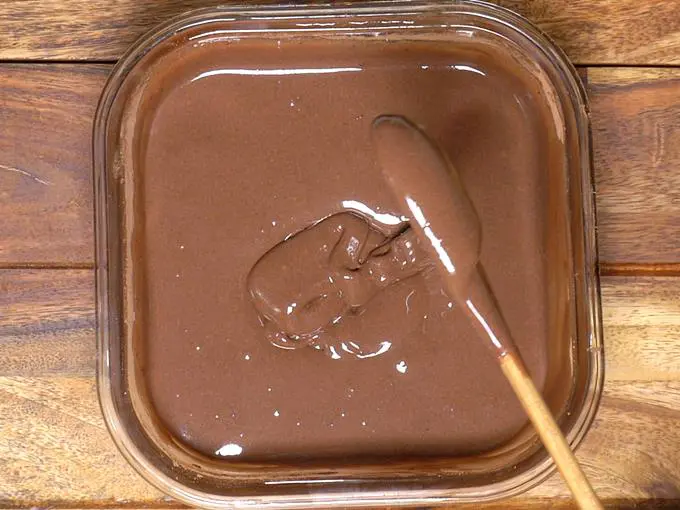 5. Chill the ice cream bowl & beaters for at least 24 hours. Chill the cream as well in the fridge.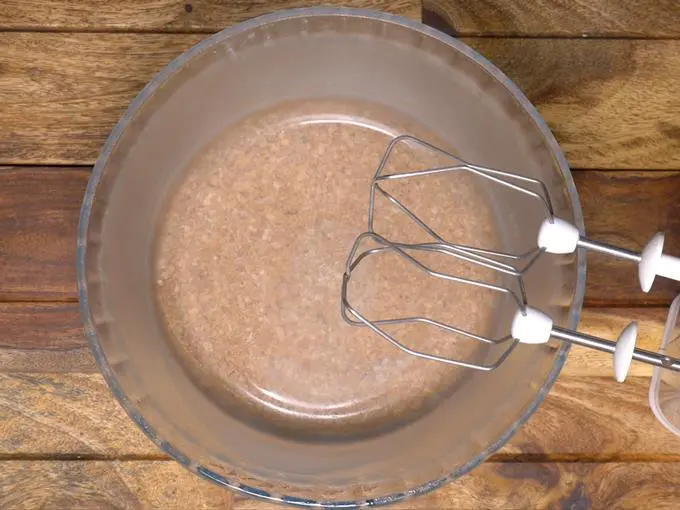 6. Pour 2 cups chilled heavy whipping cream to the chilled bowl.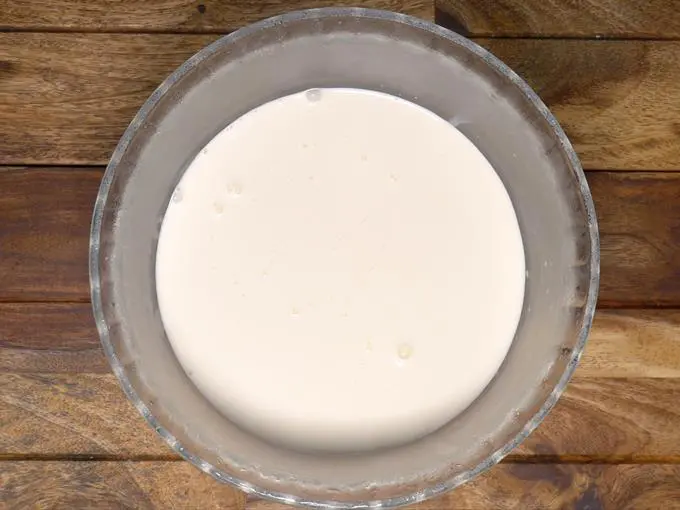 7. Begin to whip on a low speed initially. Then on a medium speed.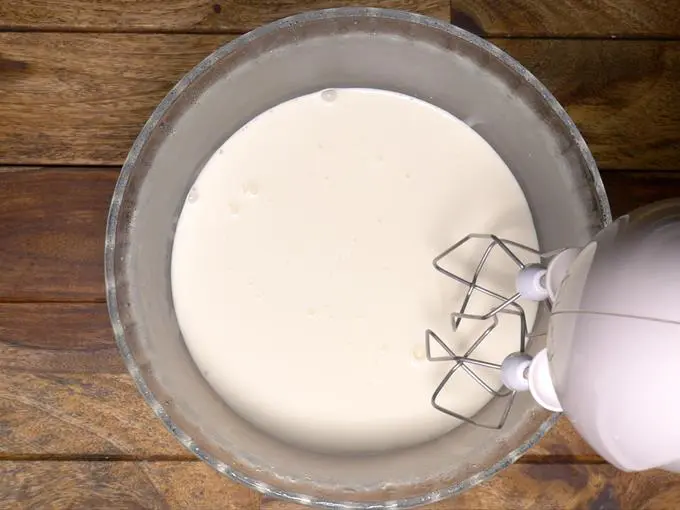 8. The cream turns frothy first.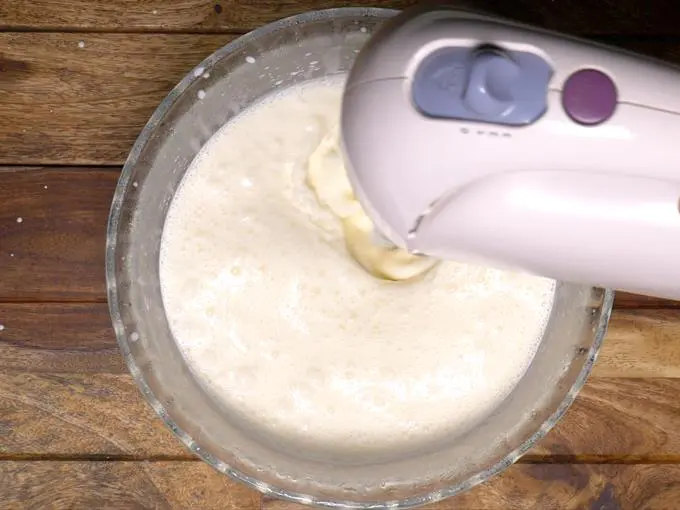 9. As it thickens be alert and reduce the speed. Do not over whip.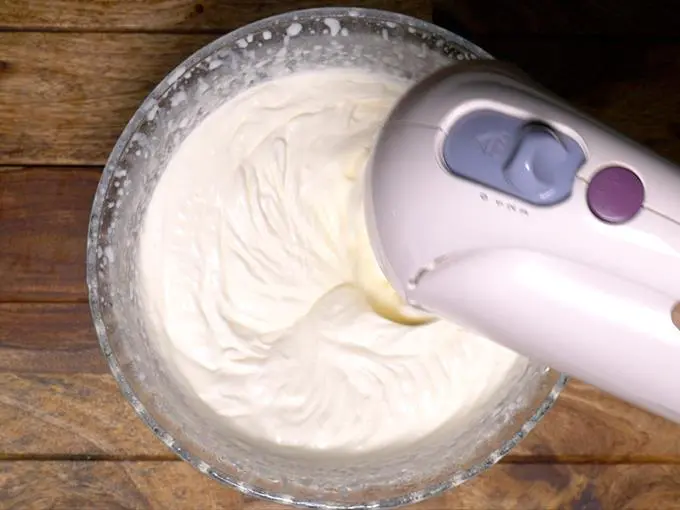 10. Next it reaches stiff peaks.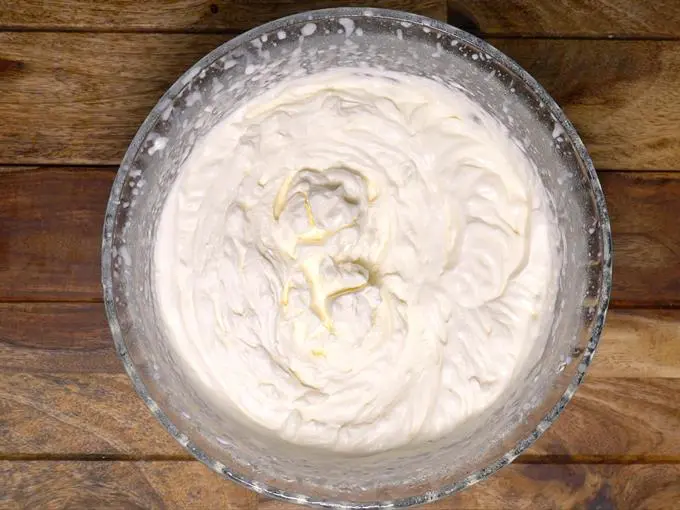 11. Transfer the chocolate condensed milk.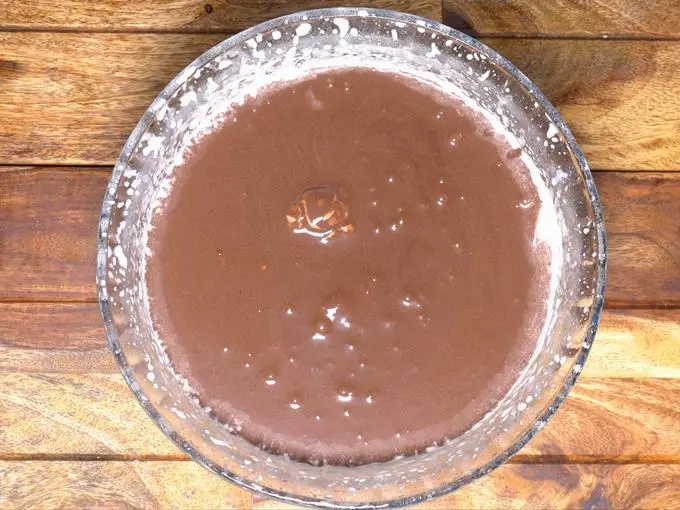 12. Gently give a good stir without deflating the cream.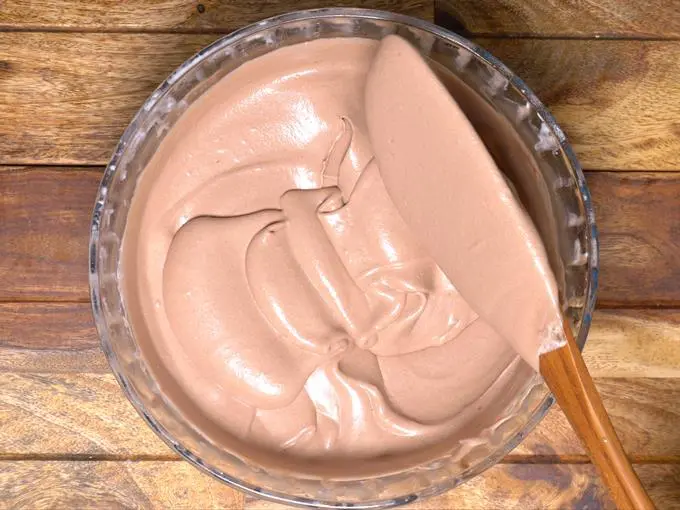 13. Level the mixture.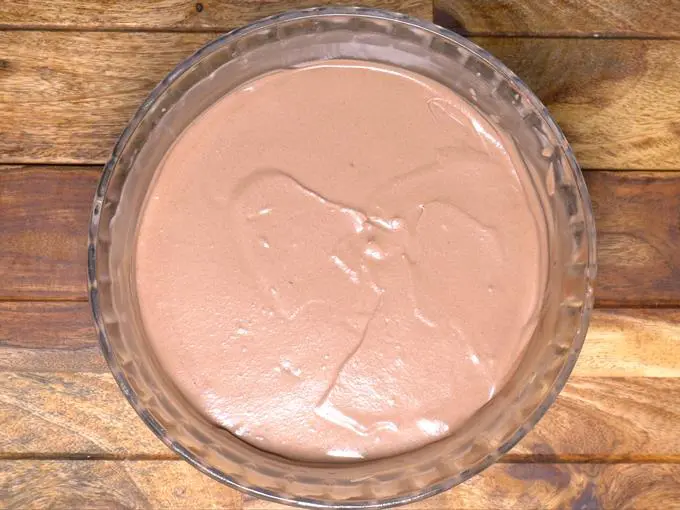 14. Next place a cling wrap so that it touches the cream. This helps prevent ice crystals.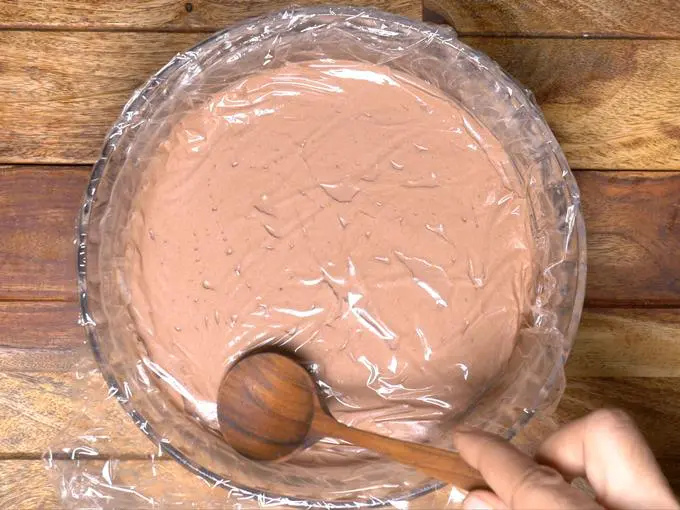 15. Cover with a lid. Freeze until set. It takes about 15 hours. Scoop and serve chocolate ice cream.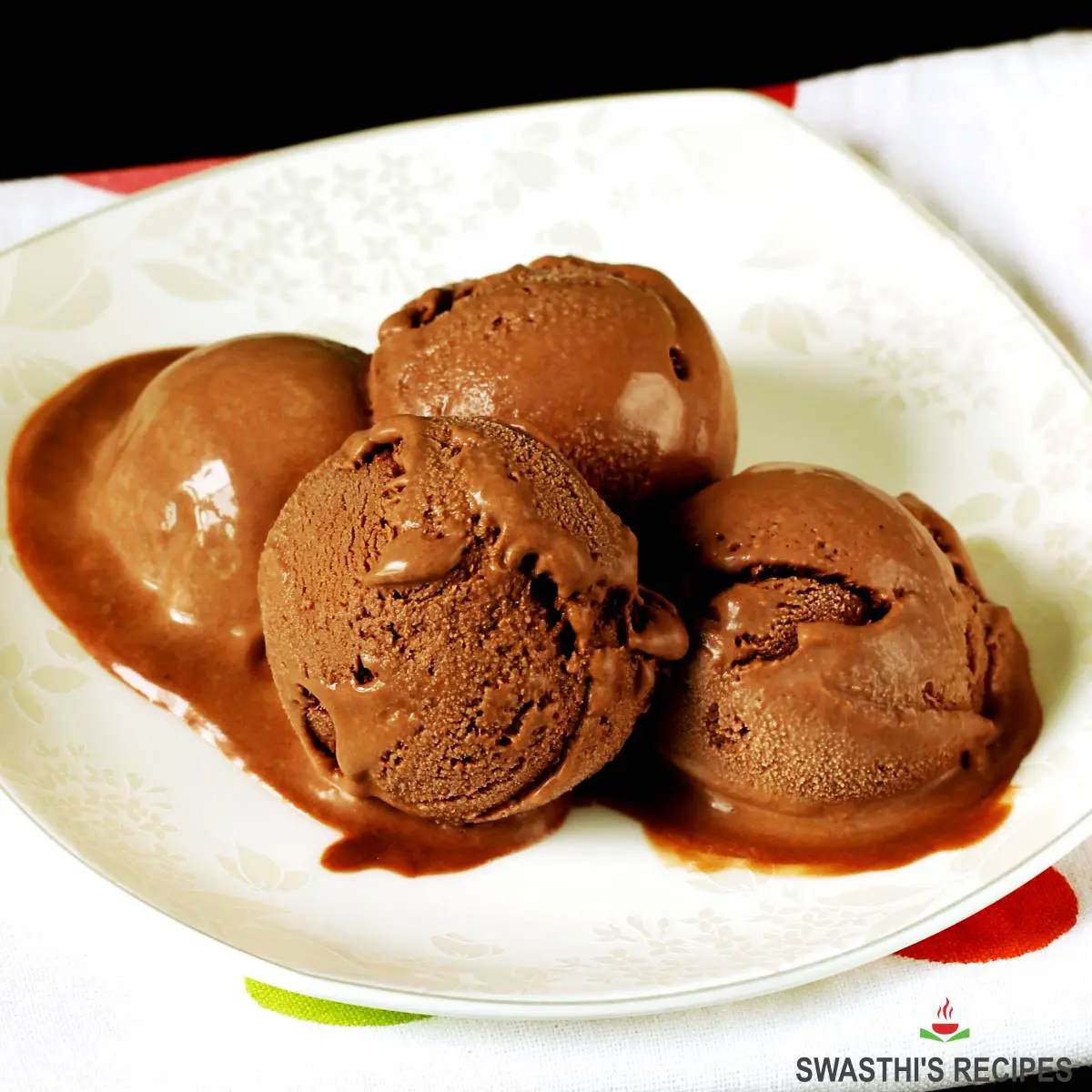 Pro Tips
Chill the bowl & beater well for at least 24 hours.
Use good quality cocoa for a intense chocolate flavor.
The recipe works best with whipping cream or heavy cream. If using amul cream, chill it overnight and scoop the top portion of the cream in the pack & use.
You can also make this ice cream with melted chocolate. Just melt the chocolate following the double boiler method and then stir it in the condensed milk until uniform.
Related Recipes
Recipe Card
How to Make Chocolate Ice Cream
Alternative quantities provided in the recipe card are for 1x only, original recipe.
For best results follow my detailed step-by-step photo instructions and tips above the recipe card.
Watch Chocolate Ice Cream Video
Nutrition Facts
Chocolate Ice Cream Recipe
Amount Per Serving
Calories 292
Calories from Fat 270
% Daily Value*
Fat 30g46%
Saturated Fat 18g113%
Cholesterol 108mg36%
Sodium 31mg1%
Potassium 168mg5%
Carbohydrates 6g2%
Fiber 2g8%
Protein 3g6%
Vitamin A 1165IU23%
Vitamin C 0.5mg1%
Calcium 61mg6%
Iron 1mg6%
* Percent Daily Values are based on a 2000 calorie diet.
Chocolate Ice Cream Recipe first published in June 2017. Updated and republished in April 2023.