Mamidikaya pappu also known as mango dal is a simple lentil dish made with green unripe mangoes, lentils, spices and curry leaves. Hot rice mixed with ghee and mamidikaya pappu is a comfort food for most Telugu speaking people. This delicious mango dal tastes tangy & spicy with bursting flavors of mango. Make this mamidikaya pappu on the stovetop or in the instant pot with my easy and authentic recipe.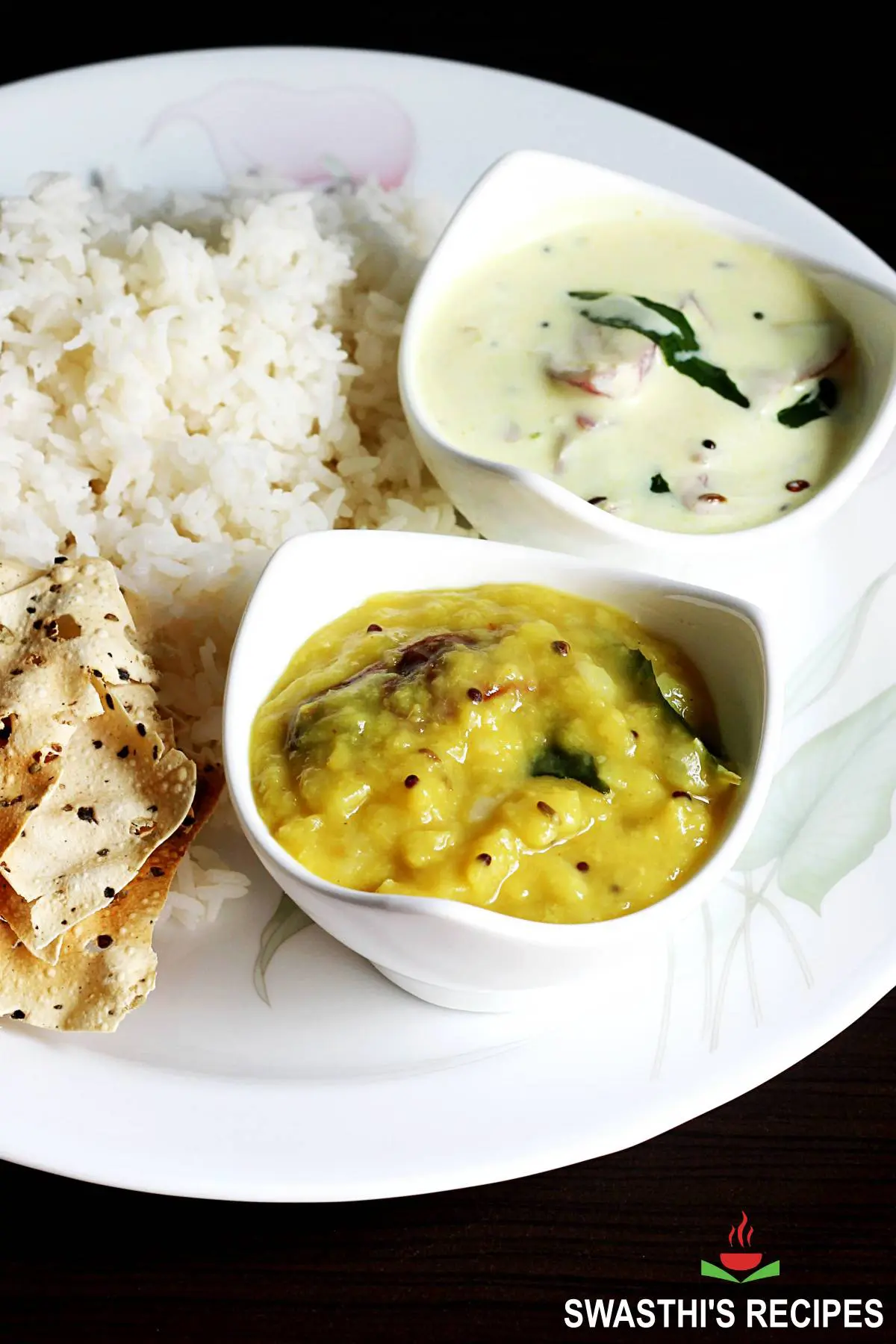 Mamidikaya Pappu
Lentils are the main source of protein for Indians and we cook it in many ways. While dishes like Dal Tadka, Dal Fry & Dal Makhani are some of the world popular lentil dishes from the Indian cuisine, there are many more dishes which are from the regional cuisines and are not known to a lot of people. But they are equally healthy, nutritious and delicious too.
This mango dal is one such dish. You can whip up this easy dish with so little effort and you will be surprised at how good it tastes.
Cooking lentils with many kind of vegetables and leafy greens is a common practice in the Telugu speaking homes. We cook our everyday lentil dishes with vegetables like carrots, bottle gourd, ridge gourd, cucumber, okra, tomatoes and pumpkin etc.
Andhra pappu dishes are the easiest as they are just – dump and cook kind. Except for the tadka/ tempering there is no other task involved – no sautéing or no stirring etc. How easy right? If you love this idea of dump and cook, you may check out these Tomato Pappu, Pappu Sorakaya & Dal Pumpkin.
Tips & Notes
The combination of green mango, green chilies, ginger and garlic is what makes the best Andhra mamidikaya pappu. Pressure cooking raw mango pieces with dal and green chilies brings out the flavor of mangoes. So pressure cook them together.
Like chunky mango pieces in your mamidikaya pappu? Simply add 1/3 cup of bite sized pieces (peeled) to your tempering and cook them until tender with a splash of water.
Lentils: Traditionally only toor dal is used. But I prefer 2 parts toor dal and 1 part moong dal or both in equal parts. You can use any lentils of choice. But use fresher stock as old lentils take forever if you cook with mangoes.
Mango: Any kind of raw unripe green mango that is sour & firm go well. On occasions I have had success using semi ripe or about to ripen mangoes that taste slightly sweet and sour. You get the best flavor of mango when you use it with the skin.
If your mangoes are not home grown or organic, then simply scrub the rinsed mango with rock salt or coarse salt. Rinse under running water.
Green chilies: Mamidikaya pappu is always made with green chilies and red chilies in the tempering. You may use red chilli powder for heat but the flavors will be very different. The key is to adjust the number of green chilies as per your taste. I use 2 Thai chilies or 3 to 4 Indian chilies.
Onions & Tomatoes: Onions and tomatoes are not used in this recipe. But a lot of people throw in a sliced onion to the cooker along with the lentils. Make sure you don't use a red onion.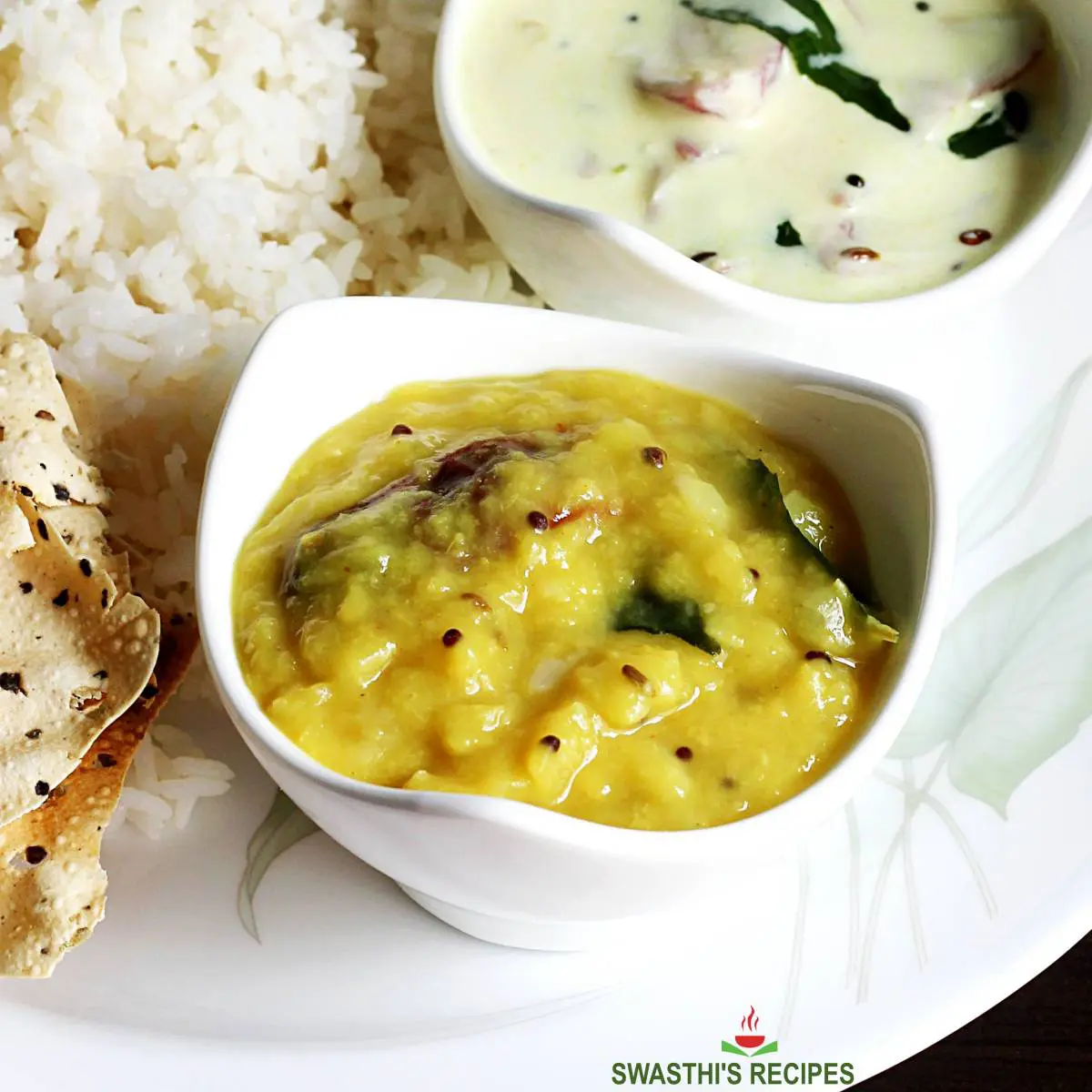 More Andhra pappu recipes on the blog,
Gongura pappu
Tomato pappu
Palakura pappu
Beerakaya pappu
Gummadikaya pappu
How to Make Mamidikaya Pappu (Stepwise Photos)
1. Add 1 cup toor dal (or a mix of toor and moong dal) to a cooker. Rinse well a few times until the water runs clear. Drain off the water and add 1 cup chopped mango, & 1 to 2 green chilies. I have added 1/8 tsp turmeric and salt here but suggest to add later because sometimes lentils won't cook well to a soft texture if you add it right at the beginning.
You don't need to peel the mango. The peel gives a very good mango flavor to the dal. Gently scrub the mango with some salt and rinse well. Then chop to pieces.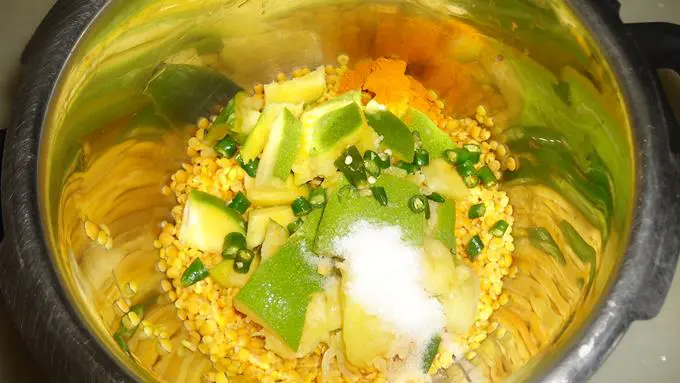 2. Pour 2 ½ cups water and pressure cook for 2 to 4 whistles depending on your cooker. I pressure cook for 2 whistles in a 3 lt cooker.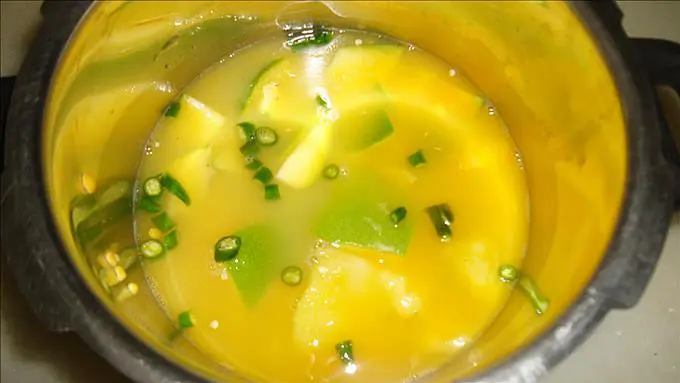 3. When the pressure drops, mash the dal to your liking. We prefer mango dal with slight texture, not smooth. So I lightly mash. Add salt and pour half cup boiling hot water to bring it to a consistency. Mix well. Taste test and adjust the salt.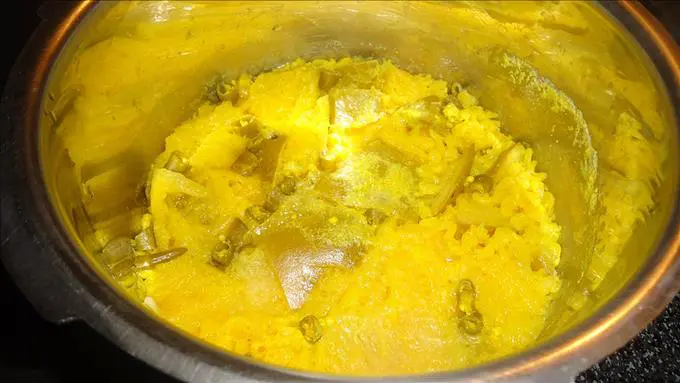 4. Heat 1 tablespoon oil or 2 tablespoons ghee in a pan. Add ½ to ¾ tsp cumin seeds and ½ tsp mustard seeds. When they begin to sizzle, add 1 to 2 garlic cloves crushed, 1 teaspoon ginger and 1 to 2 green chilies for more heat.(optional). Next add in 1 sprig curry leaves and 1 broken red chili.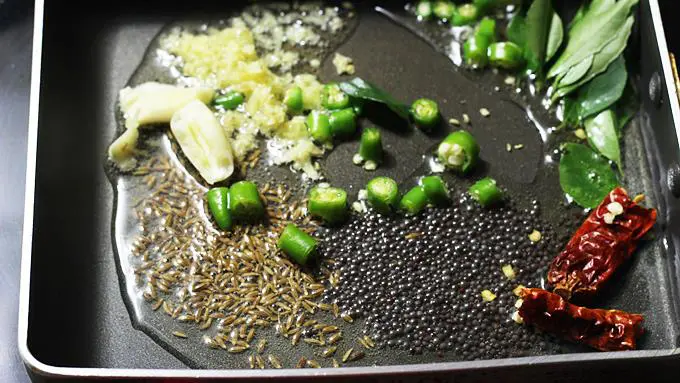 5. When the leaves turn crisp, add 1/8 teaspoon turmeric (to adjust color) and a pinch of hing. [If you like some chunky pieces of mangoes, add 1/3 cup of peeled and chopped mangoes. Add a splash of water and cook until tender.]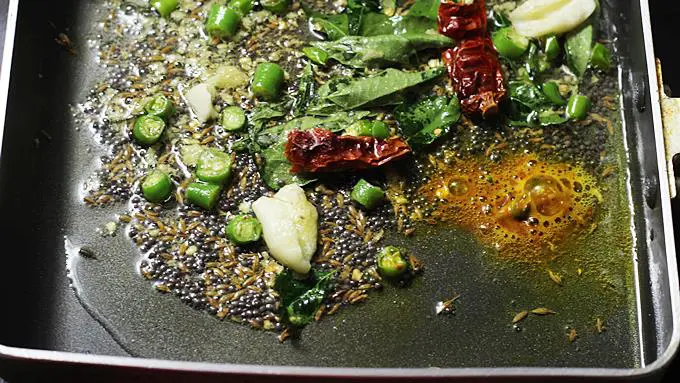 6. Pour this to the dal and mix. Give a good stir and cover so the flavors are infused.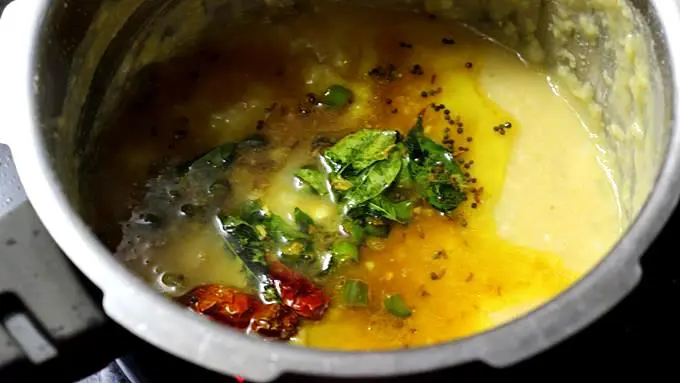 Serve mango dal with rice, papad, yogurt or rasam.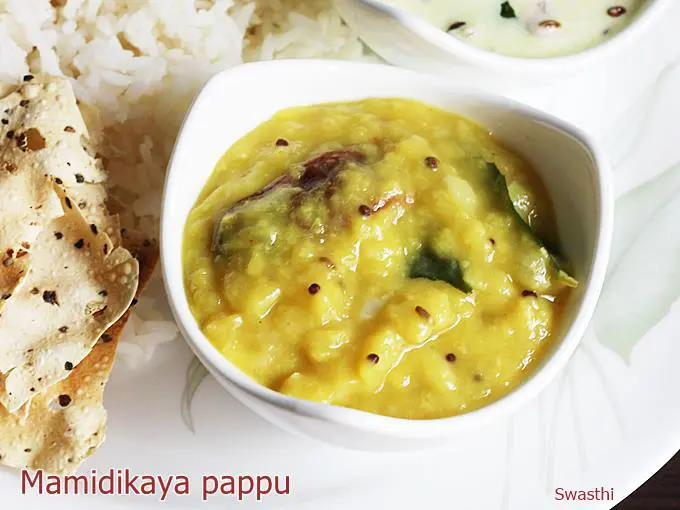 Related Recipes
Recipe Card
Tempering mamidikaya pappu
Instant pot mango dal
Press saute button and pour oil to the steel insert. Once hot, add mustard, cumin, 2 green chilies, chopped ginger, garlic and curry leaves.

When the ginger becomes aromatic, press cancel. Add hing, turmeric, dal, mangoes and 3 cups water. Mix well.

You can also place your rice bowl over a trivet. Secure the IP with the lid and position the steam release vent to sealing.

Pressure cook for 11 minutes. When the pressure drops open the lid and add salt. Mix well and pour ¼ cup boiling hot water if required to adjust the consistency.

If your dal is not spicy enough, you may fry fine chopped green chilies in 1 teaspoon ghee and add it to the mamidikaya pappu.
To cook in pot without a pressure cooker
Soak the lentils for 30 mins. Drain and add them to a pot of boiling water (3 cups)
Cook the lentils until soft and tender. Then add bite sized mango pieces and cook covered, adding more boiling water if required.
When the mango pieces are tender, slightly mash them and then temper as mentioned in the recipe.
Alternative quantities provided in the recipe card are for 1x only, original recipe.
For best results follow my detailed step-by-step photo instructions and tips above the recipe card.
Nutrition Facts
Mamidikaya Pappu | Mango Dal
Amount Per Serving
Calories 379
Calories from Fat 99
% Daily Value*
Fat 11g17%
Saturated Fat 6g38%
Polyunsaturated Fat 1g
Monounsaturated Fat 3g
Cholesterol 26mg9%
Sodium 515mg22%
Potassium 770mg22%
Carbohydrates 53g18%
Fiber 22g92%
Sugar 13g14%
Protein 18g36%
Vitamin A 960IU19%
Vitamin C 47mg57%
Calcium 63mg6%
Iron 5mg28%
* Percent Daily Values are based on a 2000 calorie diet.
Mamidikaya pappu first published in January 2015. Updated & republished in March 2022.