Masala Puri is a spicy and tangy lip smacking chaat. This street food is perfect for those chilly or rainy days when you want something piping hot and delicious. Of course, you can have this Bangalore style Masala Puri any time of the year, whenever your heart yearns for something spicy, something tangy & sweet, with a kick of many unique flavors. Bangaloreans love their Masala Poori Chaat: spicy, sweet, tangy and all the flavors in between. And we've made others fall in love with this food, too!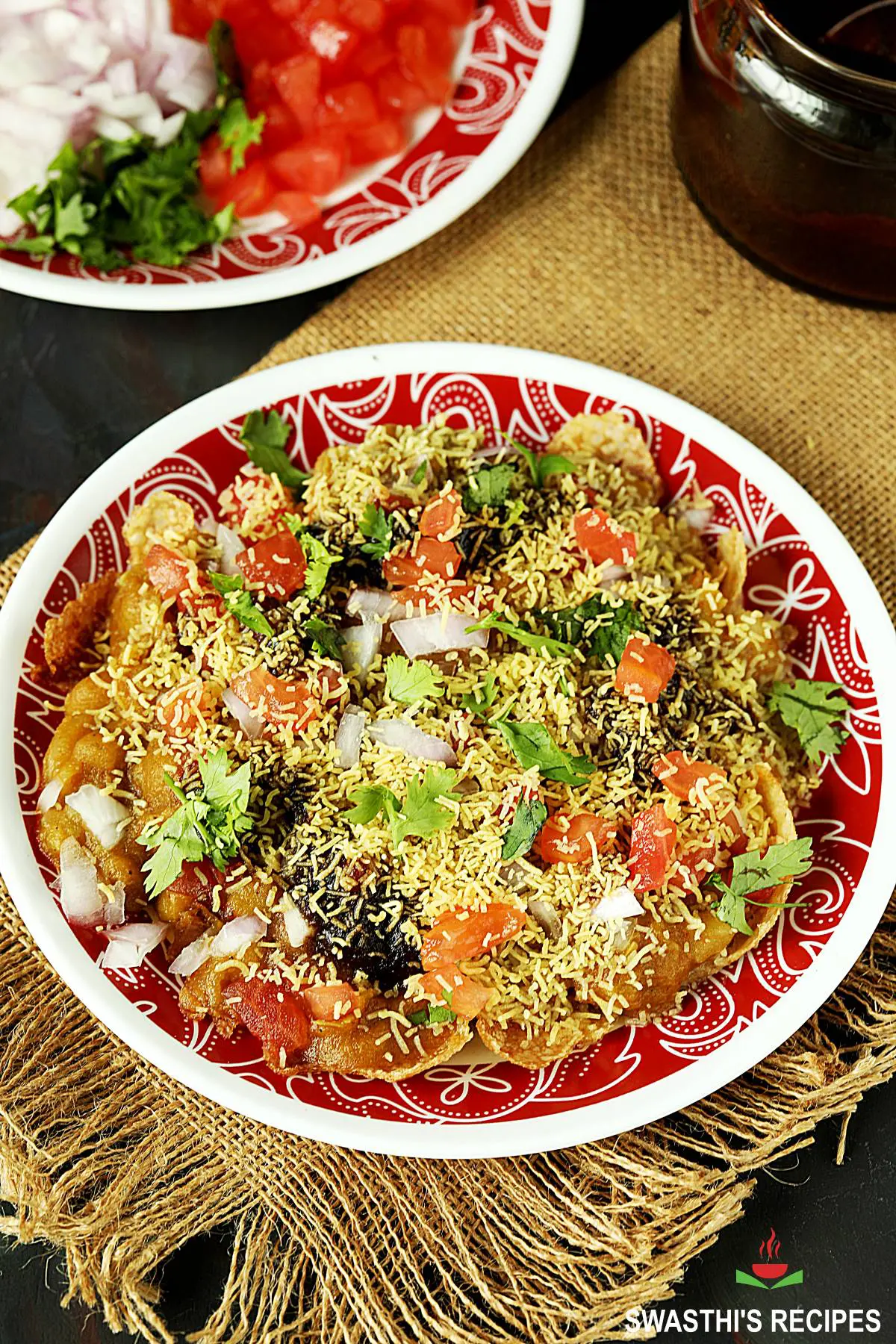 Indian Chaat foods evoke the memories of fun times spent together with family and friends. These are perfect foods for get-togethers and potlucks. This dish is no different — has all the elements and hits the right notes on the taste scale.
About Masala Puri
Masala Puri is a delicious street food from Bangalore, where flavorful green peas curry is served over a bed of crushed crisp puris, garnished with onions, tomatoes, coriander leaves and sev. Sometimes tamarind chutney is also served over the peas curry.
Masala Puri is a famous food from Karnataka, and especially loved in Bangalore and Mysore. You'll find street vendors serving tasty versions that subtly differ from each other. If you love to try different varieties of chaats, specifically the ones bursting with multiple flavors and fillings, you'll enjoy my recipe immensely.
Bearing many resemblances to Ragda, this Masala Puri is equally delicious but with a completely different flavour profile. Both use dried peas, the Bangalore masala has green peas while the Mumbai version contains white peas.
My Bangalore Style Recipe
My recipe is made the authentic way with the use of dried green peas, green chili and herbs. While this dish isn't spicy like misal pav and is kids' friendly, make a much milder version by leaving out the chilies.
You'll find two styles of Masala Puri served at food stalls. The standard green gravy with coriander and mint. The less common variant has peas and carrots cooked in an orangish gravy. This one uses less of herbs and more of red chili powder.
In a lot of eateries in Bangalore, you will also find the plain mushy cooked green peas being assembled instantly with a green or orangish gravy and then topped with garnishes. So there are so many ways masala puri is made and served.
This savory snack also makes for a light protein-rich dinner and works as a meal prep option. Prepare the gravy 2-3 days ahead. Store in the refrigerator and serve hot with puris and other garnishes.
More Street Foods from Karnataka
Churumuri
Mysore Bonda
Goli Baje
Maddur Vada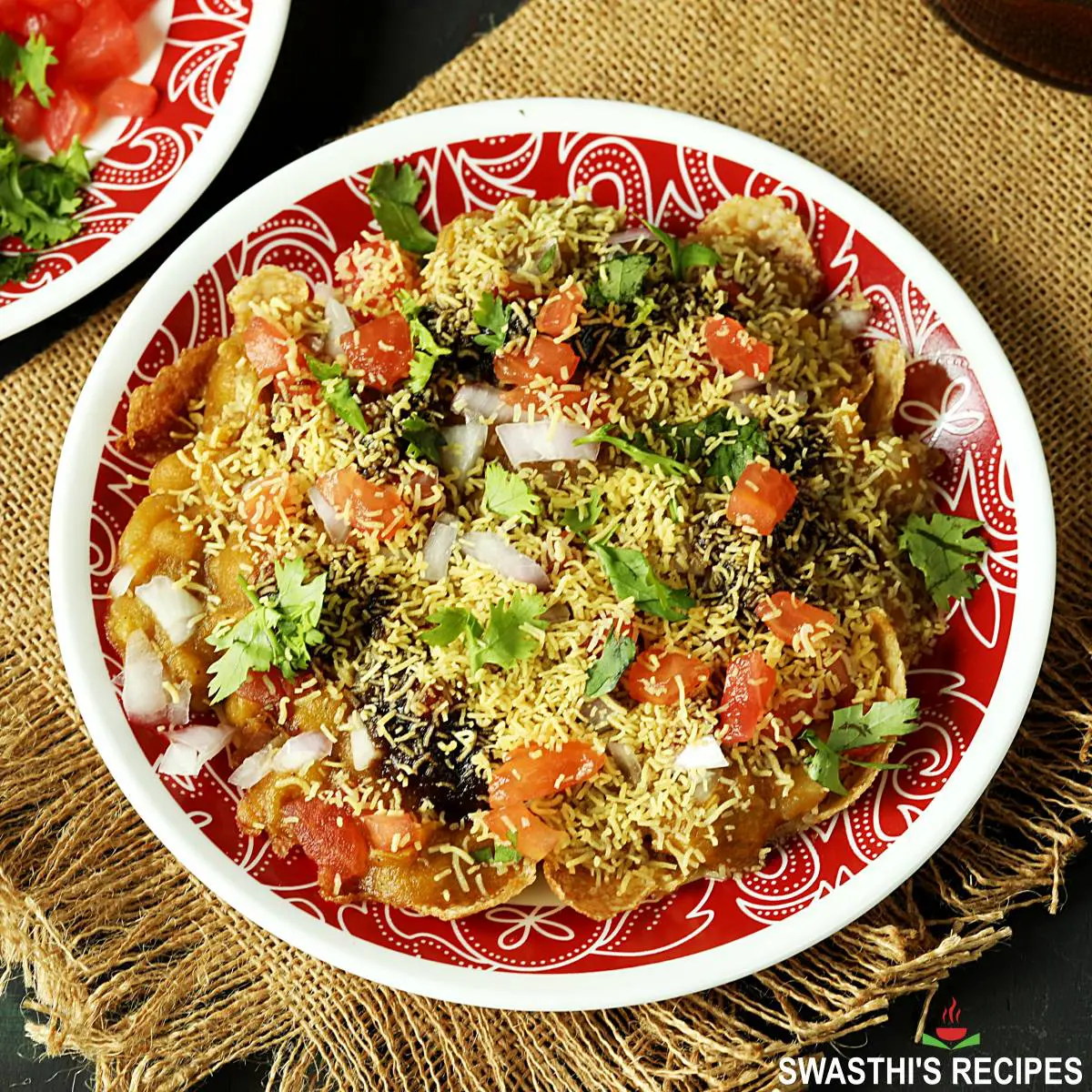 How to make Masala Puri (stepwise photos)
Prepare the Dried Peas
1. Rinse and soak 1 cup of dried grean peas in a large bowl for 6-8 hours or preferably overnight. Drain the water and rinse the soaked peas that have now doubled in size.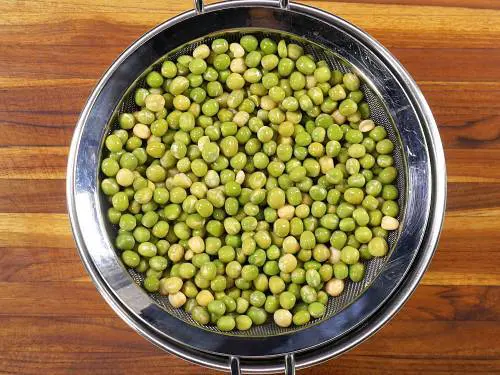 2. Pressure cook the peas: Peel the potato and add it with green peas to a pressure cooker. Add ¼ teaspoon of turmeric and 3 cups of water. Close the lid and pressure cook for 15-20 minutes or until you hear 4-5 whistles. Let the pressure release naturally. The peas should be well cooked and softened.
If cooking in Instant pot, pressure cook for 10 minutes. Let the pressure release naturally.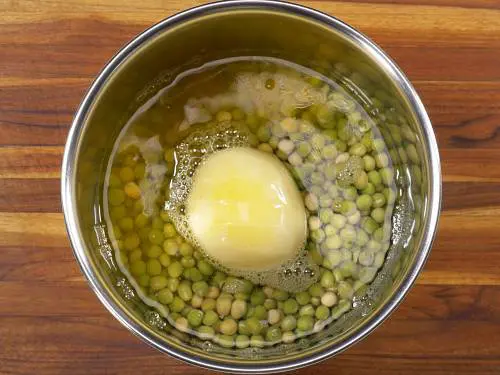 Make the Masala
3. While the peas are cooking, prep the other ingredients. Chop tomatoes and onions for the gravy. Finely chop onions and tomato for toppings.
4. Add 1½ to 2 tablespoons of oil to a pan or pot & heat it. Reduce the heat to low and add ¼ to ½ teaspoon cumin seeds. Add ½ to 1 teaspoon of fennel seeds and stir to prevent the seeds from burning. When the seeds start spluttering, add 1 chopped green chili, 1 inch ginger slices and 2 to 3 sliced cloves of garlic. Sauté for 1-2 minutes until aromatic.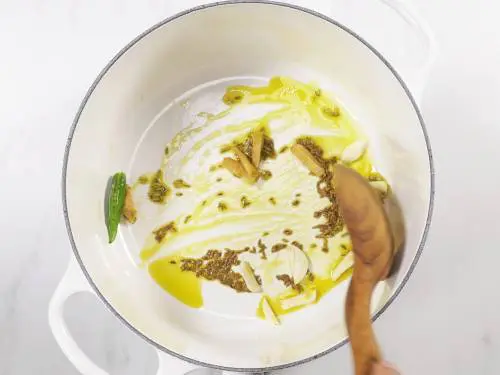 5. Add the chopped onion (about ½ a cup) and sauté for 2-3 minutes until it turns translucent.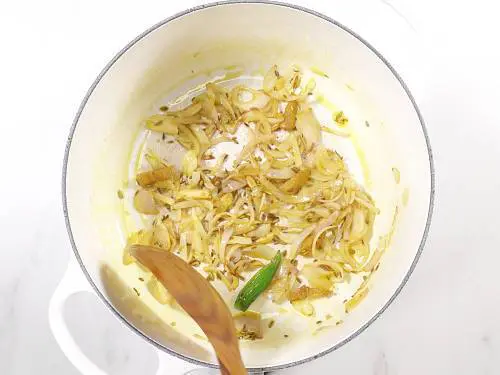 6. Add the chopped tomato (about ½ to ¾ cup) and ¾ to 1 teaspoon of salt. Cook for 5 minutes, until the tomatoes turn mushy. Stir frequently to ensure the food doesn't stick to the bottom.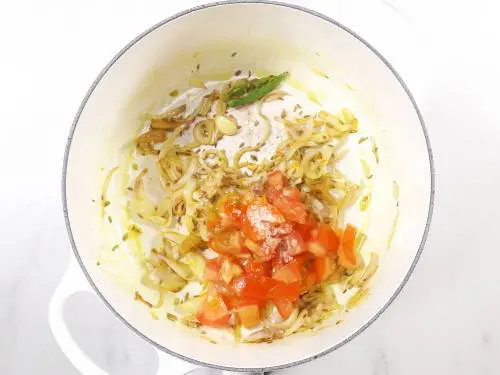 7. Move the onions tomatoes to a side in the pan. Add ¾ to 1 teaspoon of red chili powder and ¾ to 1 teaspoon of garam masala.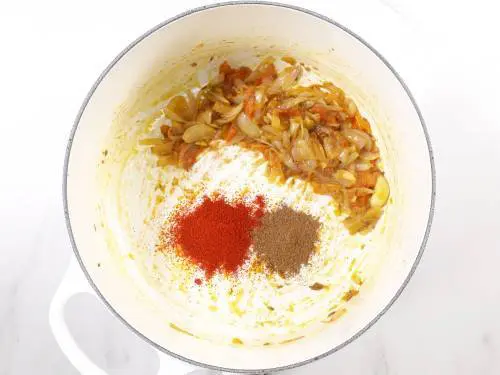 8. Mix to combine and cook for a few minutes to let the flavors blend. Turn off and cool this completely.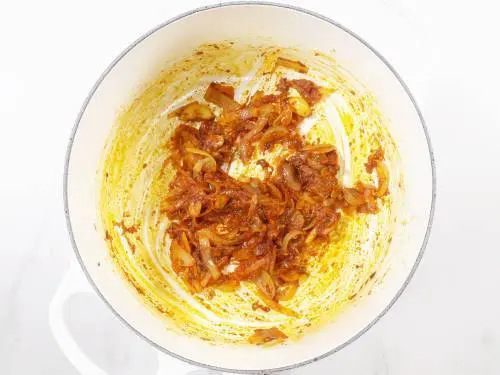 Make Masala Paste
9. Check if the peas and potatoes are done. Peas should be slightly mushy, partially holding shape and fully cooked.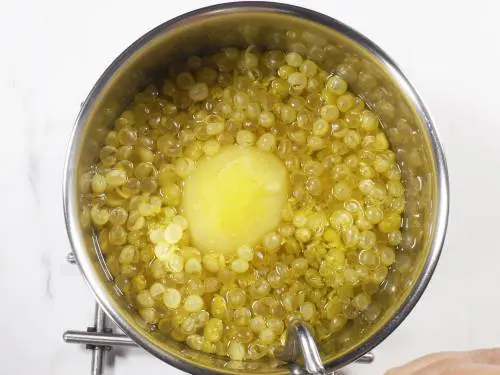 10. Add the sautéed onion tomatoes to a grinder jar along with ½ cup of coriander leaves (with tender stalks) and 15-20 mint leaves. Also add 2 tablespoons of boiled peas. I usually take the top portion of the cooked peas from the bowl, which mostly has the loosened skin from the peas. Adding peas to make the paste provides thickness to the gravy.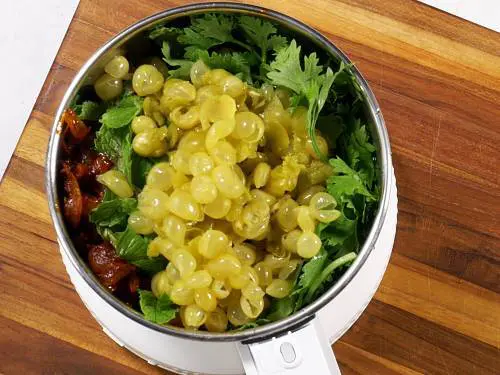 11. Grind the cooled masala to a smooth thick paste. Do not add water at this stage.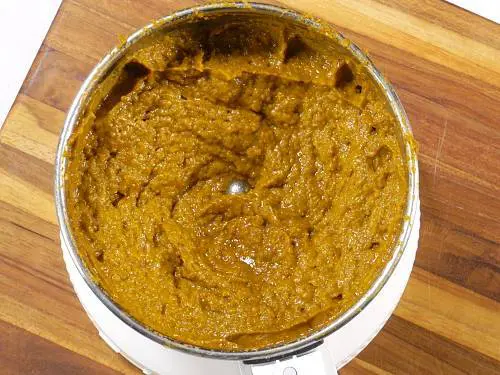 Make Masala Puri Gravy
12. Add the blended paste to the same pan on medium-low heat and cook for a few minutes until aromatic.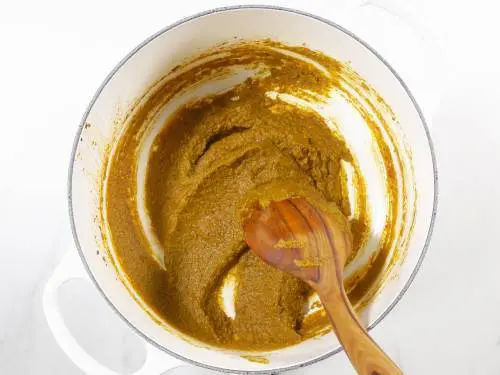 13. Add the remaining peas and the potatoes, along with the stock (water we used to cook the peas).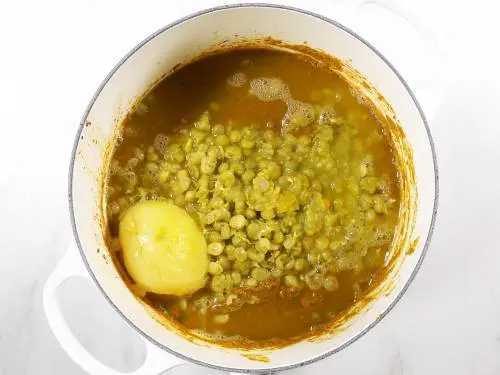 14. Mash the potato gently & mix well to thicken the gravy. This is the consistency you will get.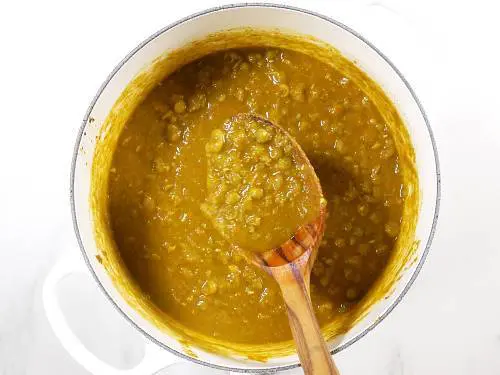 15. Add 1 cup of fresh water, jaggery (if using) & 1 teaspoon tamarind paste (optional). Simmer the masala for 10 to 12 minutes. Stir at frequent intervals. In the meantime, prepare the tamarind chutney, using my notes (if you're making it at home).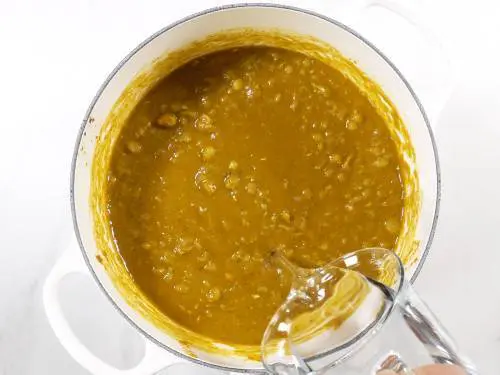 16. Taste and add more salt to the gravy if required. The masala should be cooked well and the rawness gone. When the oil specks rise to the top, remove from heat. This is the consistency you should look for. The masala gravy thickens a bit after cooling, so turn off accordingly.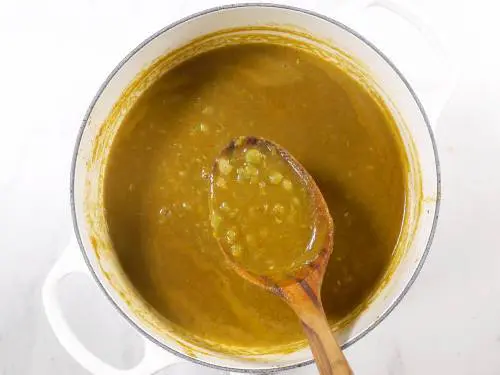 17. I used store bought ready to fry puri papads. Now is the time to fry them. Heat some oil in a frying pan. When the oil is hot enough, fry the puris, 3 to 4 at a time. Drain excess oil on paper towels or remove them to a steel colander.
Assemble the Masala Puri
18. In a serving plate/bowl, crush 6-7 chaat puris for the base.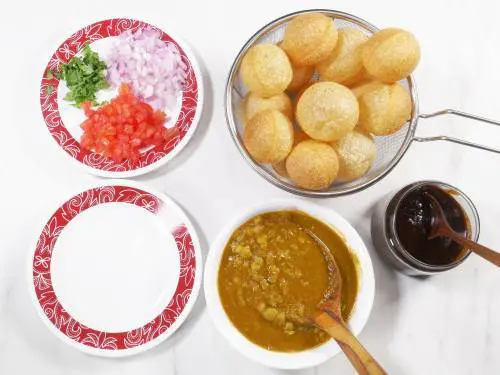 19. Pour the masala gravy (heat it up if it's gone cold). Add 2-3 teaspoons of tamarind chutney.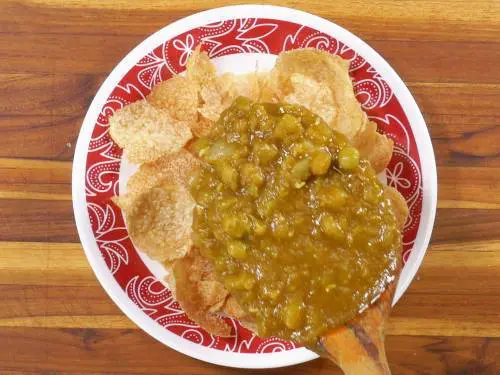 20. Top with finely chopped onions and tomatoes. You can also add grated carrot for a healthier option. Drizzle some lemon juice on top. Sprinkle chaat masala if desired.
Top with sev, bhujia or other farsan. Crush a few puris as toppings for extra crunch or top with puffed puris. Add finely chopped coriander leaves. Prepare the remaining bowls and serve masala puri immediately.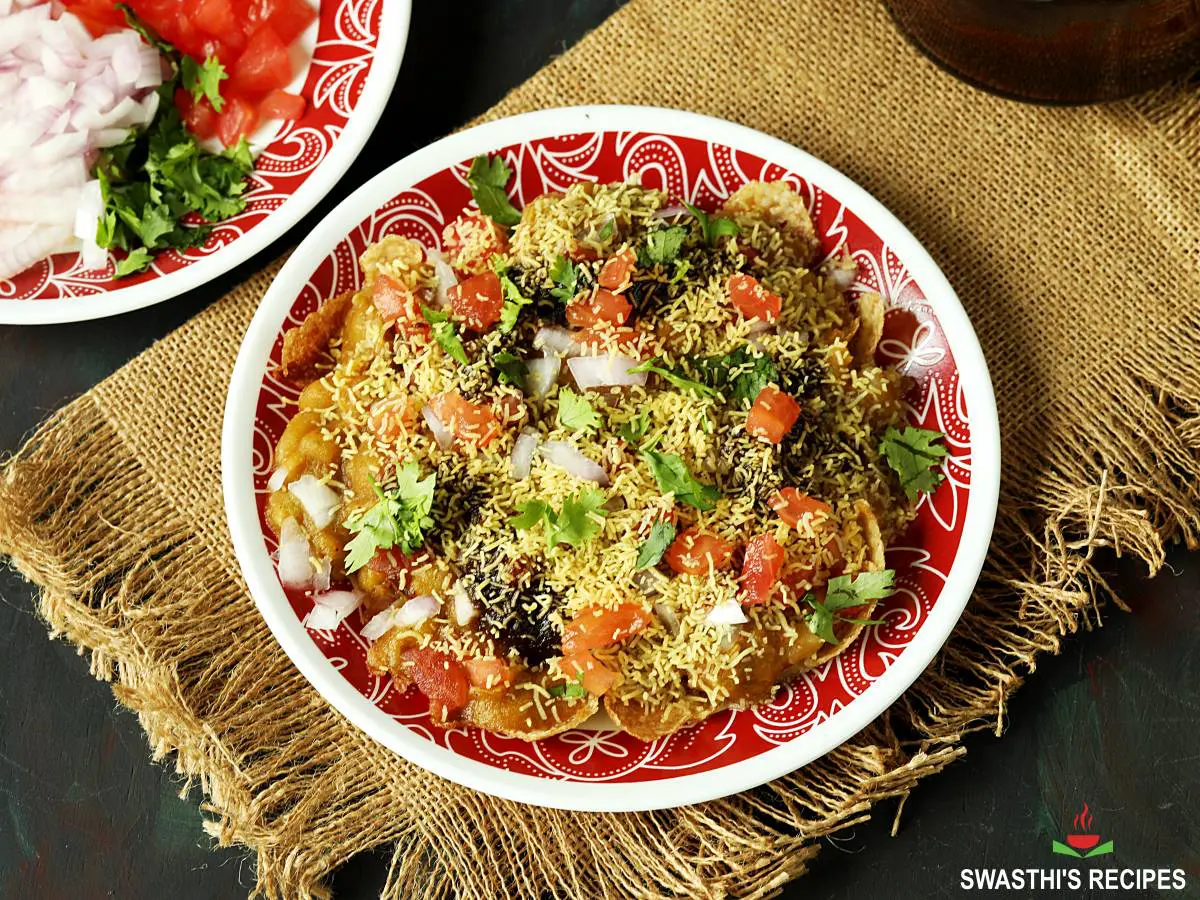 Ingredients You Need
This Bangalore masala poori recipe uses ingredients that are available in most plant-food kitchens.
Dried green peas: This ingredient is the heart of the recipe and gives it substance, flavor and so much more. Masala puri won't taste the same with white peas or other beans/legumes.
Potato: Boiled and mashed potato thicken the gravy, provides volume and consistency to the masala gravy. You can skip it, but the gravy will be watery and require another thickener.
Onion & tomatoes: As much as in any other Indian curries, these 2 ingredients add flavor and punch to the dish. They form the masala base and serve as crunchy garnishes. You can skip the onion for a Jain version but not the tomato. Use juicy and ripe red tomatoes.
Coriander and mint leaves: Fresh coriander and mint leaves give the dish its green tinge and improve the flavor profile. They also help in digestion.
Spices: Nothing elevates a simple dish into something delightful like the right mix of spices. Here I am using cumin seeds, garam masala, red chili powder, and fennel powder. Cut back on chili powder to lower the heat levels. You can add chaat masala for the extra tang.
Other Ingredients
Ginger, garlic and green chili are used to enhance flavors of the dish. I have used them in chopped form, you can also use ginger garlic paste if you don't have the whole ginger and garlic.
Jaggery: Kannadigas love to balance the taste and flavor of many dishes with a small amount of jaggery. This hint of jaggery makes the recipe as authentic as it gets. What's more jaggery provides a nice balance to the spicy and tangy elements.
To assemble: You will need fried puri (or papdi), onion, tomato, carrot, coriander leaves, tamarind chutney, lemon juice, and sev/farsan. You may skip carrots and lemon juice based on your preference.
Pro Tips
Use fresh dried peas. Old peas take longer to cook and can lack in flavor.
Don't ever use fresh frozen peas! Seriously, you don't want a gooey, mushy gravy. They taste sweet, tend to go soft and ruin the overall texture.
Don't skimp on the spices. They add the zing that makes masala puri such a crowd pleaser.
Deep fry the puris for best results or use ready to eat pani puris.
Substitutions
Vatana/dried white peas will do in a pinch. 50-50 works better! Use half green and half white but only white peas won't give the same authentic masala puri flavor.
Not a fan of potato? Reduce the quantity of potato and add carrots.
Skip onion and garlic if you do not eat them.
Wany to go easy on oil? Microwave dry puris for 30-40 seconds. Use baked chips, tacos, nachos or papdis, preferably unflavored.
Related Recipes
Recipe Card
Assemble Bangalore Style Masala Puri
You can substitute puris with baked chips, tacos, nachos or papdis, preferably unflavored.
Skip making tamarind chutney and add a bit of tamarind and jaggery to your gravy. But it is easier to make the chutney with my easy recipe. You can check out the link provided in the ingredient list & instructions.
Alternative quantities provided in the recipe card are for 1x only, original recipe.
For best results follow my detailed step-by-step photo instructions and tips above the recipe card.
Nutrition Facts
Masala Puri Recipe (Bangalore Style Masala Poori)
Amount Per Serving
Calories 441
Calories from Fat 108
% Daily Value*
Fat 12g18%
Saturated Fat 1g6%
Trans Fat 1g
Sodium 657mg29%
Potassium 2155mg62%
Carbohydrates 68g23%
Fiber 20g83%
Sugar 11g12%
Protein 22g44%
Vitamin A 2612IU52%
Vitamin C 190mg230%
Calcium 489mg49%
Iron 17mg94%
* Percent Daily Values are based on a 2000 calorie diet.