This Pistachio Ice Cream is a real deal summer treat! You will love it for everything – for the luscious texture, nutty flavor and also for the ease of making it. Unlike the store-bought pistachio ice cream, this has no preservatives and no artificial colors so you can treat yourself to this sophisticated dessert as often as you want. This recipe is egg-free and can also be made without an ice cream machine.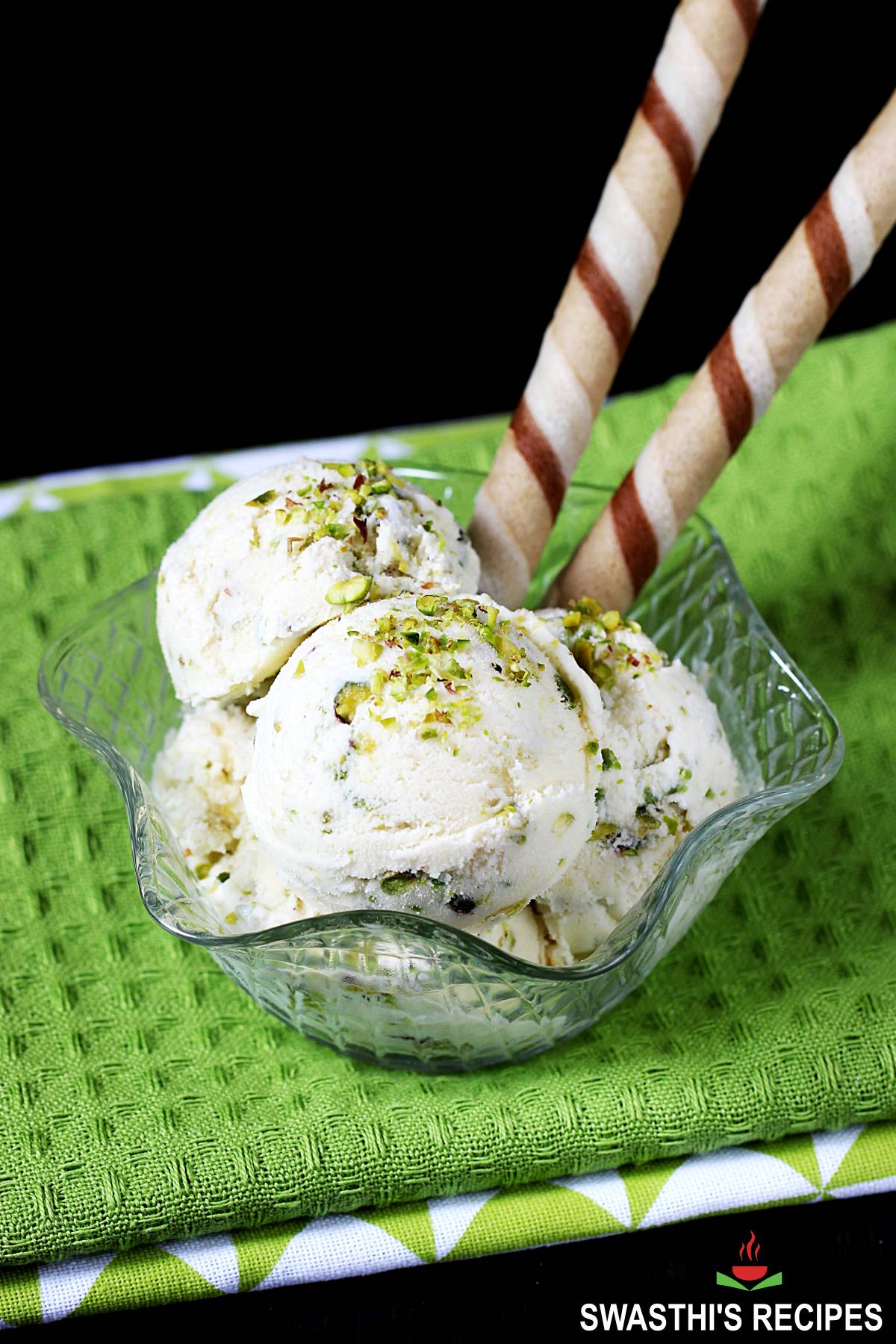 Pistachio Ice Cream
While pistachios themselves have been eaten and cultivated in the Middle East for thousands of years, pistachio cultivation did not take off in the United States until the mid-20th century. Around this time, American cook James Wood Parkinson was experimenting with sweets in Philadelphia in 1940 and came up with a brilliant idea – flavoring ice cream with pistachios.
For those not in the know, Philadelphia is famous as the birthplace of Eggless Ice Cream in the United States, also known as Philadelphia-style ice cream.
This particular pistachio ice cream recipe follows the tradition of innovation with Philadelphia style ice creams.
Not only are there two ways to make this – both with an ice cream machine and without, there are also multiple ways of incorporating the pistachios into the ice cream itself. Most of it depends on what kind of texture you prefer in your pistachio ice cream.
About the Recipe
The first way to incorporate pistachios into the ice cream involves chopping them into small pieces and folding them in after churning, leaving you with larger chunks for more crunch and texture.
The second method is a little more involved, but leaves your ice cream richer & smoother. You soak the pistachios in milk and then blend them to a fine paste before adding them to your ice cream base.
Using the paste will give you a more evenly distributed pistachio flavor. Obviously you can still add some larger chopped pieces, if you like to chomp down on crunchy nuts.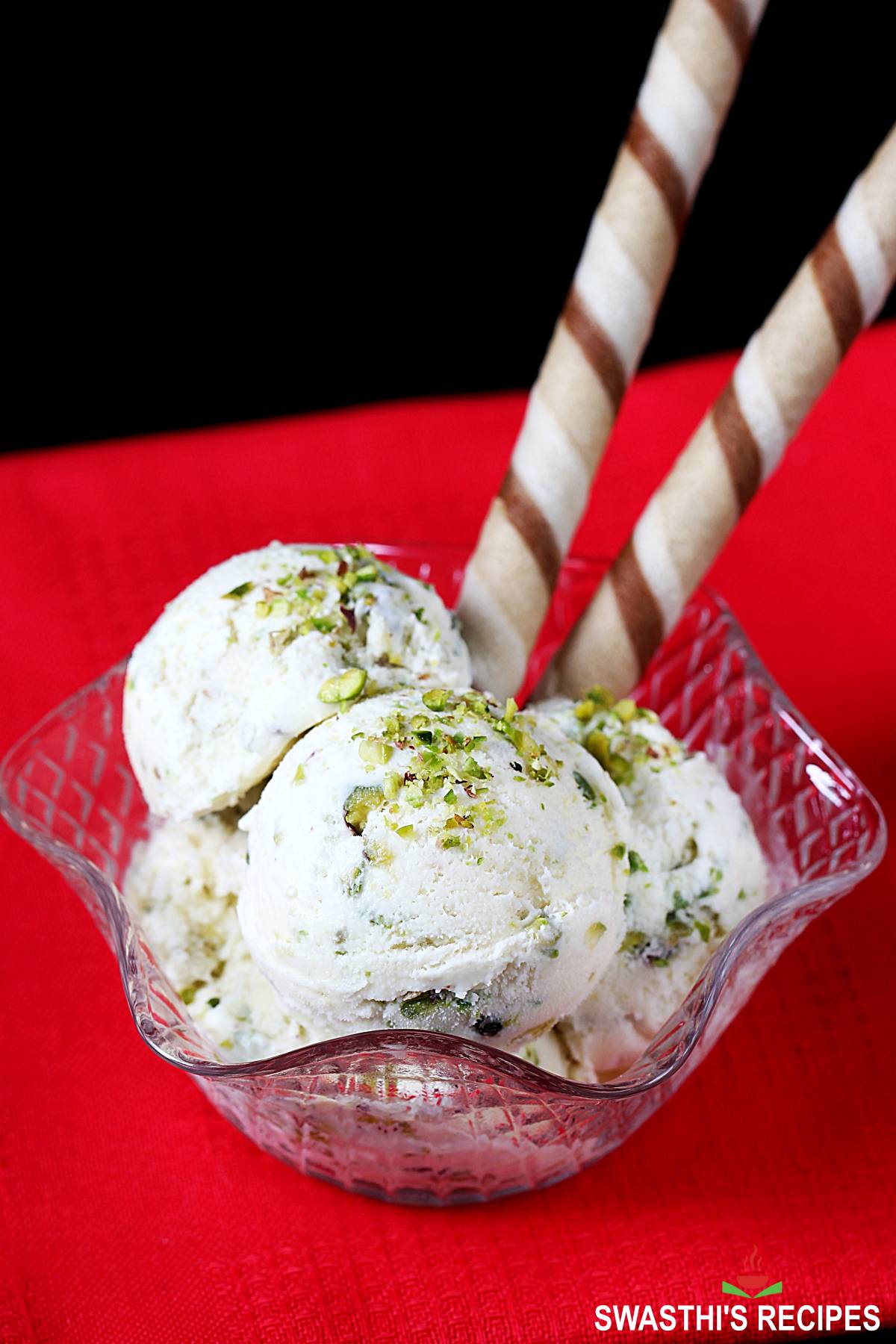 Truth be told, the pistachio preparation is the hardest part of this recipe. The Philadelphia-style base for the ice cream machine friendly recipe is very simple to put together. Simply mix milk, heavy cream, sugar, and vanilla extract until well combined.
If you're easily intimidated in the kitchen, this kind of ice cream base is a great way to test the waters for making homemade ice creams. The no-machine version is also a great way to try out making homemade ice cream without investing in a sometimes-expensive tool.
No matter your preference – chunky or smooth texture, Philadelphia-style or no-machine ice cream, this recipe has you covered.
And, well, there's been some pretty intense heat waves. You could really use something to eat that's nice and cooling and just a little bit sweet.
And maybe you also love pistachios.
So why not make this ice cream and enjoy a delicious homemade treat? Maybe share it with family, loved ones, friends, neighbors?
Or just keep it for yourself, tucked away in the freezer for a bad day. There's no judgment either way. Some sweets are just worth it, especially when made with pistachios.
Similar Recipes
Vanilla ice cream
Kulfi
Mango kulfi
Mango ice cream
Chocolate ice cream
How to Make Pistachio Ice Cream (Stepwise Photos)
1. For this recipe we need a Basic vanilla ice cream which can be made with or without a icecream maker. I have made this using a kitchen aid icecream attachment. To make one without the Icecream maker, follow this Vanilla Ice cream recipe which I shared earlier and follow from step 9.
2. Chop pistachios finely. You can also use a nut chopper. I have used half cup (heaped) pistas for this recipe, which went very well for our taste. You can reduce 1 to 2 tbsp if you do not like them much. Freeze your ice cream bowl for at least 20 to 24 hours. Also chill milk and cream.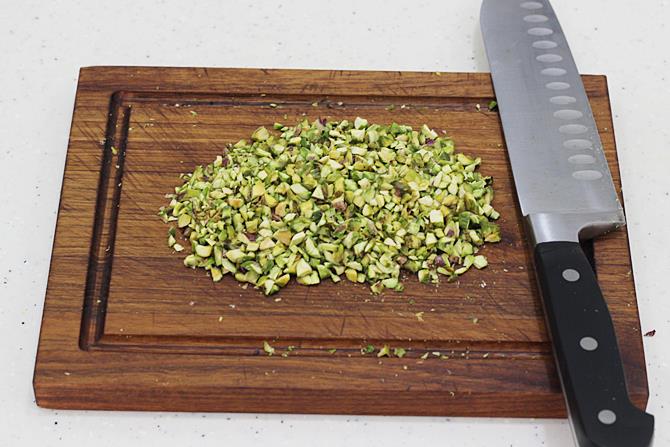 3. Add sugar to a bowl. I used 3/4 cup organic sugar. If using regular refine sugar you may reduce 2 tbsp.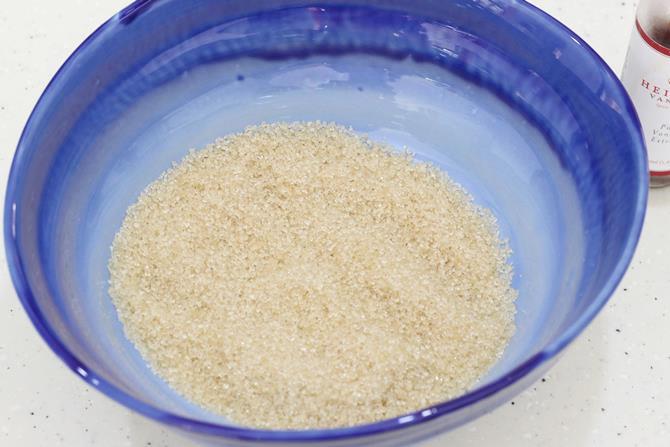 4. Pour 1 cup milk and 1.5 tsp vanilla extract.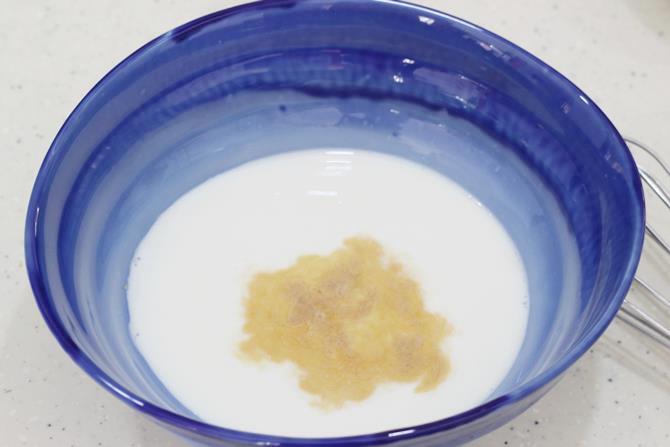 5. Whisk them very well until the sugar dissolves completely.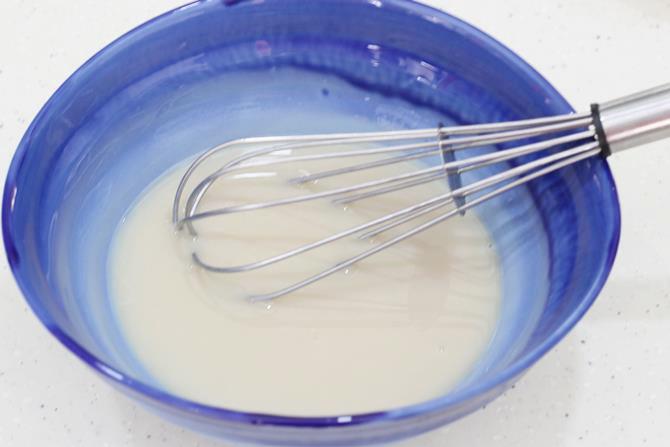 6. Pour 2 cups cream and whisk well. If you have only raw milk, heat it up until hot. Cool and chill the entire mixture for few hours.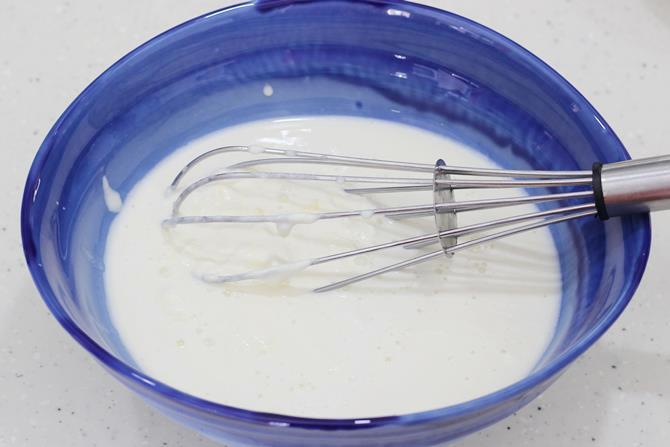 Make Pistachio Ice Cream
7. Fix your bowl and start the machine. Pour the mixture slowly. (Follow the instructions mentioned in your manual)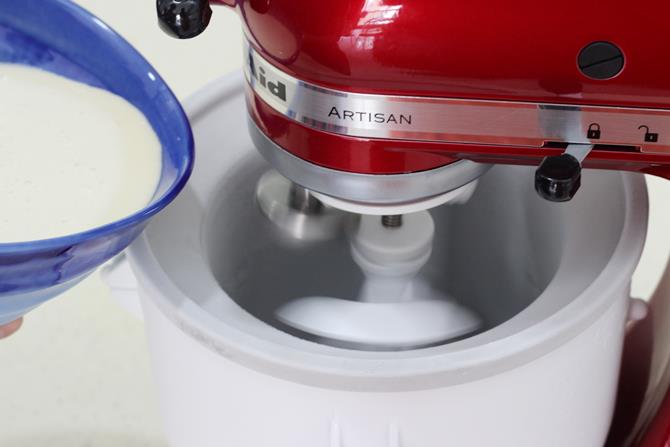 8. Churn for 15 to 20 mins. You will see this soft set ice cream.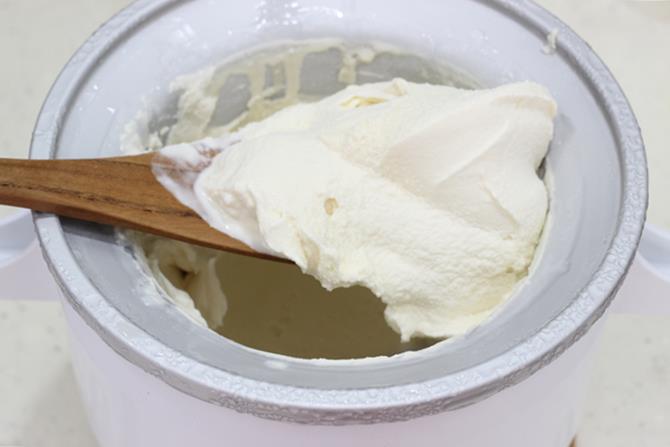 9. Add in the pistachios and gently mix. If you have made one without a Ice cream maker, then just follow from this step.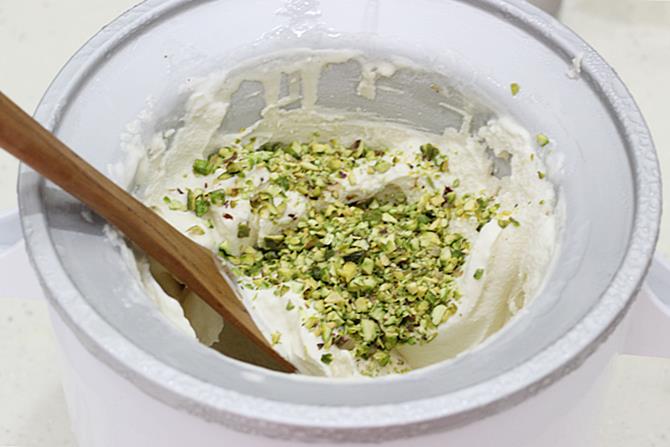 10. Transfer this to a freezer safe bowl and freeze for at least 6 to 8 hours.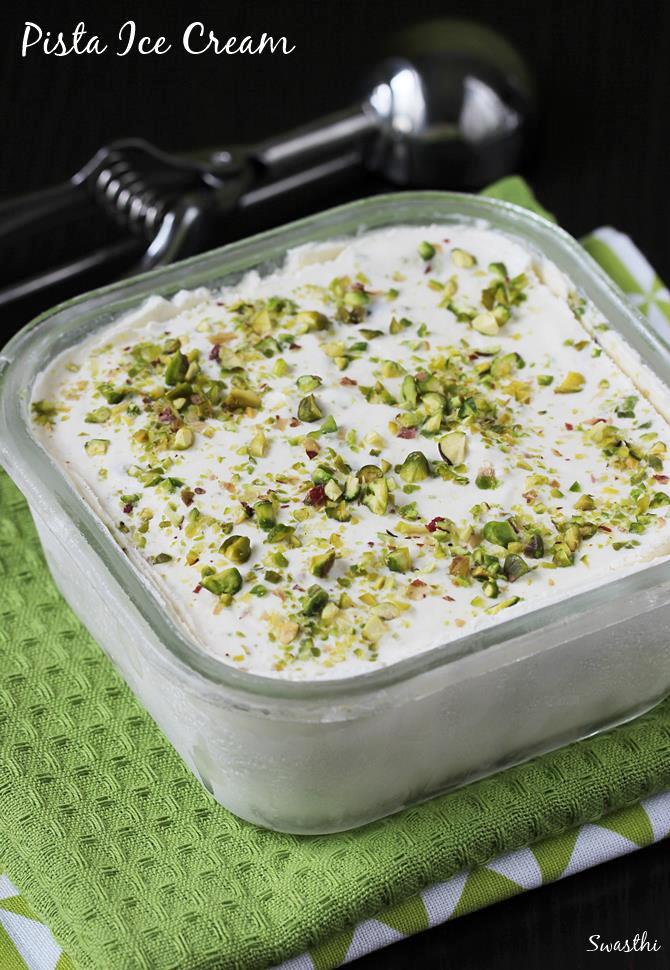 11. I was left with a bit more which I transferred to tiny stainless steel cups and put a stick. Covered with foil and let them set. Just before serving, immerse the cups in a bowl filled with water. Gently remove them. You can also use a knife to loosen the Popsicle.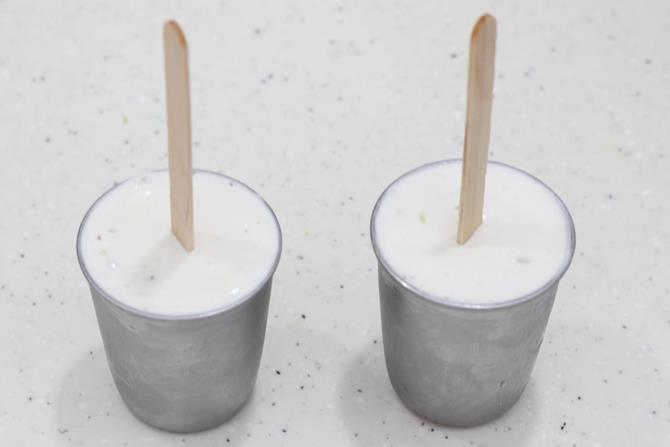 Scoop and serve Pistachio ice cream with your favorite garnishing.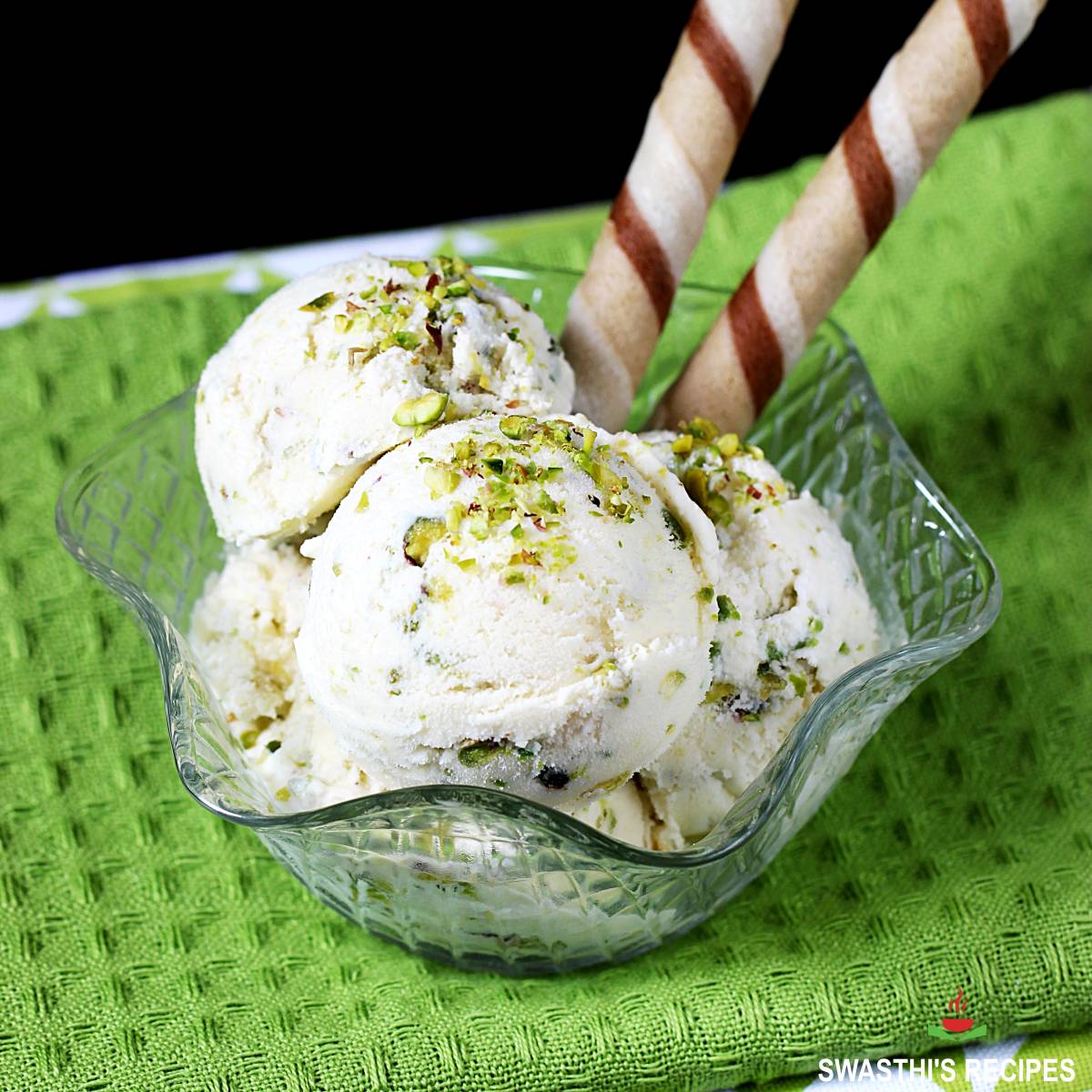 Related Recipes
Recipe Card
How to Make Pistachio Ice Cream
Method 2 – Pista Ice Cream with Ground Pistachios
For the second method, ground pistachio paste can be incorporated into the churned ice cream but sometimes you end up deflating the ice cream while mixing. I have tested the recipe both ways & felt the first way easier with better results. In both the cases, ensure you make a smooth paste of the nuts for maximum flavor.
Alternative quantities provided in the recipe card are for 1x only, original recipe.
For best results follow my detailed step-by-step photo instructions and tips above the recipe card.
Nutrition Facts
Pistachio Ice Cream | Pista Ice Cream
Amount Per Serving
Calories 299
Calories from Fat 207
% Daily Value*
Fat 23g35%
Saturated Fat 14g88%
Cholesterol 84mg28%
Sodium 35mg2%
Potassium 84mg2%
Carbohydrates 21g7%
Sugar 20g22%
Protein 2g4%
Vitamin A 925IU19%
Vitamin C 0.3mg0%
Calcium 73mg7%
* Percent Daily Values are based on a 2000 calorie diet.
Pistachio Ice Cream Recipe first published in June 2016. Updated & republished in August 2022.