Dal Vada are traditional Indian fritters made with lentils of choice, spices and herbs. These delicious and crispy dal vada are a great way to make your festive time fun-filled. They are simply addictive and can be served as a Tea-time Snack. Serve them with a spicy chutney like Coconut chutney, Coriander chutney, Garlic chutney or Mint chutney. Dal vada taste good on their own and can be served with just Tea or coffee. To make these healthier you can also air fry these dal vada. I have the instructions in the post.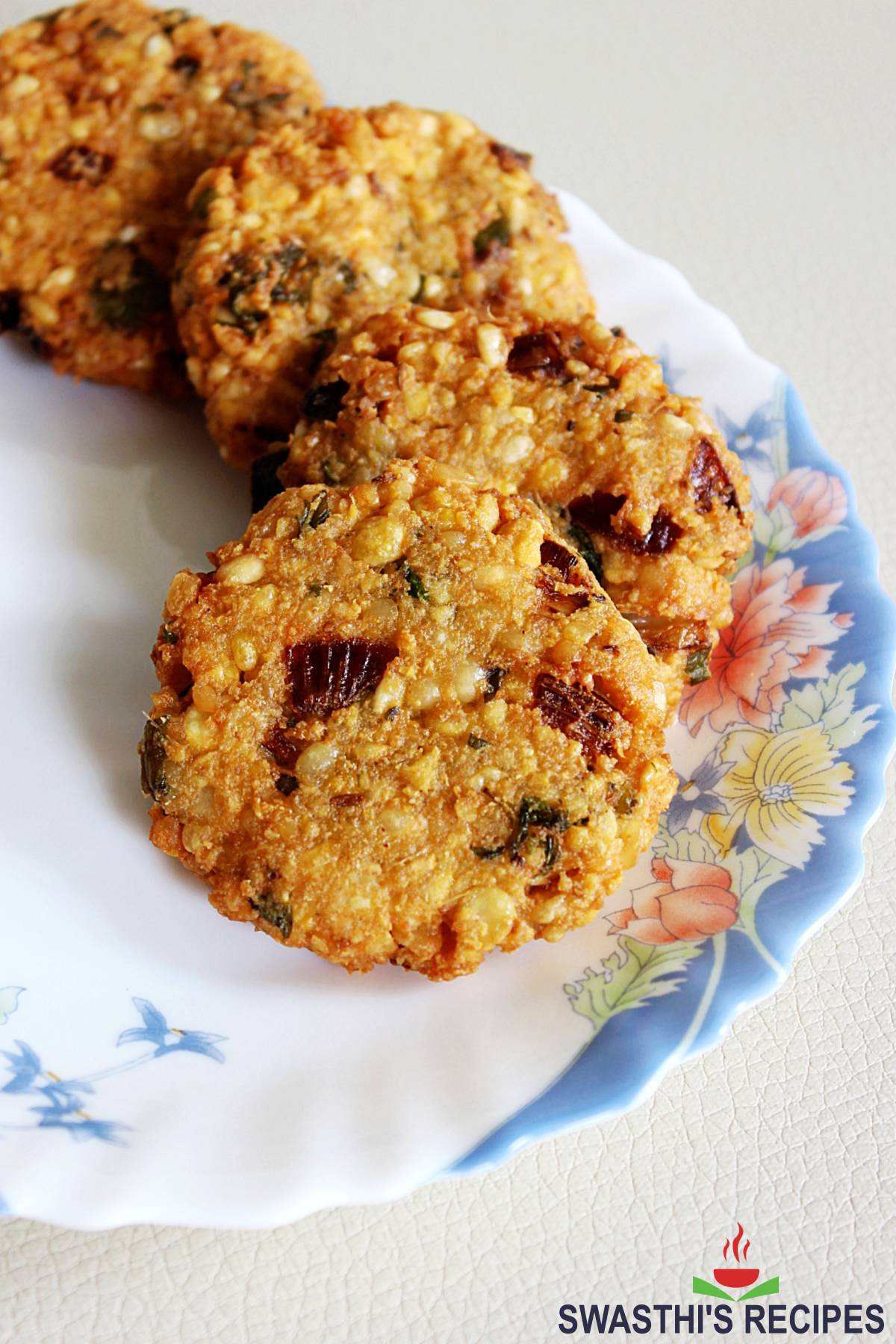 About Dal Vada
Dal Vada translates to "Lentil fritters" and can be made with any kind of whole or split lentils. Medu vada, Masala vada and Dahi vada are some popular kind of lentil fritters from Indian Cuisine. This dal vada recipe is the way my Mom would make for us.
They are easy to make and just takes a little time to prepare except for the soaking. You can use any kind of split lentils & also have the option to flavor these vadas with whatever you like – garam masala or just red chilies with some crushed cumin. You can also use the same spices we use for masala vada – fennel, cinnamon, cloves and red chilies.
A handful of drumstick leaves, spinach, methi or coriander leaves also add flavor to these vada. Here I just went ahead with a mix of coriander and curry leaves. The classic South Indian herb, curry leaves add a lot of aroma here.
These dal vada do not soak up much oil since the ground mixture is made to a tight consistency. These can also be offered during any puja, just skip the onions, ginger, garlic and chilli.
Dal vada can be deep fried or even air fried. I have been air frying these for a few years now. So I have shared the pictures as well.
More recipes,
Batata vada
Masala vada
Medu vada
Alasanda vada
Sabudana vada
How to Make Dal Vada (Stepwise Photos)
Soak Lentils
1. Add ¾ cup moong dal to a large bowl.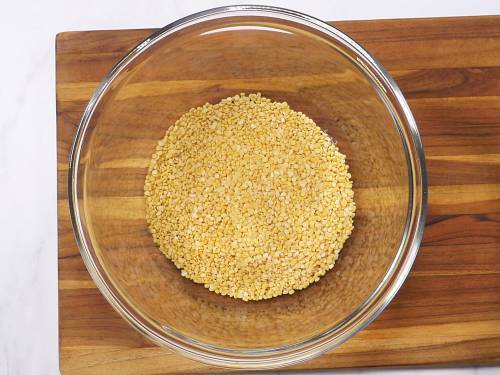 2. Add ¼ cup chana dal and 2 tablespoons split white urad dal. You can also simply skip these and add another ¼ cup moong dal. Chana dal is used for flavor and texture. If you don't know how good fried chana dal tastes, then you have to try it. If you prefer to air fry these moong dal vadas, then simply skip the urad dal.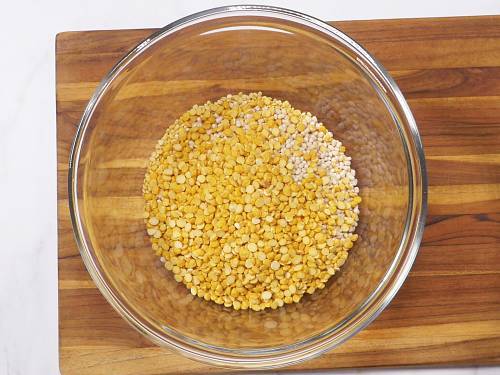 3. Rinse them well and soak for 2 hours.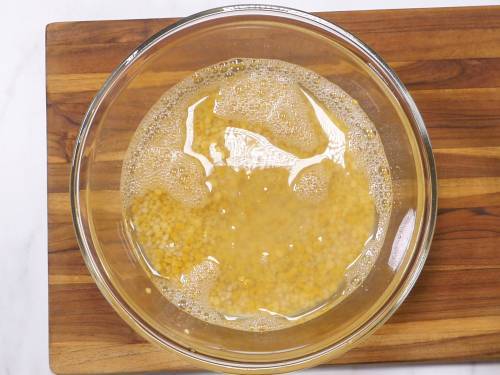 4. Crush red chili in a grinder. This step is optional, but the chilies add a pungent flavor and heat. I haven't used them here.
5. Drain the water completely and add them to the same grinder. Keep aside 2 to 3 tablespoons of dal for later use.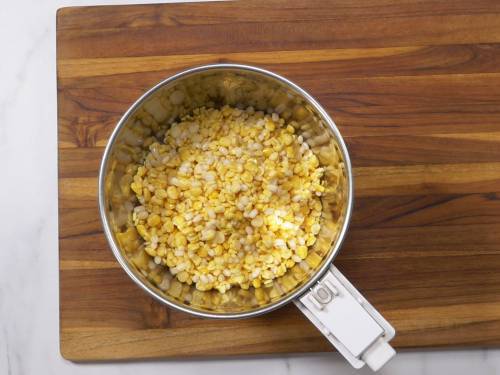 Make Batter
6. Pulse to make a coarse mixture. If it is too dry, you may sprinkle very little water but I don't.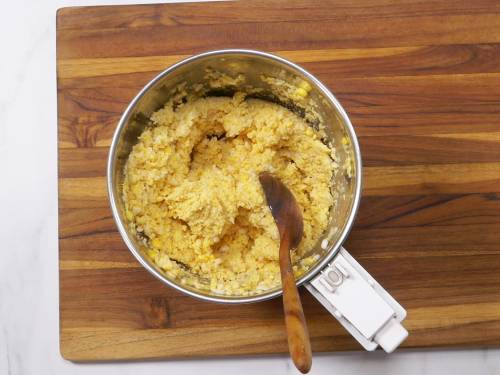 7. To the mixing bowl, add daal that was set aside along with the ground moong dal.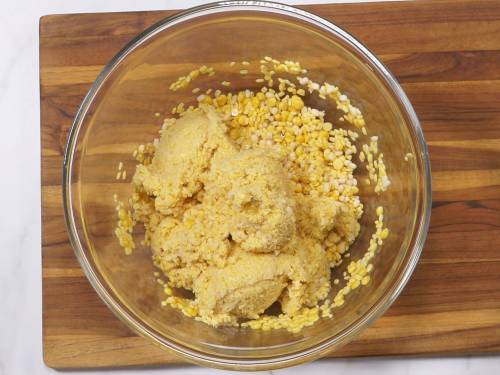 8. Add chopped onions, garam masala, ginger garlic paste and cumin.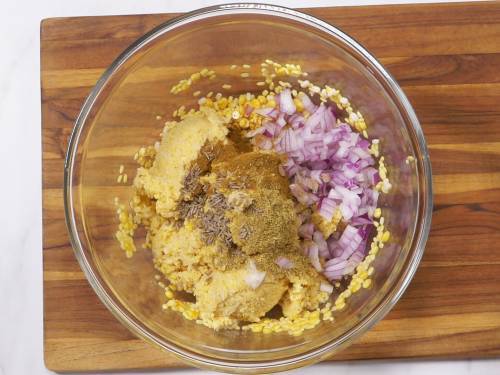 9. Next add curry leaves, coriander leaves and green chilies.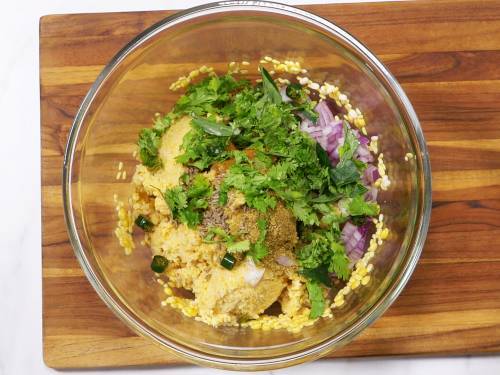 10. Mix everything well. The mixture must be moist and must bind well when you make a dal vada. If the vada fails to bind well, it means dal hasn't been blended enough. You can blend about 4 tbsps of this again and mix with the rest.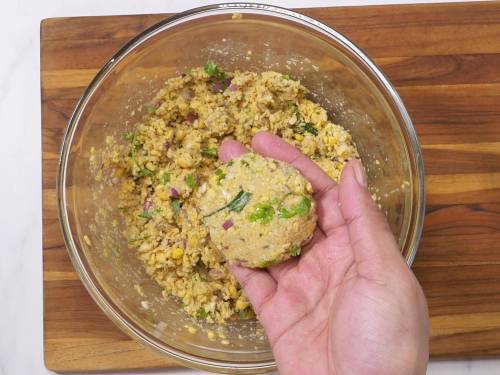 Make Dal Vada
11. Heat oil in a kadai for deep frying. Grease a cling wrap or a foil or a parchment paper. Take small portions of this mixture and make 10 small balls. Flatten them on the sheet. Do not make them too thick. You will be able to make 10 dal vada.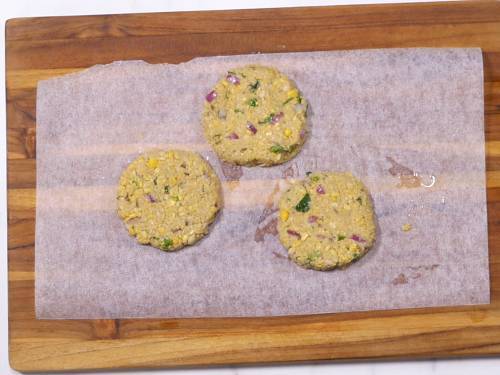 12. When the oil becomes hot, drop a small portion of the mixture to check if the oil is hot. It has to rise without browning instantly. This is the right temperature. Grease the fingers on your right hand. Lift one corner of the sheet, transfer the vada on to your fingers and drop them in the hot oil. You can make these in batches of 3 to 4.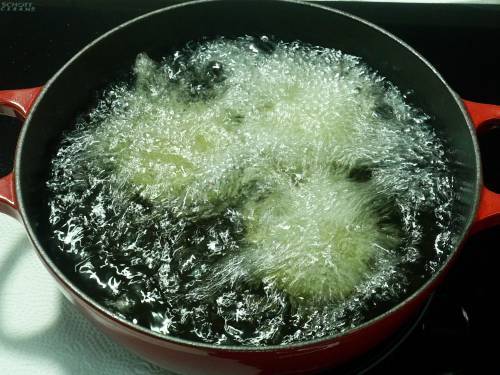 13. Do not disturb them from 2 minutes. Then use a perforated ladle and turn to the other side. Fry till golden and crisp. Remove moong dal vada to a colander.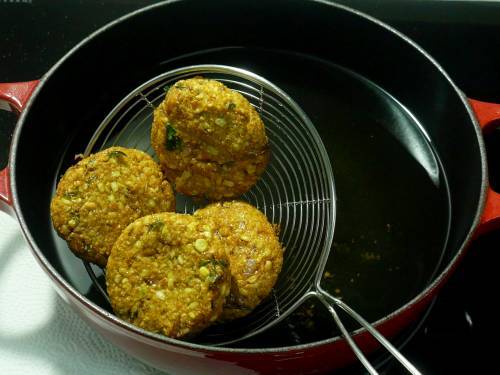 Serve them hot with chutney or just with Tea.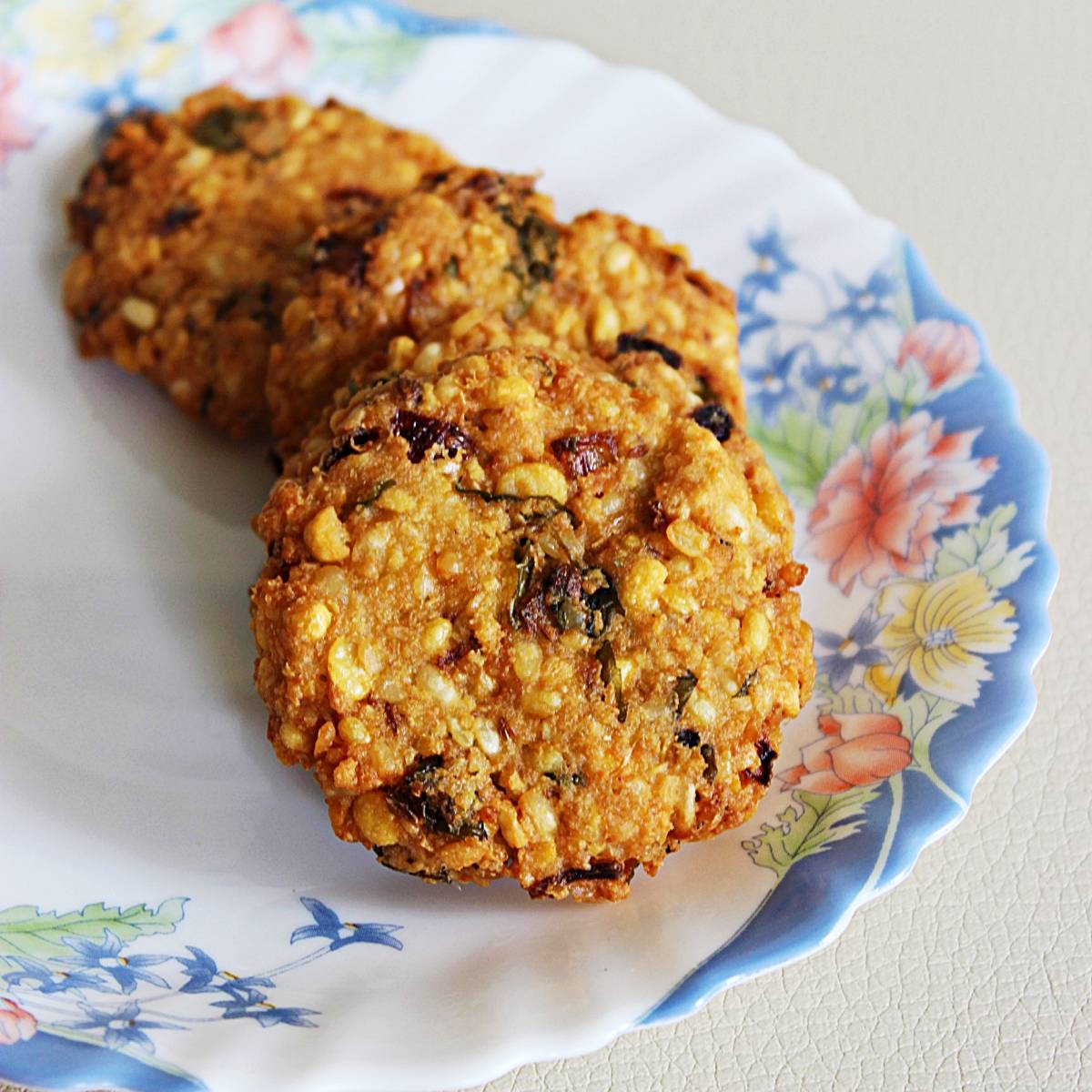 Air Fryer Dal Vada
These are the air fryer dal vadas. I place them on the tray/rack and air fry for 15 to 17 minutes at 180 C or 360 F. I do not spray oil or preheat the fryer as mine does not require. But if needed, preheat for 10 mins and then spray them with oil. I brush the hot dal vada with ghee as they turn out too dry.
Serve dal vada hot with your favorite chutney.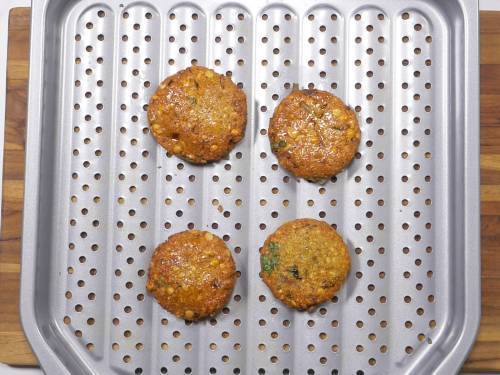 Related Recipes
Recipe Card
This an updated recipe. The original recipe which I shared earlier uses half cup each of moong dal, chana dal and urad dal.
Alternative quantities provided in the recipe card are for 1x only, original recipe.
For best results follow my detailed step-by-step photo instructions and tips above the recipe card.
Nutrition Facts
Dal Vada Recipe
Amount Per Serving
Calories 90
Calories from Fat 9
% Daily Value*
Fat 1g2%
Saturated Fat 1g6%
Sodium 150mg7%
Potassium 280mg8%
Carbohydrates 16g5%
Fiber 7g29%
Sugar 2g2%
Protein 6g12%
Vitamin A 146IU3%
Vitamin C 27mg33%
Calcium 26mg3%
Iron 2mg11%
* Percent Daily Values are based on a 2000 calorie diet.
Dal Vada Recipe first published in August 2014. Updated & republished in August 2022.