Tomato Curry recipe made with ripe tomatoes, whole & ground spices, curry leaves and coconut. Don't go by its simple looks, this tomato curry is loaded with flavours from tangy to spicy & tastes delicious. For a comforting meal, serve it with plain steamed rice, Ghee and some papads or with any Indian flatbreads like roti, paratha or even with Dosa.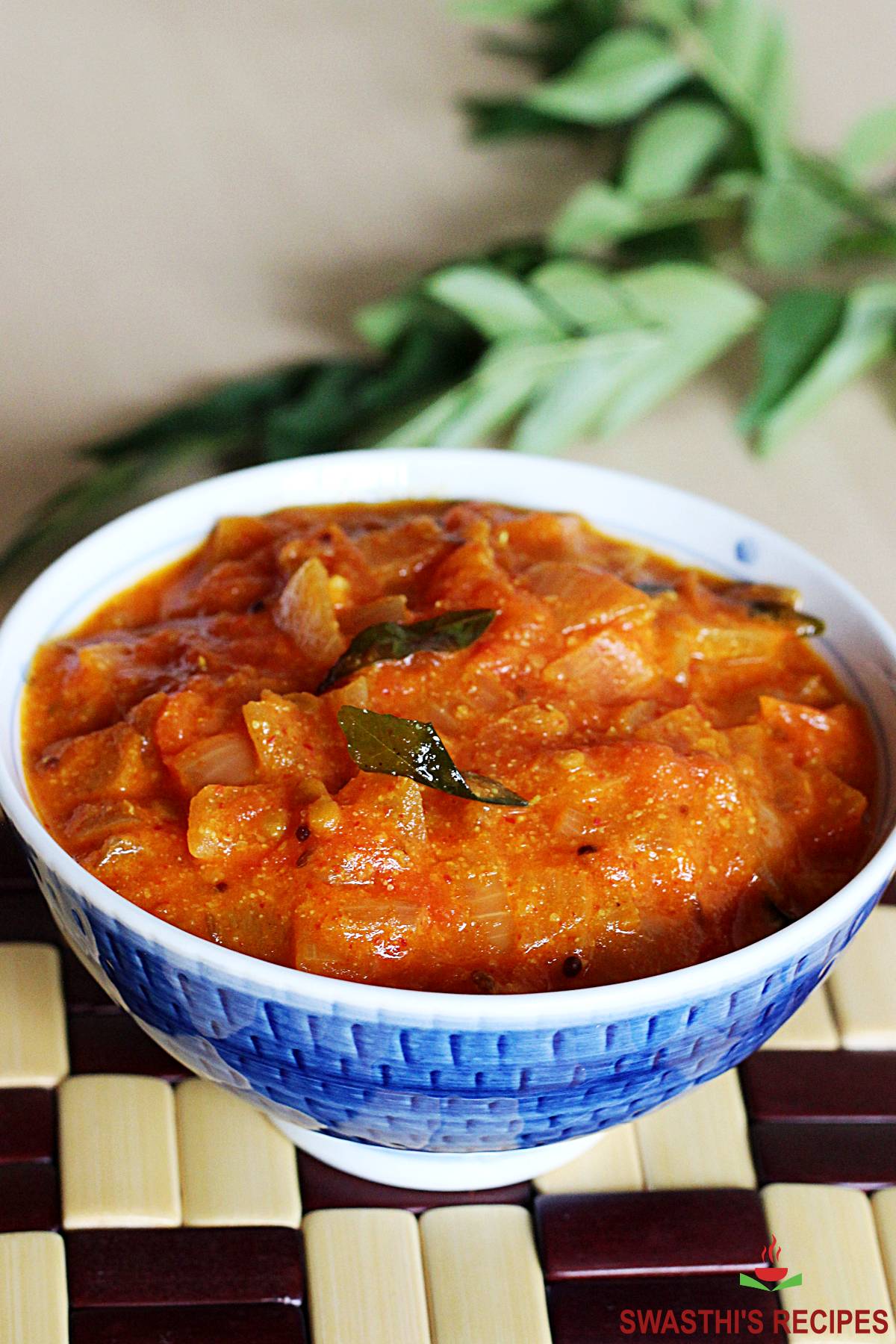 Tomatoes are not native to India and were brought by the Portuguese explorers in the 16th century. However they were grown from the 18th century & over the years have been adapted into the Indian cooking. Today India is proudly the second largest cultivator of tomatoes.
Like eggplants & pumpkins, tomatoes are fruits, classified botanically as berries but used extensively as a vegetable for culinary purposes.
Tomatoes form the base of many curried Indian dishes. Apart from imparting sweet and tangy tones, they add so much flavor and body to the dishes.
About Tomato Curry
Tomato kurma, tamatar ki sabzi, tomato kootu all are various ways of making a tomato curry in Indian cuisine. This tomato curry is the most basic and is made with pantry staples. It can be a great dish when you have too many tomatoes in your kitchen or you just don't have any other veggies to cook.
This Tomato Curry has its roots from the Andhra Cuisine and in the past, a traditional key ingredient known as Telagapindi was used. In the absence of that coconut milk would be added.
For the uninitiated, Telagapindi is defatted sesame flour and is a popular ingredient from the traditional Andhra cuisine. After extracting oil (using wood press) from the raw sesame seeds, the left over residue in the form of cake, is pulverised to get telagapindi.
It is believed that this defatted sesame flour is rich in protein, vitamins, fibre and minerals. So it was regularly used by a lot of Telugu speaking people and was fed to the lactating mothers for its rich source of lignans.
However for hygiene reasons my Mom never used it. This recipe was passed on by my grandmother. I was taught to add some homemade roasted sesame seeds powder (optionally) and/or some coconut milk. This is what I have shown in the recipe below.
A lot of times I do not add sesame powder and but finish up with just the coconut milk. On occasions I have made this with Almond meal, Peanut podi, Idli podi and even with coconut podi. Each one of these imparts a different flavor to the curry.
If you do not have coconut milk, simply grind some soaked almonds or cashews with water to make nut milk and pour it.
Variations
You can make a big batch of this curry and refrigerate. For variations you may add some boiled eggs, boiled green peas, grilled potatoes, grilled vegetables and simmer in the curry for a few minutes.
More simple curry recipes
Beetroot curry
Capsicum masala curry
Soya chunks curry
Cauliflower curry
Ladies finger curry
Potato curry
How to Make Tomato Curry (Stepwise photos)
Preparation
1. This step is optional but I prefer to get rid of the tomato skin. You may skip if you want to. Rinse tomatoes well under running water. Bring 2 to 3 cups of water to a boil and carefully add 3 large tomatoes. Boil the whole tomatoes until the skin loosens. This takes around 3 to 4 mins.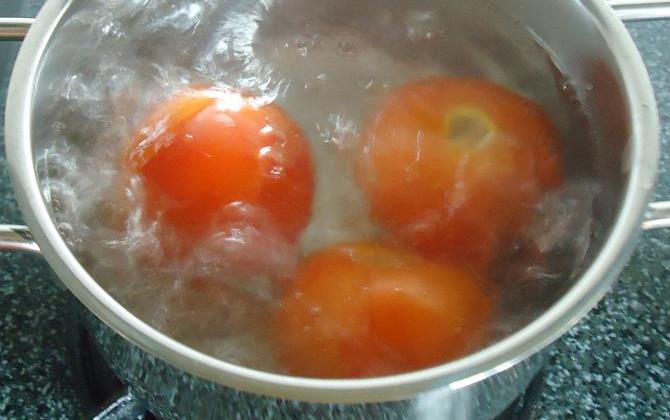 2. Peel off the skin and discard. Chop tomatoes, remove the core & the seeds too if you want.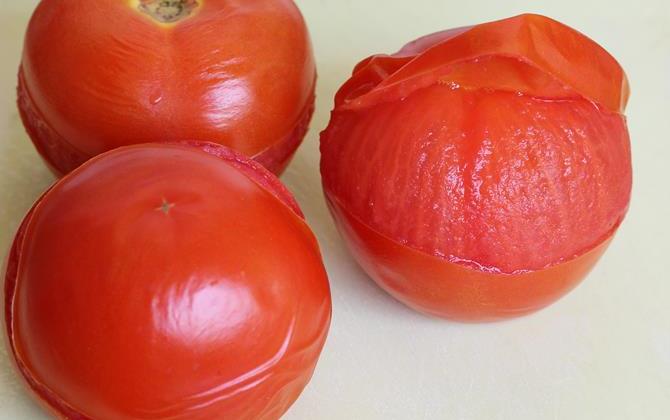 3. If you want to use sesame seeds, toast 2 tbsps seeds in a pan until light and aromatic. Cool and make a fine powder in a grinder. Set aside. Alternately you may use idli podi, peanut podi, almond meal or even leave out this.
Make Tomato Curry
4. Heat a pan with 2 tablespoons oil. add ¼ teaspoon mustard seeds, ¼ to ½ teaspoon cumin seeds, 1 sprig curry leaves and 1 slit red or green chili. When they splutter add hing. If you want you may add 2 to 3 crushed garlic cloves and fry for 2 mins.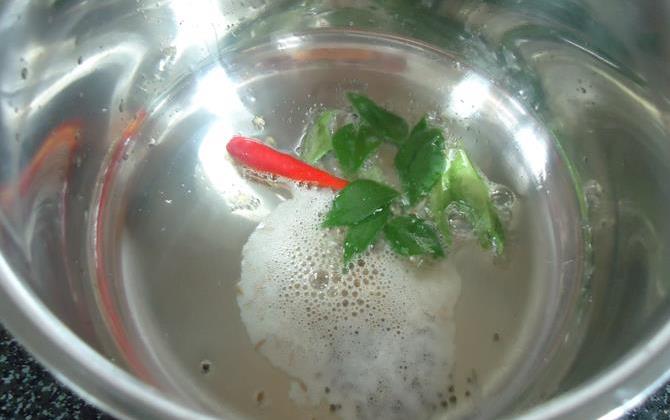 5. Add ¾ cup chopped onions, sprinkle salt and fry on a high heat till they turn slightly pink & transparent. This takes only 3 mins.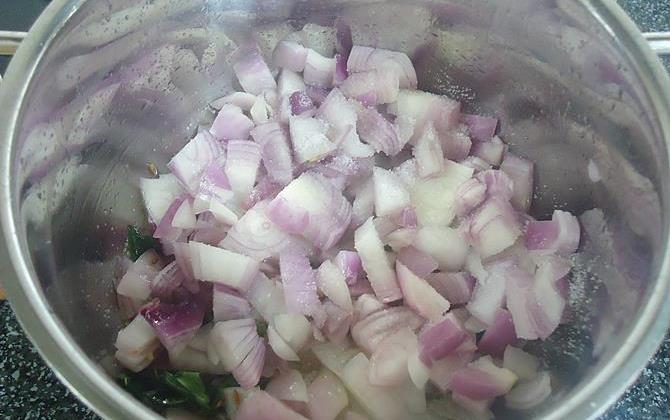 6. Add chopped tomatoes, ¼ teaspoon turmeric and fry on a medium high heat for 3 to 4 minutes.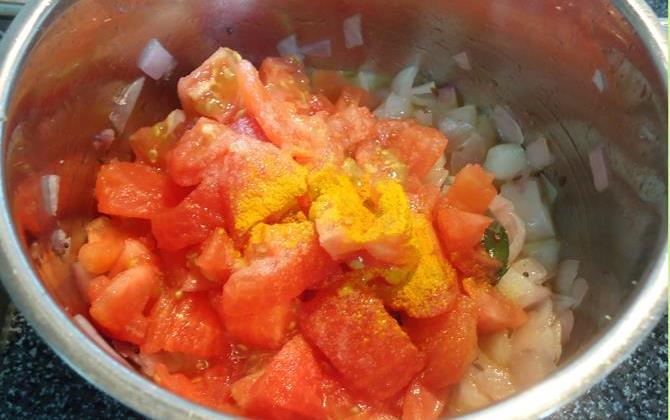 7. Cover and cook till the tomatoes turn fully mushy and soft.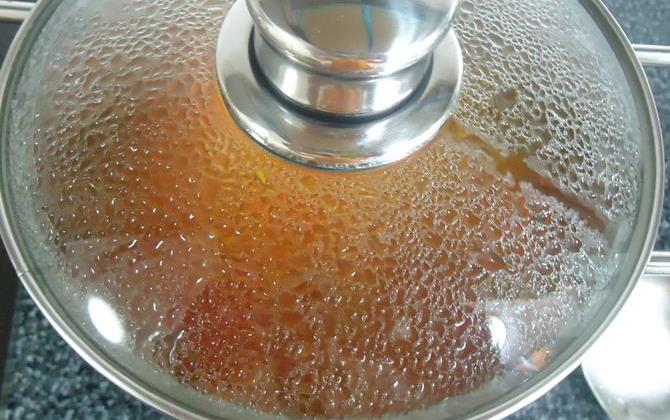 8. Add 1 teaspoon red chili powder, ⅓ teaspoon salt and fry for a min or 2.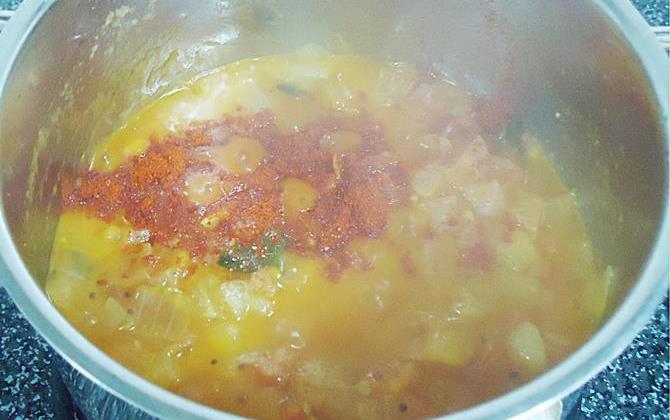 9. Add 2 tablespoons almond meal or Peanut podi or Idli podi. Other options are roasted gram powder or sesame seed powder. Mix and cook for 2 to 3 mins.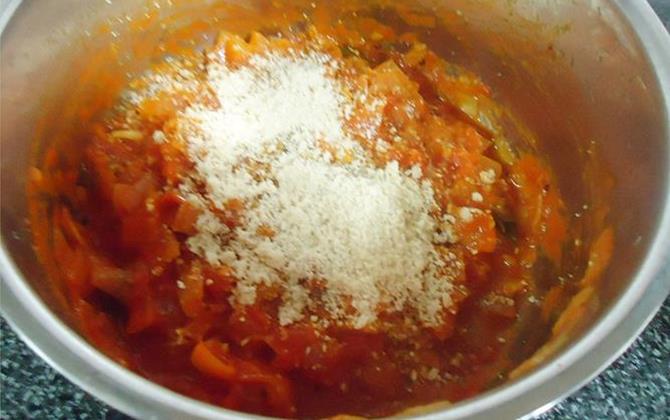 10. Pour ¼ cup thick coconut milk. Mix well. Simmer for a min or 2. Off the heat. Do not cook for long if using homemade thick coconut milk else it may coagulate. Taste test and add more salt if you want.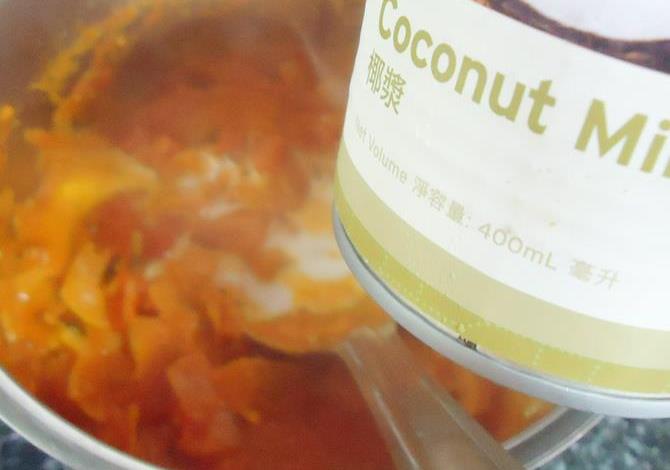 Tomato curry is ready to serve. Serve hot with ghee and rice or roti.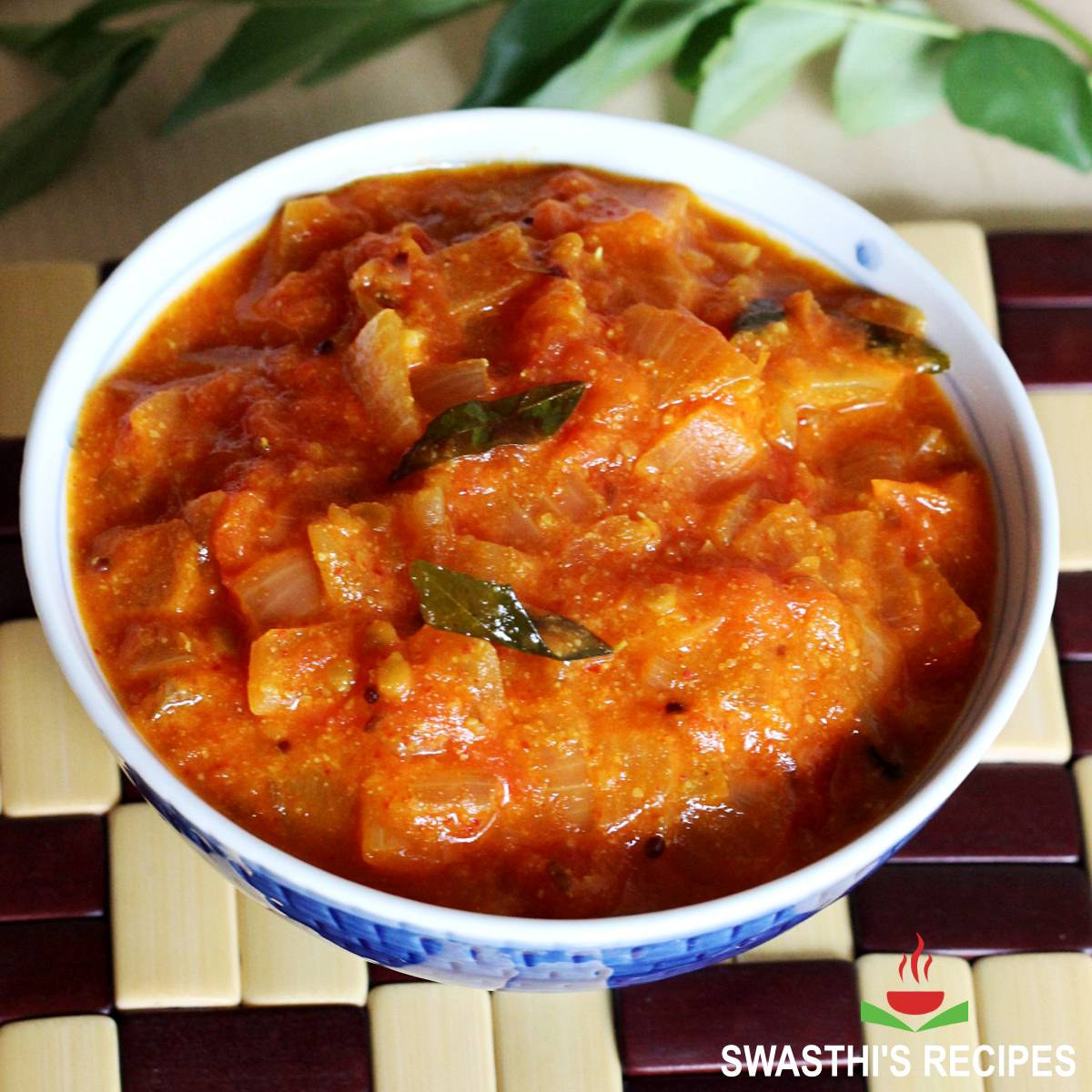 Related Recipes
Recipe Card
Coconut milk: If you do not have coconut milk, you may blend 15 soaked almonds or cashews with 1/4 to 1/2 cup water to make smooth vegan milk. Skip the almond or peanut powder and just use this nut milk.
This recipe needs only thick coconut milk. Do not use thin coconut milk as you will not get the flavor.
Sesame seeds: Traditionally white sesame seed powder is used. However I sometimes also use this Spiced peanut podi or idli podi for this. Taste test the sesame seeds first before you powder them.
Alternative quantities provided in the recipe card are for 1x only, original recipe.
For best results follow my detailed step-by-step photo instructions and tips above the recipe card.
Nutrition Facts
Tomato Curry Recipe
Amount Per Serving
Calories 131
Calories from Fat 81
% Daily Value*
Fat 9g14%
Saturated Fat 3g19%
Sodium 76mg3%
Potassium 204mg6%
Carbohydrates 11g4%
Fiber 3g13%
Sugar 3g3%
Protein 2g4%
Vitamin A 290IU6%
Vitamin C 20.5mg25%
Calcium 20mg2%
Iron 1.5mg8%
* Percent Daily Values are based on a 2000 calorie diet.
Tomato curry recipe first published in May 2013. Updated & republished in August 2022.