Aloo Masala also known as Potato Masala is a simple and delicious South Indian side dish of boiled potatoes tempered with whole spices, onions and herbs. Also known as Dosa Aloo, this restaurant style Aloo Masala is served as a stuffing inside Crispy Masala Dosa. It is eaten alongside Coconut Chutney and Tiffin Sambar. Aloo masala can also be eaten as a side with Naan, Poori, roti & any kind of flatbreads.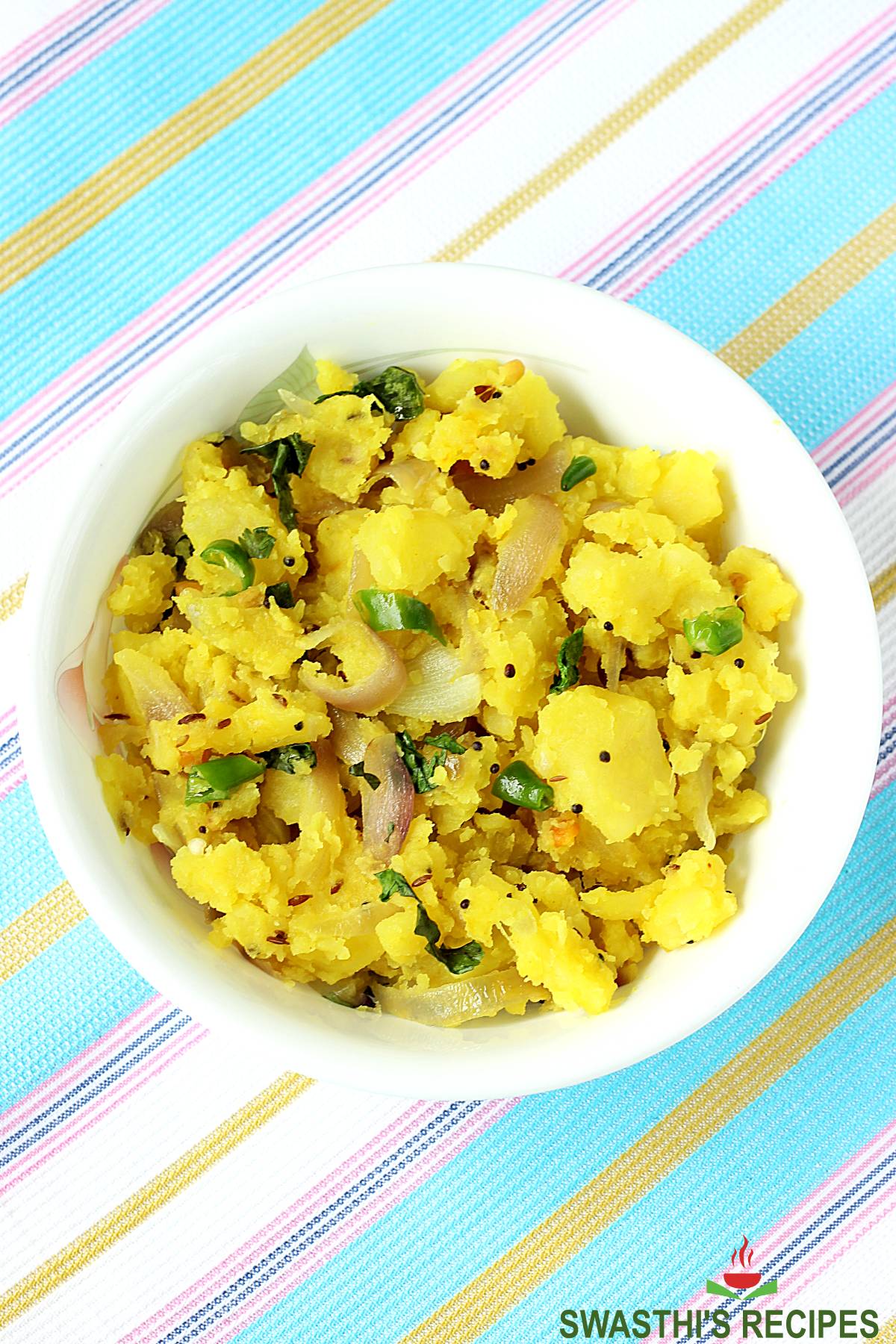 Aloo Masala
Even more, serve it as a stuffing inside wraps, rolls and sandwiches. It tastes absolutely delicious with just anything!
Masala dosa gets its name from the aloo masala that is served with it. This flavorsome potato masala is the heart and life of the masala dosa, without that we call it a sada dosa meaning a plain dosa. Actually it is this aloo masala that makes you crave for the masala dosas every time.
In restaurants, they put this potato masala to use in many ways. They serve this with many kinds of dosas like Rava masala dosa, Rava onion masala dosa, Pudi masala dosa, Masala uttapam and many more. You can also serve it with Wheat dosa or Neer dosa as well.
It is the same that goes as a stuffing inside the street style Aloo Bonda and if you skip onions you can also use it to make Batata vada. And Yes! These are the same vada that go inside the ever popular Mumbai Vada Pav.
At home, we also serve this potato masala with variety rice dishes like – Lemon rice, Mint rice & Coconut rice & sometimes with Rasam-rice or Sambar-rice.
Aloo Masala Vs Poori Masala
This Aloo Masala may look similar to the Poori Masala but both differ in the taste, texture and consistency. In poori masala, tomatoes are used and the curry is of a flowy consistency because you want to dip your poori in that. But perfectly made potato masala is thicker.
However you will find too soggy and wet aloo masala being served in some places which actually makes your masala dosa softer too quickly.
About the Recipe
Making Aloo Masala is easy, simple and quick if you have some pre-boiled potatoes ready. I can say this is the easiest of the several potato curry recipes from Indian cuisine. This recipe also requires only a handful of ingredients but all of them are the key to get the aromatic flavors.
Traditionally aloo masala is made by boiling the potatoes until soft. A South Indian style tempering consisting of mustard seeds, cumin seeds, lentils, chilies and curry leaves is made. Sliced onions, fresh ginger, green chilies and curry leaves are briefly sautéed until tender along with the tempered ingredients.
Lastly potatoes are added to it and seasoned with salt. Garnished with coriander leaves. How lovely & easy right?
This potato masala is a staple in my home for breakfast and is done easily even on the busiest weekdays. Sometimes I also make this in the stovetop pressure cooker or instant pot. I have included the cooker instructions in the recipe card below.
The difference between the stovetop method and the pressure cooker is that the onions would become too soft in the pressure cooked method, which otherwise are kept slightly crunchy in the recipe.
Variations
You will find numerous variations of this potato masala in Bangalore restaurants. Cashews, green peas and green bell pepper (capsicum) are sometimes added to the tempering. If you want you may add 10 to 15 cashews to the tempering when the lentils are half done.
To add green peas, you may use half cup of boiled peas along with the potatoes. I use frozen peas which do not require boiling so I add them directly to the pan, after frying the onions. Saute only for 2 to 3 mins before adding the potatoes.
If you like to add bell peppers, add them along with onions and saute until they are slightly tender yet crunchy.
For more Potato recipes, you can check
Poori masala
Potato curry
Potato kurma
Aloo gobi masala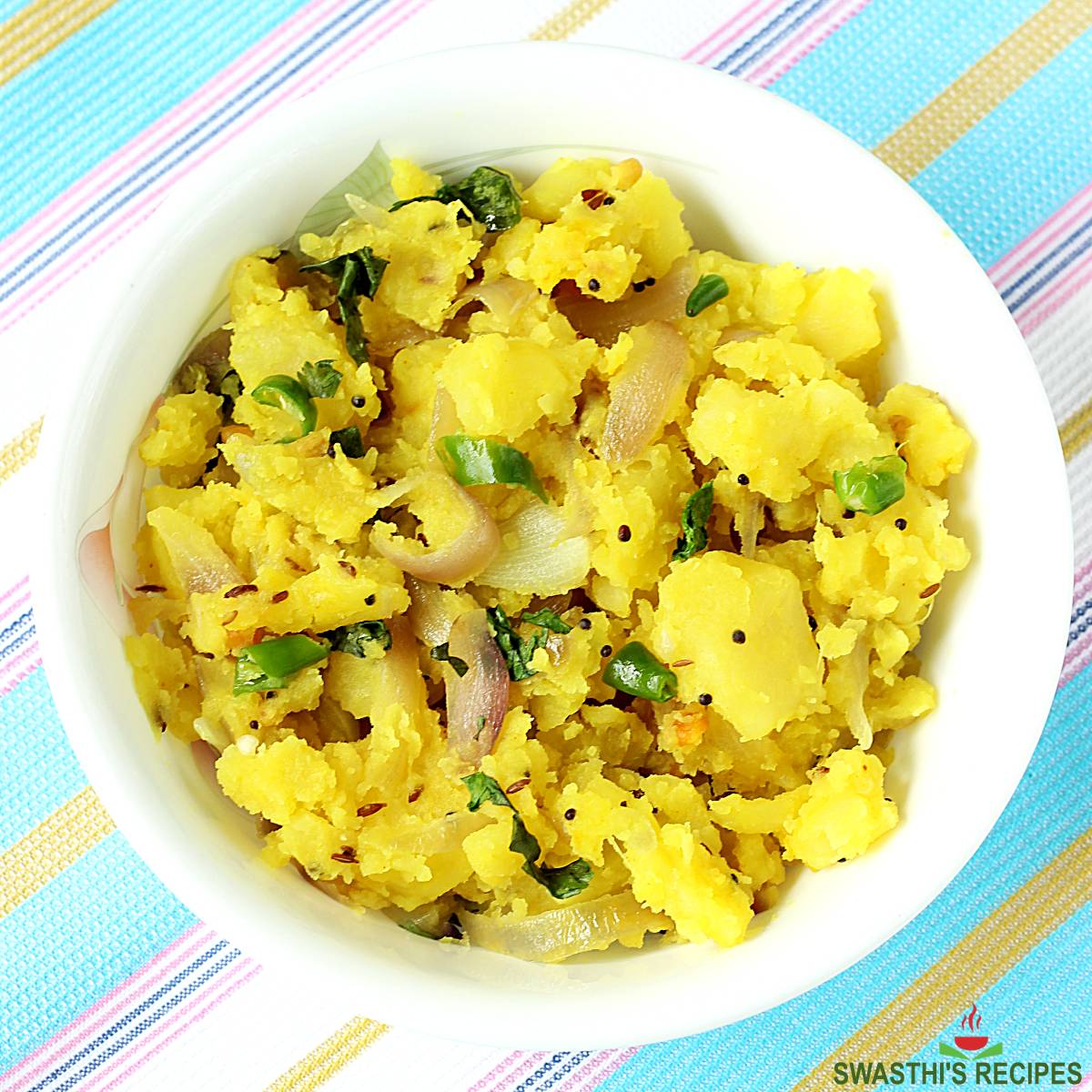 How to Make Aloo Masala (Stepwise Photos)
Boil Potatoes
1. Boil 400 to 450 grams (about 1 lb) potatoes to fork tender in whatever way you like. In the cooker, steamer or directly in a pot. Here I cook them in a pot with just enough water to cover. Bring the water to a rolling boil and reduce the heat to medium. Cook until fork tender, meaning fully cooked but not mushy. If you are a beginner, I suggest cooking in a pot.
You can also boil the whole potatoes in a cooker. For this pour 1 cup water to your cooker and place a rack inside it. Place the potatoes in a bowl and pour half cup water. Place it over the rack and pressure cook for 3 whistles on a medium flame.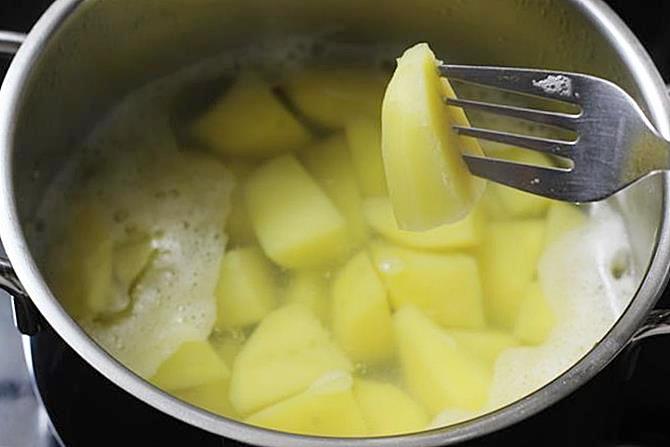 Make Potato Masala
2. On a medium flame, heat 2 tablespoons oil in a pan. When the oil turns hot, lower the flame and add
¼ to ½ teaspoon mustard seeds
½ teaspoon cumin seeds
1 teaspoon chana dal (optional)
1 teaspoon urad dal (optional)
Fry until the dals turn golden. Then add 1 pinch of hing (asafoetida).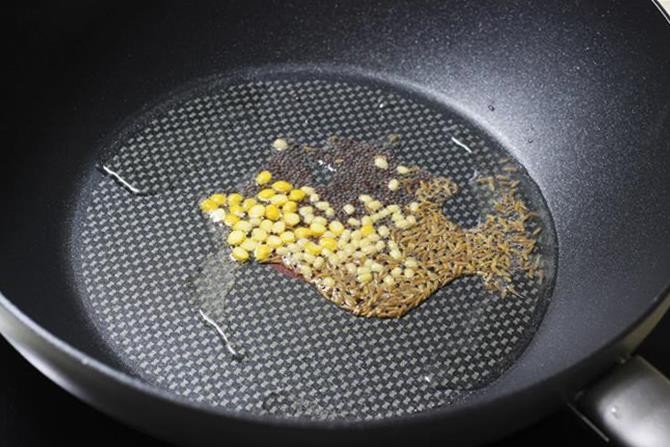 3. Add ½ tablespoon ginger (grated or fine chopped). Fry until it begins to smell good. [Tip: Optionally you may pour 2 to 3 tablespoons water at this stage and cook until the dal becomes soft. Ensure the water is evaporated fully before you proceed to the next step.]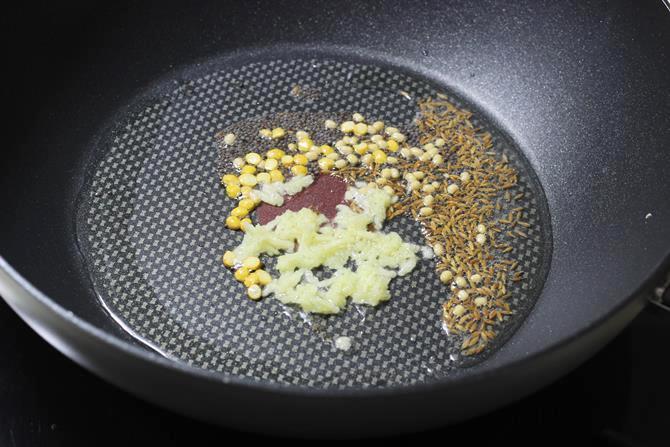 4. Next add
1 medium chopped or sliced onions (½ to ¾ cup)
1 sprig curry leaves
2 chopped or slit green chilies (skip for kids or deseed the chilies)
¼ teaspoon salt.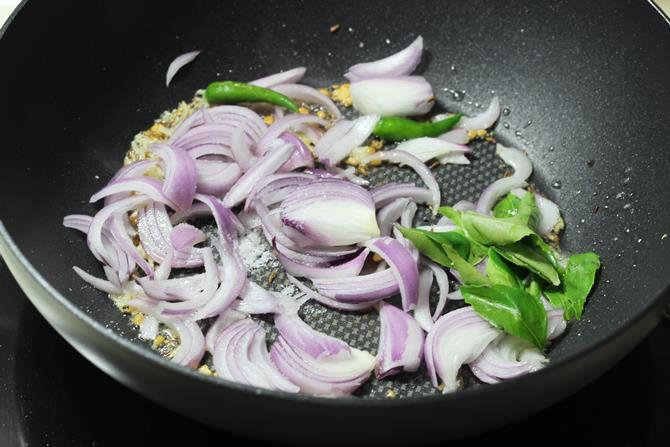 5. Fry until the onions turn pink & tender. Onions must have lost the raw smell completely.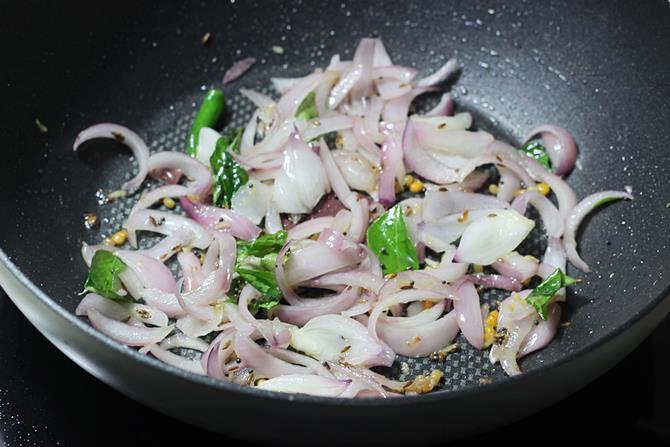 6. Lower the flame, then add the
boiled potato
¼ teaspoon turmeric
¼ teaspoon more salt. You can add turmeric to the onions to get a good color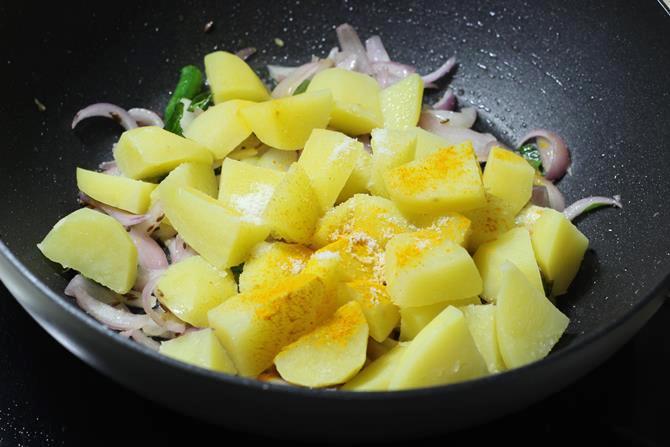 7. Mash the potatoes gently with the spatula. You can also keep small cubes if you like it that way. Add little potato stock (potato cooked water) to bring together the potatoes. It will be fairly dry without the addition of water. I use about 3 to 4 tbsp. potato stock.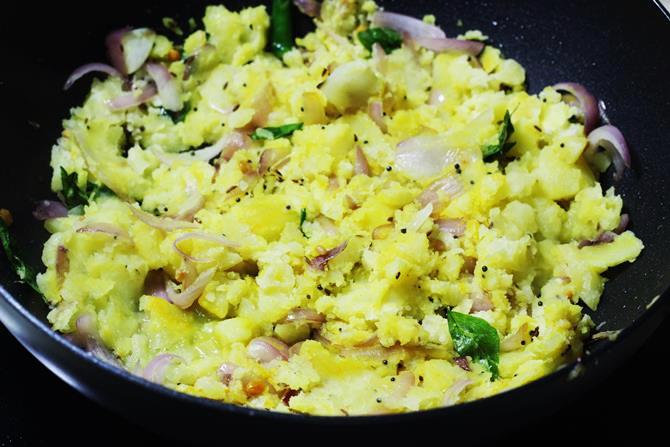 8. Mix everything well. Taste test and add more salt if needed. This is the texture we prefer and is good for dosa, sandwiches, rolls and lunch box as well. Sprinkle 2 tablespoons chopped coriander leaves.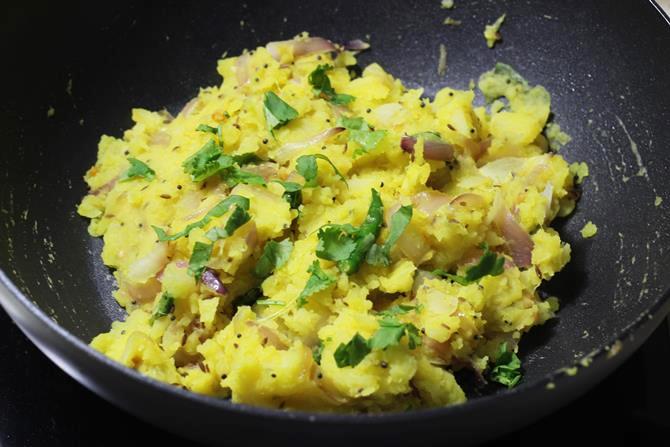 Serve potato masala with dosa. To make sandwich I smear little Mint chutney or Coriander chutney to the bread first and then stuff this curry. Butter your bread and grill in the sandwich maker or pan.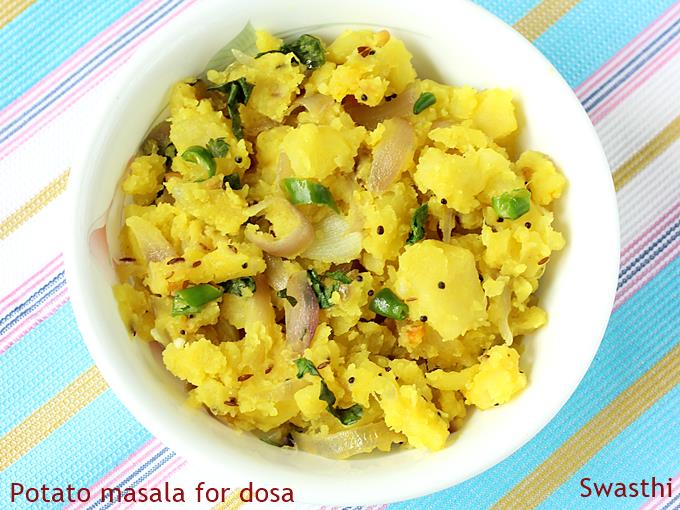 Here are my tips to make this the best.
Pro Tips
Lentils: Chana dal (Bengal gram) and urad dal (Skinned split black lentils) are used in the tempering. Both these lentils impart a nutty aroma and crunchy texture to the aloo masala. You may any one or even leave them out if you don't have them.
Soaking Lentils: A lot of readers ask if the lentils should be soaked prior to adding to the tempering. Actually No! Traditionally they are not soaked. The nutty aroma comes from roasting the dried lentils and you won't get that flavor and texture by soaking them.
But again it is a personal choice, if you want you may soak them for 15 mins in hot water, drain and pat dry before frying. Again there is no guarantee they won't turn hard, if you over fry them they do turn hard.
Ginger: Fresh ginger is the key ingredient that not only adds gingery flavor but also adds mild hot and pungent notes to the dish. There is no substitute to this and dried ginger or ground ginger won't work that well. However if you are left with no choice, add it directly just before adding the boiled potatoes to the pan.
Curry leaves: The trio – ginger, curry leaves and green chilies are a must in this recipe. If you don't have simply leave them out and add lots of coriander leaves at the last stage.
Green chilies: This recipe uses no other ingredient for heat. So use as many as you want to make it spicy. If you do not want a spicy version, you may substitute with freshly cracked black pepper or dried red chilies. In India, hot green chilies are used. You can use any kind of chilli peppers like Thai chillies or serrano peppers.
Potatoes: Boil the potatoes until fork tender or until just done and not mushy. If the potatoes are cooked mushy, they will make your masala dosa soft when you stuff this.
Onions: Ensure you saute the onions well until the raw smell goes away. They must turn transparent and emit a sweet aroma.
Related Recipes
Recipe Card
How to make Aloo Masala (stovetop)
Instant Pot Potato Masala
Alternative quantities provided in the recipe card are for 1x only, original recipe.
For best results follow my detailed step-by-step photo instructions and tips above the recipe card.
Nutrition Facts
Aloo Masala (Potato Masala Recipe)
Amount Per Serving
Calories 202
Calories from Fat 90
% Daily Value*
Fat 10g15%
Saturated Fat 1g6%
Sodium 74mg3%
Potassium 723mg21%
Carbohydrates 25g8%
Fiber 6g25%
Sugar 2g2%
Protein 5g10%
Vitamin A 103IU2%
Vitamin C 41mg50%
Calcium 67mg7%
Iron 6mg33%
* Percent Daily Values are based on a 2000 calorie diet.