Poha Chivda, usually referred to as just Chivda, is a popular Indian Snack mix made with flattened rice (poha), spices, curry leaves and nuts. It is eaten all-round the year as a tea time snack. Chivda is also made for festivals like Diwali, Ganesh Chaturthi and Holi. It can be made with cornflakes, cereals, rolled oats or even with makhana. However Poha Chivda remains the most commonly made as it is delicious. In this post I have share 3 ways to make it – pan roasted, oven roasted & deep fried.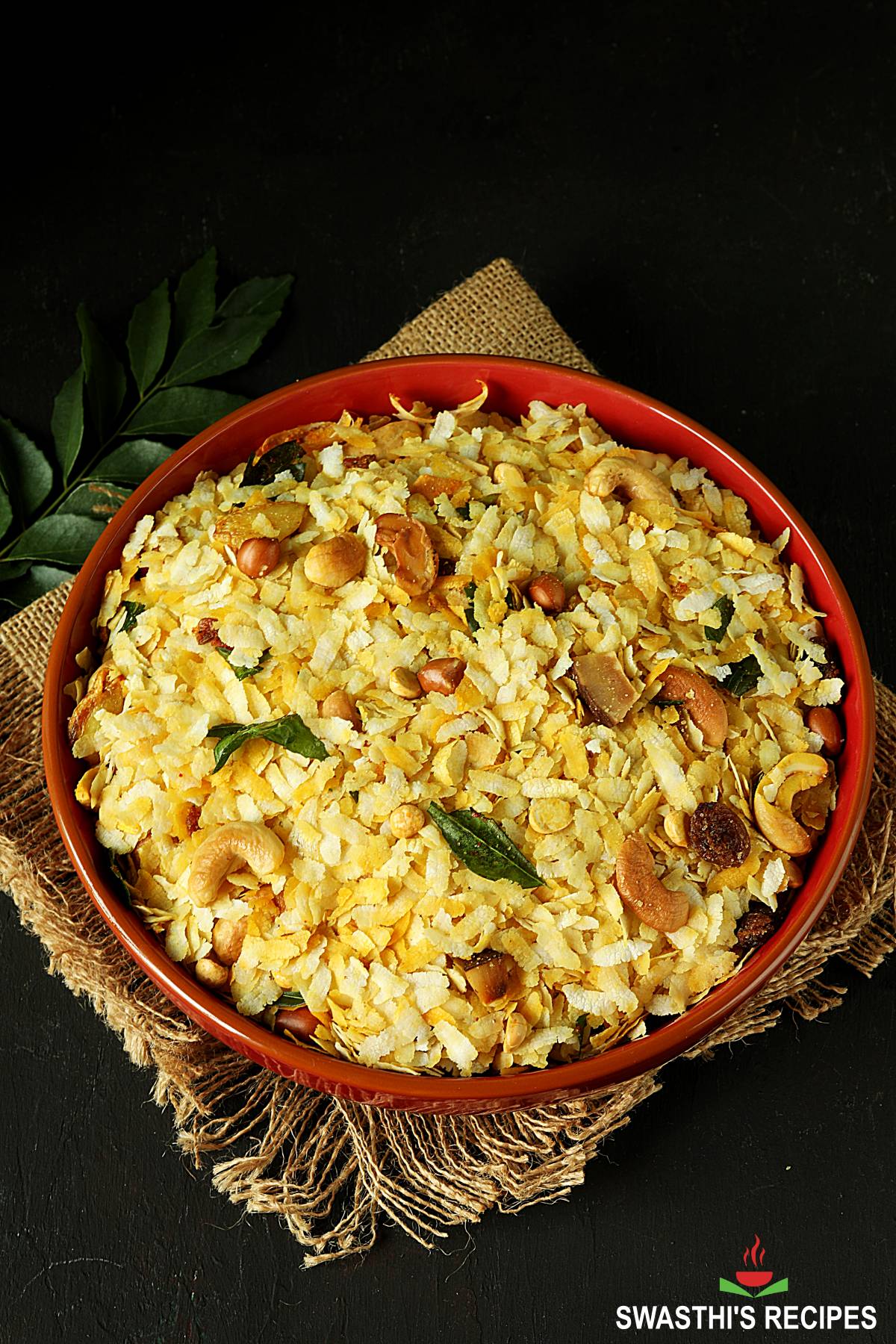 In Indian bakeries and stores you will find numerous brands selling Poha Chivda. There are different styles of making it. We don't buy the store bought ones since we don't know the quality of ingredients used, especially the oil. At home we have the liberty to choose the best ingredients, mostly organic and can also customize to our taste.
For healthier option, you can roast the chivda in a pan or in oven as it needs very little oil. Deep fried poha chivda turns lighter in texture and taste good. I make the deep fried one during festivals as it gets done faster compared to the roasted chivda.
There are different kinds of poha available in the stores – Thin, medium and thick. To make the pan roasted chivda, thin and medium flakes work best.
On occasions I have also pan roasted the thick ones with great success. To make the deep fried chivda, thick or the medium flakes work best.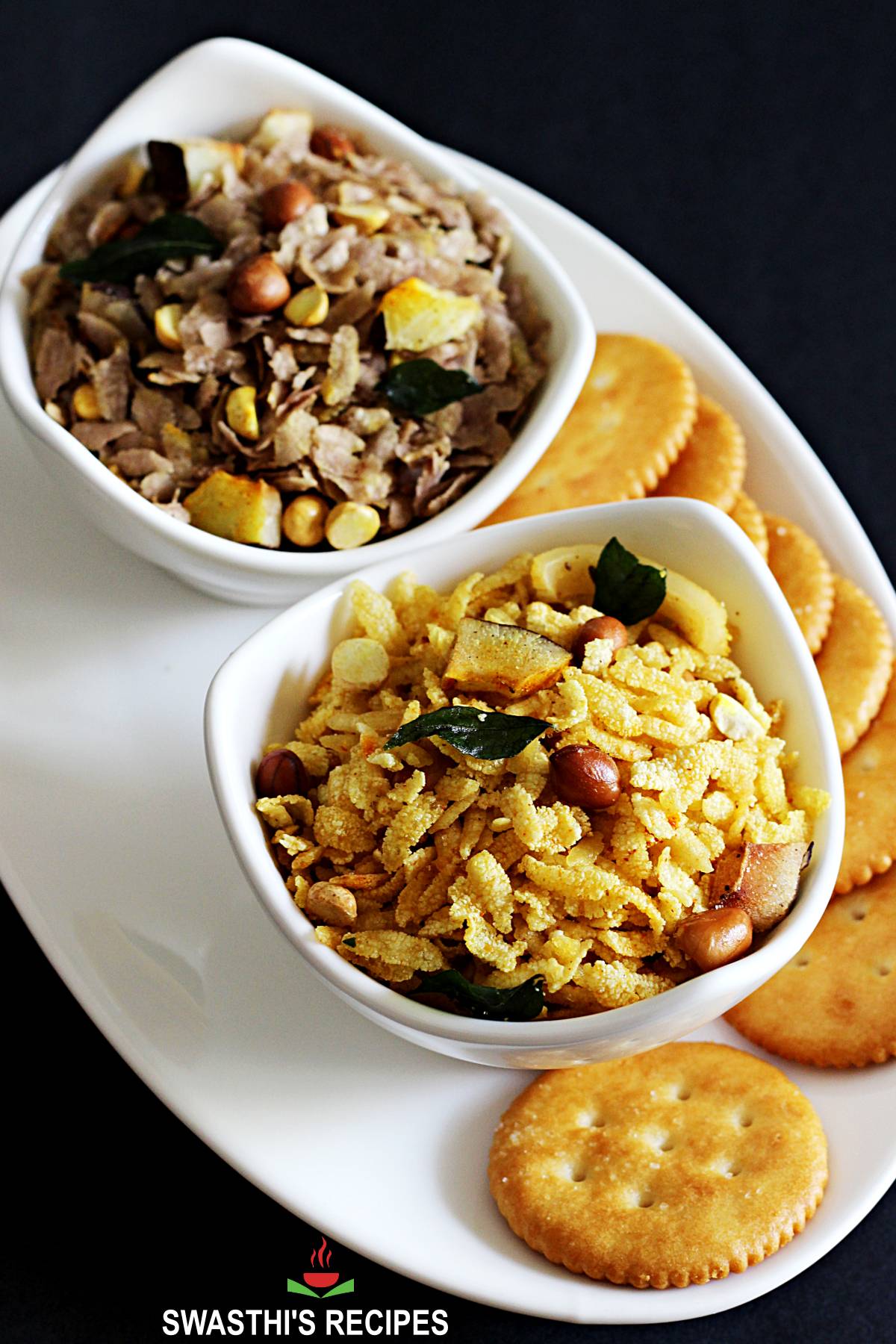 There is another kind which are paper thin and this is mostly available only in some parts of India. These are usually sun dried until crisp and then tempered. This recipe will give you half kg of poha chivda and it keeps good for 2 weeks in air tight jar.
Related posts you may want to look into
Diwali Snacks
Bhel Puri
Chakli
Shankarpali
Namak Para
How to Make Poha Chivda (Stepwise Photos)
Here are the ingredients you need. Prepare them first as you won't have time to look around for ingredients while making.
250 grams poha (3½ to 4 cups, refer notes in the recipe card below)
2 to 3 tablespoons oil (or 1 cup to deep fry)
¼ cup peanuts
¼ cup cashews (split)
2 tablespoons roasted gram (roasted chana dal /fried gram) (optional)
2 tablespoons raisins (optional)
¼ cup dried coconut (copra sliced thin to ½ inch) (optional)
4 medium garlic cloves crushed well
2 sprigs curry leaves (rinse & pat dry)
2 to 4 green chilies slit (adjust to taste, skip for kids)
¼ to ½ teaspoon red chili powder (adjust to taste)
¼ teaspoon turmeric powder
½ teaspoon salt (adjust to taste)
1 tablespoon jaggery (grated or powder) (or powdered sugar, optional)
¼ teaspoon cumin seeds jeera (optional)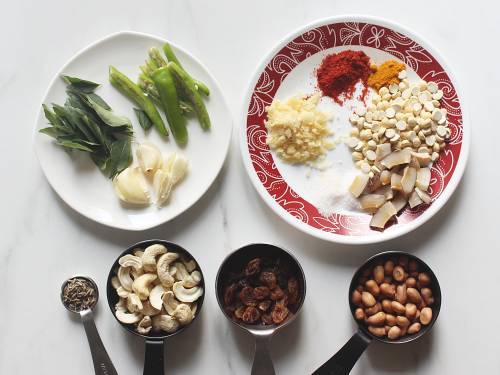 Now let us make dry roasted healthy poha chivda. I used medium brown poha here. You can use medium to thin poha for this method.
Method 1 – Pan Roasted Chivda
1. Heat a wide heavy bottom pan. Make sure the pan is hot, regulate the flame to medium and add 1½ cups poha. Spread them all over the pan. You can add more depending on the size of your pan. But do not add a lot at one time as they won't turn crisp.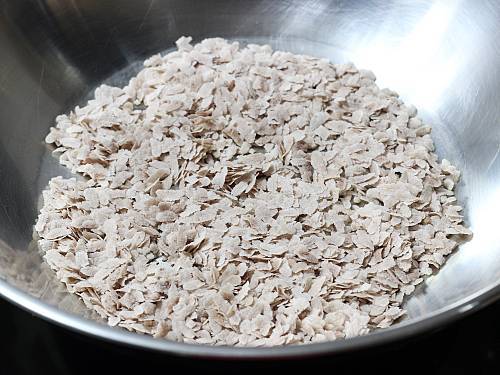 2. Stir them with a spatula and roast until they turn light and crispy. When they are done, they will also increase in volume. It takes only a few minute to become crisp. Transfer them to a large wide tray/ bowl. Roast the rest of the poha in 1 to 2 batches depending on the size of your pan.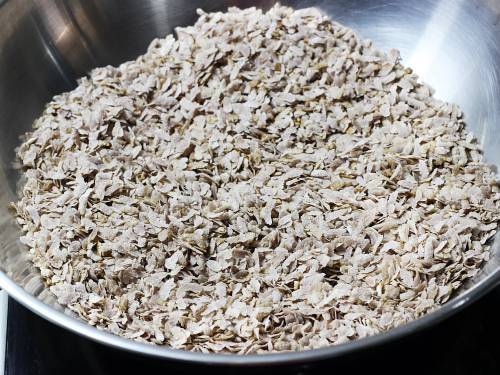 Temper
3. Pour 1 tablespoon oil to a small pan and heat it. Add peanuts and roast them on a medium heat until lightly golden. Next add cashews and fry until lightly golden. The frying time varies for peanuts and split cashews so I add them one after the other.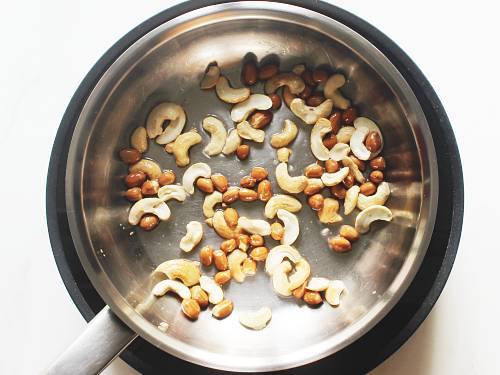 4. Add coconut and roasted gram. Both are optional.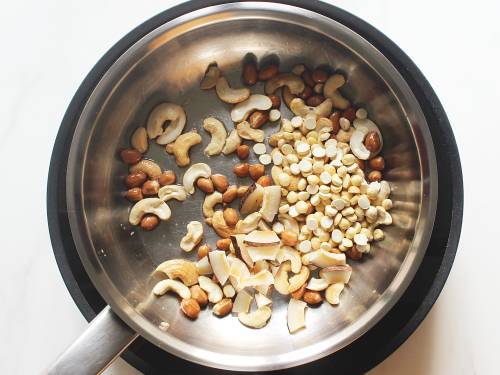 5. Fry briefly until the coconut turns light and golden.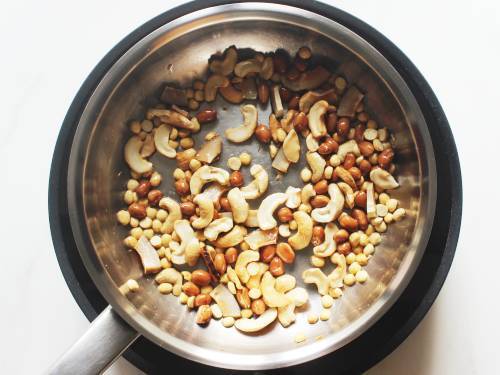 6. Remove the fried ingredients with a spoon and add to the roasted poha. Keep the excess oil in the pan. Pour another 1 to 2 tablespoons of oil to the same pan. Add slit green chilies, crushed garlic and curry leaves. Fry until the garlic turns crisp and golden. Then add cumin seeds to the hot oil (optional).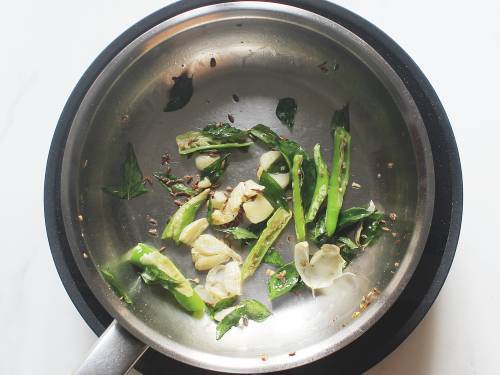 7. Next add raisins & fry. Soon the raisins will swell up.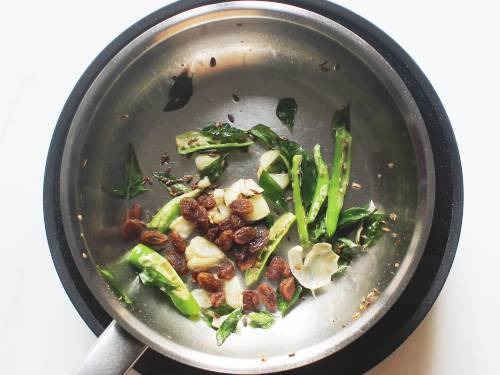 8. Turn off the stove. Immediately add hing, red chilli powder, salt, turmeric and jaggery or sugar. Give a quick stir to melt the jaggery.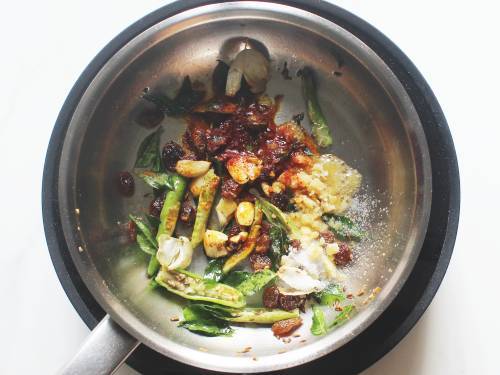 Transfer this to the roasted poha. Immediately add some roasted poha over the tempering. Begin to mix with a spatula while the tempering is still hot.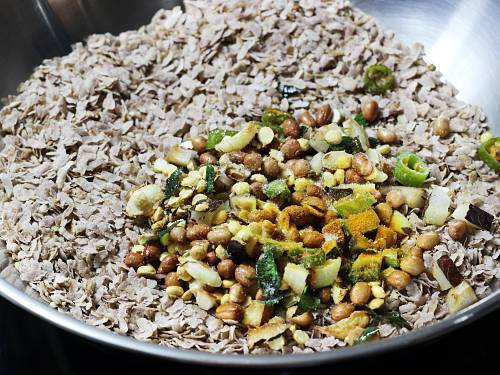 If you are looking for healthy fiber rich snacks, then do give this pan roasted brown poha chivda a try.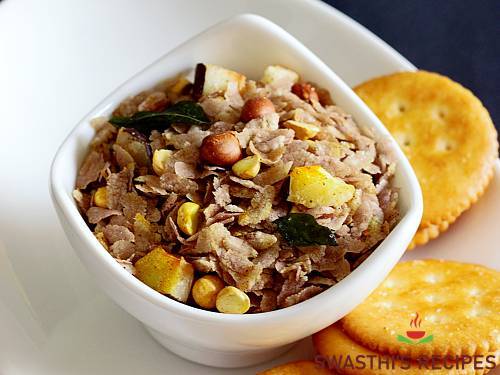 Method 2 – Deep Fried Poha Chivda
1. Sieve poha to separate fine powdery part. Heat 1 cup oil in a deep kadai. Check if the oil is hot enough by dropping a poha flake, it has to rise immediately without browning. This is the correct temperature. To the hot oil, pour poha as much as the oil holds in a slow stream. Stir constantly with a ladle. Do not use very less oil or lot of poha, otherwise the poha will not puff up well.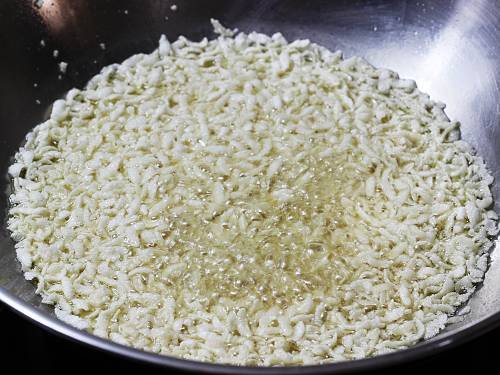 2. Remove them with a fine hole or mess skimmer to absorbent kitchen tissues. Repeat frying in 2 to 3 batches. You will be left with oil that is unfit to use. Just discard it, it is unhealthy to reuse it.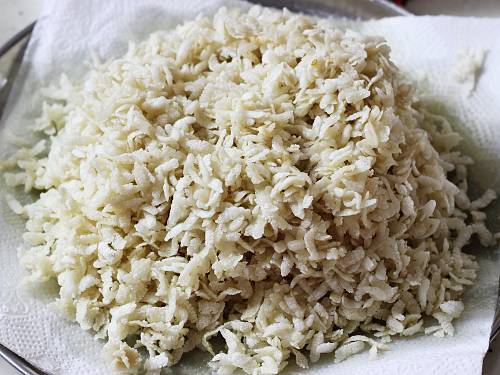 3. Once done, spread them well on kitchen tissues so the excess oil is soaked up by the tissues. This way they keep fresh for many days.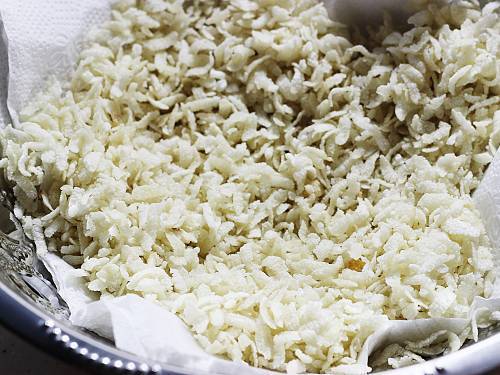 Temper Fried Chivda
Follow the same tempering as above for the deep fried chivda too. Alternately you can also add the peanuts, garlic, coconut, curry leaves, green chilies to a fine sieve or strainer.
Deep fry them in the same oil by placing the strainer in the hot oil. Fry them until crisp. Ensure the chillies are deseeded and there is no moisture on the curry leaves else they will splatter.
Transfer them to the fried chivda. Then sprinkle hing, turmeric, red chilli powder, salt and cumin immediately over the hot tempering. I followed this method here. If you add it to the tadka pan, there are chances your spices will burn.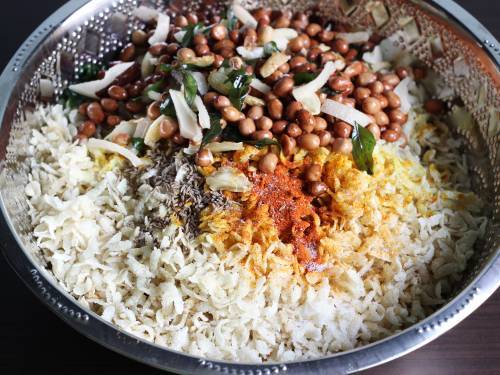 Cool completely and store in a air tight jar.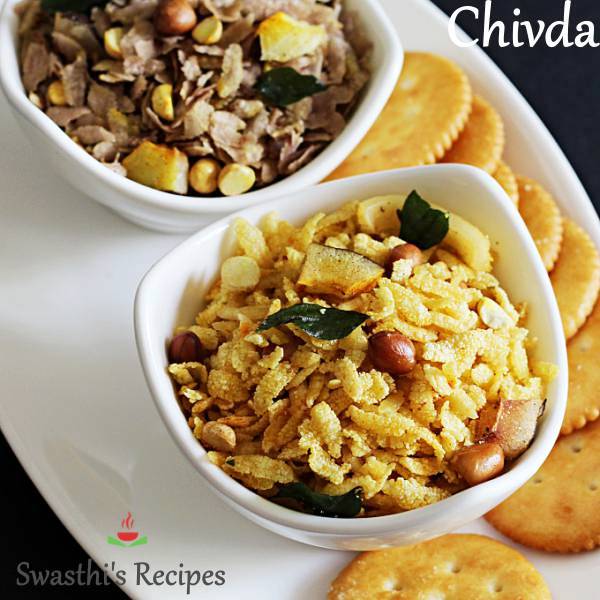 Method 3 – Oven Roasted Poha Chivda
To Roast in Built-in Oven: Preheat the oven to 350 F or 175C. Spread thin poha in a single layer on a baking tray. Place in the middle rack in the oven. Bake for 14 to 15 mins, stirring them with a spatula, halfway after 7 mins. Remove them when they are crispy but not brown. Thicker poha takes a few mins longer.
To double the recipe, use 2 trays and spread in a single layer. The lower tray takes 2 to 3 mins more for thick poha and 1 min more for thin poha.
To Roast in Medium to Smaller OTG: Spread poha on a baking tray evenly. You can roast poha in 2 trays at one time. Depending on the size of your oven, use about 1.5 to 2 cups in each tray. No preheating is required. Just pop the trays in your oven. Roast thick poha for 12 to 14 mins, thin poha for 5 to 6 mins at 250 F or 120 C. Shake or stir the poha halfway.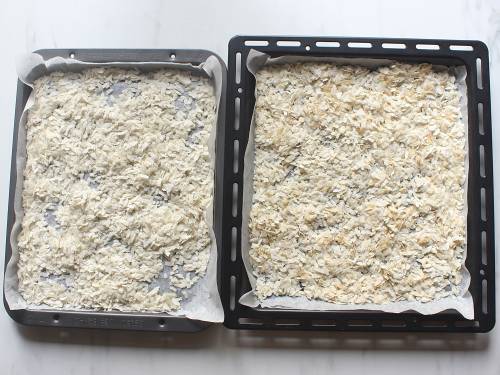 If you are using paper thin flakes, then cut down the roasting time. Make the tempering following the same method I have shown in the above pictures for other methods.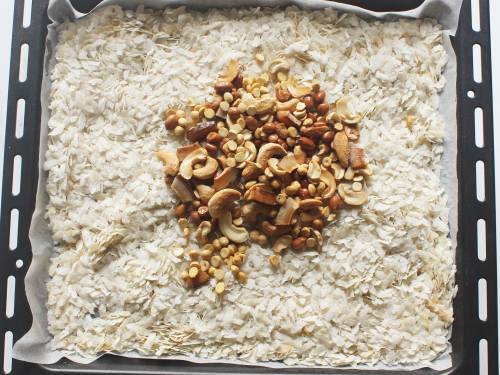 Add the hot tempering to the roasted poha chivda.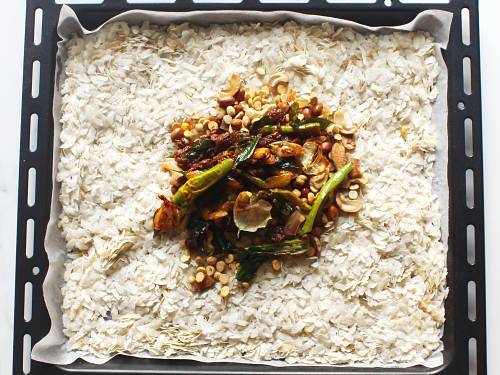 Begin to coat the poha while the tempering is still hot. This helps to coat all of the chivda well with the tempering. Mix everything well.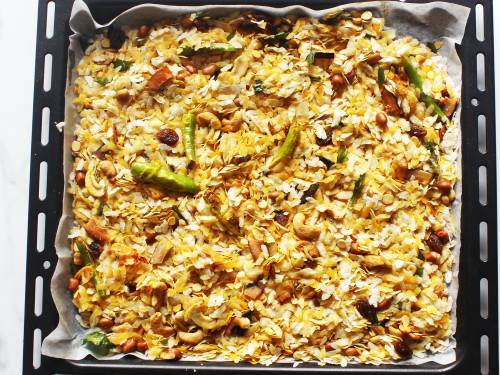 Cool completely & store poha chivda in an air tight jar.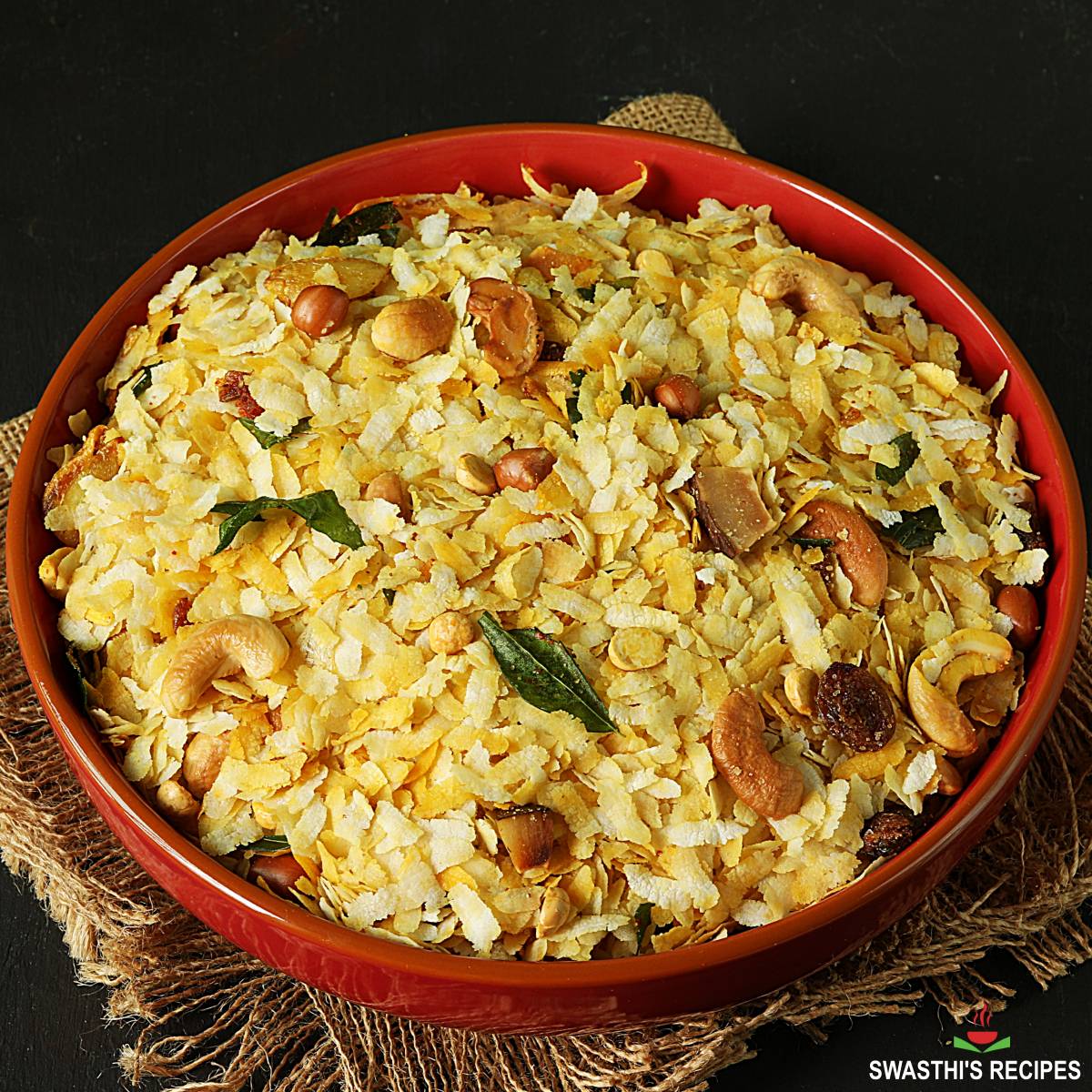 Related Recipes
Recipe Card
Method 1 – Roasted Poha Chivda (Without Frying)
Method 2 – (Deep Frying Method)
Method 3 – Oven Roasted Poha Chivda
Poha: Thin and medium poha can be used for roasting. They can be roasted in the pan, in oven or in air fryer. Medium and thick poha can be used for deep frying.
You can also roast the peanuts, cashews and raisins in oven but they taste best when fried in little amount of oil, when you temper the spices.
Do not add red chilli powder to very hot oil as it burns quickly.
To double the recipe,

I usually roast them in 2 trays at one time. The lower tray takes 2 to 3 mins more for thick poha and 1 min more for thin poha.

Nutrition values only for pan roasted chivda.
Alternative quantities provided in the recipe card are for 1x only, original recipe.
For best results follow my detailed step-by-step photo instructions and tips above the recipe card.
Nutrition Facts
Poha Chivda Recipe
Amount Per Serving
Calories 203
Calories from Fat 72
% Daily Value*
Fat 8g12%
Saturated Fat 2g13%
Sodium 152mg7%
Potassium 130mg4%
Carbohydrates 30g10%
Fiber 2g8%
Sugar 2g2%
Protein 4g8%
Vitamin A 30IU1%
Vitamin C 10mg12%
Calcium 10mg1%
Iron 9mg50%
* Percent Daily Values are based on a 2000 calorie diet.
Poha Chivda Recipe first published in October 2014. Updated and republished in August 2022.