Treat yourself to this delicious Paneer Curry made in Dhaba style. This comforting North Indian dish is a treat to all the dhaba food lovers! It's flavorsome, simple to make & comes together under 45 mins. This Paneer Curry goes well with plain steamed rice, any flavored rice dishes like Jeera rice, ghee rice & with flatbreads like Naan, roti, Chapati or paratha. A few papads on the side with a Kachumber salad & Lassi or chaas would be great.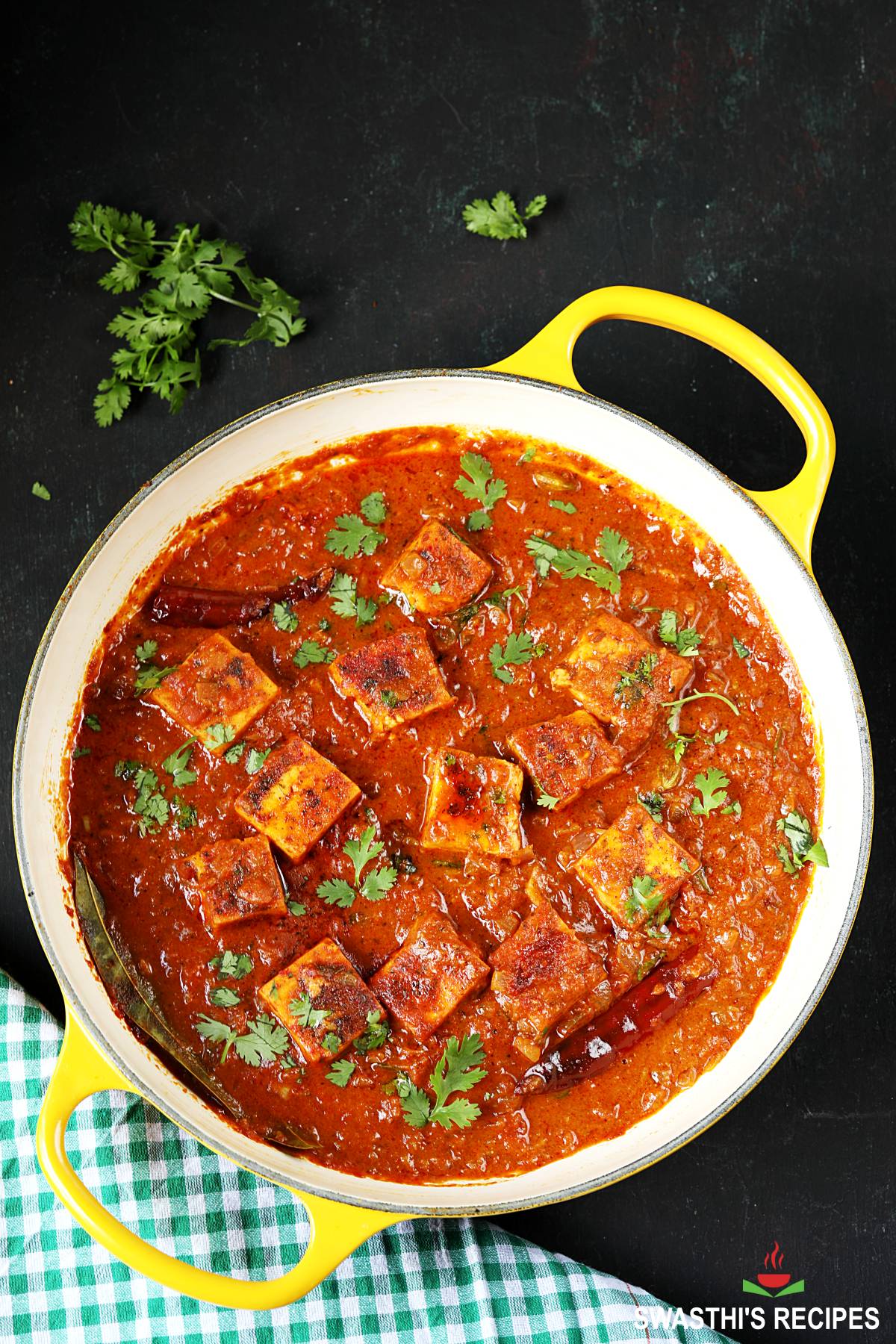 About Paneer Curry
This Paneer Curry is simple but has all those unique & rustic flavors of the food served in dhabas.
For the uninitiated, dhabas are roadside restaurants that serve delicious food across the highways & outskirts of every town/city in India. In the past, they were actually built for the convenience of truck drivers & travelers but in the recent decades these have been popular destinations to enjoy good food at low-cost.
Dhaba food is prepared in the most basic but unique way & without the use of expensive ingredients like cashews, cream etc. These actually taste like the real traditional Indian foods and are so much different from the creamy and rich modern restaurant dishes.
This Paneer Curry is one such dish you will always find on dhaba menus named as paneer masala. The curry/masala has a texture to it and is not smooth since none of the ingredients are pureed.
The base is actually made with grated or minced onions and tomatoes which give the characteristic texture & flavor to this dhaba curry. However you can also make it with fine chopped stuff like the way I do. Read my pro tips section below to know more.
This recipe will help you make Dhaba Style Paneer but without all the excess oil and spice/heat. To make the dish spicy, add more red chilli powder or some green chilies which I left out due to personal preference.
How to make Paneer Curry (Stepwise Photos)
Preparation
1. To make the curry, you will need the following ingredients to be chopped. Once you are done with the onion chopping, you can start cooking the dish right away while you prepare the rest. This save some time.
1 cup fine chopped onions (or ¾ cup minced or grated onions, 1 large onion)
1¼ cup ripe tomatoes (deseeded & chopped or grated, 3 medium, if needed peeled)
1 teaspoon grated ginger or crushed or minced (¾ to 1 inch)
1 teaspoon grated garlic or crushed or minced (3 cloves)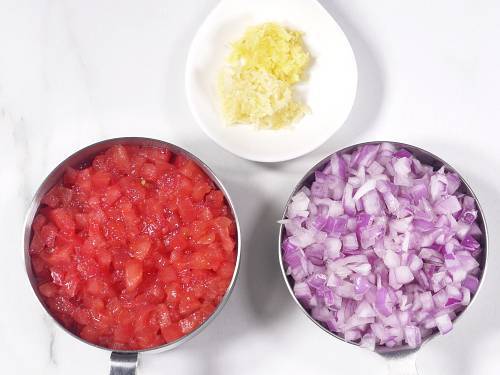 2. Here are the whole and ground spices required.
1 Indian bay leaf
2 dried red chilies
1 inch Ceylon cinnamon piece
2 green cardamoms
black cardamom
½ teaspoon cumin seeds
1 to 1½ teaspoon Kashmiri red chilli powder
1 teaspoon coriander powder
¼ teaspoon cumin powder
¾ to 1 teaspoon garam masala
1½ tablespoon roasted besan (roasted gram flour)
To make the roasted gram flour you will roast 2 tablespoons besan in a small pan on a low to medium heat until aromatic and nutty. It should not taste raw. Cool it completely. You will use only 1½ from this.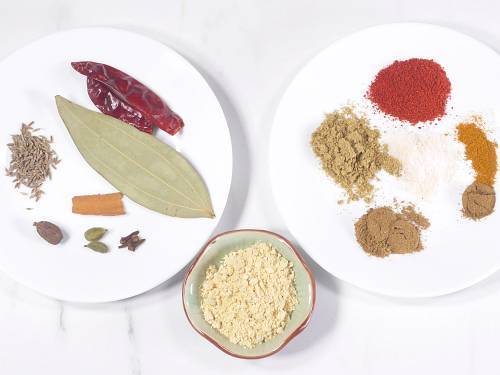 3. To another bowl, add
½ teaspoon Kashmiri red chilli powder
½ teaspoon garam masala
¼ teaspoon salt
1 teaspoon crushed kasuri methi (1 tablespoon dried fenugreek leaves)
Mix them well. Add 200 to 250 grams paneer cubes (12 to 16 pieces).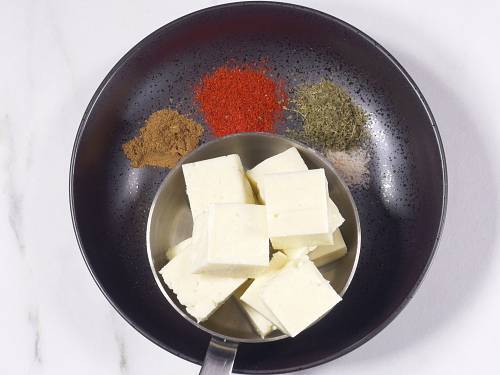 4. Coat the paneer with the ground spices. Keep aside to marinate until needed.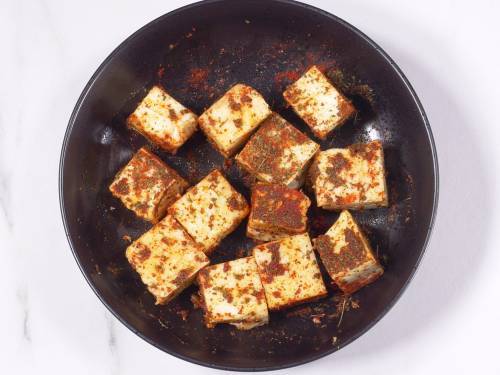 5. If you don't want to use yogurt, you may leave out but it adds some richness and flavor to the curry. You will use either 3 tablespoons Dahi/yogurt (or homemade malai or cultured cream). Cultured cream is the same you get over the full fat dahi made from non-homogenized milk. Make sure it is not sour. You will add that to a bowl and whisk well with a fork.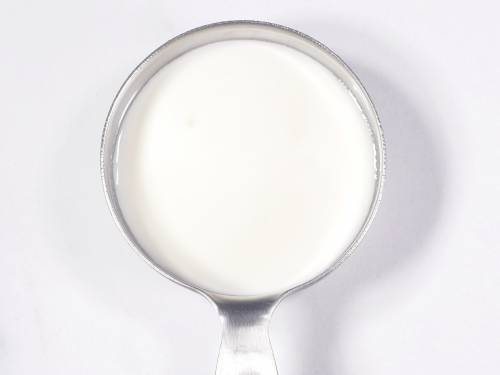 Make the Curry
6. Pour 2 tablespoons oil to a pan and heat it. Add the whole spices and let them sizzle.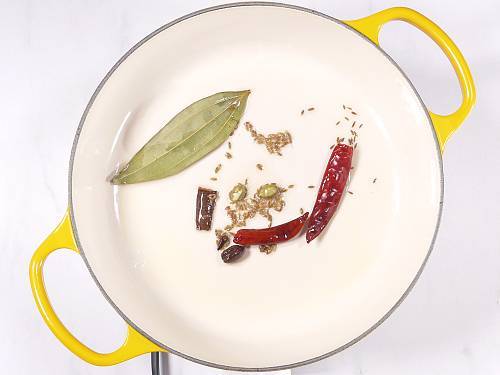 7. Add the chopped onions and saute on a medium to high heat for 4 to 5 mins. After that reduce the flame and cook on a low heat until light brown and begin to caramelize.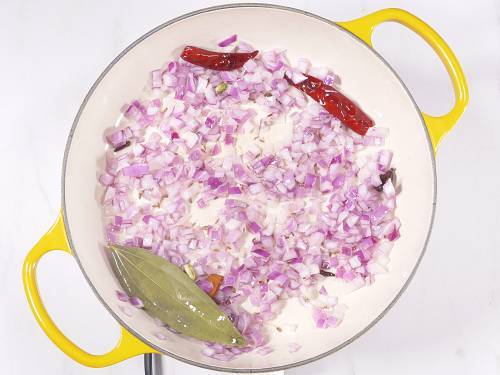 8. Reduce the heat to lowest. Add the ginger garlic and saute for a minute.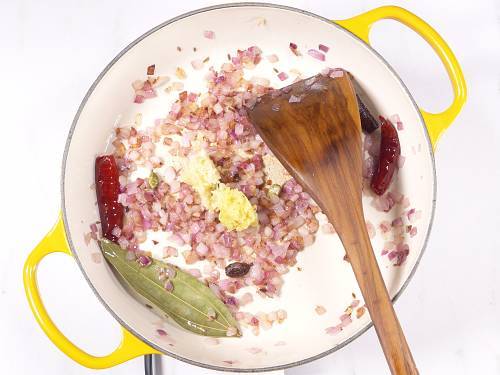 9. Add all the ground spices and the besan.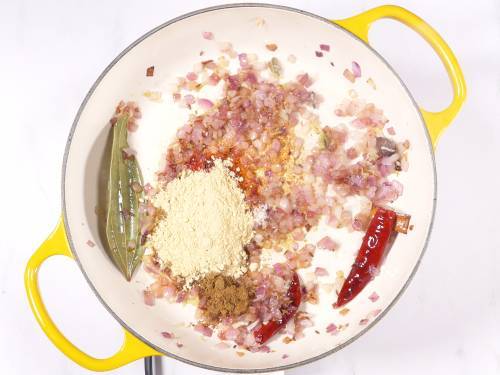 10. Stir and fry without burning for a minute or 2. At this stage you will see the pan being too dry. If you want you may add 1 tablespoon ghee. I use it.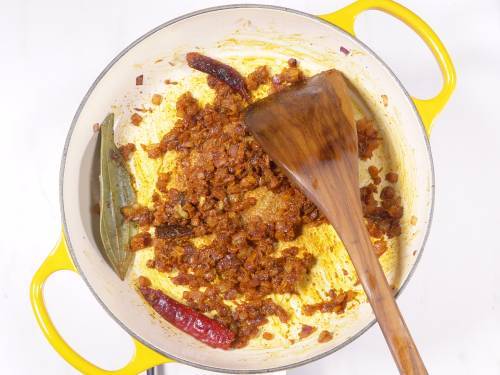 11. Stir in the tomatoes and increase the heat. Cook until the tomatoes break down and thicken.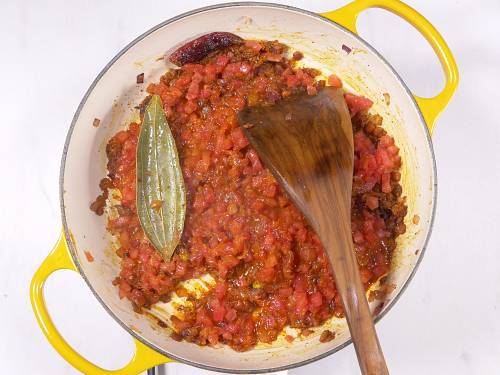 12. Take a spoon of this onion tomato base and stir into the whisked yogurt or cream.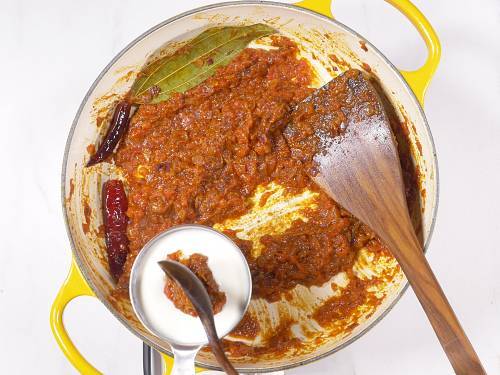 13. Pour that into the pan.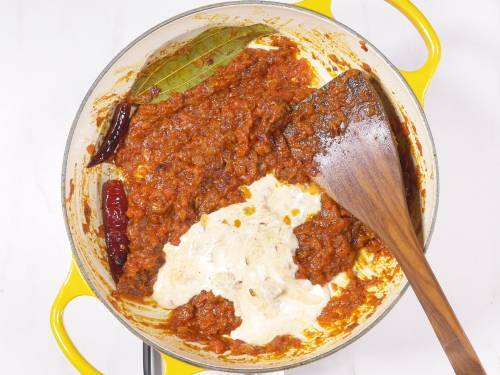 14. Mix well and cook on a low to medium heat until the masala turns aromatic. You will see traces of oil getting separated from the curry, meaning it is cooked well.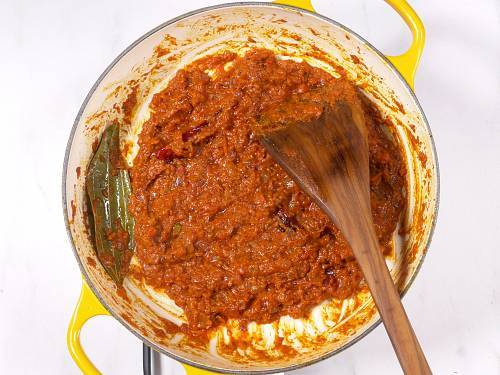 15. Pour water and bring it to a rolling boil. You will need 1 to 1½ cups water depending on the kind of onions and tomatoes. I use 1½ cups.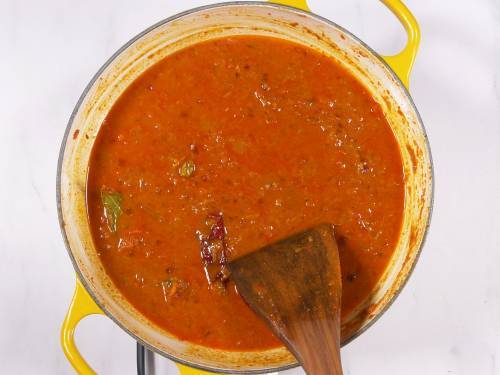 16. Cover and cook on a medium heat until the onions are completely soft and you see traces of oil on top. As it cooks if needed pour more hot water.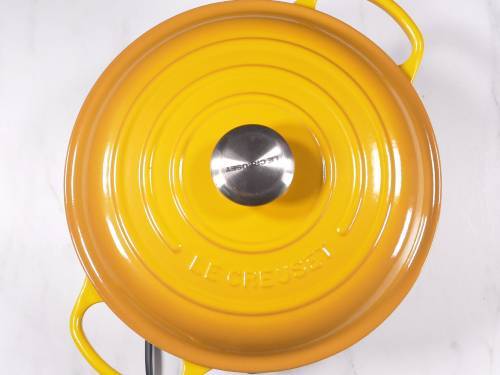 17. Meanwhile, pour 1 teaspoon ghee to a non-stick pan and heat it. Place the paneer cubes and fry them on a medium heat turning the pieces to the other side. Do not over fry, they just need a few minutes. Turn off when the masala dries up a bit.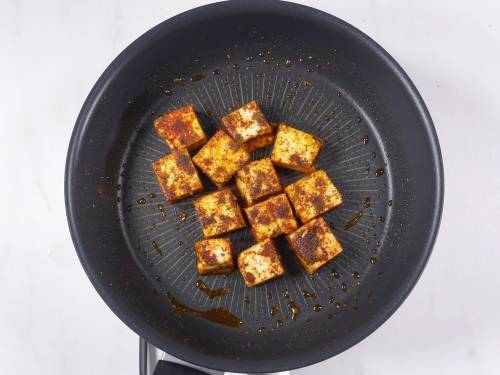 18. When the curry is done, you will see traces of oil on top. Before you add the paneer make sure the curry is a bit flowy or runny (Check video). If it is too thick paneer won't absorb the flavors. Taste test the curry and add more salt and garam masala if required. Then add the paneer along with the ghee.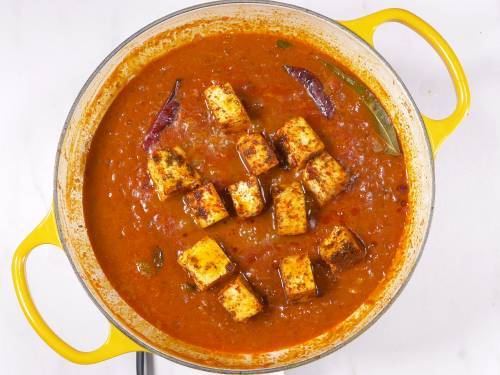 19. Mix well. Cover and cook just for 2 mins. Turn off the heat.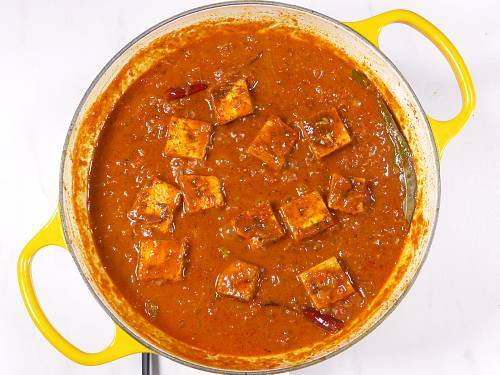 20. Garnish Paneer Curry with coriander leaves. This is the consistency of the curry after it cools down slightly.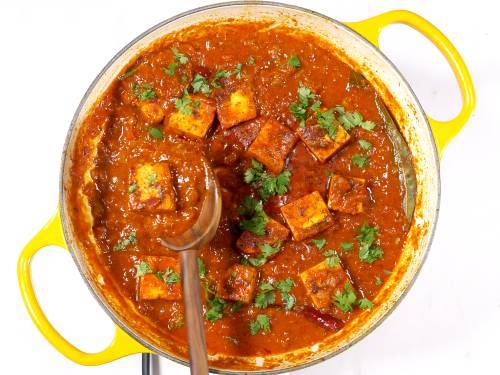 Serve Paneer Curry with plain rice. You can also serve with Jeera rice or ghee rice. Butter Naan, Chapati, roti, paratha also go well.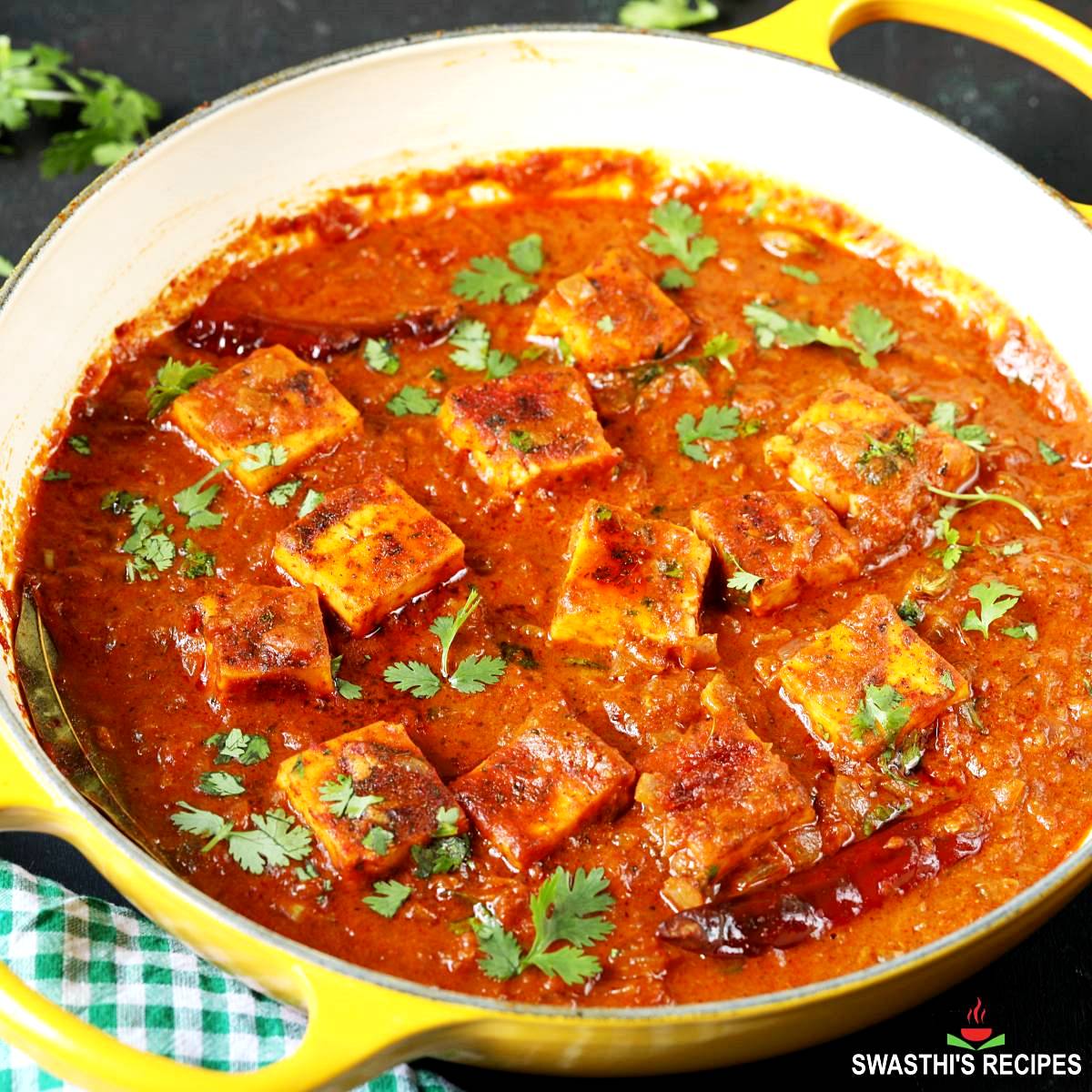 Variations
Here are some variations I have tried with and worked wonderfully. You don't need to alter anything for the gravy.
Matar Paneer: You can add ¾ cup frozen peas or boiled peas to make Matar Paneer.
Kadai Paneer: To make Kadai paneer, use kadai masala from this Kadai Paneer Recipe. Use half cup bell peppers and 200 grams paneer.
You can also use tofu or mixed vegetables in place of paneer.
Pro Tips
Make sure your besan is well roasted before using in the recipe.
Dhaba curries are mostly made with grated or minced onions. However I'm not a fan of the grated and minced onions as you need to saute the onions non-stop else they will burn. Also I feel the entire task too labor intensive & requires more oil to saute them. If you want you may use them grated but use more oil.
I prefer to peel, deseed and then fine chop the tomatoes. If you want you may simply puree them or grate as is with the skin on and seeds.
Do not add more ghee to fry the paneer as it brings out all the spices to the ghee and burn easily.
This is not a toddler or kids' friendly recipe due to the spice level. You may simply set aside the kids' portion and incorporate little cream & sauteed peas before serving. This tones down the heat.
This recipe uses less oil so you won't really see the same amount of oil or fats floating as you see in the dhaba paneer. Feel free to add more oil if you want.
Related Recipes
Recipe Card
Gram Flour: On a medium heat dry roast 2 tablespoons gram flour until aromatic. The color of the flour will change to deep golden color. It should not taste raw. You can do this ahead, cool and store in a glass container for a few months.
Onions: You may grate the onions if you want however I prefer to fine chop or mince. The difference is that grated onions require constant stirring while frying/sauteing. With minced and chopped onions, you can stir only as needed.
Tomatoes: I prefer to peel and deseed the tomatoes. It is up to you. A lot of times the seeds are going to make the dish sour.
Yogurt or cultured cream: Avoid using sour yogurt. You can use yogurt or homemade malai or cultured cream i.e cream that comes on top of your homemade curd (made with non-homogenized milk). 
Alternative quantities provided in the recipe card are for 1x only, original recipe.
For best results follow my detailed step-by-step photo instructions and tips above the recipe card.
Nutrition Facts
Paneer Curry Recipe (Dhaba Style)
Amount Per Serving
Calories 393
Calories from Fat 270
% Daily Value*
Fat 30g46%
Saturated Fat 12g75%
Trans Fat 0.05g
Polyunsaturated Fat 3g
Monounsaturated Fat 7g
Cholesterol 51mg17%
Sodium 1060mg46%
Potassium 597mg17%
Carbohydrates 20g7%
Fiber 4g17%
Sugar 8g9%
Protein 14g28%
Vitamin A 1629IU33%
Vitamin C 70mg85%
Calcium 411mg41%
Iron 2mg11%
* Percent Daily Values are based on a 2000 calorie diet.