This Turmeric Rice aka Indian Yellow Rice is a flavor bomb, super easy to make, healthy plus delicious. It makes for a great weeknight dinner, ready under 30 minutes. Serve it with grilled veggies, tandoori chicken, grilled kababs, curry, raita or a stew. No matter how you serve, this unique aromatic turmeric rice is going to impress your family and guests for sure!!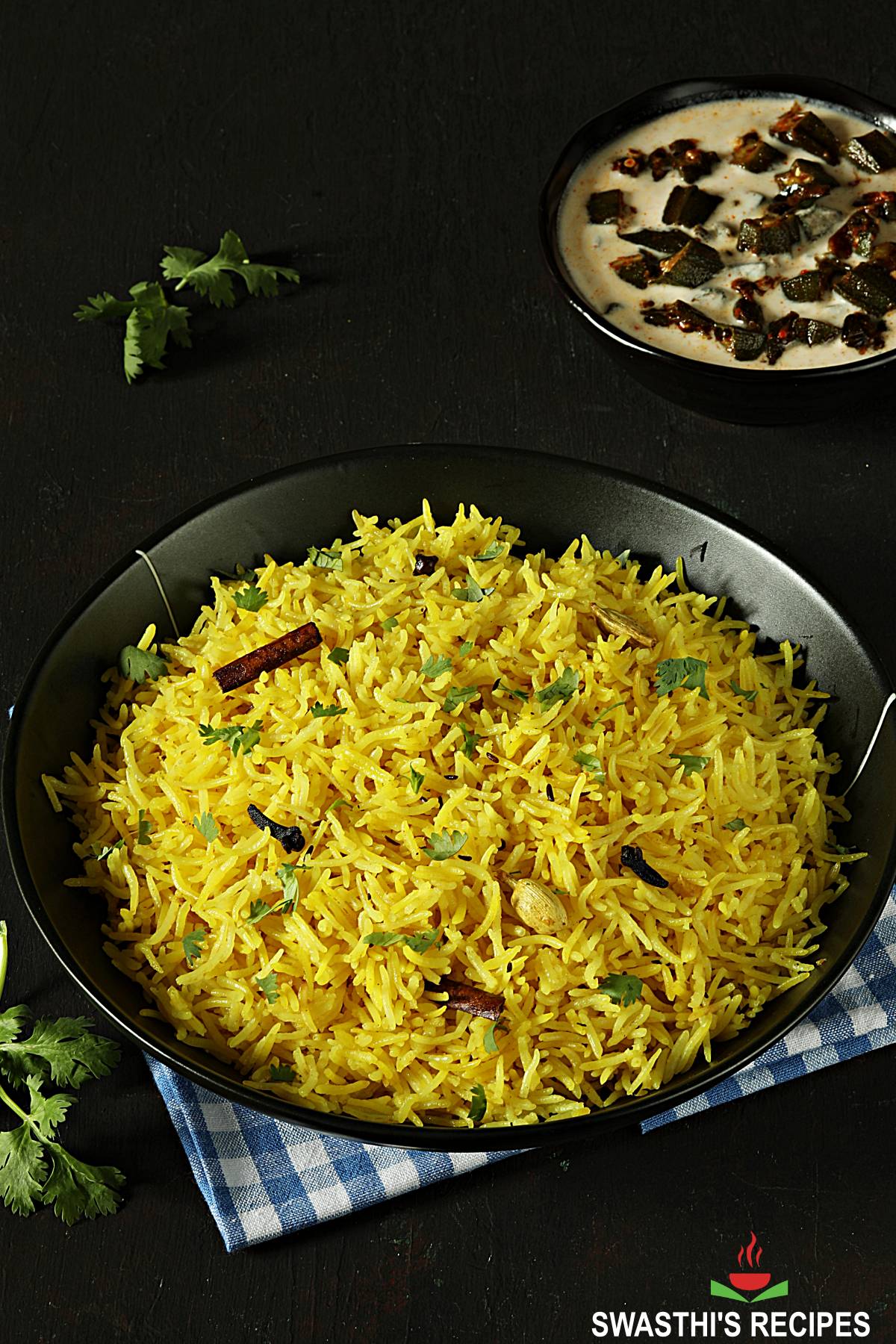 Turmeric rice is made in almost all Asian countries but much differently in each country. Various ingredients like rice, spices, stock, broth, onions and herbs are used depending on the region. This post shows you how to make the simplest yet flavorful turmeric rice in a jiffy.
About Turmeric Rice
This yellow rice recipe uses basmati rice, turmeric, warming whole spices & herbs. It is a one pot dish where the spices are tempered in fats like butter/ghee/ oil to bring out the aroma. Then rice is simmered with these spices & liquids to perfection.
In no time this will cook up to a super aromatic and delicious dish infused with whole spices and lots of goodness.
In Indian cuisine, we make a lot of rice varieties like pulao, biryani & bhath recipes. Most homes do not make turmeric rice as such but add turmeric to pretty much every rice dish except for the plain steamed rice.
This turmeric rice is the way I make at home when I wish to make the meal more colourful & interesting.
It has a very unique aroma and doesn't taste or smell like the usual pulao or biryani. I make a lot of variations to this turmeric rice and have listed it down in the recipe notes.
This dish is best prepared in a pot or a dutch oven on a very low flame. But it can also be made in an instant pot or an Indian cooker. I have included the details of the same below.
What is Turmeric?
Turmeric is a warming spice that comes from the rhizomes of turmeric plant. It is widely used in Indian cooking since it imparts a vibrant color & an earthy flavour to the dishes. Apart from that it is also believed to boost immunity & keep the body warm during winters.
So we Indians also consume Turmeric Tea & Turmeric Milk during the harsh winters for better health.
How to Make Turmeric Rice (Stepwise Photos)
1. Rinse rice very well in ample amount of water. Drain and soak for at least 15 to 30 mins. If you are in a hurry, soak them in slightly hot water for 10 mins. Drain and use.
2. Peel and mince ginger and garlic. If using green chilli, chop it and set aside.
3. Heat a pot with butter. When the butter melts, add all the whole spices and saute them on a low heat for 30 to 60 seconds.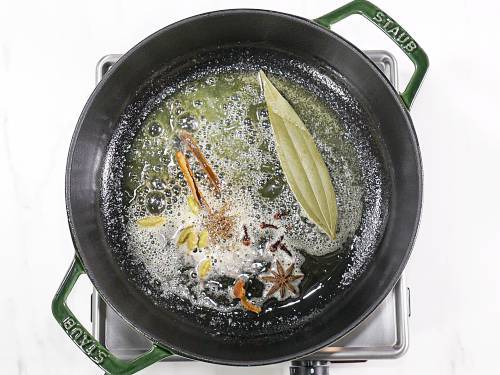 4. Then add ginger, garlic and chilli (optional). Saute them until fragrant. Do not brown them.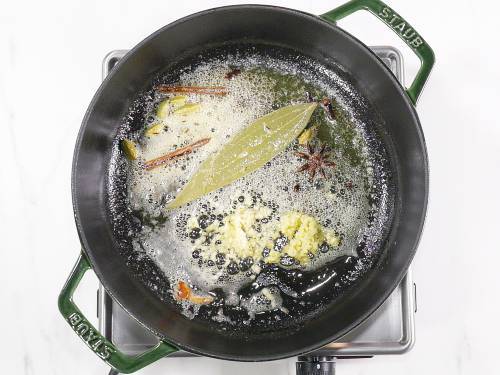 5. Add pepper, turmeric and salt. Quickly stir.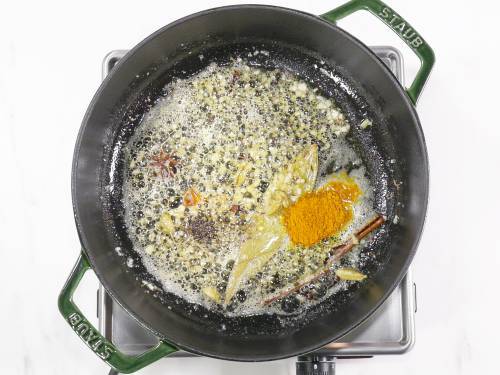 6. Drain the water completely and add the rice. On a high flame saute very well for 2 mins stirring occasionally and not frequently.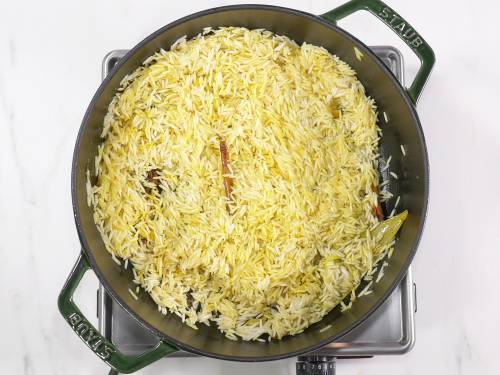 7. Pour stock or coconut milk. Stir and taste it. The water must be slightly salty else add a bit more.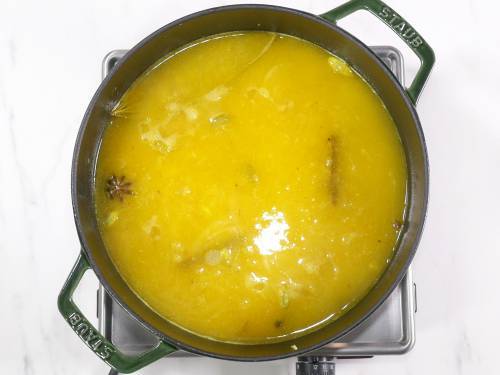 8. Reduce the flame to very low and cook covered until the turmeric rice is done. If you want to make this in the Indian pressure cooker, cook for 1 whistle on a medium flame.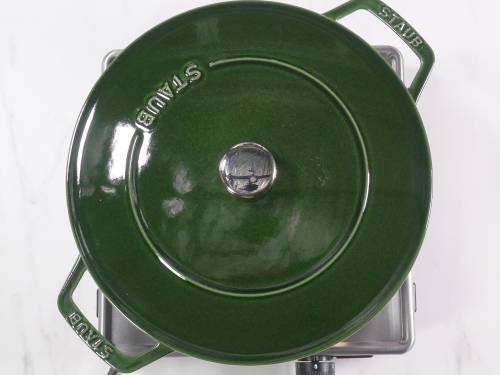 9. When done there will be no moisture at the bottom of the pan.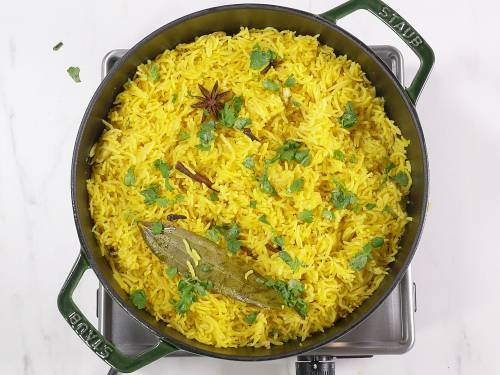 Serve turmeric rice with a curry. Here are some recipes you may like to pair with turmeric rice
Veg kurma
Kadai paneer
Chicken Vindaloo
Chicken Masala
Raita Recipes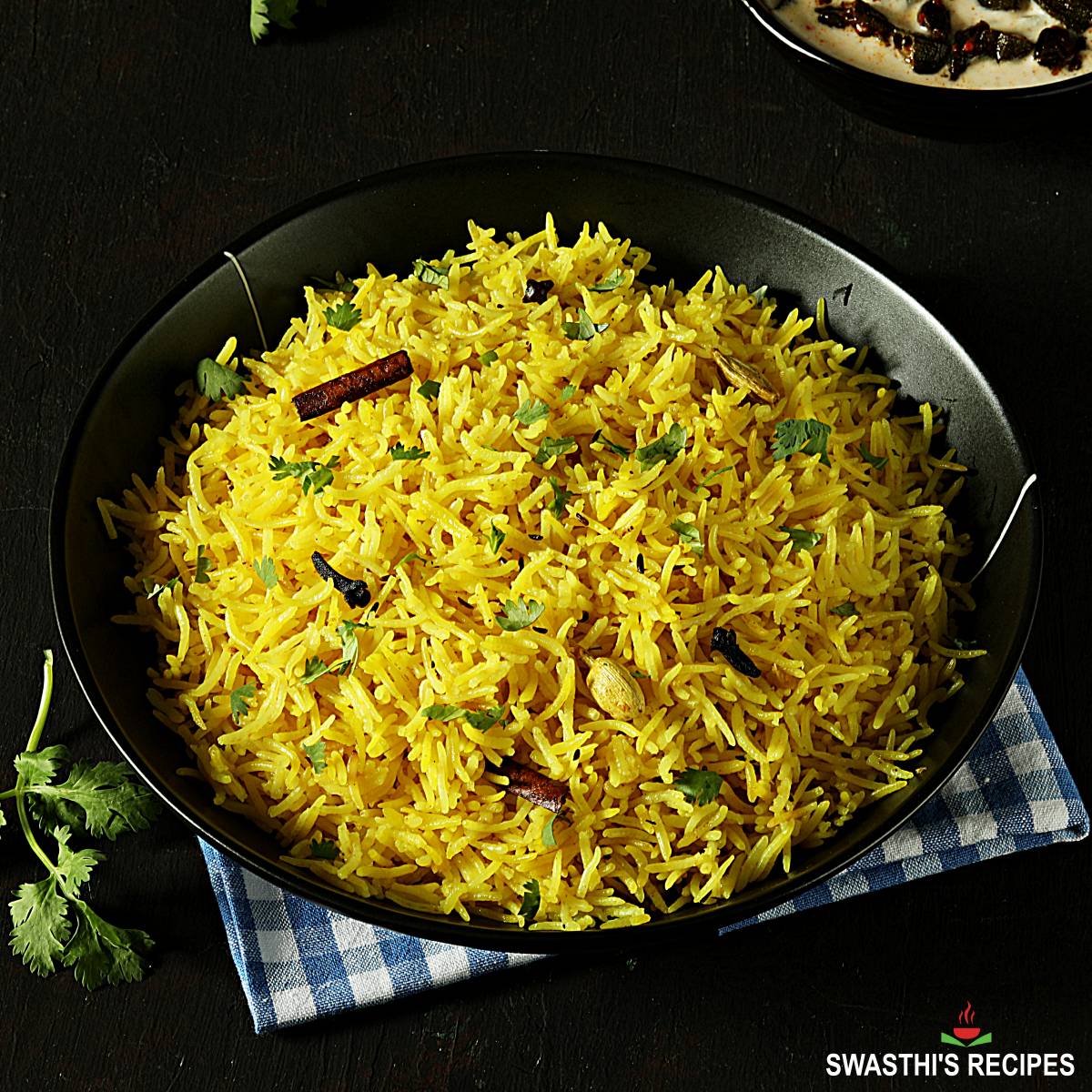 Pro Tips
Rinse rice: Always rinse rice well in lots of water, at least thrice or until the water runs clear. This removes the excess starch that's on the surface of the rice & won't make the turmeric rice sticky.
Soak rice: Soak rice for at least 15 to 30 mins. During the soak, rice grains absorb some moisture and swell up. They expand well while cooking. So you will get fluffy and perfectly cooked long grainy turmeric rice.
Fry rice: Frying rice in butter not only brings out the aroma of the fragrant rice but also prevents the rice grains from becoming mushy.
Liquid to rice ratio: To cook turmeric rice in a regular pot use 3 cups liquid. To cook in instant pot use 1¾ cups plus 2 tbsps. If using Indian cooker with whistle use 2.5 cups.
For best flavors, cook the turmeric rice on a low heat.
Do not substitute butter with oil. You may use ghee (clarified butter)
Coconut milk or stock: Do not use water to cook this rice. You won't get the real flavors. Canned coconut milk is too thick for this recipe. You can use coconut milk from carton.
Related Recipes
Recipe Card
How to make Indian Yellow Rice
Instant Pot Turmeric Rice
It is important to cook the entire dish on a low flame for the best flavor.
Butter is the magic ingredient here. Do not substitute it with oil.
Spices – You can use any of your favorite spices. I also add about a tsp of ground fennel seeds or saunf. 
Stock or coconut milk: You can use any stock of your choice or coconut milk. Avoid plain water as it doesn't add flavor to the rice. Here are the quantities to use if making in a regular pot – 3 cups, instant pot – 1 3/4 cups plus 2 tbsps, Indian cooker with whistle 2.5 cups.
Herbs: I generally add about half cup of mint leaves along with the garlic and ginger. Since I did not have I skipped it. You may use that if you like the flavor of mint.
Green chilli: I have not added any chilli to the turmeric rice. You may add 1 chopped chilli along with ginger garlic if you wish.
To make this in the Indian pressure cooker with whistle – Cook the rice for 1 whistle on a medium flame. 
Alternative quantities provided in the recipe card are for 1x only, original recipe.
For best results follow my detailed step-by-step photo instructions and tips above the recipe card.
Nutrition Facts
Turmeric Rice Recipe (Indian Yellow Rice)
Amount Per Serving
Calories 499
Calories from Fat 90
% Daily Value*
Fat 10g15%
Saturated Fat 5g31%
Cholesterol 20mg7%
Sodium 1456mg63%
Potassium 1044mg30%
Carbohydrates 93g31%
Fiber 5g21%
Sugar 4g4%
Protein 12g24%
Vitamin A 1887IU38%
Vitamin C 113mg137%
Calcium 287mg29%
Iron 10mg56%
* Percent Daily Values are based on a 2000 calorie diet.
This Turmeric Rice recipe was first published in Dec 2019. Updated and republished in February 2023.