Tofu Curry, a perfect vegan & gluten-free dish that's brimming with flavors, deliciousness and nutrition. This Tofu Curry is the ultimate restaurant treat that your whole family/friends will love. Serve it over steamed rice, quinoa or with Naan, Chapati or any flatbreads. In this post I share all about choosing, preparing and cooking tofu in a spicy and aromatic curry sauce.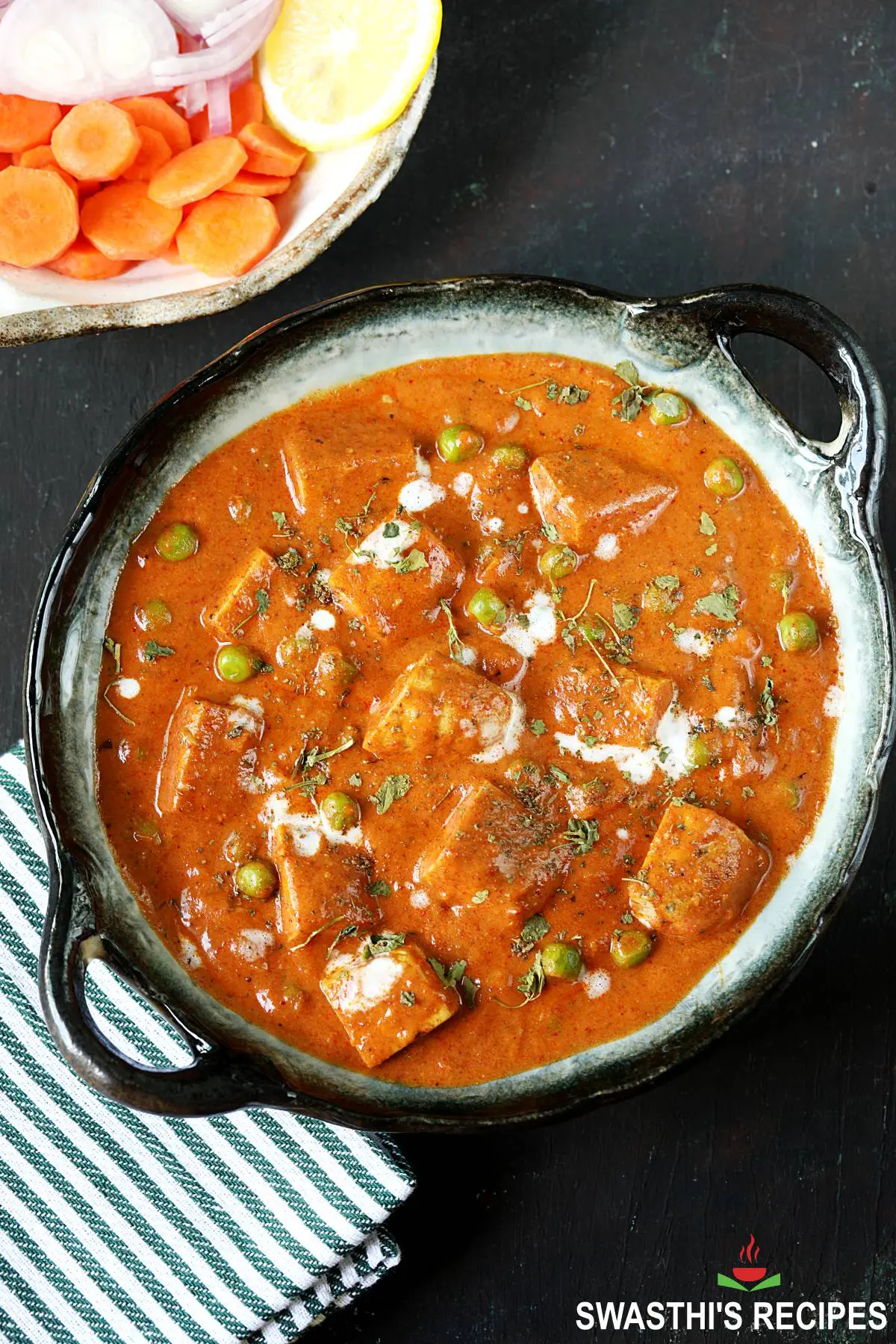 If you love creamy & rich Indian foods with bursting flavors, you will turn back to this time and again. You can also make the sauce ahead and freeze it.
About Tofu Curry
Like most other Indian curry recipes, this Tofu Curry too uses pantry ingredients like onions, tomatoes, ginger garlic, whole and ground spices & herbs. To make the dish creamy ingredients like cashews, almonds or coconut can be used according to your preference.
Apart from tofu, veggies like peas, cauliflower, potatoes, sweet potatoes or bell peppers can be used to perk up the nutrition & make it a complete meal.
To begin with, first you will get rid of the excess moisture from the tofu and marinate it with spices and herbs for a short time until the curry is ready. It is then pan-fried and then added to the delicious curry sauce.
So the Tofu in the Curry is full-flavored with a excellent texture!
I use fresh tomatoes & homemade cashew cream (shared below) for this recipe. To save time you may use store bought canned tomato puree and coconut milk. I share more details in the recipe card notes.
Choosing Tofu
For this recipe you will use extra firm tofu / Tau kwa. If you want your tofu taste like meat, simply freeze it. This step makes the tofu more compact and in turns helps to release the excess moisture if any. Freezing also helps tofu absorb more flavors when you marinate and cook it in a curry.
Similar Recipes
Vegetable Jalfrezi
Chickpea Curry
Bombay Potatoes
Black Eyed Peas Curry
How to make Tofu Curry (Stepwise Photos)
Prepare Tofu
1. Place extra firm tofu on a few kitchen paper/tissues or clean cloth. I prefer to rinse & pat dry mine before using. For this recipe you can use 7 to 14 oz (200 to 400 grams) tofu or use use only 7 oz (200 grams) & some veggies like peas/ cauliflower/potatoes etc. Here I'm using only 7 oz and green peas.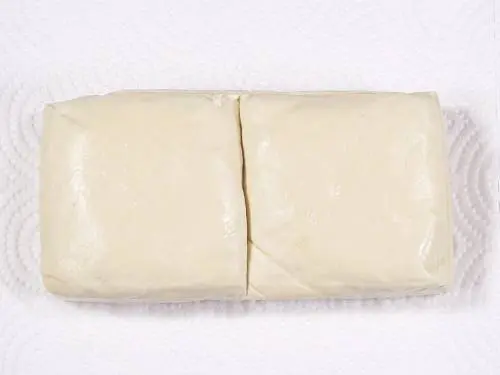 2. Wrap the tofu in kitchen towels and gently press down to remove any excess moisture.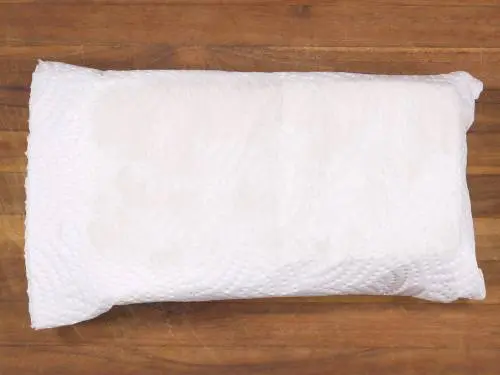 3. Dice them to 1 inch cubes.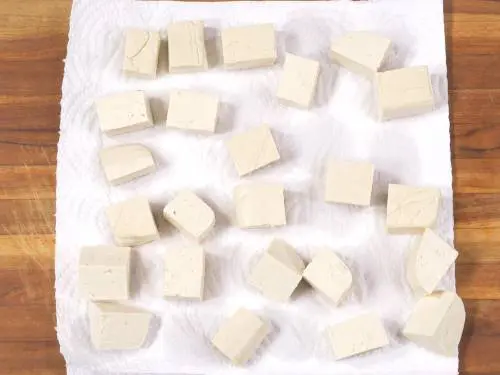 4. Add 1 teaspoon red chilli powder, ½ to ¾ teaspoon garam masala, ¼ teaspoon salt and 1 tablespoon kasuri methi (dried fenugreek leaves) to a bowl. Mix them up well.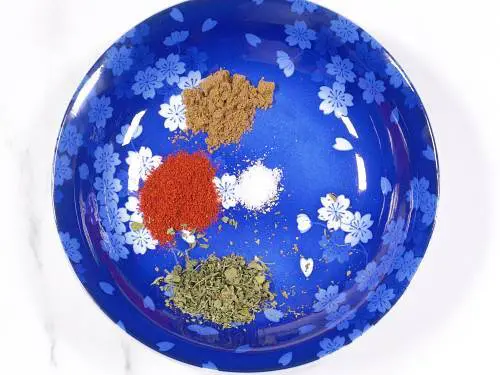 5. Coat each piece of tofu in the masala. Keep aside. If your spices are not enough, add more in the same proportions.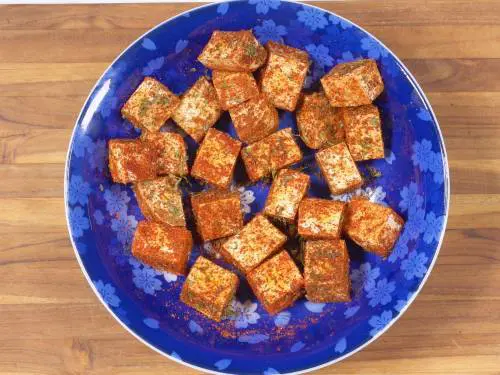 Prepare other ingredients
6. To make the tofu curry, you will need
1 tablespoon ginger garlic paste (or grated ginger garlic, half tbsp each)
1 green chilli pepper, deseeded and chopped (optional)
1 pound (450 grams) tomatoes (about 2½ cups fresh tomato puree or 1¼ cup bottled puree like passata)
¼ cup (1 small) onion (fine chopped, use more if you want)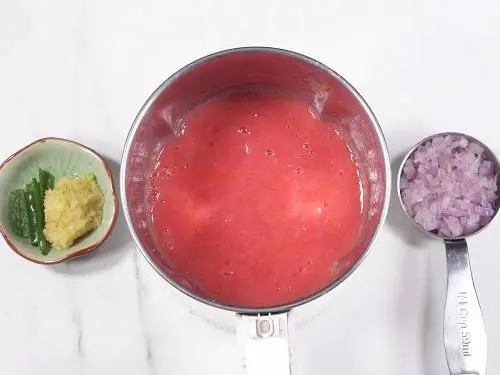 7. If you want optionally you may use 1 bay leaf, 2 inch cinnamon and 2 green cardamoms. All these whole spices are optional. You can use 1 cup canned coconut milk or my homemade nut cream/milk here. To make the nut cream/milk, simply grind 18 to 20 cashew nuts to a fine powder in a small grinder. Pour ¼ cup water & grind to a smooth puree. Repeat with ¼ cup water. You can alternately use 4 tablespoons almond flour in place of cashews.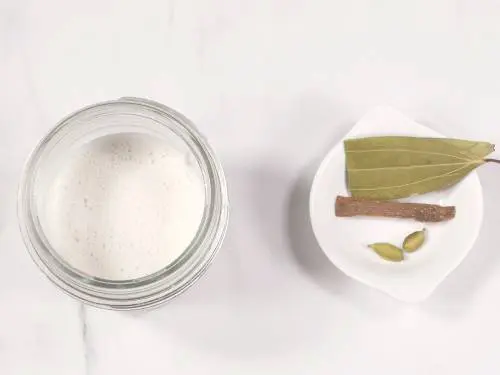 8. Here are the spices you need for the curry
1 to 2 teaspoons Kashmiri chili powder (adjust to taste)
¼ teaspoon turmeric
½ teaspoon salt (adjust to taste)
1 to 1½ teaspoons garam masala (adjust to taste)
1½ teaspoons coriander powder
½ teaspoon cumin powder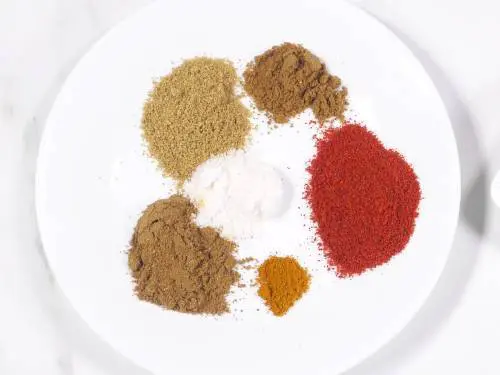 Make Tofu Curry
9. Heat 2 tablespoons oil in a pan and add the whole spices if using – bay leaf, cinnamon and cardamoms. When they begin to sizzle in oil, add the onions and stir fry on a medium heat until deep golden.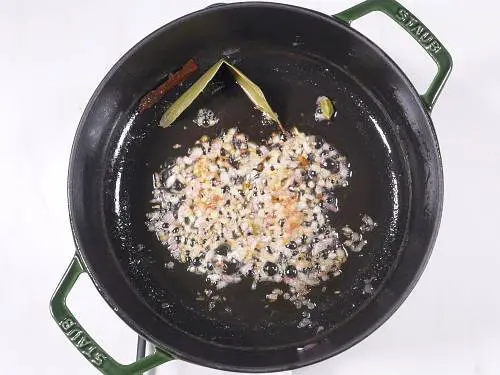 10. Add the ginger garlic paste and green chili. Saute on a low heat for a minute.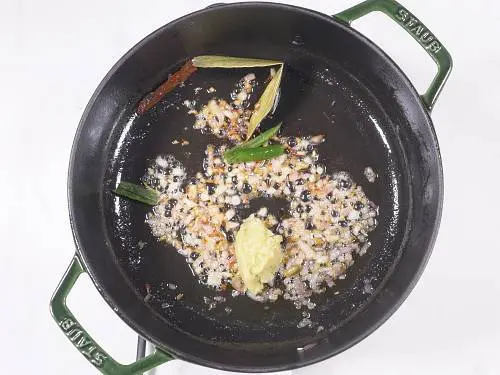 11. Stir in the ground spices and salt. Be careful as the spices can easily burn.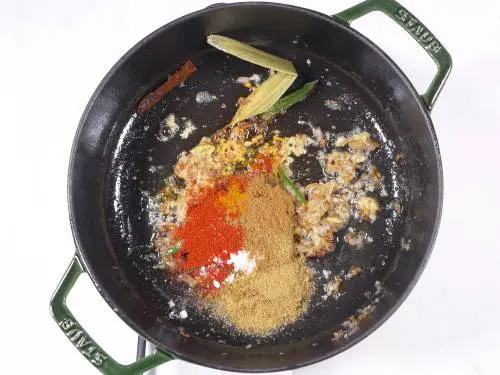 12. Make sure you don't burn them.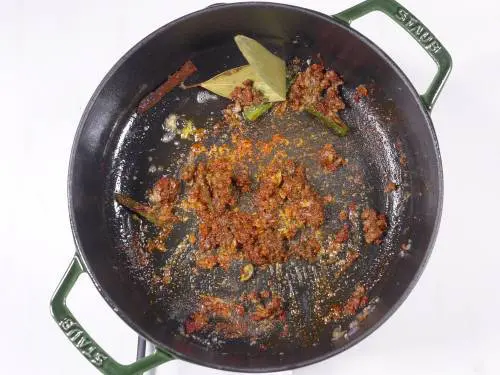 13. Immediately stir in the tomato puree. Be careful as the puree can splash. Rise the heat to medium and cook partially covered, stirring occasionally until the tomatoes loose their raw flavor.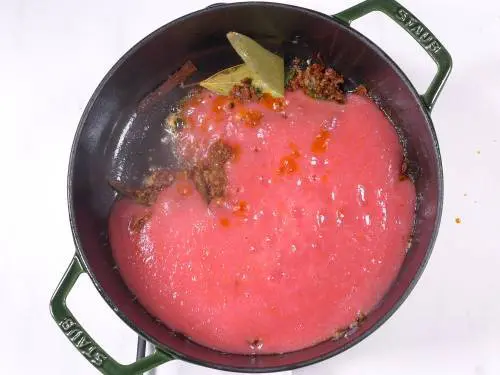 14. When the tomatoes are cooked down, you will see the mixture is darker in color and specks of oil are visible on the sauce. Reduce the heat and pour the cashew/almond cream/milk Or coconut milk. Give a good stir.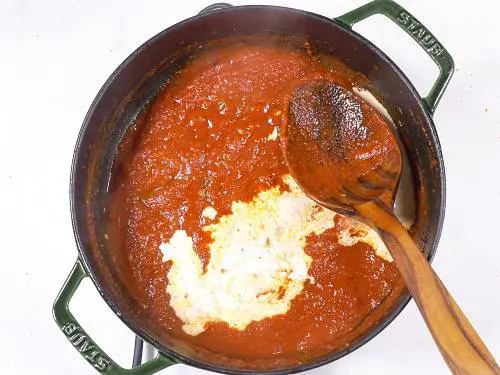 15. Pour 1 to 1½ cups water and give a good stir. If using coconut milk, start with lesser amount of water.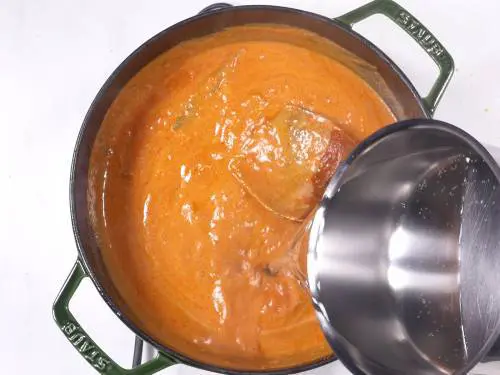 16. Cover partially and let the curry cook until you see traces of fats visible on the curry.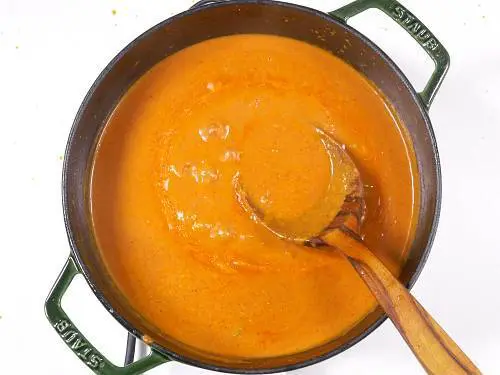 17. Add ¾ cup frozen or boiled fresh green peas. This is optional and you may simply leave out or use any other grilled vegetable of choice. Cover and let cook until the curry turns thick and peas are cooked.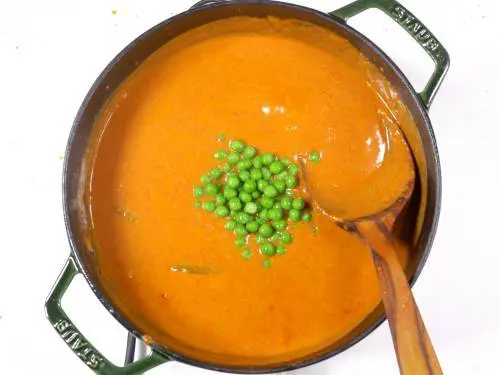 18. Meanwhile on another burner, heat a non-stick pan with 1 tablespoon oil & spread it well. When the oil is hot, place the tofu cubes.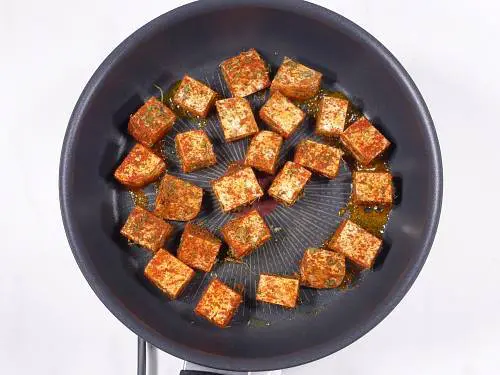 19. Fry them on a medium to low heat for 2 minutes, turn them to the other sides & fry. If you fry them on a high heat, the spices will burn and taste bitter. Take the pan off the heat.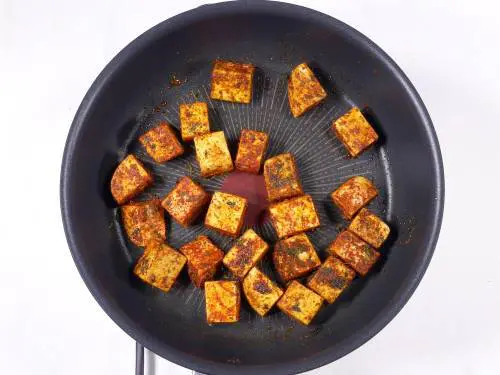 20. When the curry is thick, optionally add 1 teaspoon sugar or maple syrup to balance the flavors. Taste test and adjust salt as well. Add the fried tofu and give a gentle stir.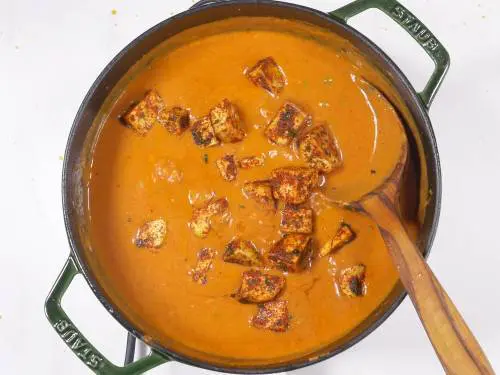 21. If you want sprinkle a pinch of garam masala and kasuri methi. Cover and turn off the heat. Let tofu curry rest for at least 15 mins before serving.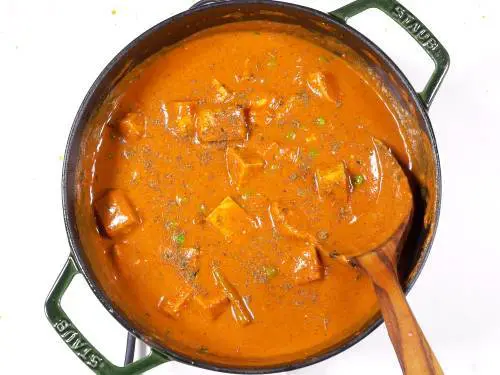 Garnish tofu curry with coriander leaves. I didn't have them so I used little kasuri methi and little leftover cashew cream.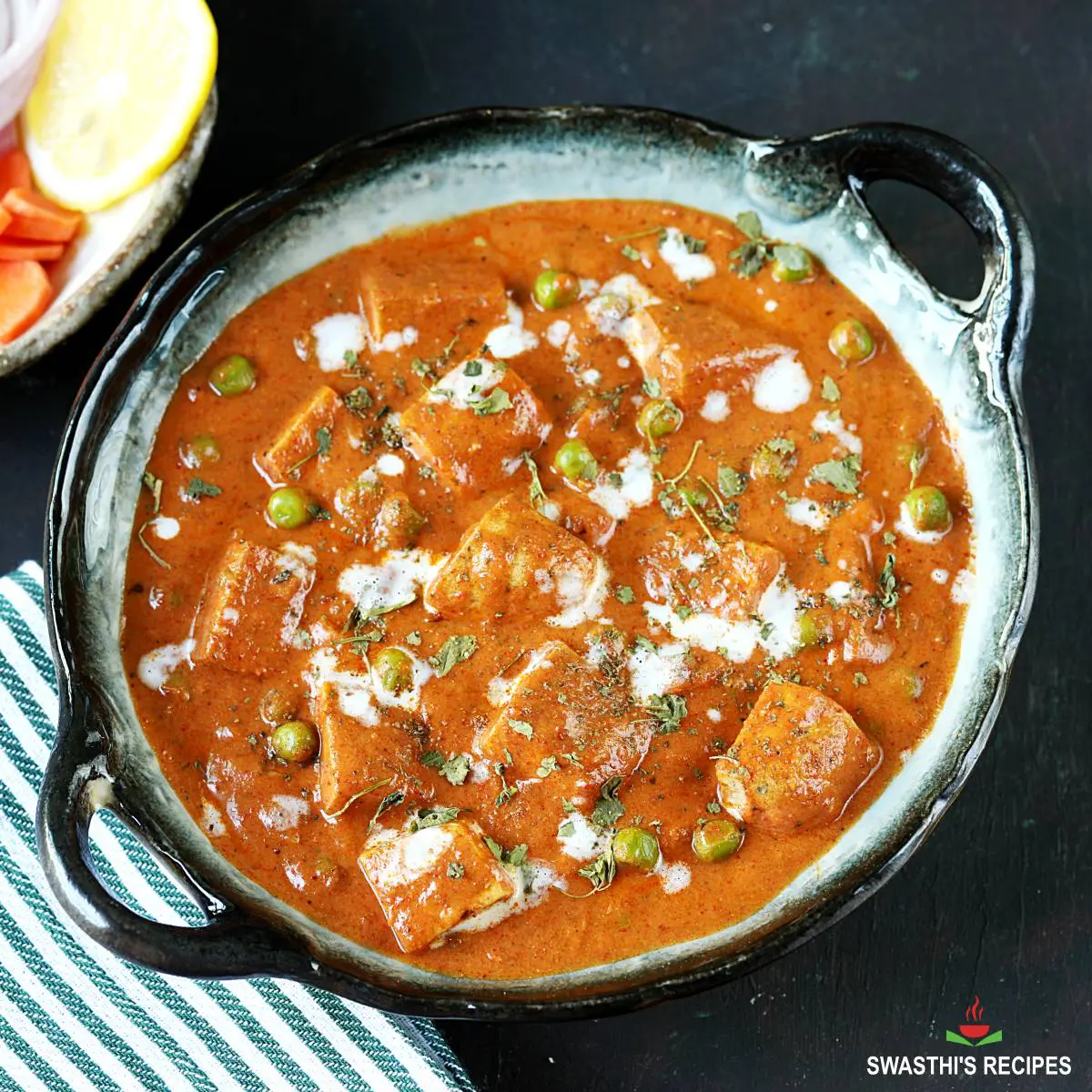 Related Recipes
Recipe Card
Use up to 400 grams (14 oz) tofu in this recipe. Also increase the amount of spices to marinate.
Use 1 cup organic coconut milk to substitute cashews & cut down the water. If you use a lot of coconut milk, you need to adjust the spices.
Whole spices are optional but they impart deeper flavors to the curry.
Alternative quantities provided in the recipe card are for 1x only, original recipe.
For best results follow my detailed step-by-step photo instructions and tips above the recipe card.
Nutrition Facts
Tofu Curry Recipe (Restaurant Style)
Amount Per Serving
Calories 232
Calories from Fat 108
% Daily Value*
Fat 12g18%
Saturated Fat 1g6%
Trans Fat 0.03g
Polyunsaturated Fat 3g
Monounsaturated Fat 7g
Sodium 573mg25%
Potassium 798mg23%
Carbohydrates 24g8%
Fiber 6g25%
Sugar 11g12%
Protein 9g18%
Vitamin A 1169IU23%
Vitamin C 28mg34%
Calcium 69mg7%
Iron 4mg22%
* Percent Daily Values are based on a 2000 calorie diet.