Paneer Paratha Recipe with 3 ways to stuff & roll. Paneer Paratha are popular whole wheat flatbreads with a spiced Paneer stuffing. If you want the best-tasting paneer parathas, you need to make them from scratch exactly the way they are made in the Indian homes. Once you taste these fresh and delicious homemade Paneer Parathas, you will wonder why you ever used the store bought.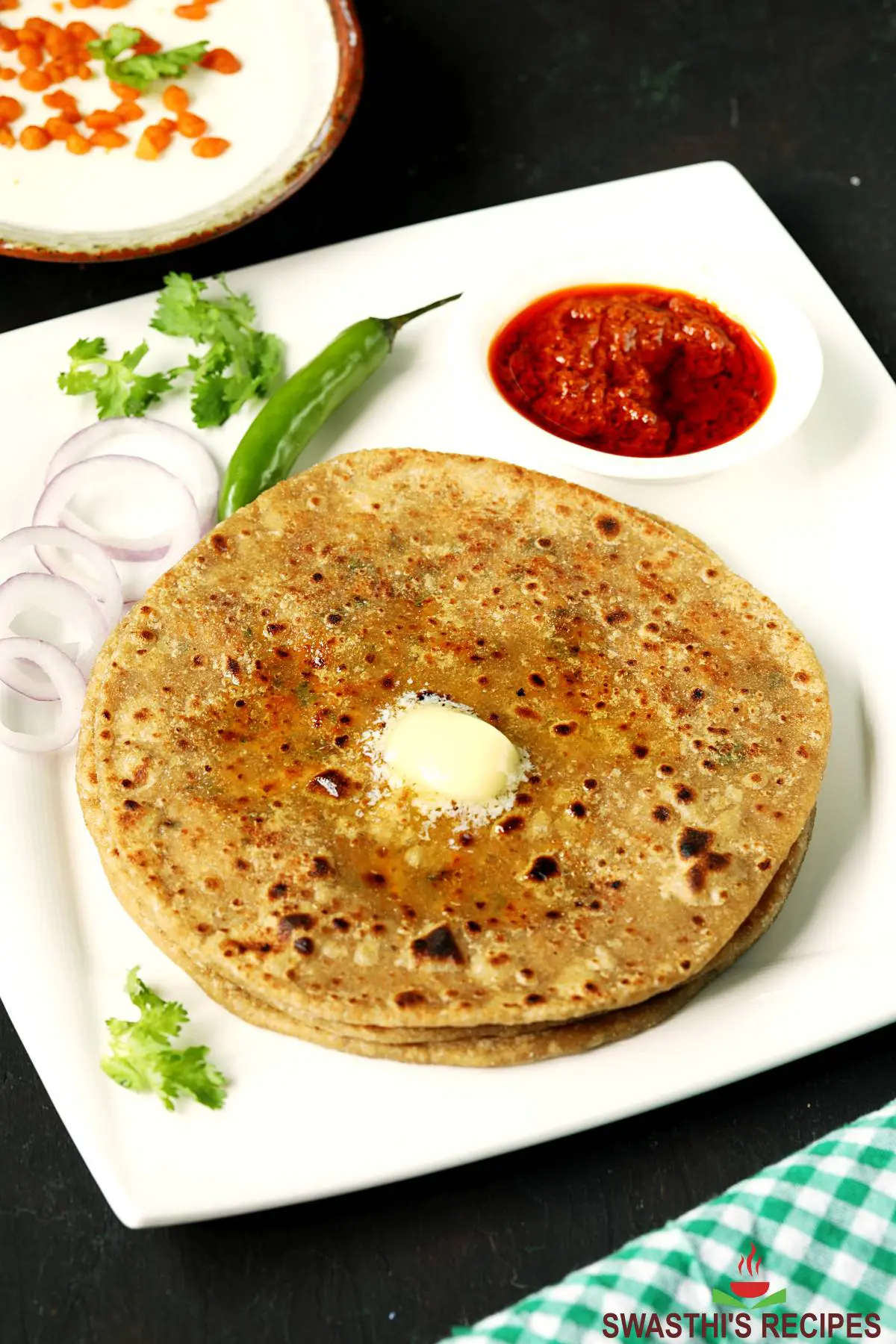 About Paneer Paratha
Paneer Paratha is an unleavened wheat flatbread stuffed with paneer aka Indian cottage cheese, spices and herbs. These are crisp on the outside with a soft mouth-melting cheesy filling that takes you to food heaven.
These are eaten for a breakfast but they are just great to enjoy any time of the day – lunch, dinner or even for a snack. Paneer parathas also go well in school and office boxes.
Paneer Paratha is usually eaten with a topping of white butter, pickle, yogurt, raita or a chutney. Mango pickle, lemon pickle, homemade curd, Coriander Chutney, Pudina Chutney & Garlic Chutney are other great options.
Stuffed Vs Layered
Paratha is a flatbread from the Indian sub-continent and comes in numerous forms – plain, stuffed & layered. In this post I share 2 recipes to make paneer parathas – stuffed & layered.
Making the stuffed kind is a 3 step process –
Form the dough like you do for any other parathas ex: Aloo paratha
Prepare the stuffing by simply mixing all the ingredients (no cooking involved)
Stuff the filling into the dough balls, roll and lastly toast them with ghee or oil.
The layered paneer parathas are simpler & made with a different dough that is formed by mixing all the ingredients – paneer, flour, spices, and herbs together with water. The dough is rolled like Plain Parathas and toasted until golden & puffed.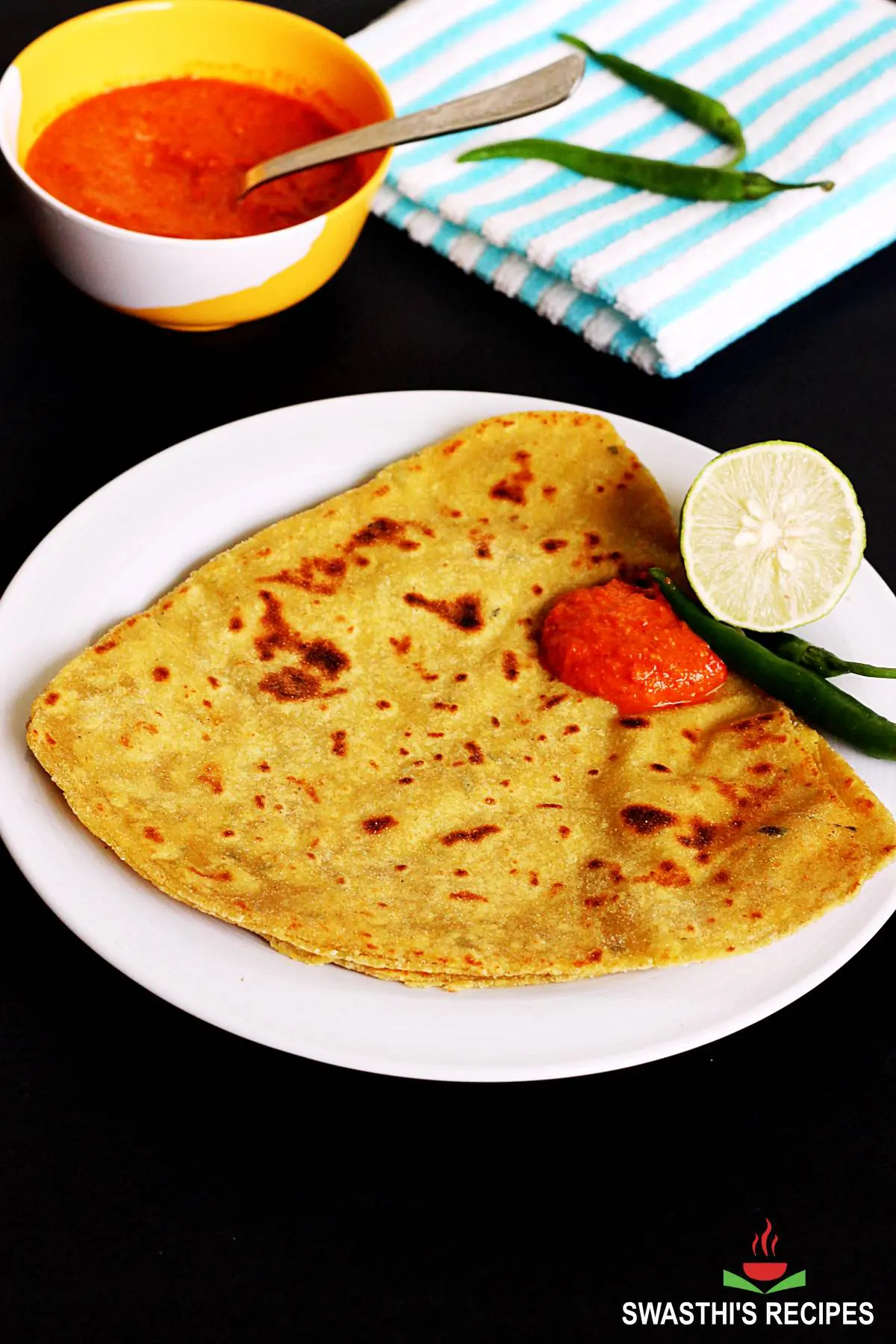 If you have picky eating kids or toddlers just learning to eat parathas, the second recipe is great as they are less messy and easier to make. These don't require any stuffing skills like the first recipe.
In this post I also share 3 ways to stuff the Paneer parathas below. The first method is great and your parathas won't tear and the stuffing is evenly spread. If you are a beginner you may try out the third method. My most preferred method is the first one and I show that in the video.
How to make Stuffed Paneer Paratha (Stepwise Photos)
Make the dough
1. To a mixing bowl, add 2 cups whole wheat flour, ¼ teaspoon salt, 1 tablespoon oil and half cup water. Begin to mix & form a soft and non-sticky dough, adding more water as required.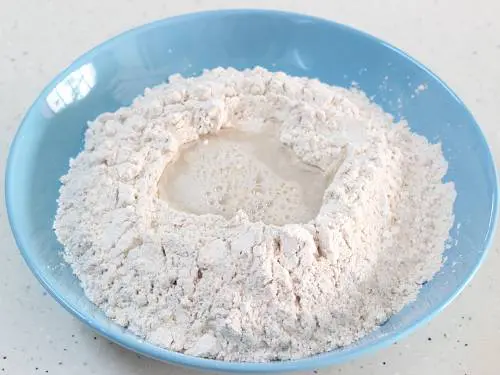 2. Knead well until really soft and pliable. When you press down the dough, it should dent easily and must be soft but not sticky. Cover and keep it aside until the stuffing is ready. I always rest my dough for a minimum of 30 minutes. If you prefer to skip the resting time, then knead it a little longer and use it right away.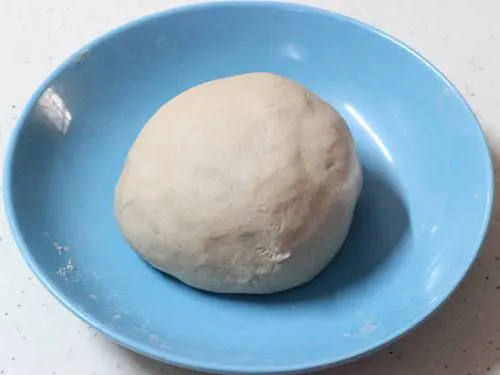 Prepare the Stuffing
3. Make sure your paneer is fresh tasting & has no excess whey in it. Place your grater in or over a medium sized mixing bowl & grate 200 to 250 grams paneer. If you are an experienced cook you will able to use up to 250 grams without tearing the parathas. Beginners start with 200 grams.
4. Add the following ingredients:
1 to 2 green chilies fine chopped (optional, skip for kids)
2 to 3 tbsps coriander leaves fine chopped
½ to ¾ tsp Kashmiri red chilli powder (adjust to taste)
½ to ¾ tsp garam masala (adjust to taste)
½ tsp salt (more if needed)
½ to ¾ tsp roasted cumin powder
¾ to 1 tsp ginger grated or paste (or ⅓ tsp ginger powder)
½ to ¾ tsp amchur, dried mango powder
⅛  to ¼ tsp ajwain (carom seeds, skip if you don't have)
1 tsp Kasuri methi (dried fenugreek leaves, optional)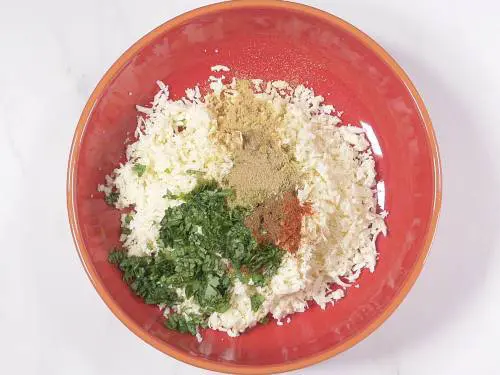 5. Mix together and taste test. Adjust salt, chilli and garam masala as needed. Divide the paneer stuffing to 8 portions. Roughly divide the paneer mix to 8 portions. Do not make balls.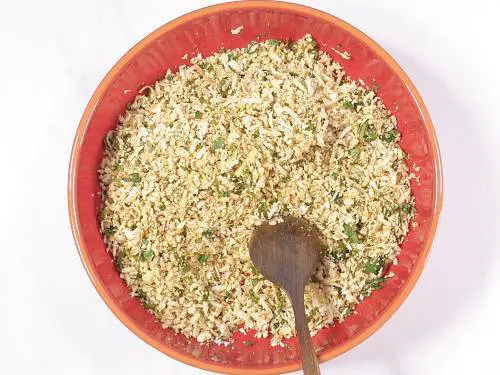 Roll the Parathas
6. There are 2 ways you can stuff and roll the parathas. You will divide the dough into parts depending on the method you want to use. Divide the dough to 8 equal portions (for methods 1 & 2) or 12 portions (for method 3). Roll them to smooth balls in between your palms. Cover until you use up.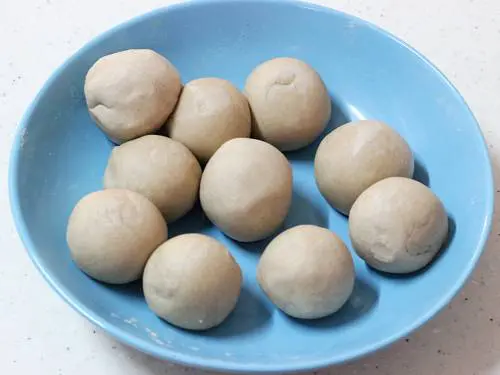 Method 1
Note that you will use as little flour as possible to roll, only to prevent your paratha from sticking to the rolling area. Too much flour will make the parathas hard. However you will see me using more here because my flour was a little sticky since I used food processor to knead.
7. Sprinkle little flour on the rolling area. Smoothen a dough ball and dip it in flour. Shake off the excess. Flatten it by pressing down with fingers.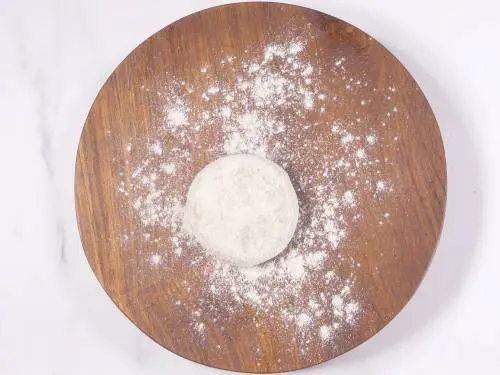 8. Either roll it with a rolling pin to a 4 inch round roti/disc or shape the disc to a cup with your fingers, starting from the center as shown in the picture below.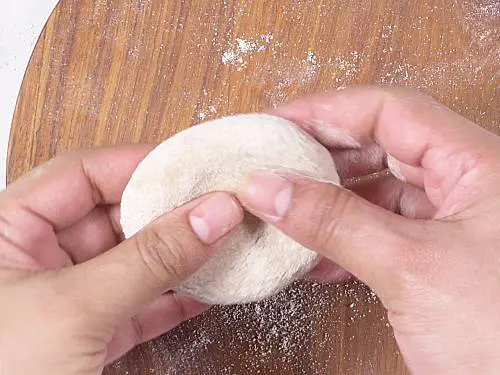 9. I make mine approximately 4 inches. Take it to your palm.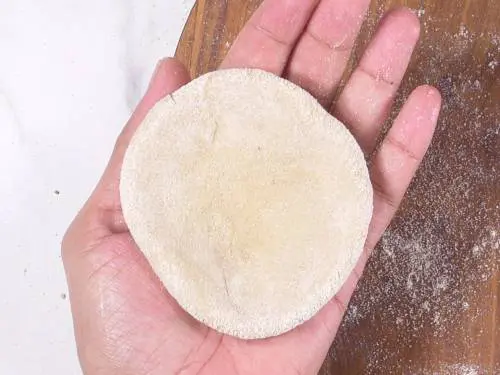 10. Place one portion of the paneer stuffing in the center and bring the sides up.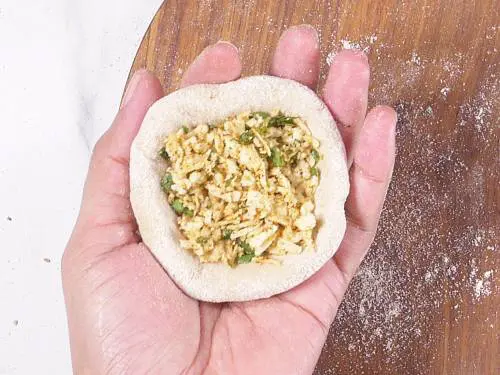 11. Press down the stuffing in the center and bring the sides higher giving it a cup shape.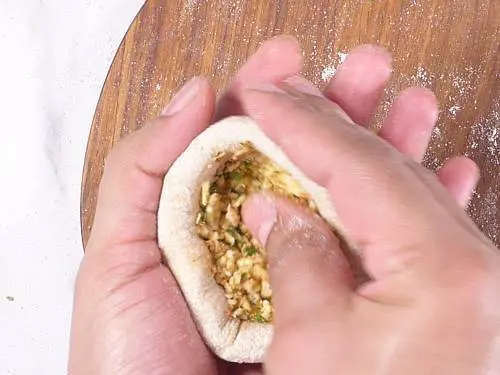 12. Bring the sides higher by simply rotating the whole thing on your hand in clock-wise direction, a few times. The dough gets stretched by itself and comes over the stuffing. (check video). Repeat this step of pushing the stuffing inside and bringing the sides higher by rotating until the edges come over to the top.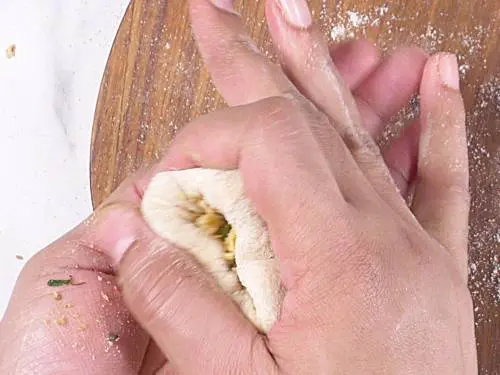 13. Join all the edges well to make sure no filling is visible. I do not remove any excess dough, instead press it down back to the ball & flatten it.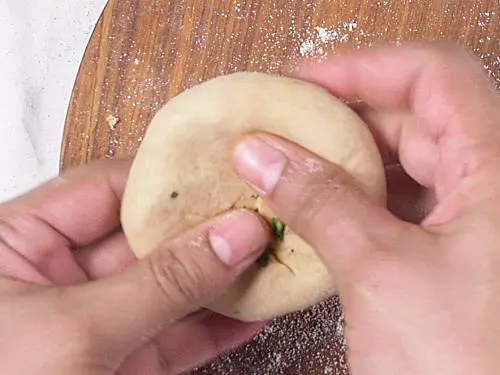 14. Dip this in atta/flour on both the sides, shake off the excess and gently flatten it with your fingers to spread the filling. This is very important so the filling is evenly spread all over.
15. Place the sealed side down on the rolling area and gently roll it evenly with light hands (avoid putting pressure). Do not roll the paneer paratha continuously, instead rotate in clock-wise direction a little after every 4 to 6 rolls to ensure it does not tear or get stuck.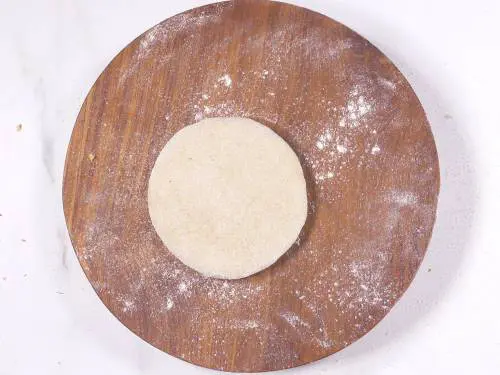 16. You can make as thin or thick to your preference. As you roll you may see a bit of filling coming out, simply apply some flour there. Sprinkle flour only as needed and avoid using excess as it makes the paneer parathas hard.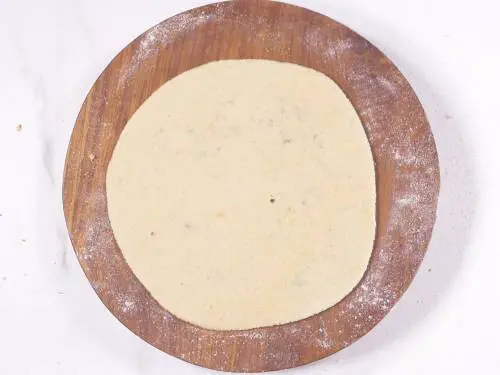 Method 2
17. Sprinkle little flour on the rolling area. Smoothen a dough ball and dip it in flour. Flatten it and roll to a 5 inch round roti/disc. Place one portion of the paneer stuffing in the center.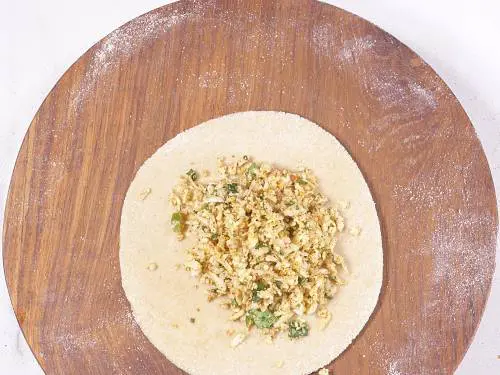 18. Hold the edges and make pleats.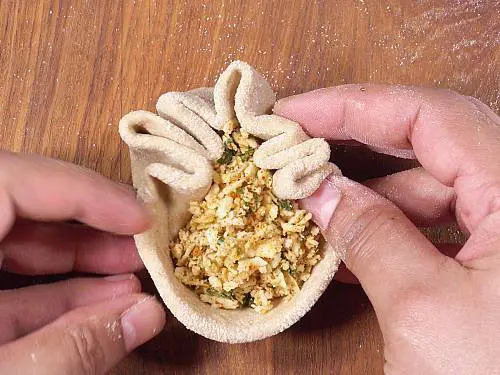 19. Bring all the edges on top.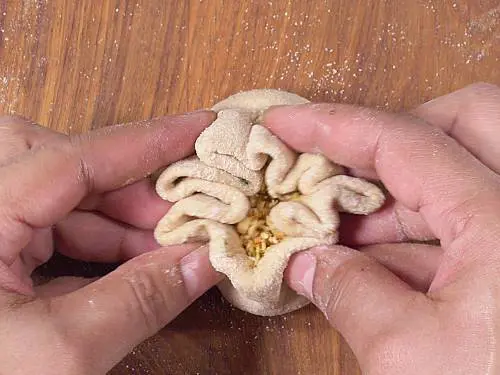 20. Gently join them and pinch off the excess dough. Save it for making more parathas.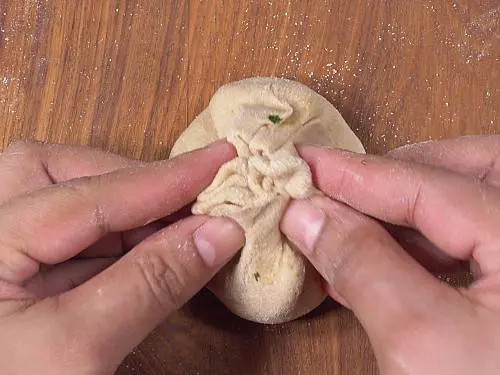 21. Flatten slightly and dip in flour.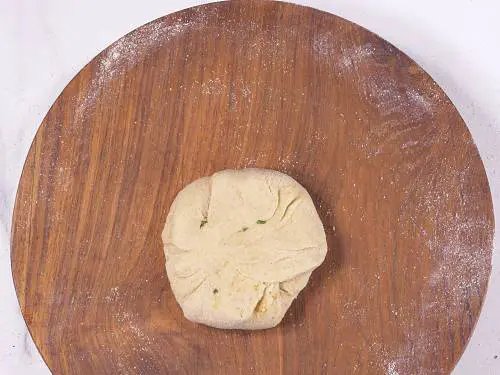 22. Flatten it again to a 4 inch disc with your fingers to spread the filling evenly. Also lightly shape the whole thing round with your palms so you get a round paratha.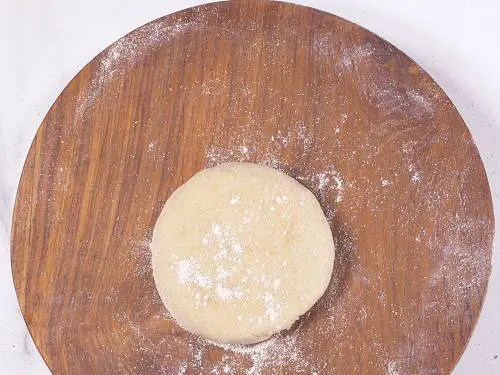 23. Then roll it to as big as you can.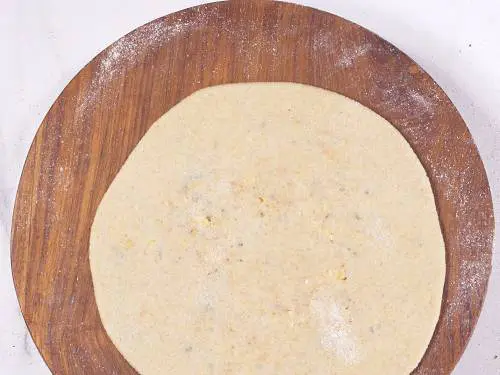 Method 3
24. Sprinkle little flour evenly all over the rolling surface. Dip 2 dough balls in flour. Dust off the excess. Flatten & roll to 2 rotis of 6 to 7 inches each. Spread the paneer stuffing over one of the rotis. Smear some water all over the edges.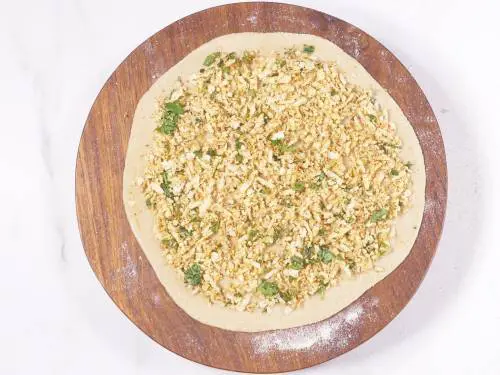 25. Cover with another roti and press down on the edges to join them.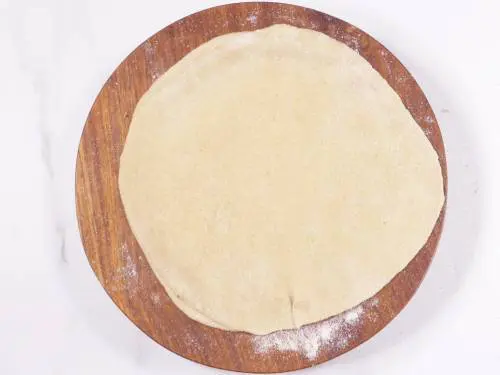 26. Sprinkle flour as required. Slightly roll the paratha with light hands.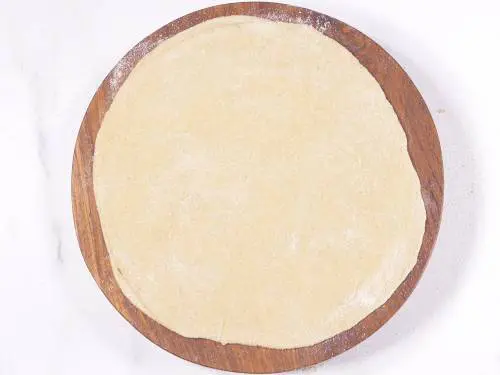 Fry Paneer Paratha
27. After you are done rolling 3 to 4 parathas, heat a tawa or griddle on a medium high flame. When the pan is hot enough, dust off excess flour from the paratha & gently transfer it to the griddle. Cook for 2 to 3 mins.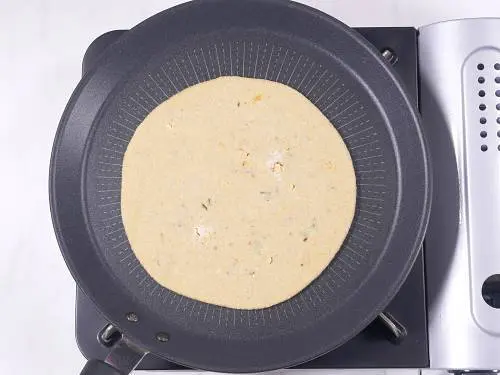 28. Turn it to the other side. Press down gently with a spatula. Spread some ghee or oil, about half a teaspoon.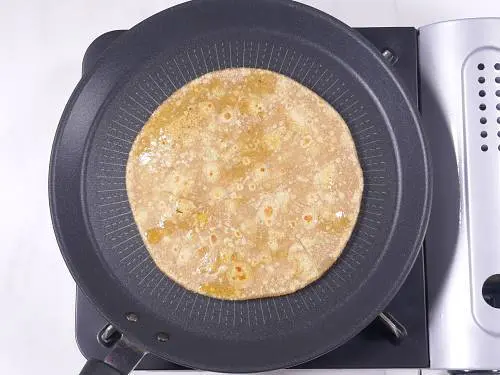 29. Turn it again and cook for a minute or 2.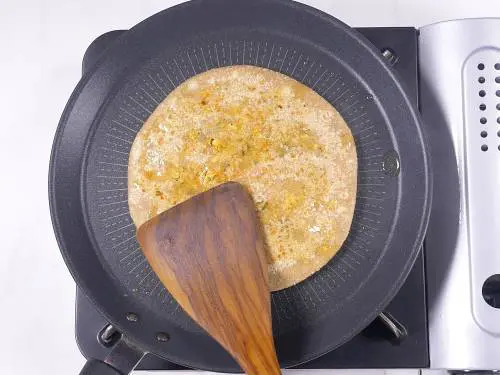 30. Turn back and press down gently with a spatula. Your paneer paratha will puff. Add more ghee (another half to 1 tsp or as needed).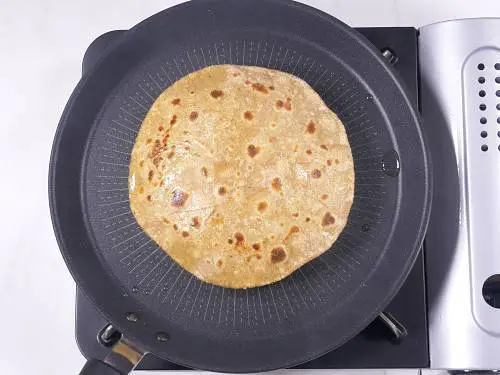 31. Remove the Paneer paratha to a serving plate. Stack the parathas.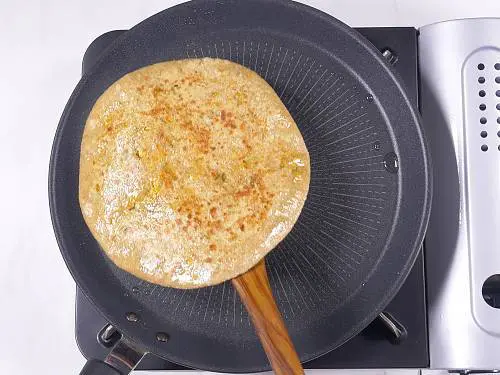 Serve them hot with Coriander chutney, Mint chutney or any pickle. If you want you may top them with some butter. Raita and yogurt also goes well.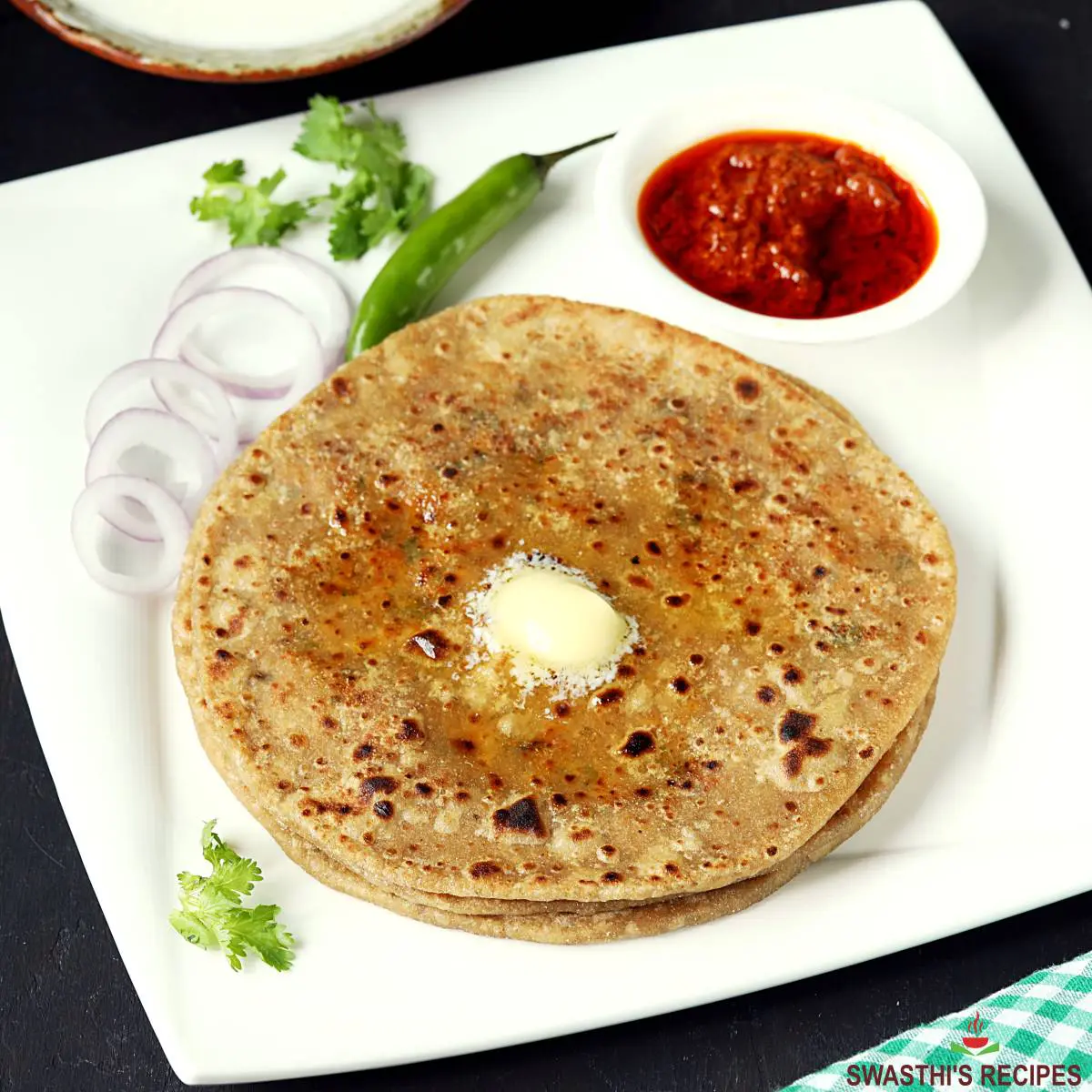 Plain layered Paneer Paratha (No stuffing)
This is a toddlers' recipe so the spice level is too low. If you want you can increase the spices and herbs. You can also add more ingredients like grated carrots, chopped spinach etc.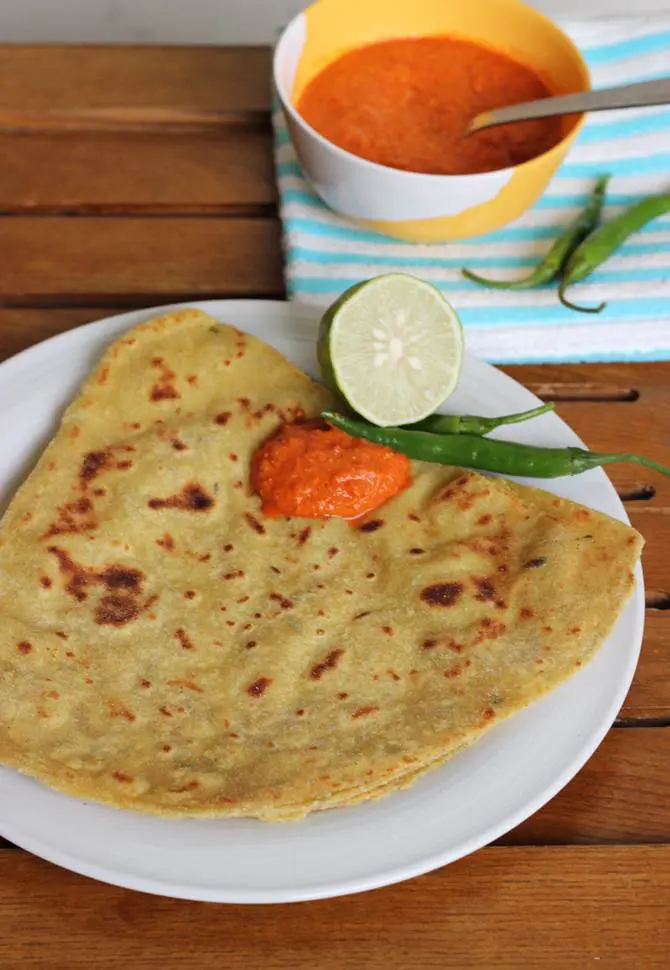 1. To a mixing bowl, add the following ingredients
1 cup whole wheat flour / atta
½ cup paneer, crumbled soft
2 to 3 tbsp yogurt (optional)
¼ tsp garam masala powder or ajwain / carom seeds
1 Pinch turmeric
2 tbsps coriander leaves or mint leaves (chopped finely)
1 green chilies minced or ¼ to ½ tsp chilli powder or black pepper
Salt as needed
2. Pour water as needed and knead the dough to a soft texture. Make sure it is not sticky.
3. Divide the dough to 6 to 8 balls. Keep them covered. Sprinkle little flour over the rolling area, roll each of these balls like a roti.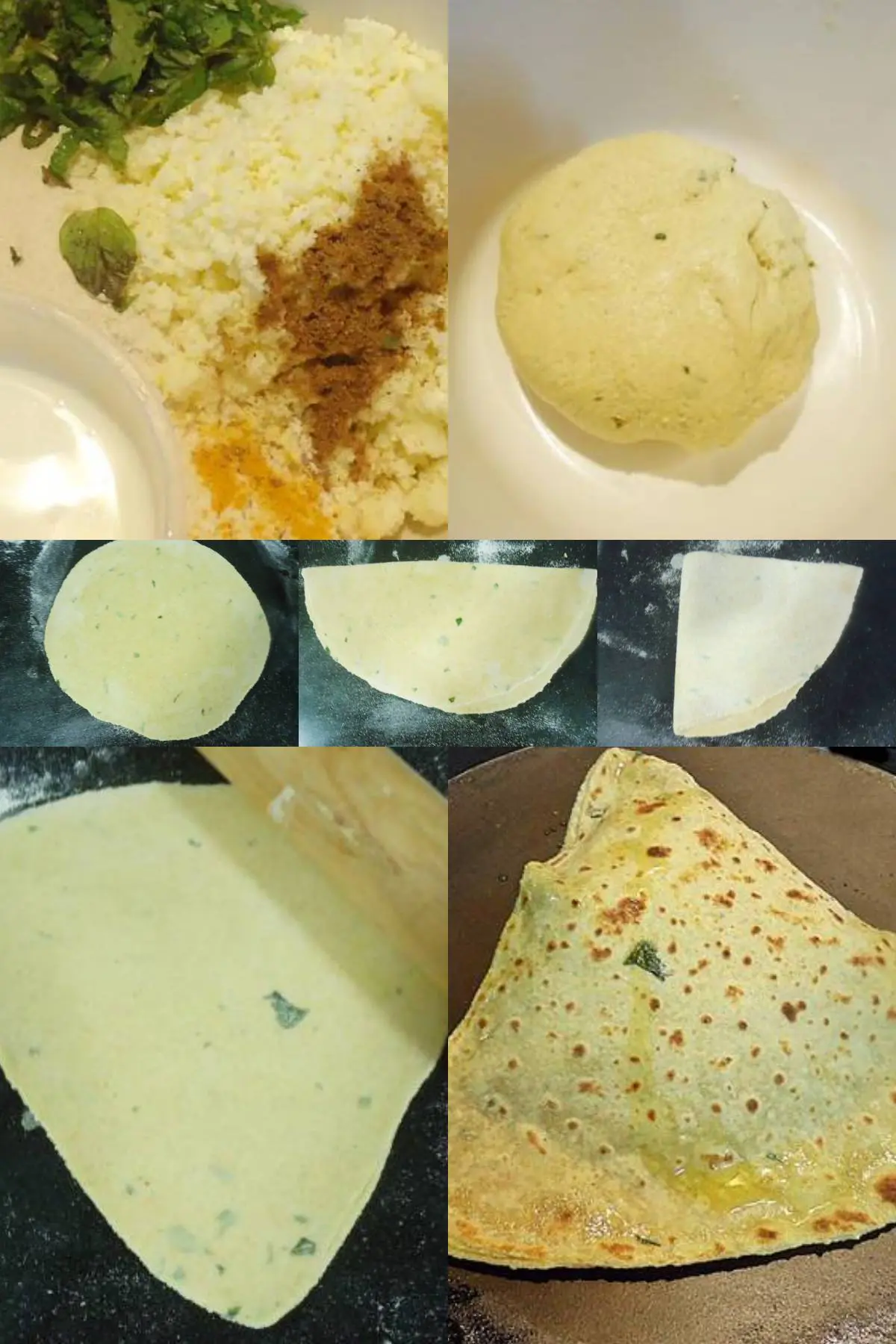 4. Smear little oil, and fold it to half and then to a quarter. Sprinkle flour lightly and roll gently to make a triangle. Finish rolling all the balls and set aside separately.
5. Heat a tawa on a high flame, when it is hot transfer the paratha. Very soon you will see bubbles on the paneer paratha. Turn it to the other side and then press down with a spatula to puff the paratha.
6. Cook on both the sides until you see golden to light brown spots on both the sides. Drizzle ghee or oil and smear it all over.
7. Clean up the tawa with a paper towel to remove the burnt flour if any. Then proceed to fry the next paratha. Stack up the parathas to keep them soft. Serve paneer paratha with your favorite chutney.
Related Recipes
Recipe Card
Alternative quantities provided in the recipe card are for 1x only, original recipe.
For best results follow my detailed step-by-step photo instructions and tips above the recipe card.
Nutrition Facts
Paneer Paratha Recipe
Amount Per Serving
Calories 241
Calories from Fat 108
% Daily Value*
Fat 12g18%
Saturated Fat 6g38%
Trans Fat 0.01g
Polyunsaturated Fat 1g
Monounsaturated Fat 2g
Cholesterol 26mg9%
Sodium 232mg10%
Potassium 63mg2%
Carbohydrates 25g8%
Fiber 1g4%
Sugar 0.2g0%
Protein 7g14%
Vitamin A 69IU1%
Vitamin C 3mg4%
Calcium 133mg13%
Iron 2mg11%
* Percent Daily Values are based on a 2000 calorie diet.
This post was first published in Feb 2013. Updated (with a video & new methods to stuff) and Republished in March 2023.