Aloo Chaat is a popular Indian street food snack made with potatoes, sweet sour spicy chutneys, sev and coriander leaves. Aloo is a Hindi word for potatoes and Chaat is a dish with a mélange of sweet, sour and hot tastes. So this Aloo Chaat is a super addictive and delicious chaat snack where crisp fried potatoes are tossed with sweet and tangy tamarind chutney, ground spices and coriander leaves. Lastly garnished with crunchy sev and pomegranate arils.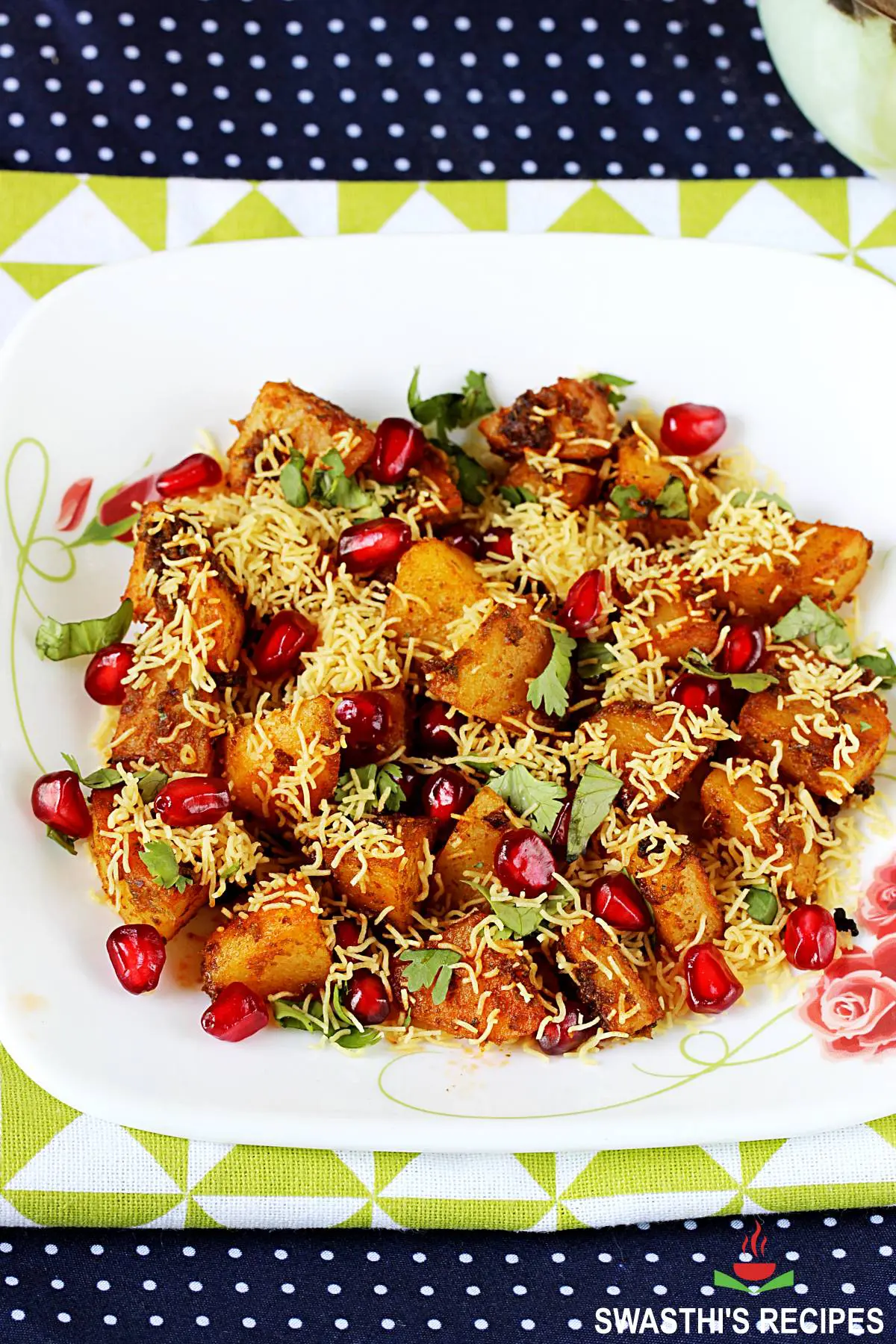 Indian street foods need no introduction, they are immensely popular & are a common thing you see right on the street food carts to the upscale restaurants in India. You will find numerous mouthwatering dishes which include several appetizers and even wholesome meals.
Bhel puri, Mumbai Pav bhaji, Aloo tikki & Samosa are some of the other popular street foods of India. Aloo chaat is yet another such super delicious and addictive snack which is much loved by everyone.
About Aloo Chaat
Aloo Chaat originated in Indian subcontinent and is a popular street food in several North Indian states. In India you will see the street vendors using large tawa, an iron griddle in which diced potatoes are fried to perfection until crisp and golden.
For a home version the potatoes can be shallow fried, baked in an oven or even air fried. I prefer a healthy aloo chaat so I have parboiled the potatoes and fried them in a pan. In this post I share 3 ways to prepare or fry the potatoes for the chaat.
Various spices like chaat masala, red chilli powder and roasted cumin powder are used for the flavor and heat. Usually green chutney and sweet tamarind chutney both are used in the street style aloo chaat. But it is up to you to use them or simply skip or use fine chopped coriander leaves and lemon juice for the flavor and tang.
You will miss on the flavors from the chutney though but the substitutes work well.
For the topping you can use fresh chopped onions, crunchy sev and pomegranate arils as well. On occasions I have also topped this with chopped cucumbers which taste great.
Sev is crisp fried gram flour vermicelli snack that is used for garnishing various chaats. These are easily available in the Indian stores. If you do not have crunchy sev you can simply roast some papads, crush them and use. Other substitutes are crushed papdis, cornflakes, tortilla chips, baked potato chips or poha chivda.
Pomegranate arils add color to your chaat and also provide some crunch and sweetness. You can skip them if you don't have.
More Chaat Recipes
Ragda Patties
Sweet Corn Chaat
Dahi Vada
Sev Puri
Papdi Chaat
Vada Pav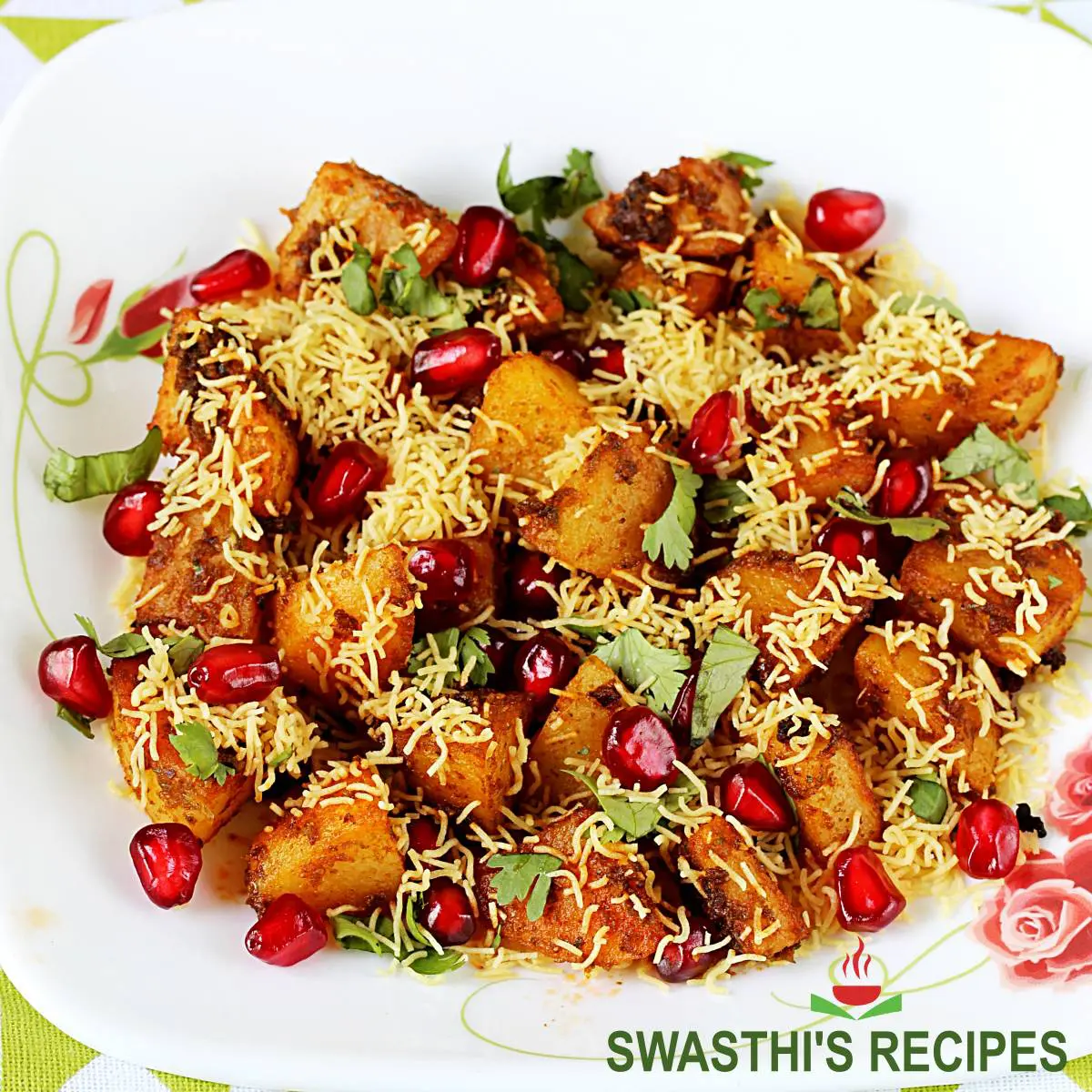 How to make Aloo Chaat (Stepwise photos)
Prepare Potatoes
1. Wash, peel and boil the potatoes in whatever way you prefer. They must be just cooked al dente and not turn mushy. I usually cube them and steam in a cooker just to make sure they don't over cook. If you prefer to deep fry the potatoes then just parboil them for a while until 80% cooked meaning they are slightly undercooked.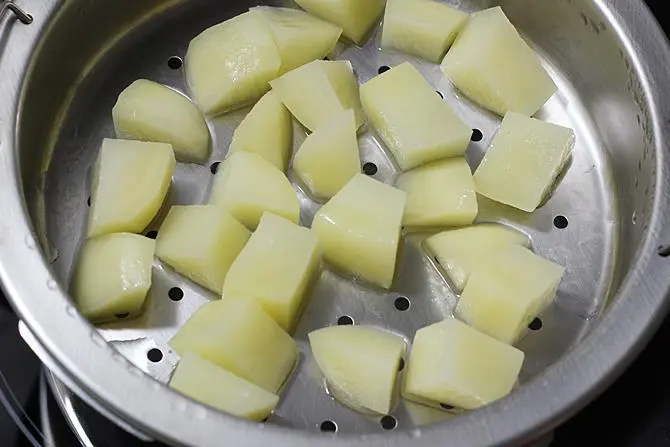 2. While the aloo boils, add all the ingredients mentioned to make green chutney to a mini blender jar.
The quantity to make the chutney mentioned in the recipe card is too less and may be hard to blend in a normal jar unless using a mini jar. So you can check this post on green chutney to make more quantity.
3. Add 1 tablespoon oil to the pan. Add 1 teaspoon minced ginger or garlic and 1 chopped green chili.
Optional for deep frying: or Alternately If you prefer deep fried crisp potatoes, then parboil potatoes. Air dry them for a while so there is not moisture over them. Heat oil in a kadai. Fry the potatoes in the hot oil until crisp and cooked thoroughly. Then skip to step 6. But I am just showing pan fried method here.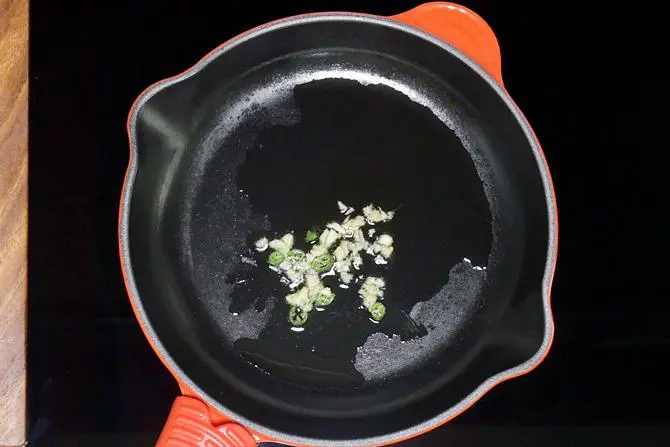 4. Add the potatoes and saute on a high flame stirring often.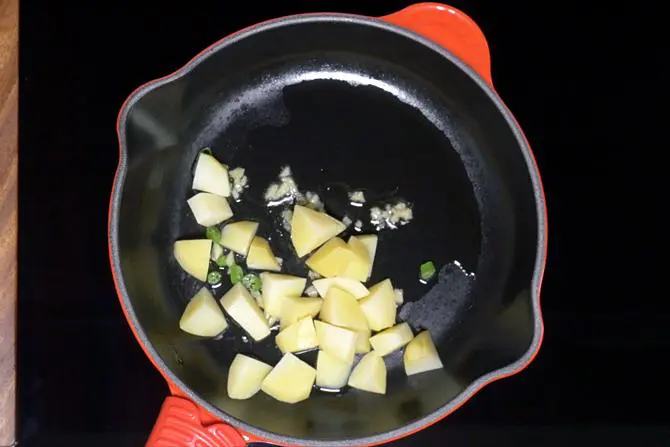 5. They will turn golden in few minutes. They will also turn slightly crisp if potato is boiled al dente. Turn off the stove.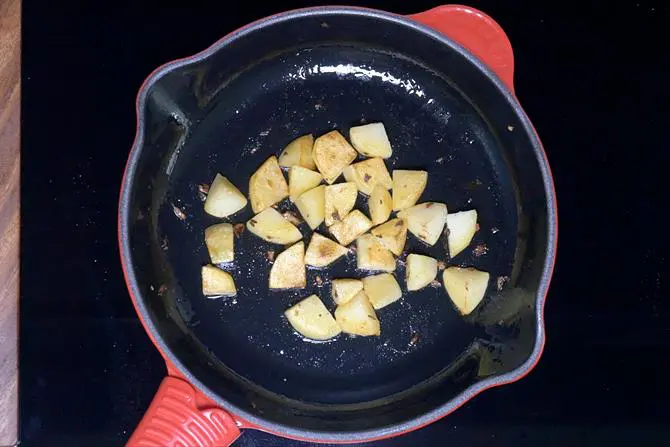 6. Add chaat masala powder as required and very little salt. There is salt also in the chutney so make sure you don't add more here. You can add about ¼ to ½ tsp chaat masala.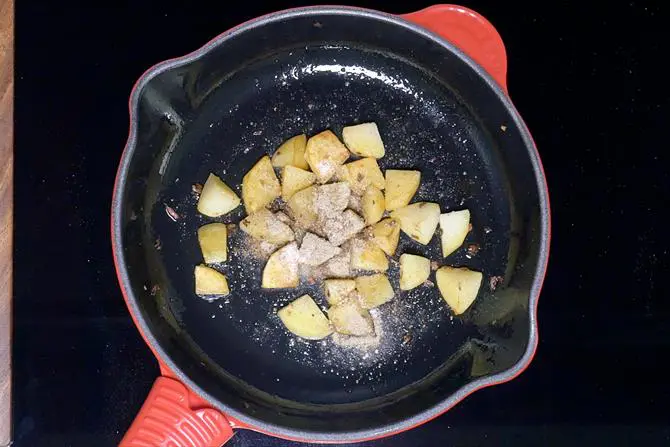 7. Also add red chili powder as required and jeera or cumin powder as required. Add about ¼ to ½ tsp red chilli powder and ½ tsp cumin powder.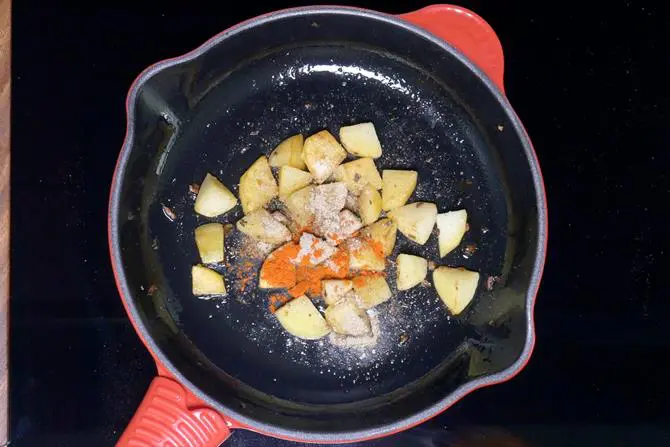 Make Aloo Chaat
8. Mix everything well and transfer to a bowl.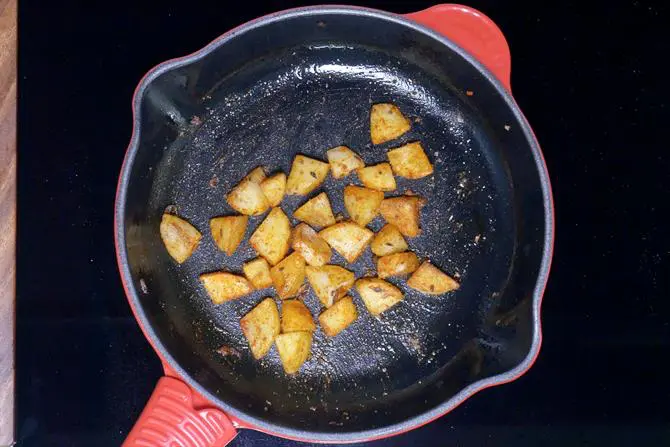 9. Add green chutney & tamarind chutney or lemon juice as required.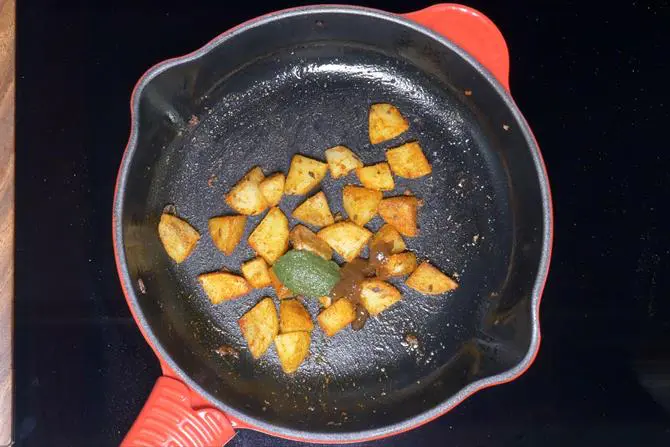 10. Mix everything. Do adjust spice, chaat masala, cumin powder, green chutney, salt and lemon juice to suit your taste buds. If needed add more at this stage.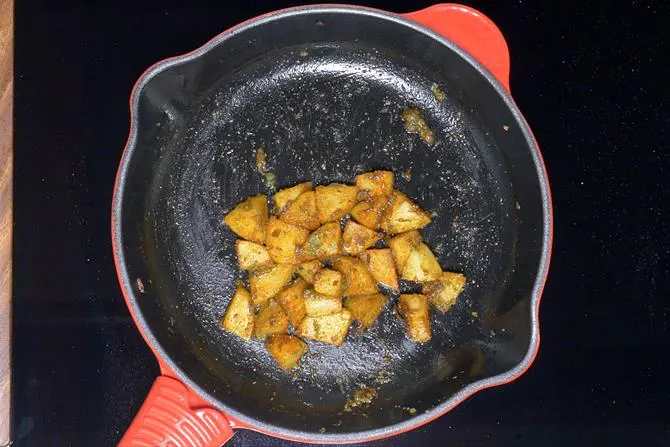 Transfer to a serving plate. Sprinkle some coriander leaves, generous amount of nylon sev and pomegranate seeds. You can replace pomegranate seeds with some sweet raisins and roasted cashews. Serve aloo chaat immediately.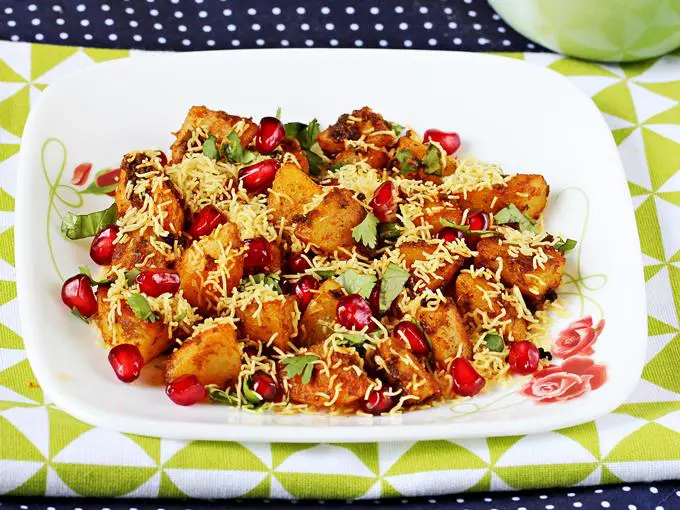 Pro Tips
The most popular delhi style aloo chaat is made by deep frying the aloo. However potatoes can also be shallow fried or tawa fried. They can also be grilled in an oven. To make it healthier, I have parboiled the aloo first and then sauteed in oil until crisp.
Sweet tamarind chutney gives a sweet and sour taste to the aloo chaat. If you do not have the chutney, you can just skip it and use some lemon juice. However the flavor of tamarind chutney cannot be recreated by using lemon juice.
I have also used green chutney as I had it in hand. You can skip it completely if you do not prefer. The chaat will still taste good.
Chaat masala is the key ingredient to any chaat. There is no replacement to this as it lends a unique aroma of spices. So do not skip it.
For a variation you can also make a dahi aloo chaat by topping this with some thick curd or dahi, tamarind chutney, spice powders, sev & pomegranate arils.
Faqs
What is aloo chaat called in English?
Aloo chaat literally translates to potato snack that is sweet, tangy and hot. Aloo translates to potatoes and chaat is a dish that tastes sweet tangy and hot with bursting flavors from ground spices, sweet chutney and crunchy toppings.
What kind of potatoes are best for crispy potato chaat?
Use starchy potatoes like Russets, Idaho or Maris piper are best for aloo chaat. Potatoes that are high in starch are also low in moisture making them an excellent choice for fried potato snack.
Can I air fry potatoes for aloo chaat?
Yes you can air fry the cubed potatoes with the auto option for French fries or preheat your air fryer for 5 mins at 360 F or 180 C. Then spread the cubed potatoes (1 inch pieces) in the basket and spray some oil. Air fry them for 10 to 12 minutes until crisp and golden. Toss them half way and air fry until crisp and fully cooked through.
Can I oven bake the potatoes for chaat?
Yes! Toss the soaked & drained potatoes with 1 tablespoon oil and spread them on a greased baking tray. Bake them in a preheated oven at 200 C or 400 F for 25 minutes. Mix them half way and bake again until crisp.
Related Recipes
Recipe Card
(optional) green chutney (1 to 2 tsps)
How to make Aloo Chaat – Method 1 – No deep fry
You can also simply grill the potatoes until crisp in an oven or air fryer following my faq section.
Alternative quantities provided in the recipe card are for 1x only, original recipe.
For best results follow my detailed step-by-step photo instructions and tips above the recipe card.
Nutrition Facts
Aloo Chaat Recipe (Potato Chaat)
Amount Per Serving
Calories 184
Calories from Fat 72
% Daily Value*
Fat 8g12%
Sodium 439mg19%
Potassium 1442mg41%
Carbohydrates 23g8%
Fiber 5g21%
Sugar 5g6%
Protein 8g16%
Vitamin A 2055IU41%
Vitamin C 179.1mg217%
Calcium 389mg39%
Iron 13.7mg76%
* Percent Daily Values are based on a 2000 calorie diet.