Ragda Patties (also spelled as Ragda Pattice) is a delicious chaat meal where white pea curry is served with crisp potato patties, garnished with sweet spicy & tangy chutneys, sev, onions and tomatoes. Ragda Patties is an immensely popular street food from the Western Indian states of Maharashtra and Gujarat. It's also served all over India and abroad in restaurants, chaat centers and also made in many Indian households.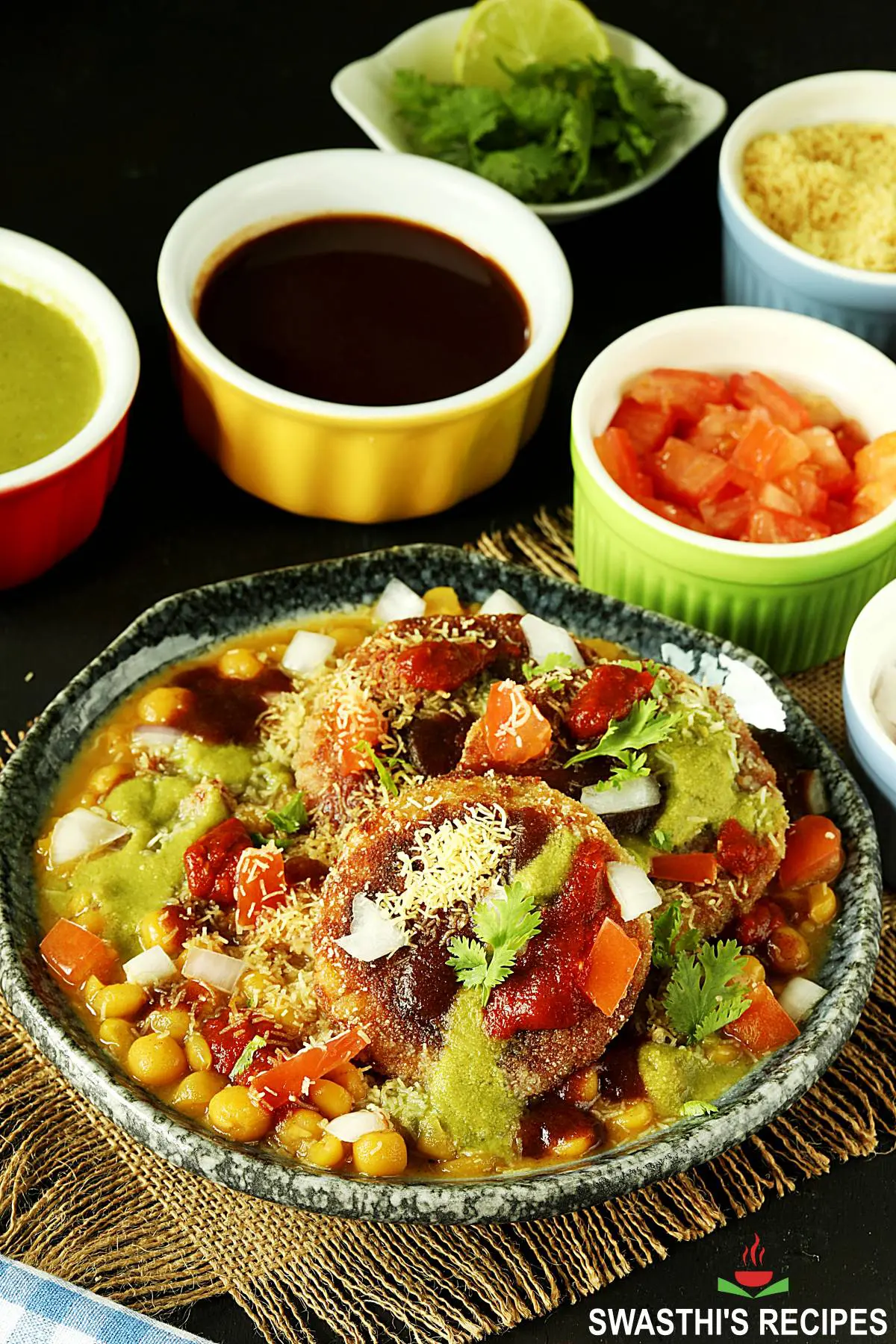 Learn how to make Ragda Patties at home with my one pot pressure cooker Ragda and crisp potato patties, with options to bake and air fry. If you are new to Indian street foods & wondering what is it, here you go!
About Ragda Patties
Ragda Patties is a famous Mumbai Street food where a gravy made with white peas is served over crisp potato pattice. Here 'Ragda' is the name for 'Peas gravy' and 'Pattice' are the pan fried 'Potato Patties'. Since they are served together the dish is known as Ragda Patties.
Deliciousness does not end there! This dish is further topped with tri coloured – sweet, spicy and tangy chutneys known as red garlic chutney, Tamarind chutney and green chutney.
Lastly an extremely addictive crunchy topping known as sev is sprinkled along with freshly chopped onions, tomatoes and coriander leaves. Doesn't this sound really addictive?
This is no different from the other chaats and tastes super delicious plus it's healthy as there is no deep frying involved. Ragda is similar to the North Indian Chole tikki and Bangalore Masala Puri Chaat but here we use dried white peas for ragda whereas to make masala puri, green peas are used.
My Recipe
In this post I have shared the easiest way to make delicious ragda patties & lots of tips to make all the chutneys. Ragda patties is good to serve for a brunch, lunch or Snack. Making this is a 2 step process & can be made simultaneously to save time. Firstly a gravy made of white peas is prepared and secondly potato pattice are made.
I made the Ragda, boiled the potatoes for pattice, made the tamarind chutney all at one time in the pressure cooker. This saves a lot of time if you want to make the entire dish from scratch.
For this post, I have used the Instant pot, but you can also make it in a traditional cooker following my instructions below.
Prepare Chutneys for Ragda Patties
While the ragda pressure cooks, make the green and red chutneys. You can also make this ahead or use store bought chutney. Please follow the links below for the ingredients to make the chutneys.
Green Chutney or Coriander Chutney. (I used only a little mint so mine is lighter in color here).
Red Garlic Chutney: This special chutney totally elevates the flavors of ragda patties. It only takes about 10 mins to make this but it does make a real difference to the dish. However you may skip if you don't prefer.
Tamarind Chutney: Once the tamarind and dates were soft, I immediately added all of the spice powders to the tamarind pulp and covered it. While frying the potato patties, I mashed it well and passed through a strainer. For detailed steps check the link.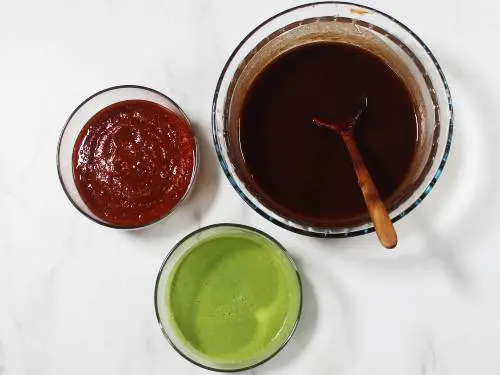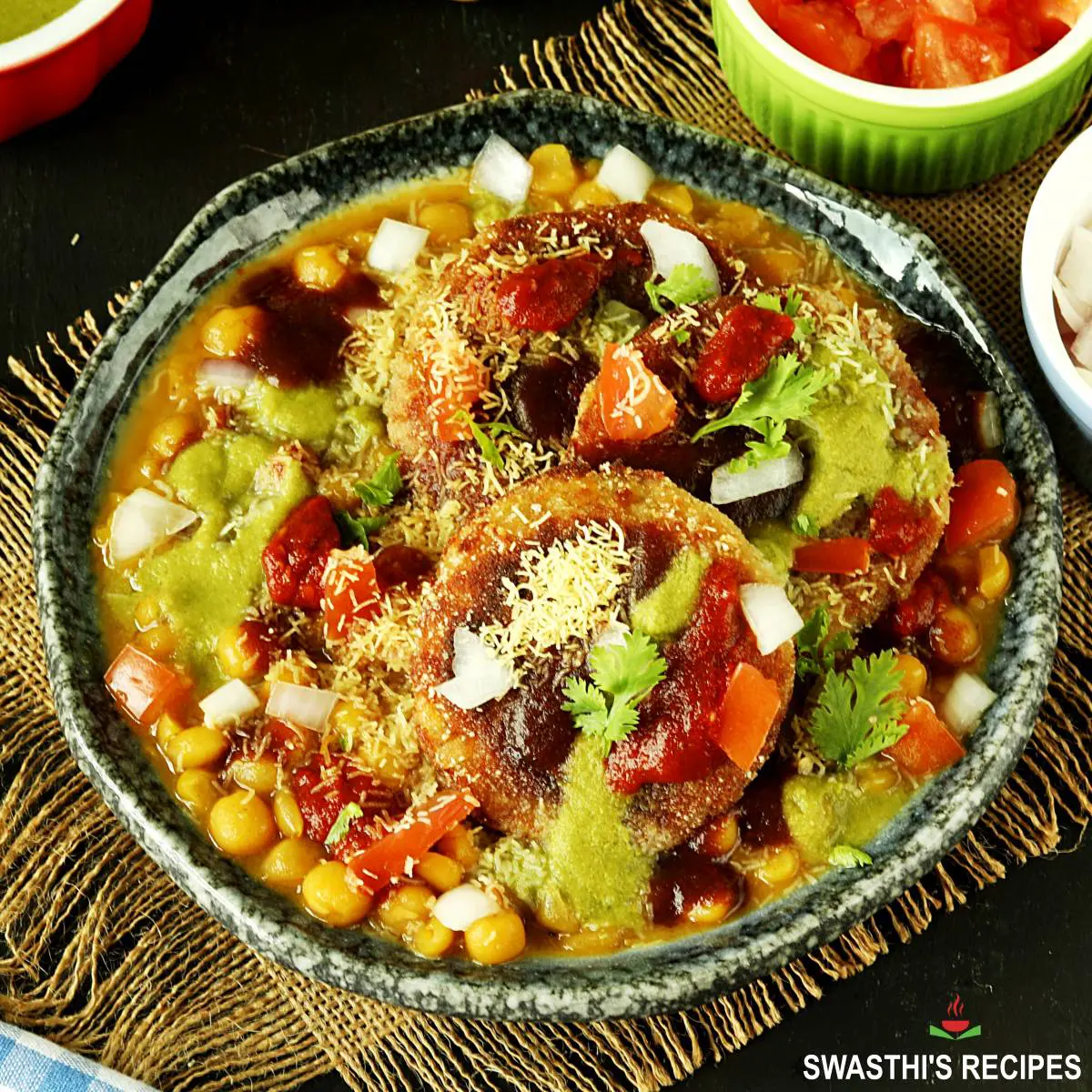 How to make Ragda Patties (Stepwise photos)
Preparation for Ragda
1. Rinse 1 cup white peas well under running water and soak them for 8 hours or overnight. Once done, drain the water and rinse them well. You will see some of the skins loosen you may discard them.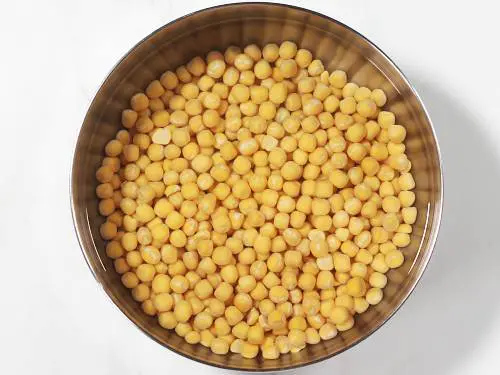 2. Here I have used a Instant pot. But you can also use the traditional Indian cooker. Heat 1½ teaspoons oil in a cooker. When it turns hot, add 1 teaspoon chopped ginger, 1 teaspoon chopped garlic and 1 chopped green chili. Saute until they smell good for about a minute. Then add ⅛ teaspoon hing.
If using Instant pot, press saute button and pour oil. Then saute ginger, garlic and chilies for a minute. Lastly add hing.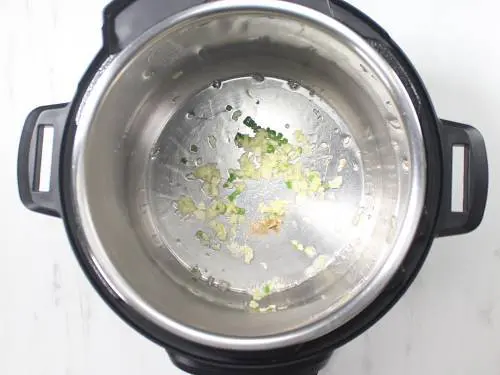 3. Add the drained white peas and add
¼ teaspoon red chilli powder
½ teaspoon salt
¼ to ⅓ teaspoon turmeric
½ to ¾ teaspoon garam masala. Saute everything for a minute.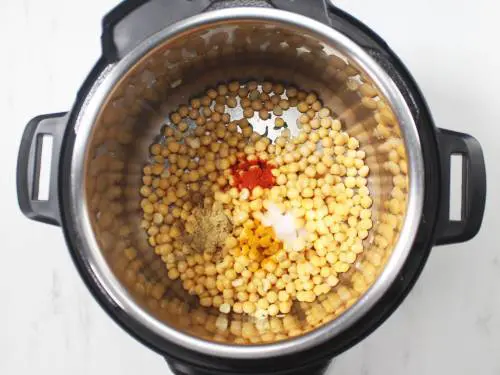 4. Pour 2¾ to 3 cups water and give a good stir. Cover the pressure cooker. For the stove top cooker, pressure cook for 6 whistles on a medium heat. In the Instant pot, I set the timer for 11 mins (high pressure).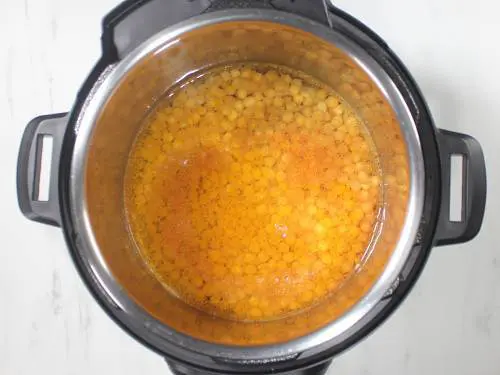 While the ragda cooks, also boil 500 grams potatoes and make chutneys.
Make Sweet Chutney
5. If you have the tamarind chutney, you may skip this step. To a bowl or pot, add tamarind, dates, jaggery & red chilli powder. Boil all of these with water until soft. For the quantities, check my tamarind chutney post. I made the chutney the same time, by placing the bowl in the Instant pot.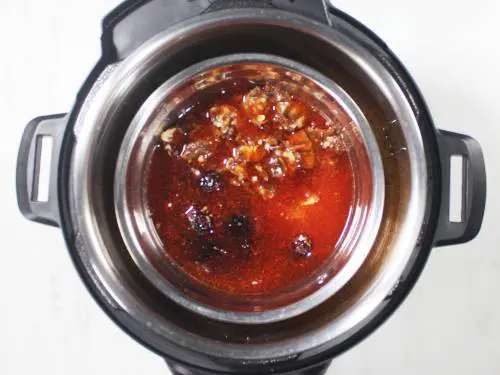 6. Boil the potatoes until just done without making them too mushy. I pressure cooked the potatoes too at the same time in the Instant pot. To boil them in a pot, cover the potatoes with water and boil them just until fork tender. Alternately you may pressure cook them for 4 to 6 whistles depending on the size.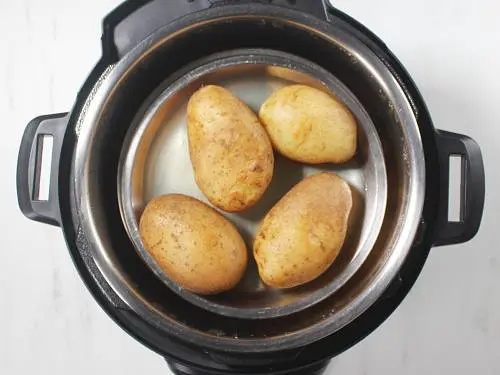 7. When the pressure releases, open the lid. Press down a pea to check, it should be soft and get mashed easily. If they are still al dente then pressure cook for a little longer. Take 3 to 4 tbsps of the cooked peas to a bowl and mash them very well to make the curry thicker. Add it back to the cooker along with 1 tablespoon tamarind & 1 tablespoon jaggery (or 2 tbsps sweet tamarind chutney). Taste test and add more salt or garam masala if needed. Simmer for 3 to 4 mins to bring out the flavors of garam masala. Ragda is ready.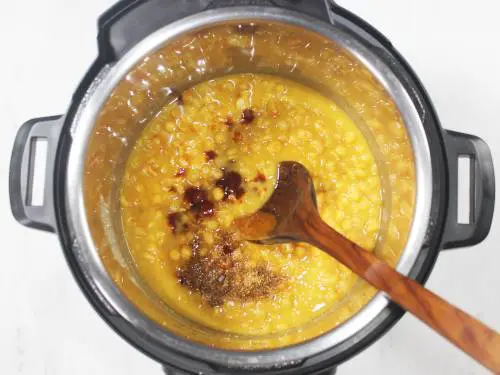 Make Patties
8. Peel the boiled potatoes while still hot or warm. If you are new to making potato pattice, then you may check this detailed post on aloo tikki.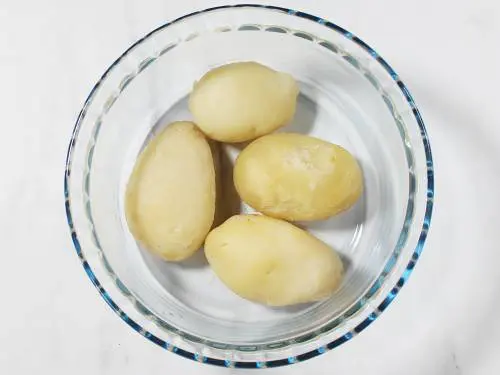 9. Mash them well and cool completely. Add
1 teaspoon chaat masala (or garam masala)
½ teaspoon salt
1 to 2 chopped green chilies
1 tbsp chopped coriander leaves.
Also add 4 to 6 tbsps of bread crumbs or powdered poha to the mashed potatoes. To make the powder, add half cup poha to a grinder/ chutney jar and make a fine powder. Set aside 2 tbsps of it if you want your pattice to be crisp. Add the rest to the mashed potatoes.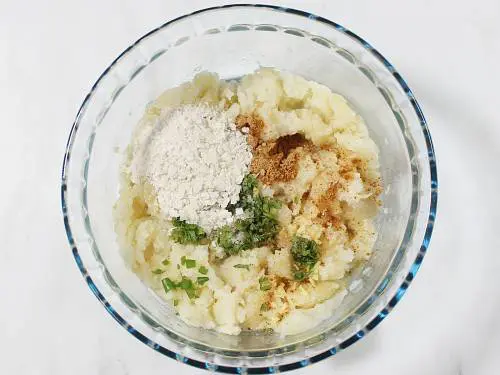 10. Mix together to make a non-sticky dough. If it is still sticky then add more poha powder or bread crumbs. Taste test and add more salt if needed. Divide the potato mixture to 8 portions. Flatten and make 8 patties.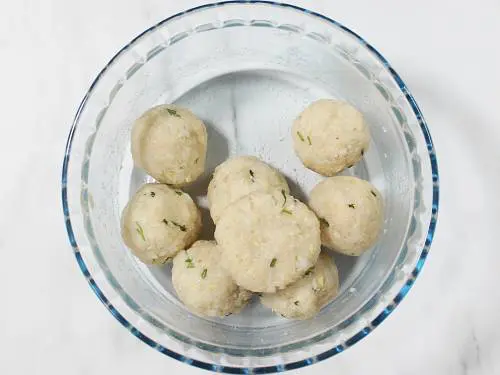 11. For a crisp texture, I rolled my patties in 2 tablespoons poha powder & pressed them slightly. Pour 1 tablespoon oil to a hot non-stick pan & spread it well. When the oil becomes hot, place the patties in the pan and fry them until golden on a medium high flame.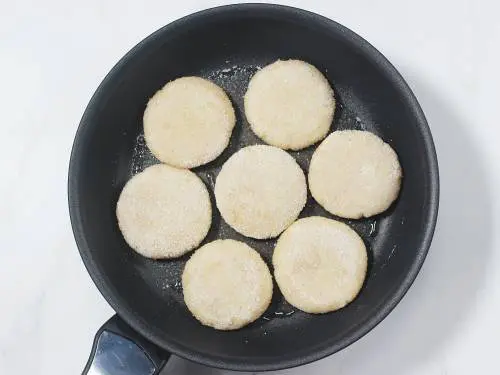 12. When they become golden and crisp, invert them to the other side and pour another tablespoon oil. Spread the oil well and fry them on the other side as well until crisp and golden.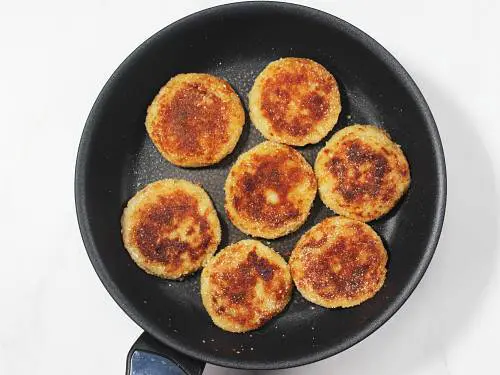 Air Fryer Patties
13. I made these in the air fryer another time with the same recipe. I did not crumb coat the patties here but brushed each one with ¾ teaspoon oil. Air fried them at 180 C (350 F) for 10 mins. Turned them to the other side and then repeated for another 10 minutes. They were crisp and perfectly done. The timings may vary depending on your model/ brand of air fryer.
You can also bake these in the oven by placing them on a baking tray.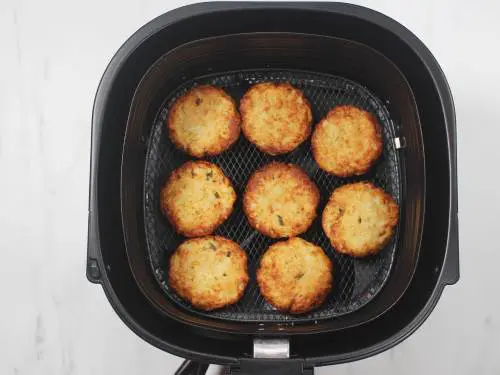 Assemble Ragda Patties
Assemble the dish only when you are ready to eat. Pour 2 ladles of ragda in a serving plate. Add all of the 3 chutneys, as much as you want. Then place 2 pattice. Add more chutneys and then sprinkle sev, chaat masala, tomatoes, onions and coriander leaves. Ragda pattice is ready to serve.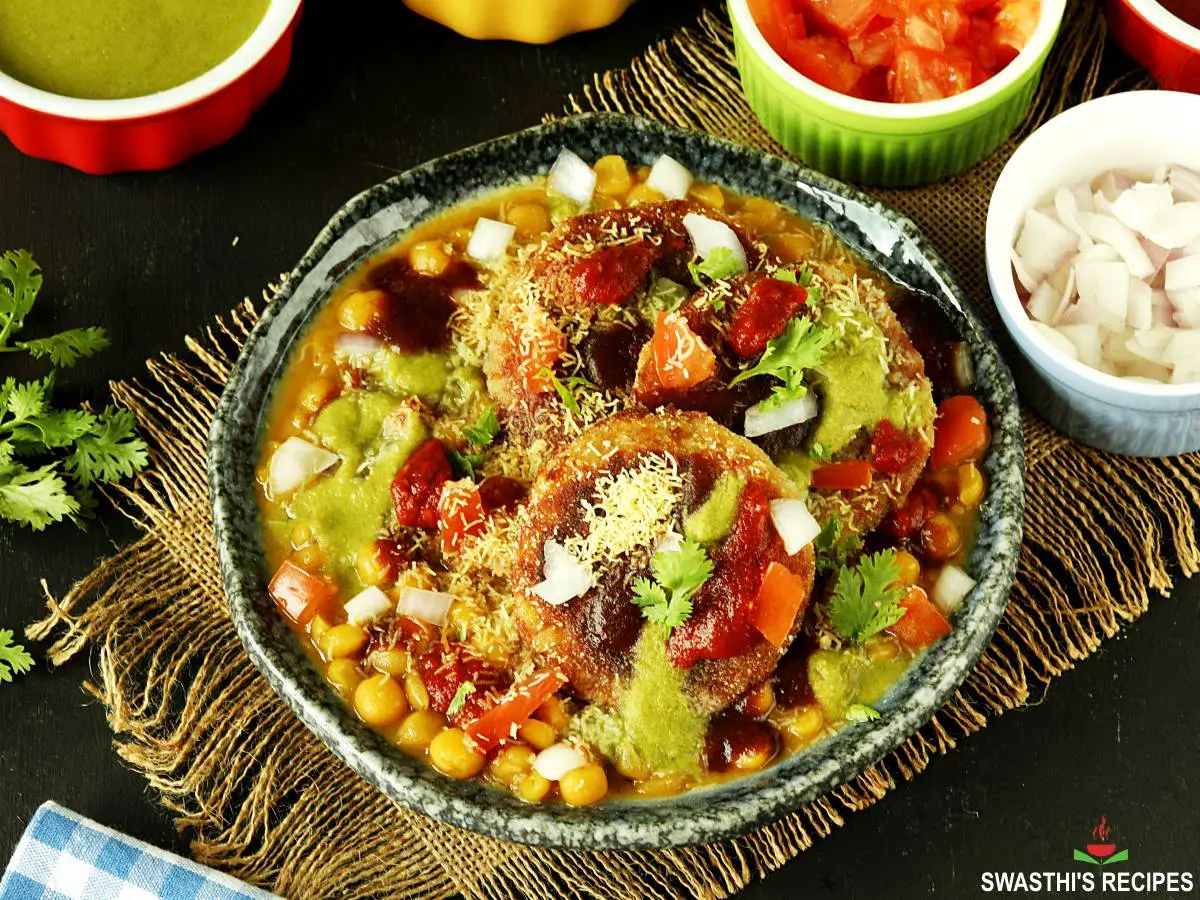 Pro Tips
Soak and cook the peas well to get a thick consistency. The pressure cooker timings mentioned in the post works best for me. However it may vary depending on the size & model of your cooker. So adjust the cook time as needed.
Old peas need longer time to cook. So look for the packaged date when you buy. Avoid buying if they are too old.
If you want your ragda to be like a typical homestyle curry, then pressure cook the peas with just water. Later make the tempering & saute half cup onions followed by ¾ cup tomatoes. Then add cooked peas to this masala & simmer. We like the plain version which I shared in the recipe since the chutneys are good enough to flavor up the ragda patties.
Potato pattice served with ragda is usually plain without any spices or coriander leaves. But we prefer spicing them up. You may skip them to make plain patties.
Substitutes
White peas can be substituted with chickpeas (chana) or even with dried green peas. But the cook time changes.
Tamarind and jaggery used in ragda can be substituted with sweet tamarind chutney.
If you want to reduce potatoes in the pattice, you may substitute half the quantity with mixed vegetables like boiled carrots, peas & sautéed spinach.
Related Recipes
Recipe Card
To make poha powder, add half cup poha to a grinder and make a slightly coarse powder. Set aside 2 tbsps of the powder, if you want to roll the patties in it for extra crisp texture.
For the ragda, you can substitute tamarind and jaggery with some sweet tamarind chutney.
If using Instant pot, you can make ragda, boil tamarind and dates for chutney, cook potatoes all at one time. Check the step-by-step photo instructions for details.
Alternative quantities provided in the recipe card are for 1x only, original recipe.
For best results follow my detailed step-by-step photo instructions and tips above the recipe card.
Nutrition Facts
Ragda Patties Recipe (Ragda Pattice)
Amount Per Serving
Calories 191
Calories from Fat 90
% Daily Value*
Fat 10g15%
Saturated Fat 1g6%
Cholesterol 2mg1%
Sodium 681mg30%
Potassium 327mg9%
Carbohydrates 23g8%
Fiber 5g21%
Sugar 8g9%
Protein 4g8%
Vitamin A 263IU5%
Vitamin C 14mg17%
Calcium 63mg6%
Iron 2mg11%
* Percent Daily Values are based on a 2000 calorie diet.