Misal Pav is as hearty and rustic as you'll find. It's not one simple dish but an amalgam of unique foods. This Misal Pav is almost like a meal prep food but one that brings you a blast of flavors from hot to tangy. This 100-year-old street food with its variations is popular in Maharashtra. Misal Pav is one of the few unadorned street foods that have made the leap from hand carts and factory canteens to fast food joints and fine dine restaurants.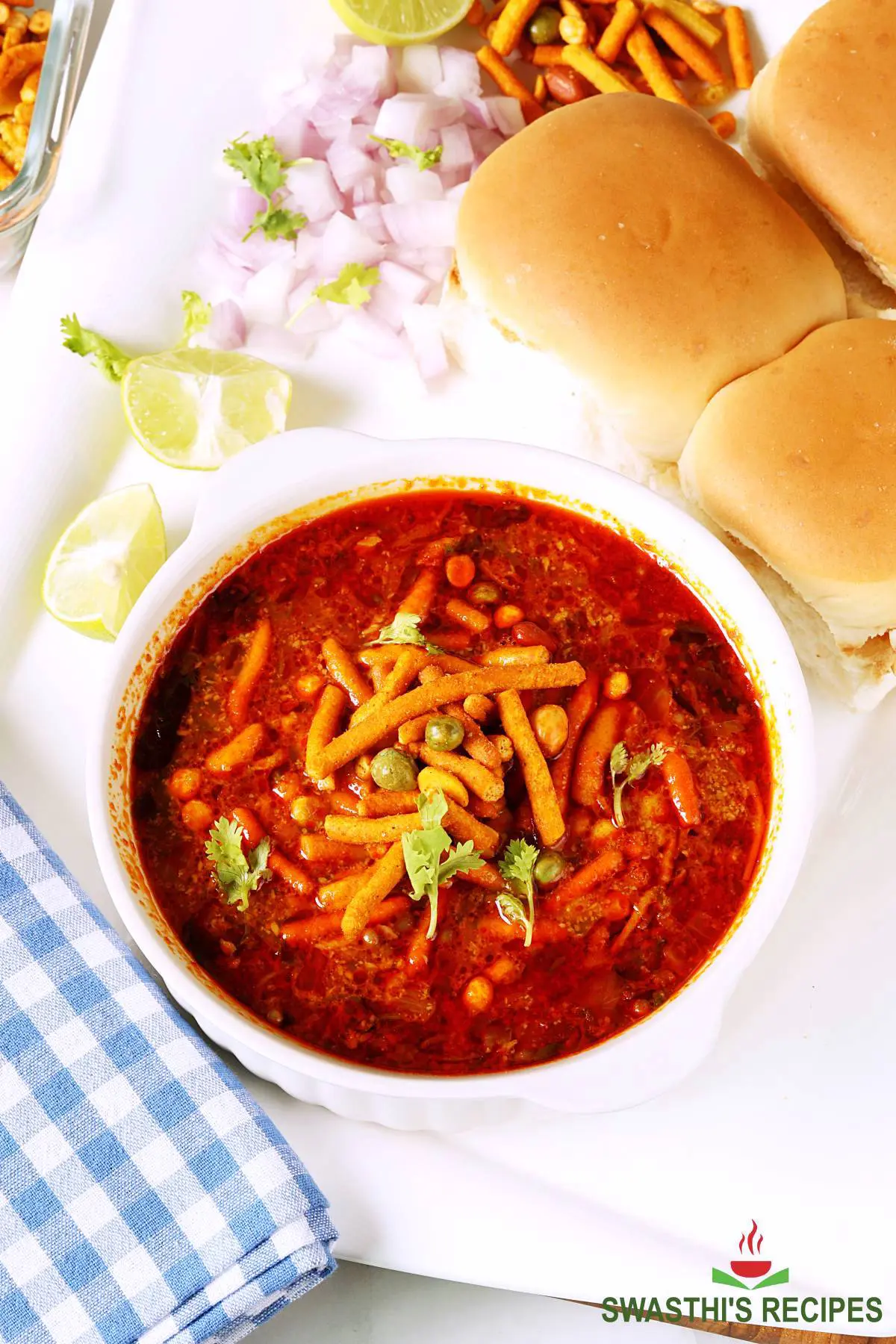 There are Indian restaurants in Singapore, Europe & many other countries that serve authentic versions of misal pav.
Super Spicy! If you asked foodies to describe Kolhapuri cuisine in two words, those are the very words they'd use.
This city in the western Indian state of Maharashtra is famous for many things. But stands out for mouthwatering dishes that take you to food heaven, even as tears stream down your cheeks. You can't stop eating even your nose turns red and runny, and your tongue feels like it's been set on fire.
If spicy, and I mean fiery hot (but not the naga jolokia kind) is your thing, then you'll love this anytime meal recipe.
A tasty, albeit hot way, to get your dose of protein and nutritional spices.
About Misal Pav
Misal pav is a popular Maharashtrian street food consisting of a sprouts curry (usal), topped with onions & farsan, and served with pav, Indian dinner rolls.
Sprouted lentils or moth beans (matki) are simmered with coconut, tomato and spices into a curry gravy (usal). The usal is dunked in just the right amount of chili, onion and spice infused thin gravy (kat or rassa). The crunchy toppings of fried savory (farsan) and onion complete the look and complement the texture and flavor of the dish.
What's the history behind this dish? It probably originated in Nashik 100-150 years ago, as a nourishing and affordable meal for workers. The misal is a good mix of proteins, carbs and fat, an essential energy booster for a hard workday.
And soon found its way into homes and got popular with the masses like many other soul foods around the world. People in cities across Maharashtra have modified the Nashik recipe by introducing new ingredients to suit their tastes.
Kolhapuri Misal –The fiery nature of the dish aside, it's usually served with sliced bread instead of pav. The moth bean curry and red/green gravy are served separately.
Puneri Misal – The mildest of the lot. What separates it from other variants? The use of cooked poha as a base along with usal.
Nashik Misal –The original recipe comes with black or green gravy. What sets it apart from the others? This dish is served with yogurt and fried papad.
Mumbai Misal — You won't find potatoes in this street version whose heat quotient ranges from slightly pungent to very spicy.
Khandeshi Misal — Another spicy version unique for its use of kala masala and black pepper to make a black rassa or gravy.
Nagpuri Misal — Like its Pune cousin, this dish contains poha but as a topping along with grated coconut and farsan.
About this Recipe
While the Kolhapuri misal is not for the faintest of heart, there is the milder Pune version. If you're looking for an easier and quicker recipe, the Mumbai version is the way to go.
My recipe can be modified to suit different heat levels – mid, medium and hot. Serve it with buttered pav or bread slices to create a vibrant weekday meal or school/office lunch.
There are different ways to make kat and usal. An authentic misal pav always has four components – sprouted bean curry(usal), spicy gravy (rassa), crunchy toppings and bread rolls.
But making this takes a bit of time as the usal and the kat/rassa are made separately. Here my recipe shows how to make the easiest yet super delicious and flavorful misal pav without the need to make kat separately.
Ingredients
You want to combine different elements of the dish to transform it into a nourishing, wholesome meal bursting with flavors.
Sprouted lentils — sprouted moth or Turkey beans is the base or soul of the dish. You can make this misal with a combination of moth sprouts and sprouted legumes like green lentils, moong bean, and dry peas. Sprout lentils for 1-3 days before you make this dish.
Spice Mix – kolhapuri masala is the spice mix that gives this dish its fiery taste. Make it at home or use store bought misal masala. Use 2-4 tablespoons of this masala for desired heat levels.
Fresh veggies, aromatics and herbs — tomatoes, onion, ginger, garlic, curry leaves, tamarind, jaggery, mustard seeds, desiccated or dry coconut, and impart a unique flavor to the cury. While I've not added boiled potatoes to this recipe, you can add cubed boiled potatoes to the gravy.
Oil — Use any vegetable oil of your choice. But peanut, sesame and coconut oil add that extra zing to the dish.
Spices – The curry and the gravy use other spices like turmeric, red chili powder, mustard seeds, cumin seeds, curry leaves and asafetida/hing for extra flavor and tempering.
Toppings: Choose from one of the farsan or namkeen mix. Simply top with plain sev, ghatia or chivda. Additional toppings include raw onions and coriander leaves.
Serve options – include pav, dinner rolls, buns or sliced bread.
More Maharashtrian recipes
Vada Pav
Dhokla Recipe
Poha recipe
Masala pav
Pav bhaji

How to make Misal Pav (stepwise photos)
Make Misal Masala or use store bought
For this recipe you can use either store bought or homemade spice powder. I make my own misal masala using various spices shown in the picture. I forgot to show the black cardamoms and didn't have poppy seeds so skipped them. Every home has a different masala. The authentic spice powder even uses nagkesar which I don't use. If you like to try out my homemade masala, scroll down to the misal masala section below.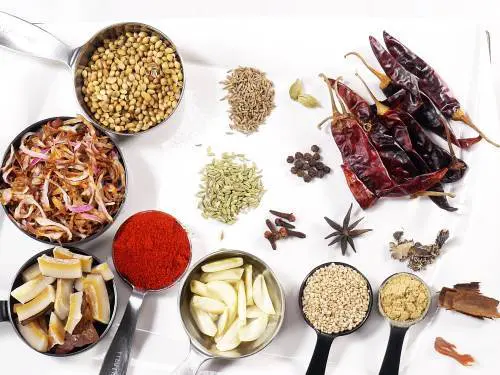 Sprouting
1. For this recipe you will need 2 cups of sprouts (250 grams). You may skip this step if you have them. Rinse and soak half cup matki for at least 8 hours. Drain them completely and add them to a thin moist muslin cloth. Make a tight knot and keep it in a container. Place it in a warm place, depending on the weather conditions they will sprout. Mine sprouted in just 5 hours. You can also sprout peas or any other beans if you don't have matki.
2. Crush together 3 to 4 garlic cloves, 1 inch ginger and 2 tablespoons coconut in a grinder. Keep this aside. Also chop 1 onion (1 cup fine chopped) and 1 large tomato about ¾ cup (deseeded and chopped).
Make Usal
3. Heat 3 to 4 tablespoons oil in a pot and add mustard seeds. When the seeds splutter, add cumin seeds and curry leaves. Sauté until the cumin turns golden brown & curry leaves turn crisp. Then add ⅛ teaspoon hing.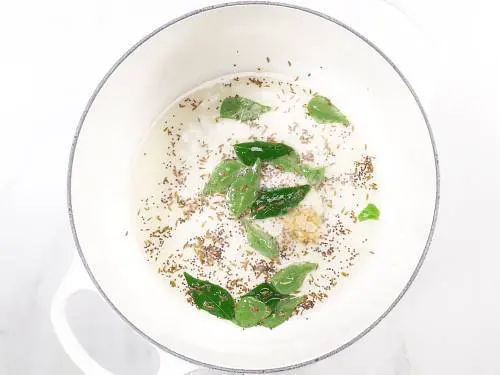 4. Add 1 cup fine chopped onions (1 large onion) and saute them until transparent.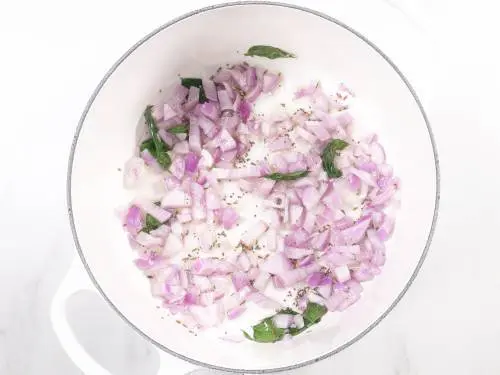 5. Add crushed ginger garlic and coconut. Saute on a medium to low heat until aromatic for about 2 minutes.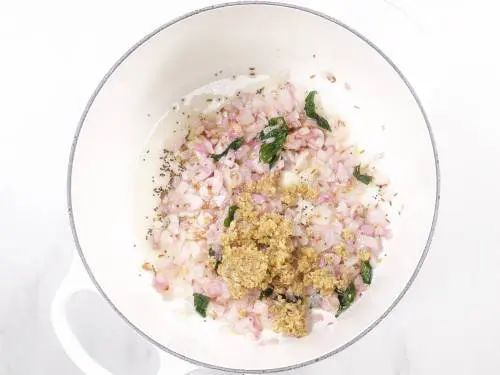 6. Add ¾ cup tomatoes and half tablespoon salt. Saute until tomatoes soften.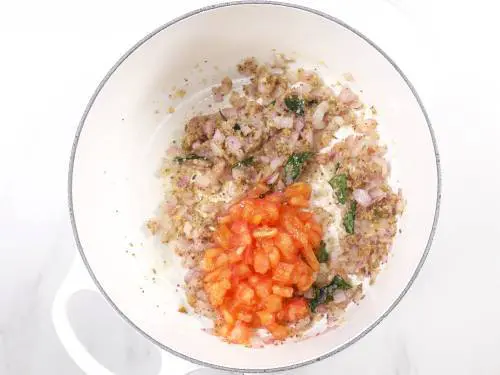 7. Add ¼ teaspoon turmeric, 1 to 1½ teaspoon red chilli powder and 2 to 3 tbsps of misal masala or goda masala. Adjust as needed to suit your spice levels. I used 1½ teaspoon red chilli powder and 5 tbsps of homemade misal masala for an extra spicy version.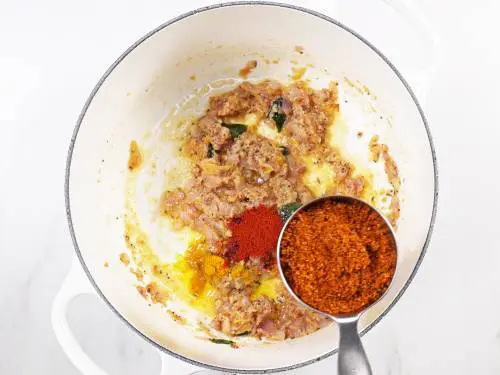 8. Saute for 2 minutes on a low heat until you smell the masala good. Then add 3 tbsps of coriander leaves and saute.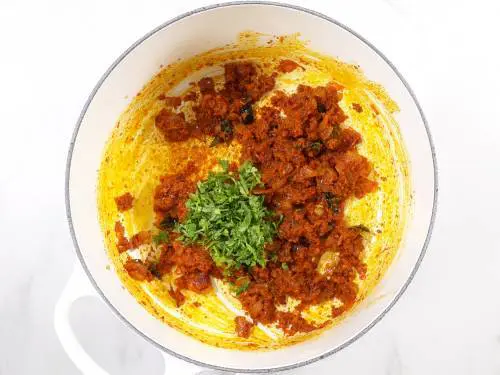 9. Add 2 cups of sprouts (250 grams). Pour 4 to 5 cups of water depending on how much gravy you want. I used 5 cups water. To speed up the cooking you may use hot water. For every tbsps of masala I use 1 cup water. So adjust & match the water and spice powder accordingly to suit your taste.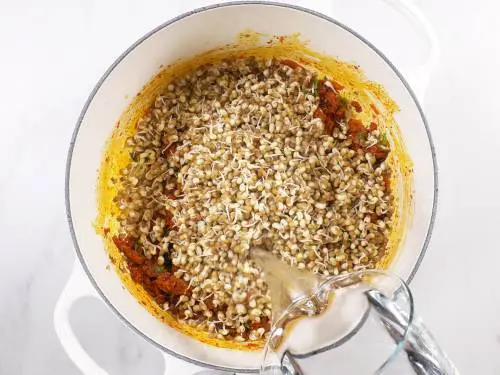 10. Give a good stir and bring it to a rolling boil on a high heat. Then add 1 tsp tamarind paste (optional). If you don't have the paste, soak 1 tbsp tamarind in half cup hot water, squeeze it and then filter it here.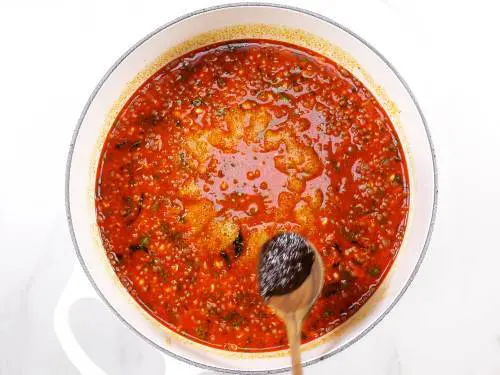 11. Add 1 tbsp jaggery (optional). Once it comes to a rolling boil, reduce the heat and cook until the sprouts turn tender yet remain crunchy. It took me just 7 to 8 minutes. Taste test and adjust at this stage. You may add in more salt or masala at this stage but not red chilli powder.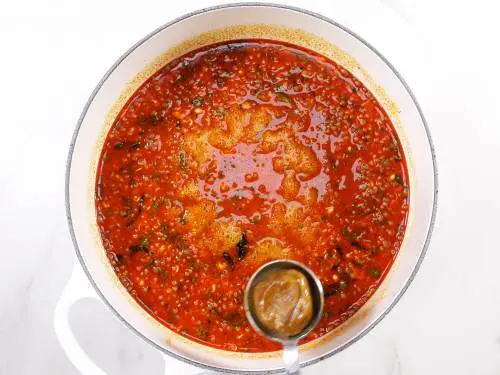 12. Once done, you will see oil floats on top. Turn off the heat.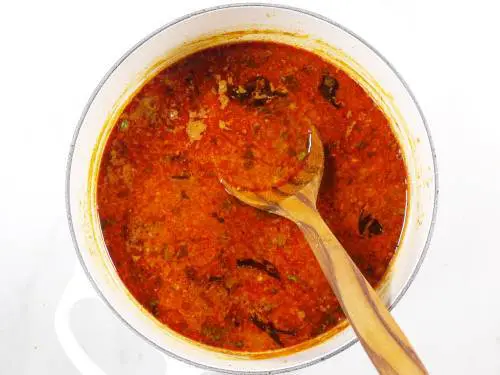 Toast Pav
13. Add 1 tbsp butter to a hot frying pan or griddle and toast the pav for 2-3 minutes, or until golden brown. I go the easier way and do it in the oven as it is faster if you are doing many.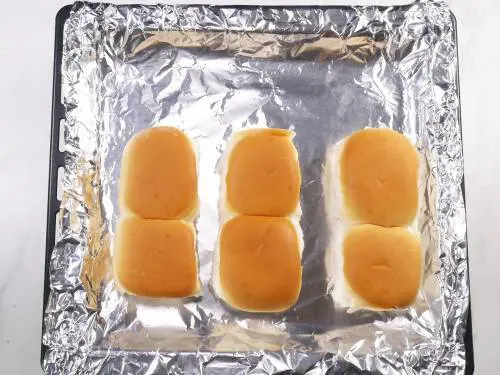 14. I slit the pav and spread soft butter on the them. Toasted in the oven in the center rack for 3 to 4 minutes at 360 F or 180 C. Keep an eye on them as they get browned too fast.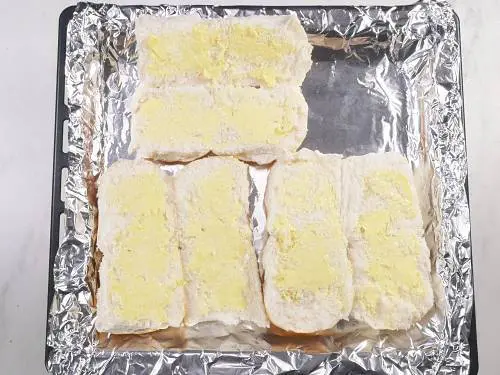 Assemble Misal Pav
Transfer usal to 4 individual serving bowls.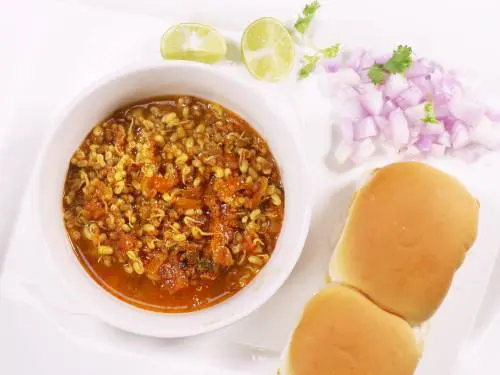 Top with the thin gravy/ ras.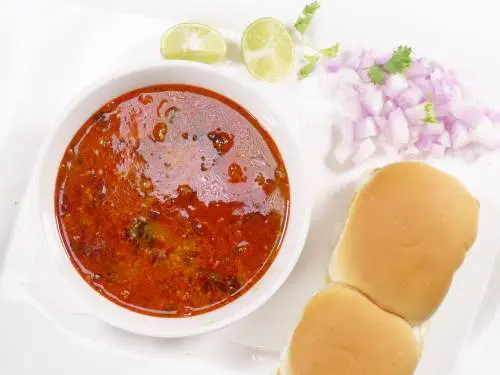 Squeeze in some lemon juice. Garnish with farsan, onions and coriander leaves. Serve misal pav immediately.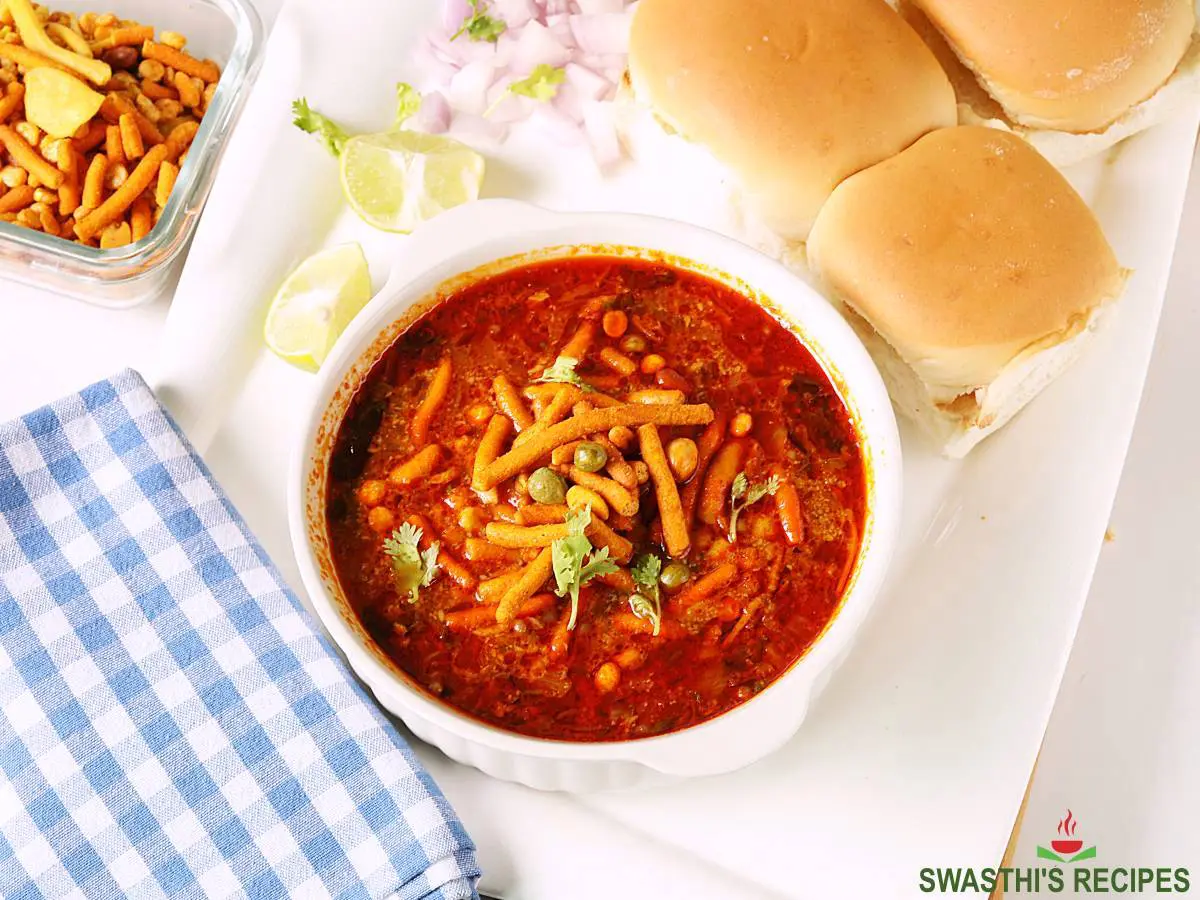 Make Misal Masala Powder
This recipe makes about 15 tablespoons of misal masala. You will be able to make 3x of the usal using this spice powder. If you want to make kat separately then use another 2 to 3 tablespoons for that.
1. Heat a pan on a low heat and add the following
¼ cup chopped dried coconut (35 grams), you may replace with desiccated coconut or unsweetened coconut flakes
2 tablespoons coriander seeds
8 to 10 red chilies (you may use lavangi chillies for extra heat)
6 cloves
1 ½ inch cinnamon (a few layers if using Ceylon cinnamon)
1 black cardamom
3 to 4 green cardamoms
1 strand mace
1 star anise
8 to 10 black pepper
½ tbsp. stone flower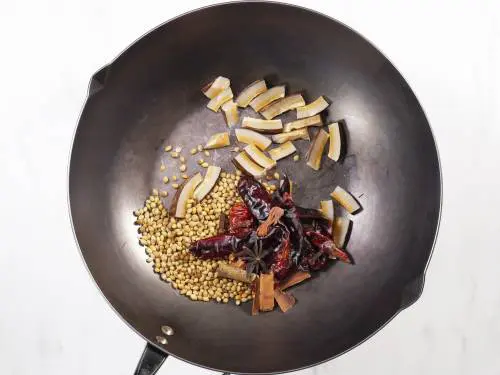 2. Roast all of them for 2 minutes or so until slightly fragrant. Then add 1 teaspoon cumin seeds
and 1 teaspoon fennel seeds. Roast them slightly until they begin to smell good, not too long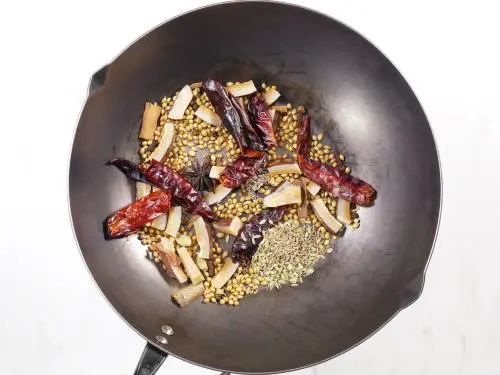 3. Add ½ tablespoon sesame seeds + ½ tbsp. poppy seeds. Please smell and taste them to ensure they have not gone rancid. If you don't have skip them.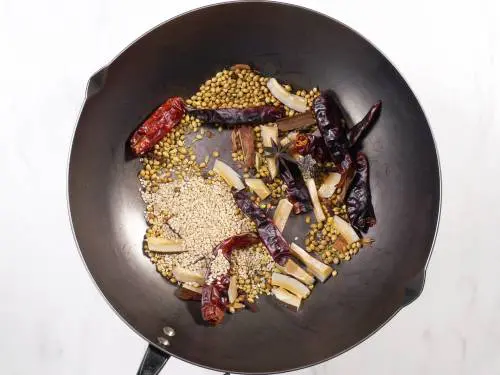 4. Add 3 to 4 garlic cloves (5 grams). Toast them until they turn little dry & warm. Ensure you don't burn any of the spices and the flame is low throughout.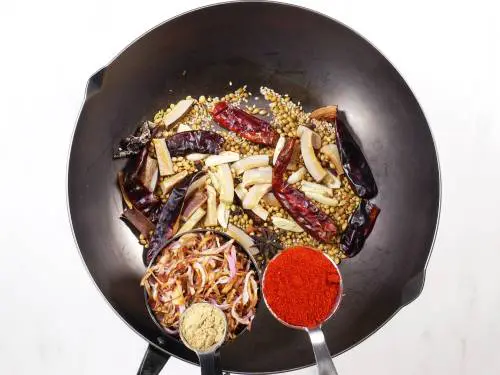 5. Set these aside to cool and Add 1 tbsp oil to the same pan. Heat it and saute the onion slices on a medium heat until golden brown and not burnt. Ensure you slice 1 medium onion thin and even so they fry easily and well. I went the easier way and dehydrated them in the air fryer until crisp, adjusting between high and low settings.
Grind the Spices
6. When all of these cool, grind the spices (not onions and garlic) in intervals of 30 to 40 seconds. Also add the following while you grind
¾ teaspoon ground ginger (dried ginger powder, saunth)
1 to 1 ½ tablespoon red chilli powder (I used Kashmiri for color)
7. Then add the onions and garlic. Grind to a slightly coarse powder. Store this in an air tight jar and refrigerate.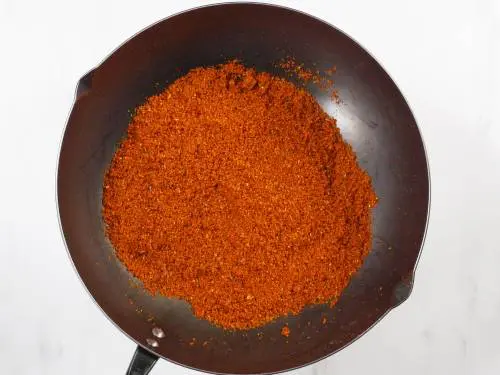 Faqs
What do you eat with misal pav?
This street food is traditionally served with toasted pav (Indian dinner rolls) or sliced white bread. You can enjoy the misal with other breads like burger buns and pita.
Can I store misal pav?
Yes it stores well for about 4-5 days in the fridge. Store it in an airtight container. You can freeze it for 1-2 months without losing flavor. Defrost it and warm in the microwave or stovetop. Add water to thin it out. Store for a quick meal on a busy weekday.
Is the recipe scalable?
Of course! Double or triple the recipe. Make single or double serve. Make a big batch and Reduce or increase the amount of sprouted beans, kolhapuri or misal masala and vegetables. Adjust salt, spices and other add ins. Taste and season.
Is this vegan?
This makes a perfect vegan dish as there is no dairy food in the main recipe.
Can I make it gluten-free?
Definitely. Use gluten free dinner rolls or buns. Check out my serving suggestion for more options.
Old version of the recipe
This is the old version of the misal pav recipe which I shared in Dec 2012. This version is less spicer and is kids' friendly too.
Ingredients
1½ cups matki sprouts or mixed sprouts (or ¾ cup moth beans/matki)
1 cup water to cook matki
1½ tablespoon oil
1 cup finely chopped onions (1 large onion)
½ cup finely chopped tomatoes (1 large tomato)
1 teaspoon ginger garlic paste (or finely chopped)
½ to ¾ teaspoon salt
¼ teaspoon turmeric
½ to ¾ teaspoon red chili powder (adjust to taste)
½ teaspoon garam masala
1 teaspoon goda masala (if you don't have use ½ tsp more garam masala)
½ teaspoon coriander powder (optional)
½ to ¾ cup water or as needed for kat
6 pav buns
Garnishing
¼ cup chopped onions 1 small
2 tablespoons Lemon juice
2 tablespoons Coriander leaves fine chopped
½ cup farsan / thick sev
INSTRUCTIONS
1.Sprouting – Skip this if you have sprouts
Rinse matki well and soak them in enough water for 6 hours. After 6 hours, drain the water and wrap them in a clean cloth or add to a box. Cover well and keep it in a dark warm place for 12 to 24 hours to sprout.
Depending on the temperature they will sprout. If the weather is too hot, sprinkle some water on them when the cloth dries up.
2. Cooking sprouts
Add the matki sprouts to a cooker or pot along with 1 cup water. Cook on a medium heat for 10 minutes. You don't need to wait for the cooker whistle. Idea here is to just cook them partially. If using any other beans other than matki, you may need to cook for longer.
3. How to make misal pav
Heat oil in a pan. Fry onions until golden.
Then add ginger garlic paste & saute until the raw smell goes off.
Add tomatoes, turmeric and salt. Cook until the tomatoes turn completely mushy and soft.
Add chili powder, goda masala, garam masala & coriander powder. Mix and cook until oil begins to separate.
Now add the cooked matki along with the left water. Also add more water as needed to make the kat or tarry. Taste it and add more salt or goda masala if needed.
Cook on a medium heat for 5 minutes till the oil separates.
Transfer misal to serving bowls. Sprinkle lemon juice, onions, coriander leaves and then farsan.
Serve misal pav immediately. Optionally you can also butter the pav and heat them.
Notes
You can use any kind of sprouts to make this.
Adjust the spices as desired.
You can also add a potato to this.
If you do not have goda masala use pav bhaji masala or garam masala. The flavors will be different but good.
Related Recipes
Recipe Card
Sprouting – Skip this if you have sprouts
To make your own misal masala at home, check out the misal masala section in the post.
If you do not have them then add garam masala, coriander powder and red chilli powder. For a better version you can also grind all of these with some sesame seeds. 
Goda masala and misal masala come in different spice levels so it is important to adjust the quantity as needed. 
For every tablespoon of masala I use 1 cup water. Match them accordingly and use.
You can use any kind of sprouts to make this.
Alternative quantities provided in the recipe card are for 1x only, original recipe.
For best results follow my detailed step-by-step photo instructions and tips above the recipe card.
Nutrition Facts
Misal Pav Recipe
Amount Per Serving
Calories 880
Calories from Fat 216
% Daily Value*
Fat 24g37%
Saturated Fat 7g44%
Trans Fat 1g
Cholesterol 15mg5%
Sodium 1441mg63%
Potassium 1821mg52%
Carbohydrates 129g43%
Fiber 6g25%
Sugar 14g16%
Protein 40g80%
Vitamin A 959IU19%
Vitamin C 53mg64%
Calcium 475mg48%
Iron 17mg94%
* Percent Daily Values are based on a 2000 calorie diet.
This Misal Pav recipe post is from the archives. First published in December 2012. Updated and republished in April 2023.