Batata Vada is a popular Snack from the Maharashtrian cuisine. The Marathi & Portuguese word 'Batata' translates to 'Potatoes' and 'Vada' are 'Fritters'. Also known as Aloo Vada, these are spiced potato balls, dipped in gram flour batter and deep fried. These are crisp, flavorsome and super addictive. Batata Vada are also a popular street snack and is eaten as is with Coriander chutney & Chai. Sometimes these are stuffed in a pav (Indian bread) to make Vada Pav, another street food delicacy from Mumbai.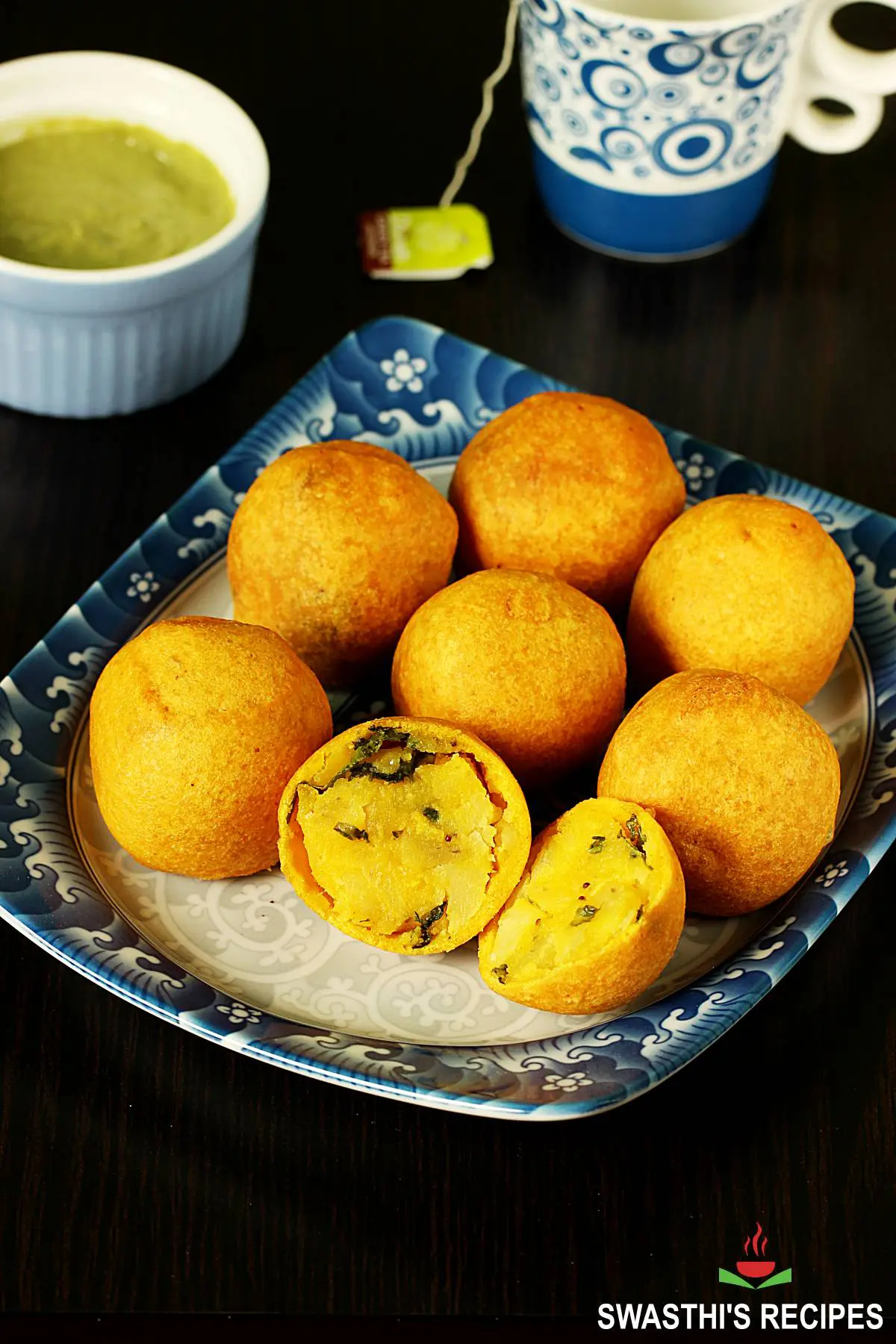 Mumbai is popular for its wide range of street foods, from Sandwiches, Pakoras, Chaats to delicious Kulfis and Faloodas. Batata vada is one such street food that you will find almost everywhere, even in other regions of India. There are also a few different versions of these known as Aloo Bonda & veg bonda in Karnataka.
About Batata Vada
Batata vada are easy to make and makes for a great snack. The preparation for this appetizer starts with boiling the potatoes until fork tender. These are mashed and added to a tempering made with spices and herbs. Small portions of this spiced potatoes are shaped to balls.
The second part is to make a thick batter with gram flour, known as besan. These spiced potato balls are dipped in the thick batter and deep fried until crisp and golden. Sounds so good right!
Batata Vada are best served right out of the hot oil. These are good to serve on their own. A cup of Masala chai, or dry garlic chutney, coriander chutney, Green chutney, Mint chutney, Red Garlic Chutney or some fried green chilies also go well.
For convenience you can also make the spiced potatoes ahead and refrigerate. Make the batter and fry them when you are ready to serve. They can be reheated in the oven or air fryer until crisp.
For more Potato Recipes, you can check
Aloo Bread Pakora
Bread Rolls
Aloo Samosa
Aloo Sandwich
How to make Batata Vada (Stepwise Photos)
Prepare the Filling
1. Boil 3 medium potatoes until just cooked or fork tender but not mushy. You can cook either in a pot or cooker. I cooked them in pressure cooker for 2 whistles with some water. Once done cool them and crumble. You will need about 2 ¼ cups crumbled potatoes for this recipe.
2. Make a fine paste of ¾ inch ginger, 2 to 2 garlic cloves and 2 to 3 green chillies.
3. Heat 1 tablespoon oil in a pan. Add ¼ to ½ tsp mustard seeds.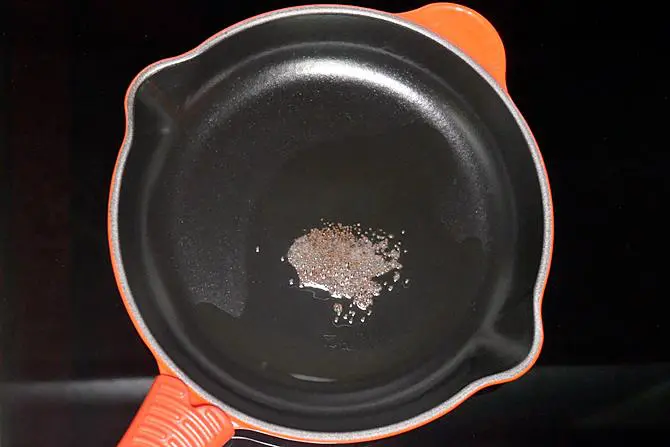 4. When they begin to pop, add 1 sprig curry leaves and fry until crisp.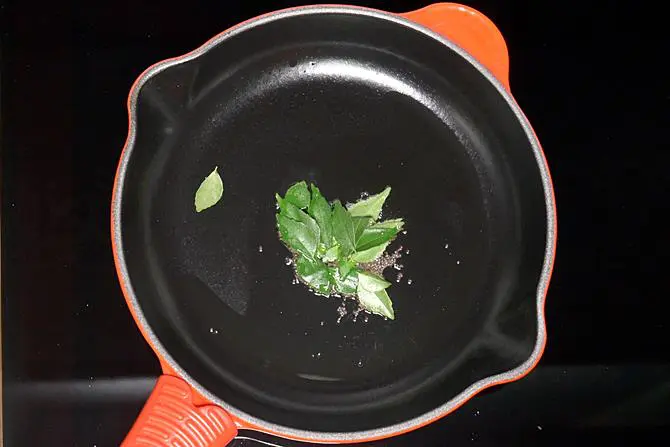 5. Add ginger garlic and green chilli paste. Saute until a nice aroma comes out. This may get burnt very quickly so regulate flame to medium or low.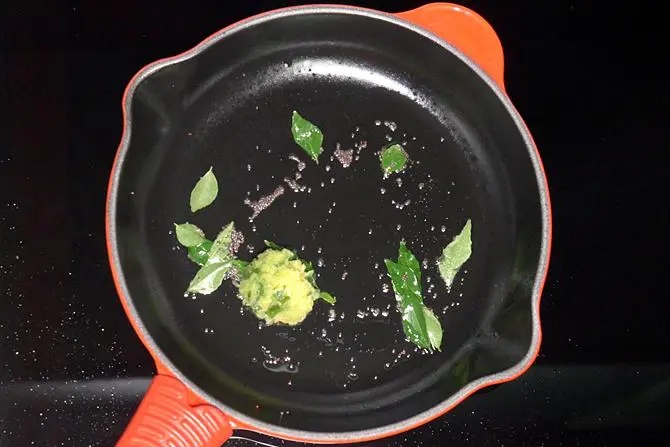 6. Add ¼ teaspoon turmeric, 1 pinch hing, ⅛ teaspoon red chili powder and ⅓ teaspoon salt.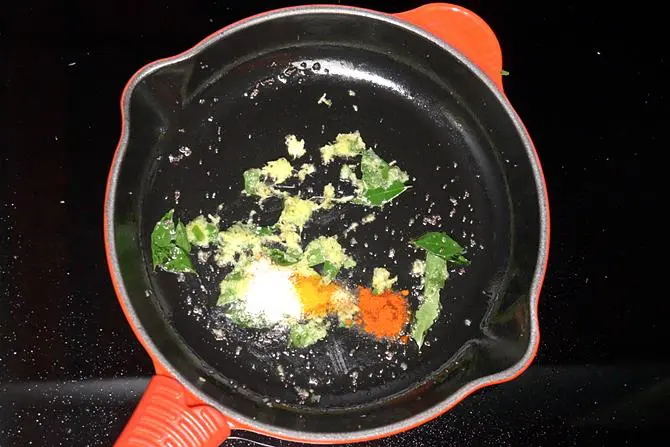 7. Mix everything well.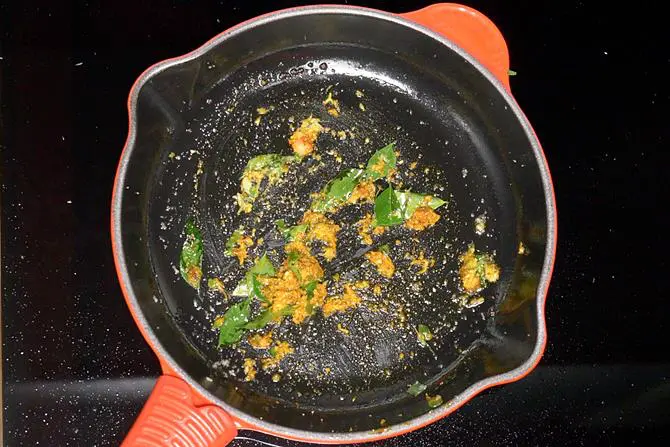 8. Add crumbled potatoes and 2 to 3 tablespoons chopped coriander leaves.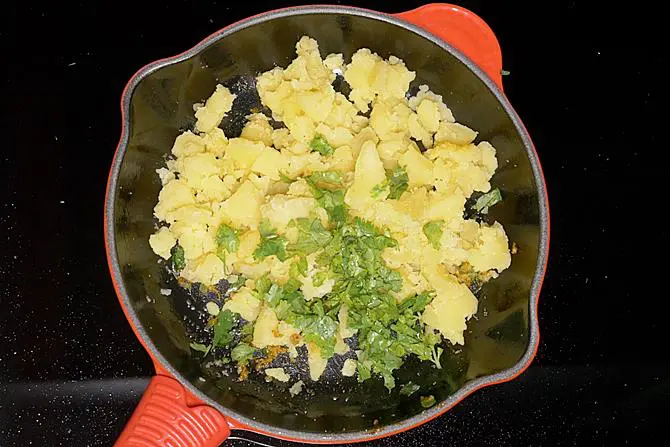 9. Mix everything well. Turn off the stove. Taste test and adjust salt.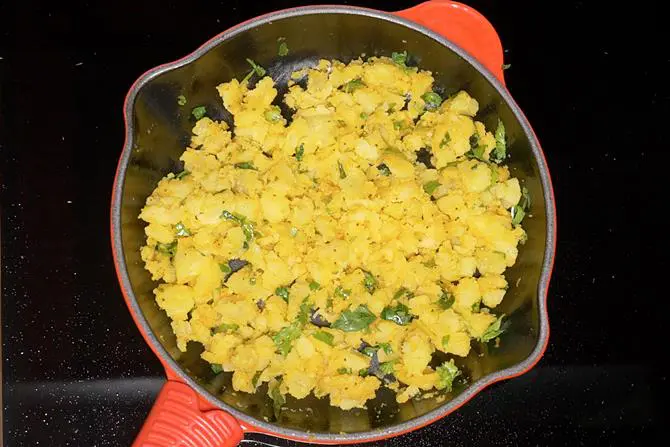 10. Cool this and make 7 to 8 balls.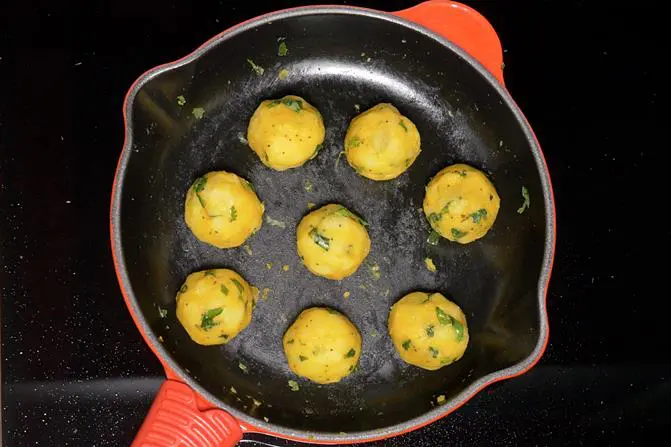 Make batter for Batata Vada
11. To a mixing bowl, add ¾ cup besan, 2 to 3 tablespoons rice flour or cornstarch, ⅓ teaspoon salt, a pinch of hing, 1 pinch of turmeric and ⅛ teaspoon chilli powder.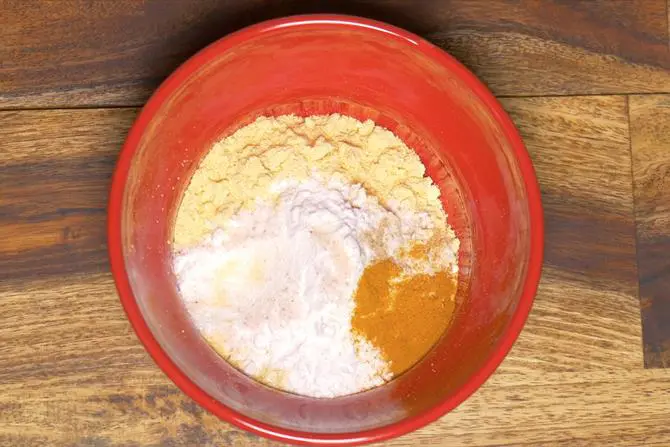 12. Pour ¼ cup water and begin to make a thick batter first, adding more water only as needed. Avoid pouring lot of water at one time as it makes a lot of lumps.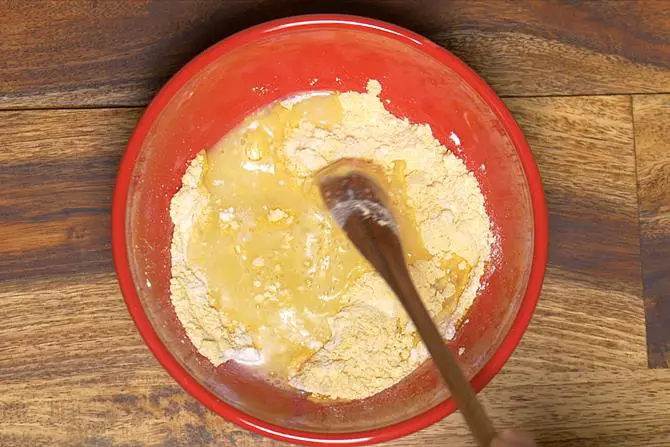 13. This is the consistency of the batter. If the batter is runny, the covering may turn thin or batata vada may break while frying.
15. I have added a small pinch of soda to the batter just before dipping the balls in the batter. This is optional. This gives a light texture to the covering. Add it if using and beat the batter for few seconds.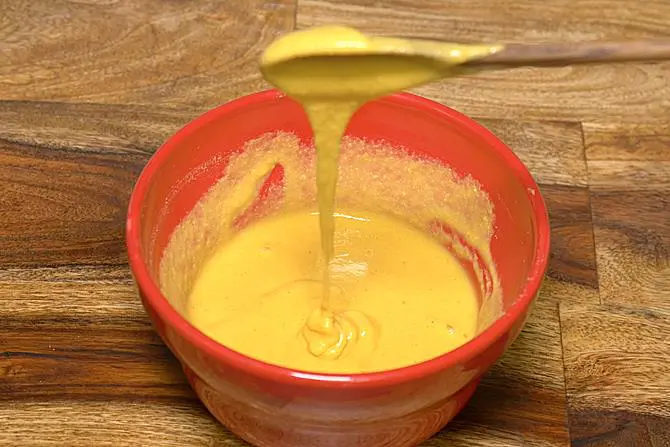 Fry Batata Vada
14. Heat oil in a kadai on a medium heat. Do not use very less oil. Check if the oil is hot enough by dropping a small portion of batter. It has to sizzle and rise to the surface.
16. When the oil is hot enough, drop a ball in the batter. Coat it well with batter.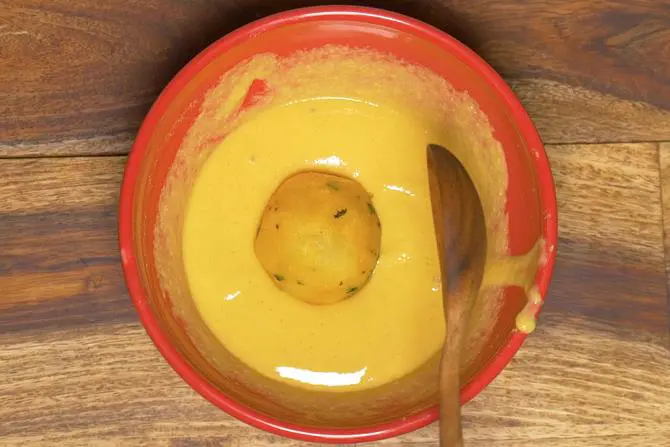 17. Drop in hot oil. I have used a tbsp for this purpsose, you can also use your fingers.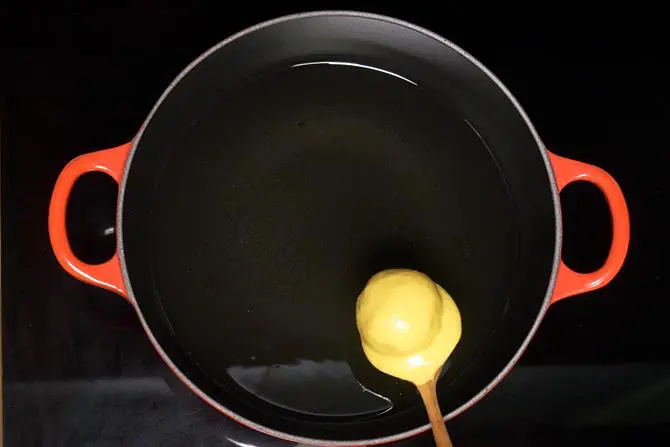 18.Do not disturb them for at least 2 minutes as they can break. Stir them gently and fry on a medium heat.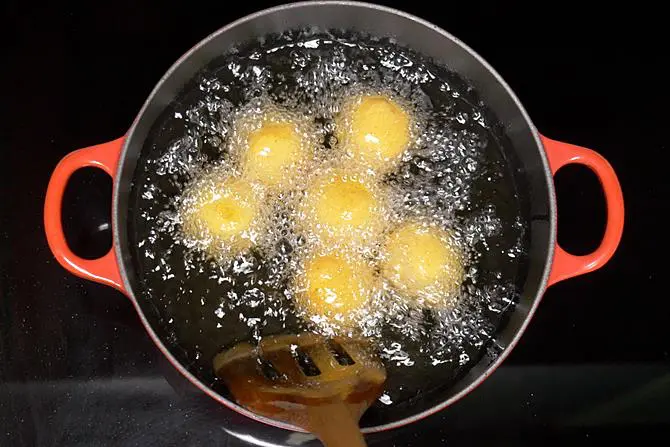 19.When they are crisp fried and deep golden in color, remove to a cooling rack.
Serve batata vada hot with green chutney or flatten it and sandwich in a chutney smeared pav, with some fried green chilies on the side. You can serve these with this Green chutney or coconut chutney.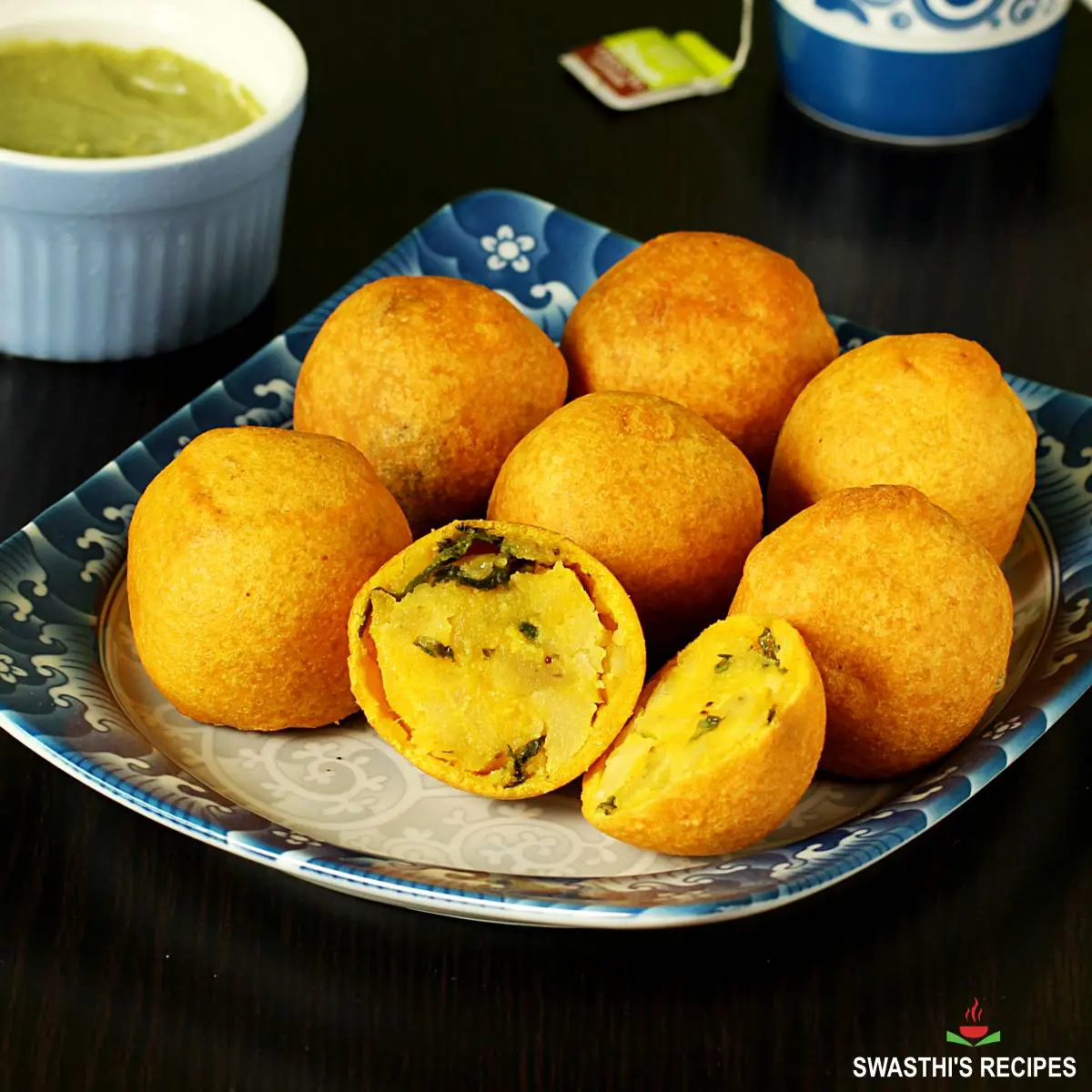 Pro Tips
Potatoes: Avoid boiling potatoes to a very soft texture. The boiled potatoes should be firm and not mushy.
Corn flour or rice flour: Along with besan, corn flour is used to get a crisp texture. If you do not use refined flour, you can substitute corn flour with rice flour.
Consistency of batter: The consistency of the batter is the key to making good batata vada. The mixture should not be too thick or too thin. You can check the video to know more on it.
Soda-bi-carbonate: A tiny pinch of soda-bi-carbonate is used to make the batter light. But you can also skip it. I find no difference in skipping.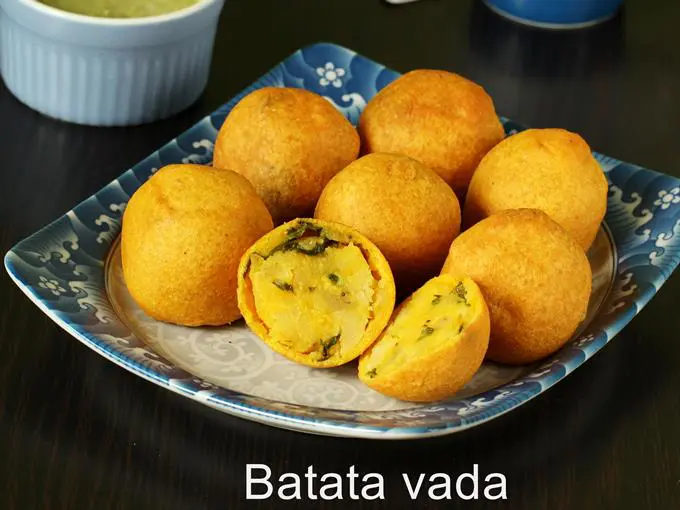 Related Recipes
Recipe Card
If the batter is too thick the batata vada will turn hard.

If the batter is too thin the potato stuffing will come out while frying and mess up the oil. so make the right consistency.
Alternative quantities provided in the recipe card are for 1x only, original recipe.
For best results follow my detailed step-by-step photo instructions and tips above the recipe card.
Nutrition Facts
Batata Vada Recipe (Aloo Vada)
Amount Per Serving
Calories 135
Calories from Fat 27
% Daily Value*
Fat 3g5%
Sodium 64mg3%
Potassium 492mg14%
Carbohydrates 22g7%
Fiber 4g17%
Sugar 1g1%
Protein 5g10%
Vitamin A 50IU1%
Vitamin C 18.7mg23%
Calcium 37mg4%
Iron 3.7mg21%
* Percent Daily Values are based on a 2000 calorie diet.