Enjoy this Paneer Lababdar with Butter Naan, Chapati or steamed Basmati Rice for a comforting and luxurious Indian meal. Made with pantry staples and Indian cottage cheese, this dish is absolutely delicious and surely going to impress your entire family. Paneer Lababdar is one of the many hugely loved paneer dishes from the North Indian restaurants. Creamy, flavorsome, rich and luxurious is what it defines! Make it on the stovetop or in the instant pot with my easy recipe instructions.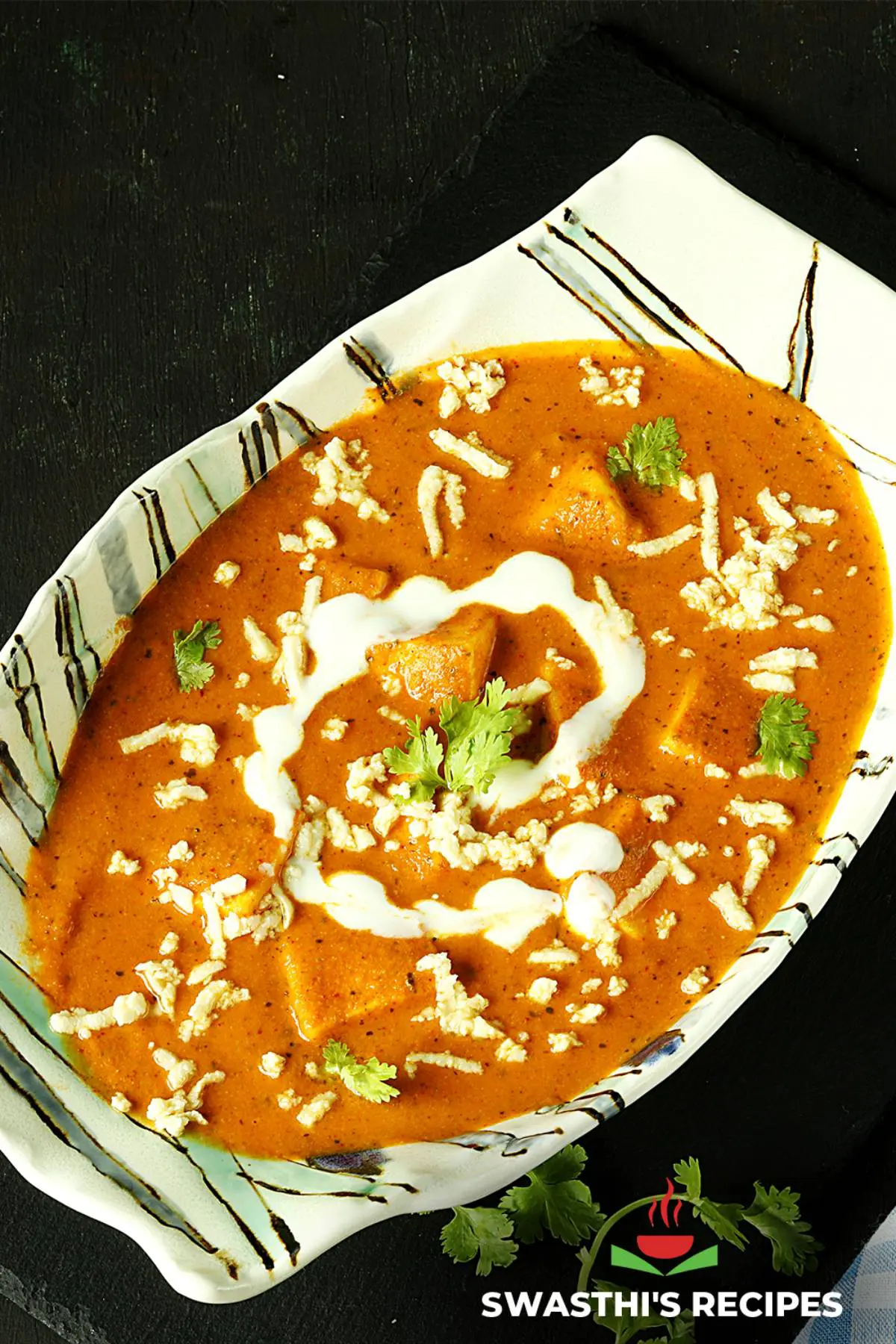 About Paneer Lababdar
Paneer is the Indian name for non-melting Indian cheese and lababdar means a strong desire for something and surrender to it. Probably here it means a desire to indulge in the dish.  So Paneer lababdar is a dish that you will desire to indulge in! A little research helped me figure out this.
There are numerous popular Paneer recipes made in the households and restaurants. Paneer butter masala, paneer makhani, malai kofta are some of them. Paneer lababdar is less popular in the households and is mostly served in North Indian Restaurants.
If you love trying out new dishes, bookmark this for your next meal! It's creamy, spicy, delicious and super flavorful. Above all it is easy to make and does not require much time like the paneer butter masala. This can also be made in the Instant pot.
Paneer lababdar would be a great addition to your weekend menu, parties, celebrations and festive meals. Serve it with plain basmati rice, roti, butter naan, paratha or with any flavored rice like Jeera rice, Ghee rice or Turmeric rice.
You can also make this ahead and reheat either on the stovetop, microwave or in the instant pot.
Paneer Lababdar Vs Butter Masala
Texture of the dish: While paneer lababdar has a slightly chunky gravy due to the addition of chopped onions, paneer butter masala has a super smooth and silky sauce since the onions are pureed.
Paneer: In lababdar we add paneer in 2 forms – cubed and grated. Grated paneer gives a unique texture to the dish. In butter masala, we add only the paneer cubes.
Red chilies: The use of Kashmiri dried red chilies add a smoky and pungent flavor to the dish without making it very hot. They also impart a nice orange to red color to the gravy.
Whole spices: The use of whole spices like cloves, cardamoms and cinnamon bring in more depth of flavors into the gravy than the regular garam masala. The spice level & flavor is slightly higher in this dish than the paneer butter masala.
More Paneer Recipes
Dhaba Style Paneer Curry
Paneer Butter Masala
Malai Kofta
Matar Paneer
Paneer Tikka Masala
How to make Paneer Lababdar (stepwise photos)
Preparation
1. Pour ½ cup water to a pan or pot. Then add the following ingredients:
2 cups chopped tomatoes (about 350 grams)
4 dried kashmiri red chilies (or any low heat chilies)
14 cashew nuts
2 inch cinnamon stick
4 cloves
4 green cardamoms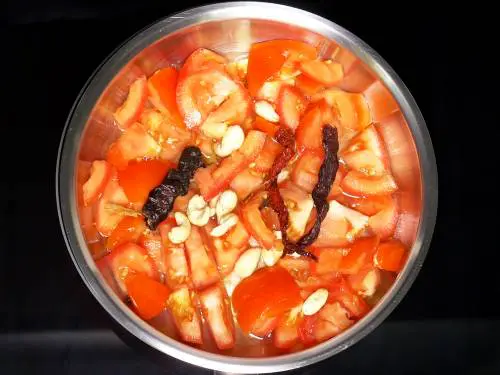 2. Boil until tomatoes turn soft. To quicken process you can also cover and cook. Tomatoes are boiled to add volume to the gravy & spices are boiled to bring out the aroma.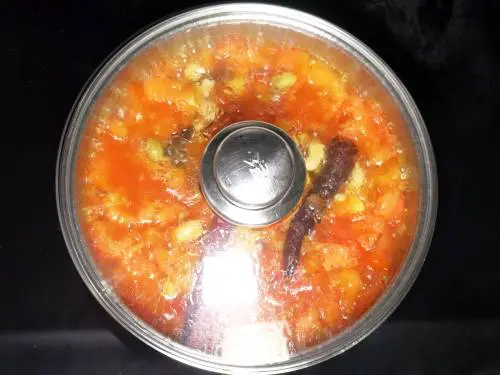 3. Cool this completely. Add them to a blender jar along with the water that is left in the pot.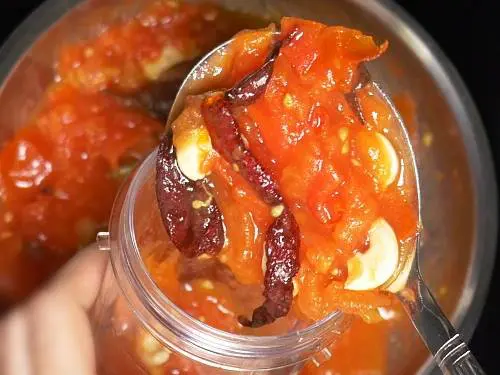 4. Make a smooth puree and set this aside.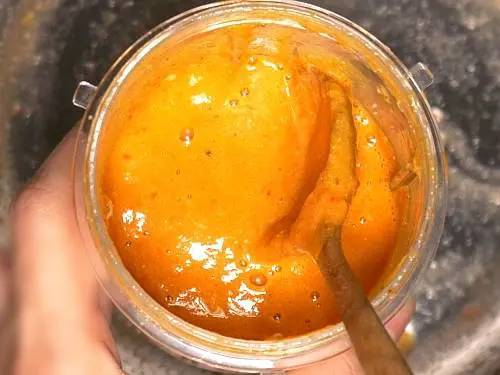 Make Paneer Lababdar Gravy
5. Heat 2 tablespoons oil in a pan. Then add 1 bay leaf. When the leaf begins to sizzle, add ½ cup fine chopped onions.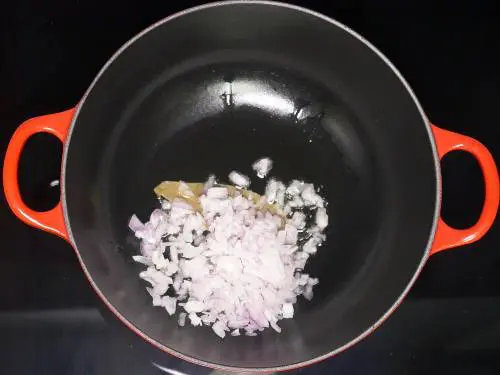 6. Fry until golden. Add 1 tablespoon ginger garlic paste.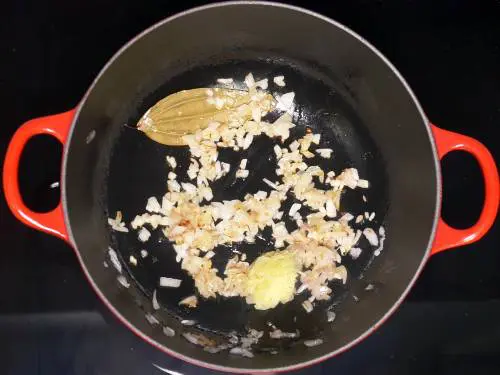 7. Saute till the raw smell goes off. This may take 1 or 2 mins. Ginger garlic tends to get burnt quickly, so be cautious.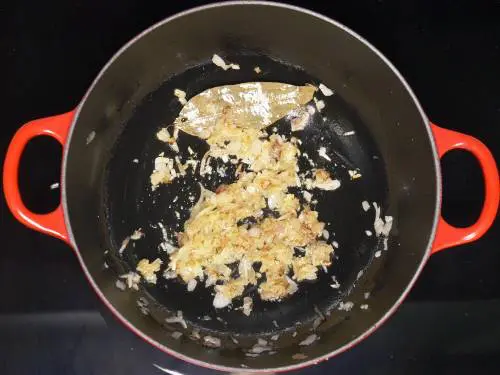 8. Pour the tomato puree to the pan. Add
½ teaspoon red chili powder
1¼ teaspoon coriander powder
½ teaspoon garam masala (I use this garam masala)
½ teaspoon salt.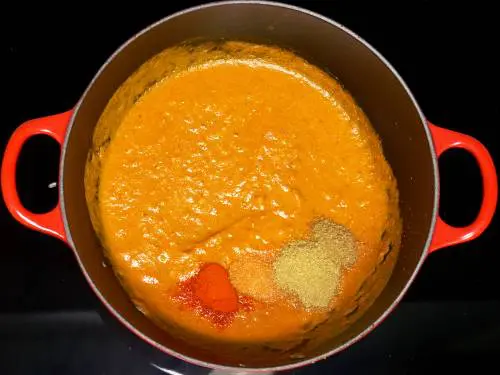 9. Mix everything well and saute for 2 to 3 mins. Cook covered until the gravy thickens slightly.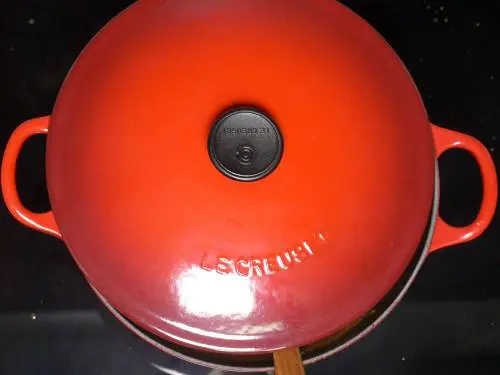 10. Soon the masala will thicken and begins to leave the sides, then pour ¾ to 1 cup water to make the gravy.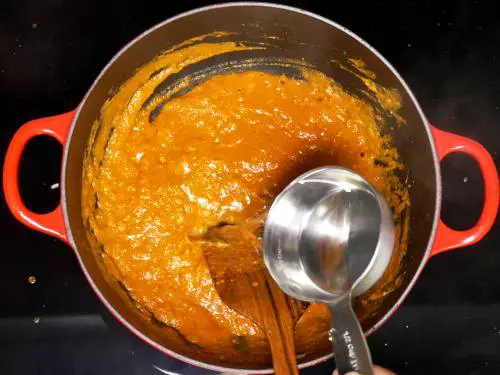 11. Add ¾ teaspoon sugar. Mix well and cook covered until the gravy turns thick. You can also see traces of oil over the gravy. Taste test the gravy and add more salt if needed.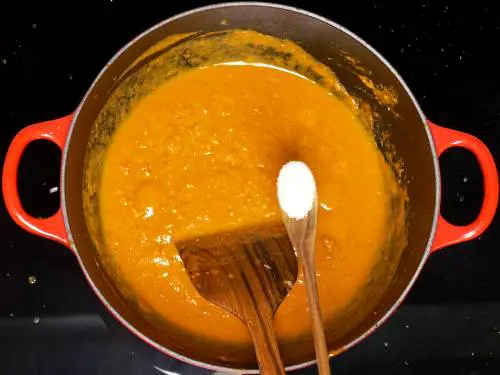 12. Add ¾ to 1 teaspoon kasuri methi (crushed)
1 green chilli (slit)
200 grams cubed paneer
3 to 4 tablespoons grated paneer (you can also add it later)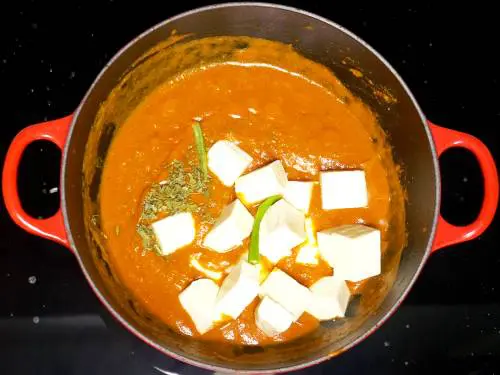 13. Mix well. Cook for 1 to 2 mins on a very low flame. Add grated paneer and pour 2 to 3 tablespoons cream. Mix and turn off the stove.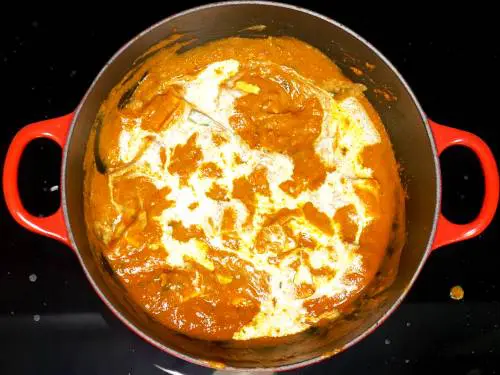 14. Garnish with coriander leaves & more grated paneer. Serve paneer lababdar with rice, butter naan, roti, phulka.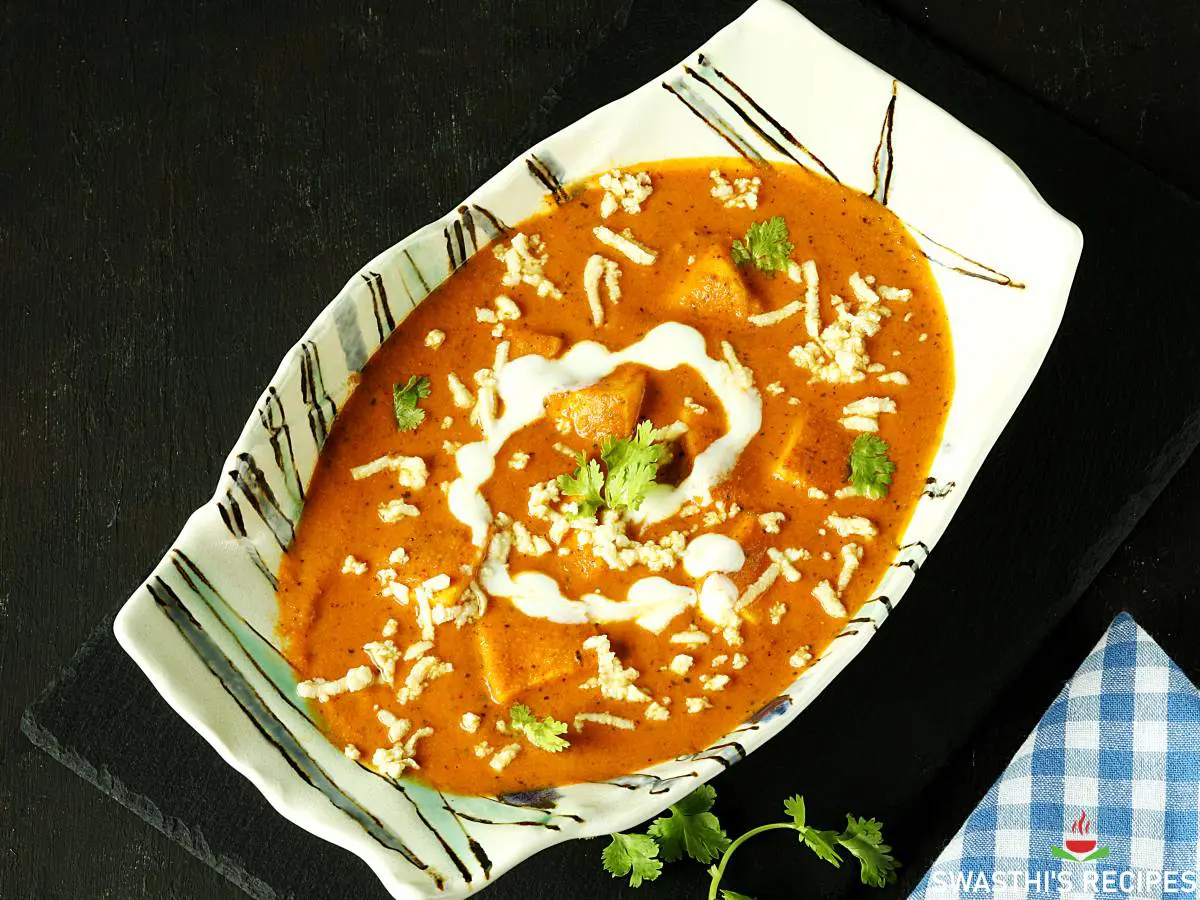 Instant Pot Paneer Lababdar
1. To a grinder jar, add chopped tomatoes, cashews, cinnamon, cloves, red chilies and cardamoms. Blend to a smooth puree without adding water.
2. Press saute button on the Instant pot and Pour oil to the steel insert.
3. Add bay leaf, onions & green chilli. Saute until onions turn golden. Then saute ginger garlic for 30 to 60 seconds.
4. Transfer the pureed ingredients. If your blender is not powerful enough to make a smooth puree, then pass it through a sieve. Be careful at this stage as it splatters.
5. Add salt, sugar & all the spice powders – red chilli powder, garam masala and coriander powder.
6. Saute this stirring often until most of the moisture evaporates and the masala begins to smell good. If the masala begins to stick to the bottom, press cancel button to turn off the heat for a while.
7. Pour 1 ¼ cup water and deglaze the pot well by scrubbing the bottom with a spatula.
8. Secure the Instant pot with the lid and position the steam release valve to sealing.
9. Pressure cook on high for 3 mins. Let pressure release naturally.
10. Once the pressure drops, open the lid and give a good mix. If the curry is runny to your liking then press saute button and cook for 1 to 2 mins to evaporate the excess moisture.
11. Taste test and add more salt at this stage if needed.
12. When the lababdar gravy turns thick, press cancel and add paneer, kasuri methi and cream. Mix well and remove the steel insert from the Instant pot.
13. Sprinkle grated paneer and give a gentle stir. Cover and let rest for 5 mins for the paneer to absorb the flavors.
Garnish with cream and coriander leaves. Serve paneer lababdar with naan or basmati rice.
Faqs
What is lababdar made of?
Basic lababdar curry is made of onions, tomatoes, cashews, whole spices like cardamoms, cloves, cinnamon and cream. To this either chicken or paneer is added.
What is paneer lababdar made of?
Paneer lababdar gravy is made of a spicy cashew tomato paste that is cooked with sautéed onions. It has a perfect balance of sweet, tang and spicy tastes with great flavors of spices & herbs like kasuri methi. Lastly paneer is added to this along with cream.
How to make vegan lababdar?
Simply substitute paneer with tofu, quorn, mixed vegetables or chickpeas. Substitute cream with cashew cream.
What is the difference between paneer lababdar and paneer makhani?
Paneer lababdar always has onions included in it & the gravy has a chunky texture since chopped onions are sautéed and not blended. Whereas the authentic paneer makhani has no onions included in it and the makhani gravy is super silky and smooth.
Paneer lababdar has more robust flavors due to more spices being added to it whereas paneer makhani uses minimum amount of spices. Lababdar uses ghee, butter or oil but makhani gravy is made with only butter.
Related Recipes
Recipe Card
How to make Paneer Lababdar
You can replace paneer with tofu.
To make a no garlic & no onion recipe, just skip them.
Alternative quantities provided in the recipe card are for 1x only, original recipe.
For best results follow my detailed step-by-step photo instructions and tips above the recipe card.
Watch Paneer Lababdar Video
Nutrition Facts
Paneer Lababdar Recipe (Instant Pot and Stovetop)
Amount Per Serving
Calories 367
Calories from Fat 252
% Daily Value*
Fat 28g43%
Saturated Fat 12g75%
Cholesterol 51mg17%
Sodium 524mg23%
Potassium 559mg16%
Carbohydrates 18g6%
Fiber 4g17%
Sugar 8g9%
Protein 12g24%
Vitamin A 1657IU33%
Vitamin C 90mg109%
Calcium 341mg34%
Iron 2mg11%
* Percent Daily Values are based on a 2000 calorie diet.