Tomato Pappu also known as Andhra pappu or Tomato Dal, is a basic lentil dish from Andhra cuisine. An Andhra meal is incomplete without a lentil dish cooked with some veggie, curry leaves & spices. This Tomato Pappu is made very often in Telugu Speaking homes and is eaten with plain rice, ghee and Avakaya (Andhra style hot mango pickle). This is the only recipe you will ever need to make a delicious, rich and healthy Andhra pappu.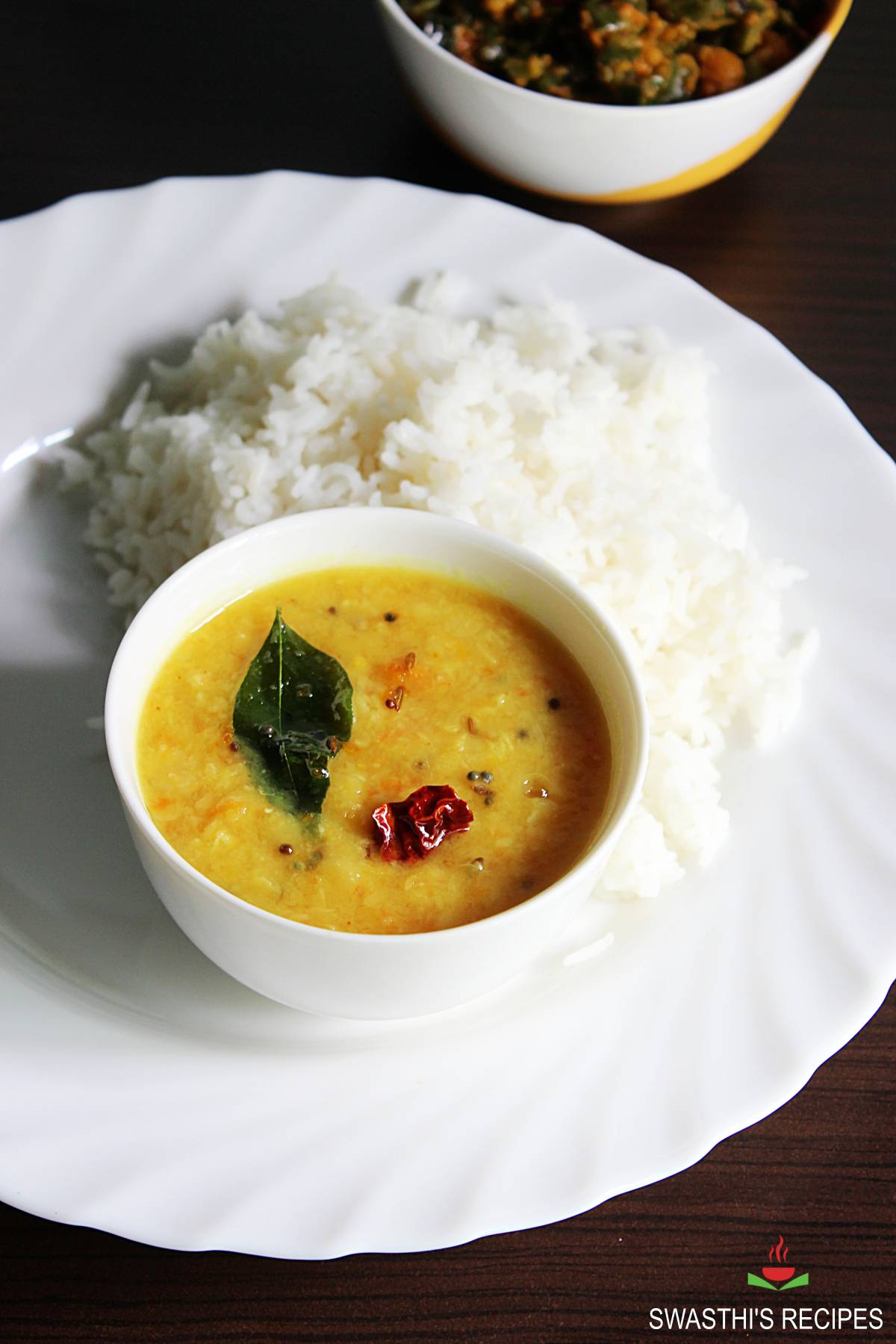 About Tomato Pappu
Tomato Pappu is just dal cooked with lots of tomatoes, spices and herbs in Andhra style. "Pappu" is a Telugu Word that translates to "Dal" (lentils). Andhra tomato pappu is a winner for its simplicity and unique taste. The dish is super simple to make and starts by pressure cooking dal and tomatoes until soft.
Later the cooked tomato pappu is tempered with curry leaves, red chili, mustard seeds, cumin seeds and garlic.
With this basic authentic Andhra Pappu Recipe, you can make tons of variations by adding your favorite veggies or even leafy greens. The recipe I am sharing here is the most common method followed in Telugu speaking homes and even in Andhra restaurants.
If you have ever tasted a pappu from an Authentic Andhra restaurant and loved it then this recipe may help you recreate it.
The key ingredient in a tomato pappu recipe is the tamarind that brings in a unique taste & flavor when it is pressure cooked along with the dal.
Andhra pappu is usually made with only toor dal known as kandi pappu. Feel free to use a small portion of moong dal to enhance the taste. Most times I use it that way.
More Dal recipes
Dal makhani
Dal fry
Chana dal
Masoor dal
Dal palak
How to Make Tomato Pappu (Stepwise Pics)
Pressure cook dal and tomatoes
1. To make tomato pappu you can cook the dal directly in a pressure cooker or cook pot-in-pot in the cooker. If you do not have a cooker you can make this in a sauce pot following my recipe instructions in the recipe card below. If you own a Instant pot, you can cook this in the Instant pot too following the same method.
2. Add ½ cup dal to a bowl or cooker or pot. If you want you may add 2 tablespoons of moong dal too & add more water as required.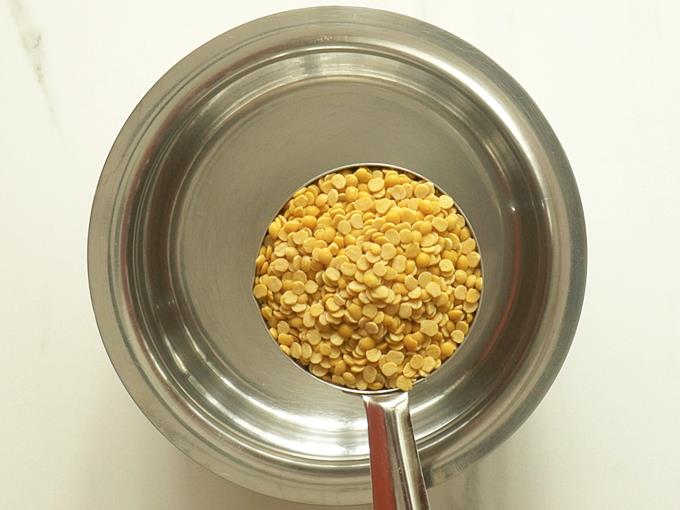 3. Rinse the dal at least thrice until the water runs clear. Drain the water.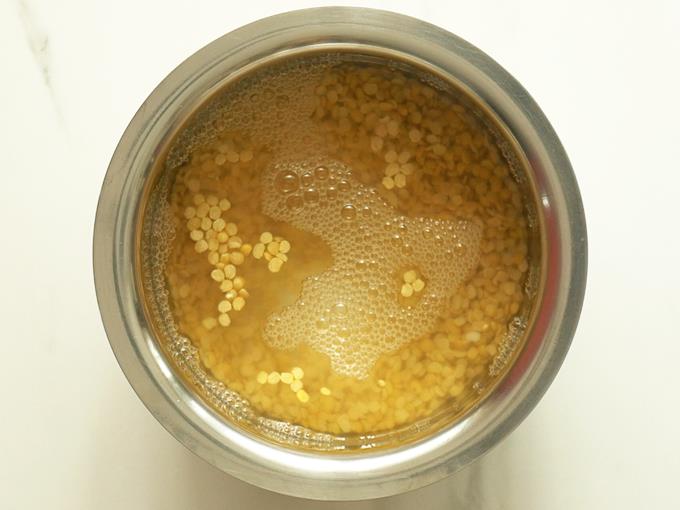 4. Add 1 to 2 green chilies and a small piece of cleaned tamarind. If you want you can also rinse the tamarind first.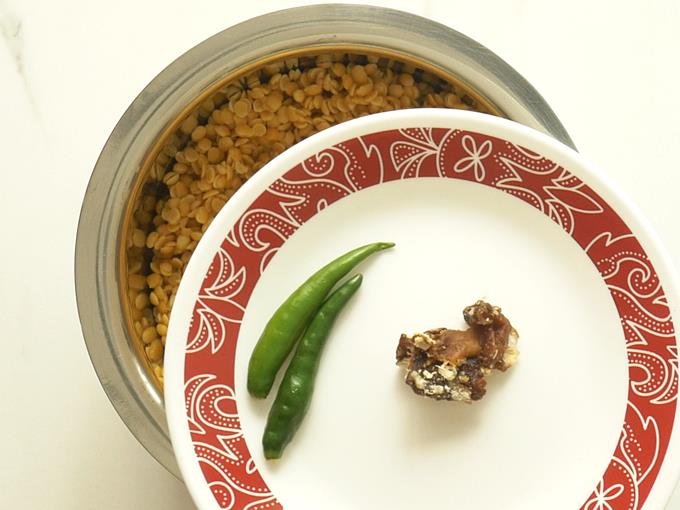 5. Next add 2 chopped tomatoes. I prefer to deseed the tomatoes. Pour 1 cup water and ⅛ teaspoon turmeric. You can also add turmeric later after cooking. A lot of people also add a sliced onion and some red chilli powder. If you want you may add a small sliced onion and 1/4 tsp red chilli powder.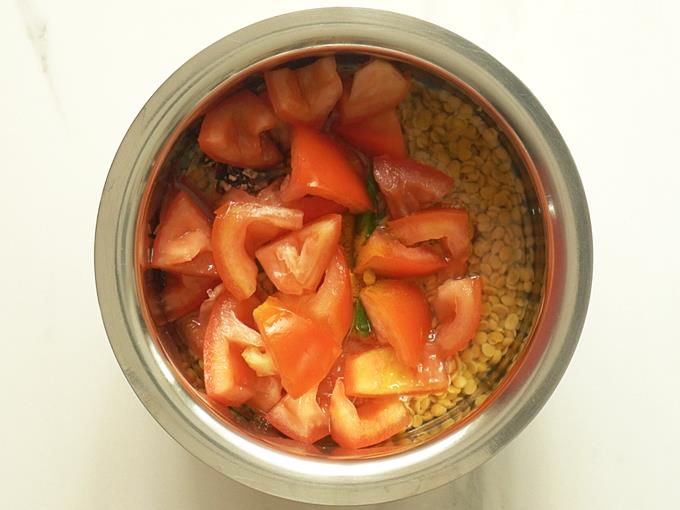 6. Pour water in your cooker. I use about 1 ½ cups water. Place the steam rack or plate.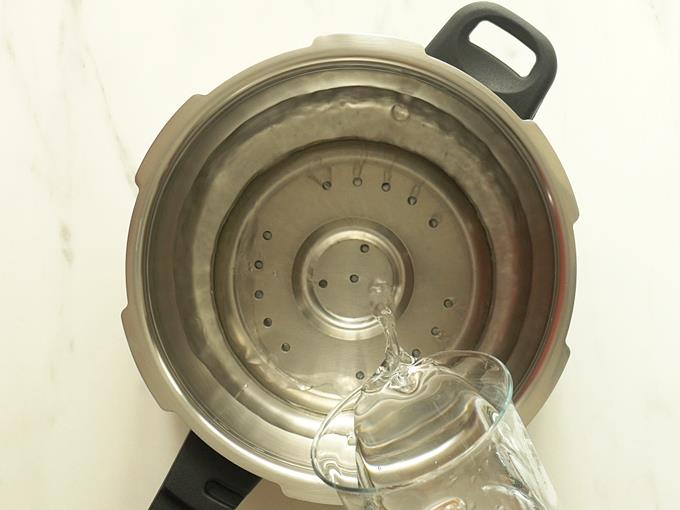 7. Keep the bowl in the cooker.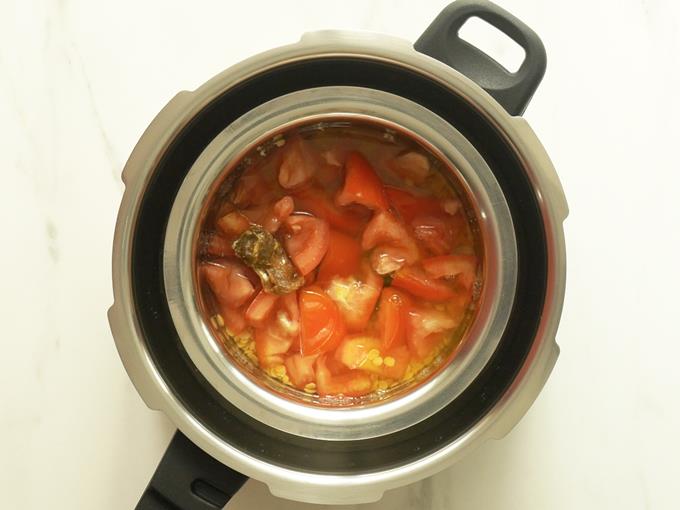 8. Cover the bowl. If you want you can also cook the rice together if you have a large cooker. For this add your rice to another bowl. Rinse well, drain and pour the required amount of water and keep in the cooker, over the dal bowl.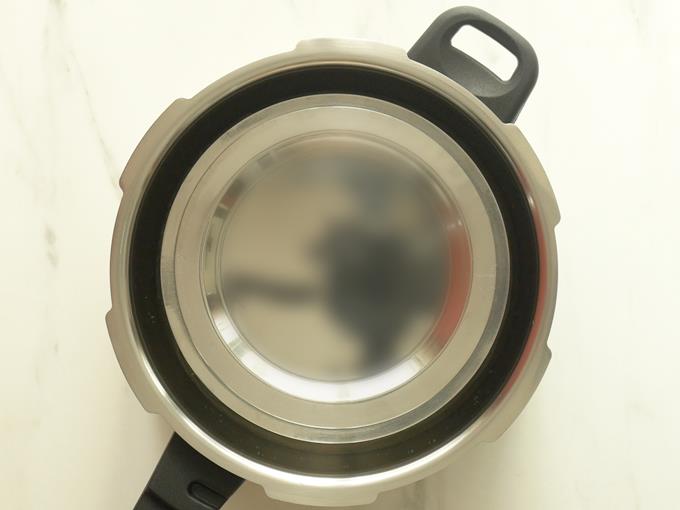 9. Pressure cook for 3 to 5 whistles on a medium heat depending on the kind of cooker. If cooking directly in cooker, then let it whistle twice. If using a Instant pot, set the timer to 10 mins.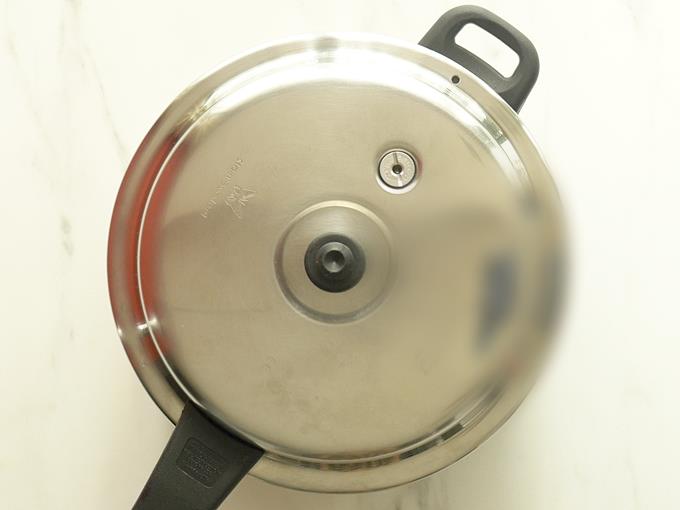 10. When the pressure drops open the lid. Dal and tomatoes have to be soft cooked. If you have kids, you can set their portion aside before mashing the chilies and tempering. I usually do it for my younger boy.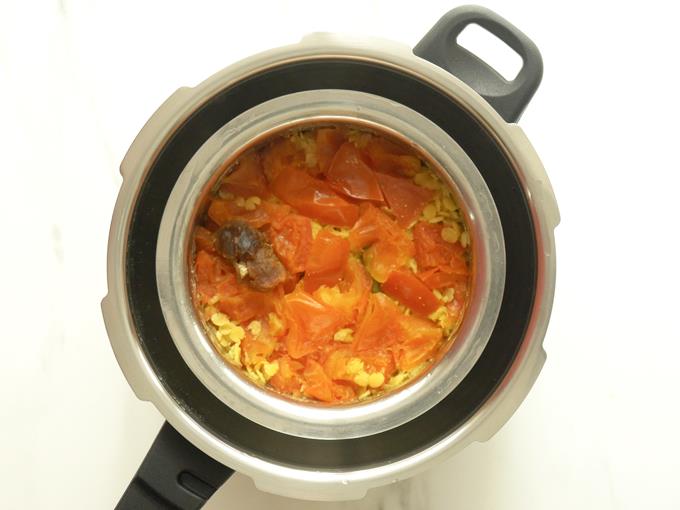 11. Mash and check the consistency. If it is too thick for your liking, pour little hot water & mix to adjust the consistency.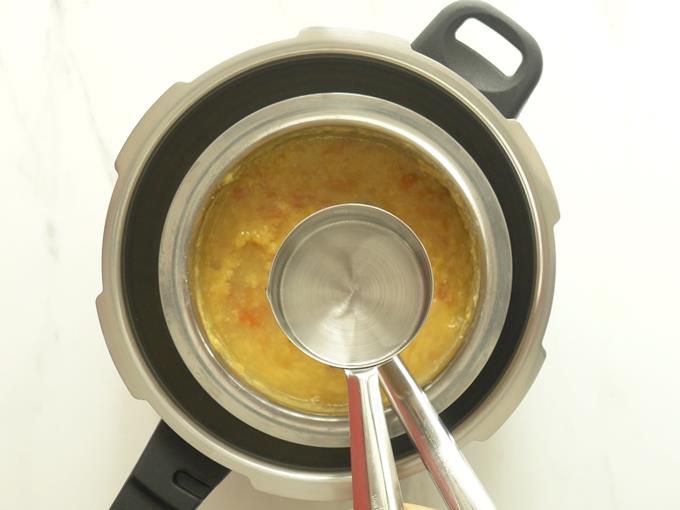 12. Add ⅓ teaspoon salt and mix. Taste test and adjust salt.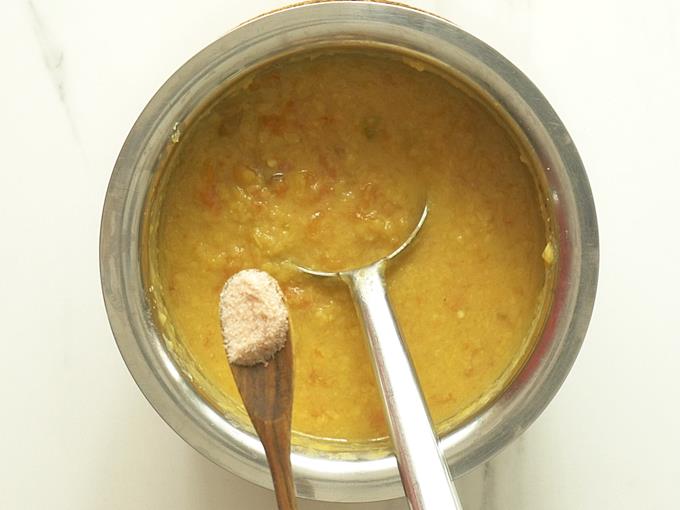 Temper Tomato Dal
13. Poppu or Tempering can be done in 2 ways. First method is to temper in a small pan and pour it to the cooked dal. The second method is to pour the entire cooked dal to the tempering pan. This method doubles the taste and flavor of tomato pappu.
Heat 1 tablespoon ghee or oil in a pan. Add ¼ teaspoon mustard, ¼ teaspoon cumin seeds and 1 dried red chili (broken).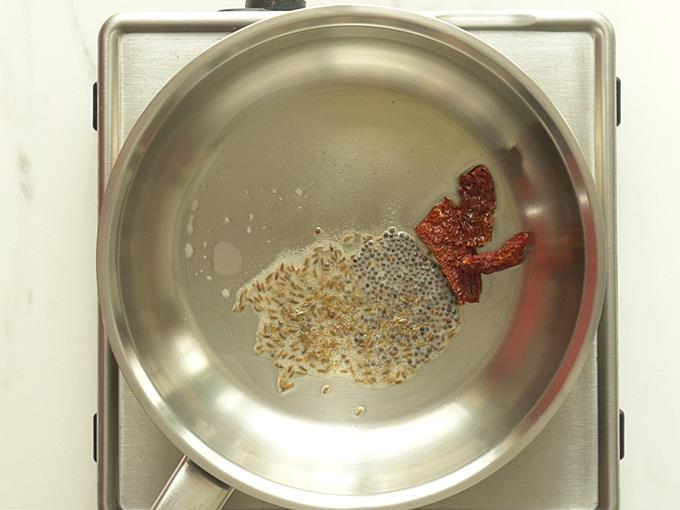 14. When they begin to splutter, lower the heat if needed. Add garlic and curry leaves.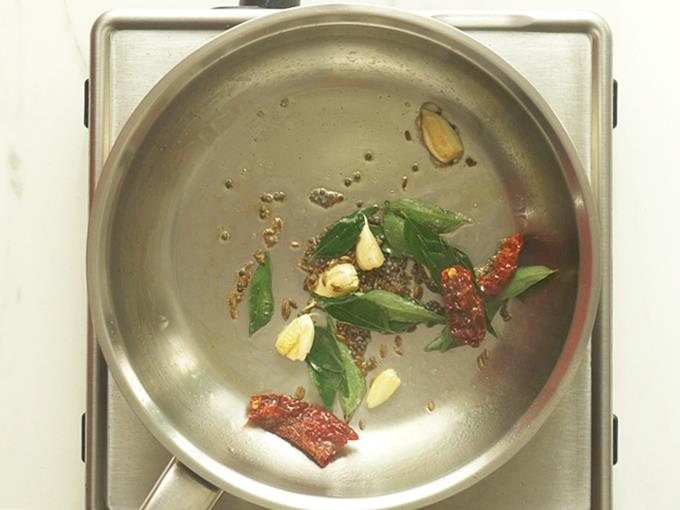 15. When they turn crisp, add ½ tsp red chili powder. Skip the red chilli powder at this step or use little if you have already added to the lentils while pressure cooking.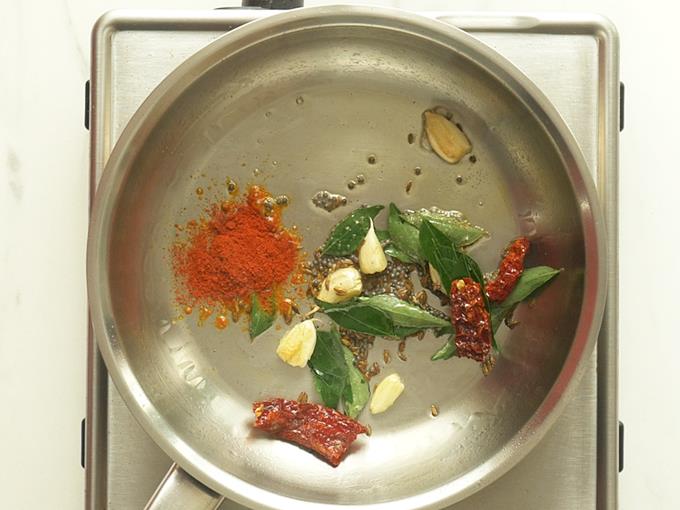 16. Quickly mix it with ghee.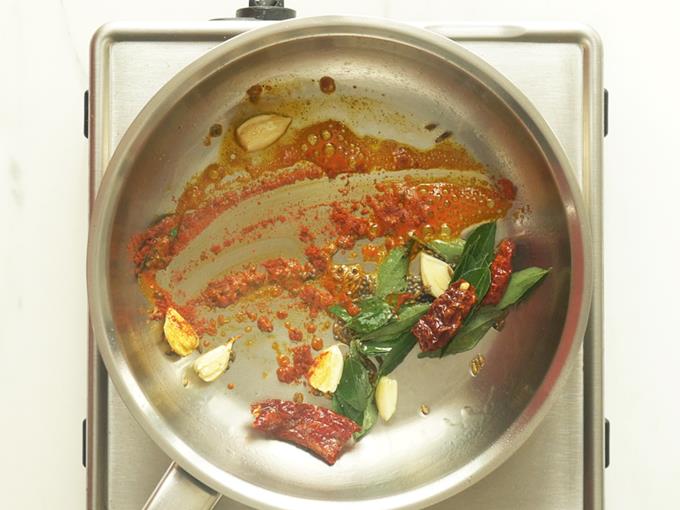 17. Pour the tomato dal to the pan.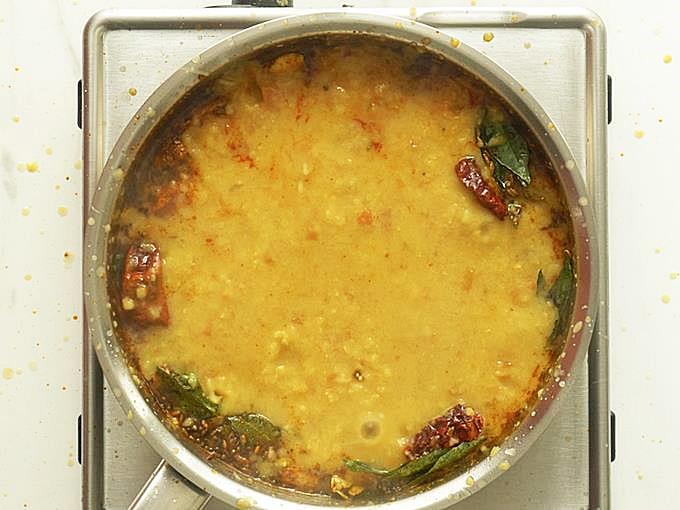 18. Turn off the stove and mix well. If you cook longer at this stage the dal begins to splatter.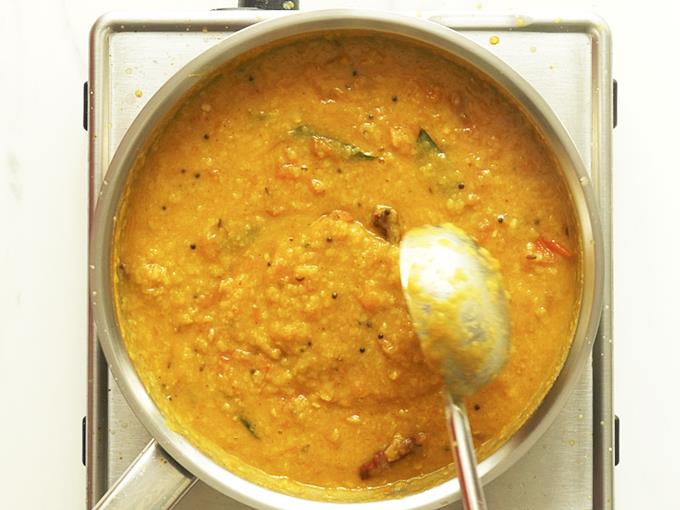 Serve tomato pappu with rice, avakaya and ghee.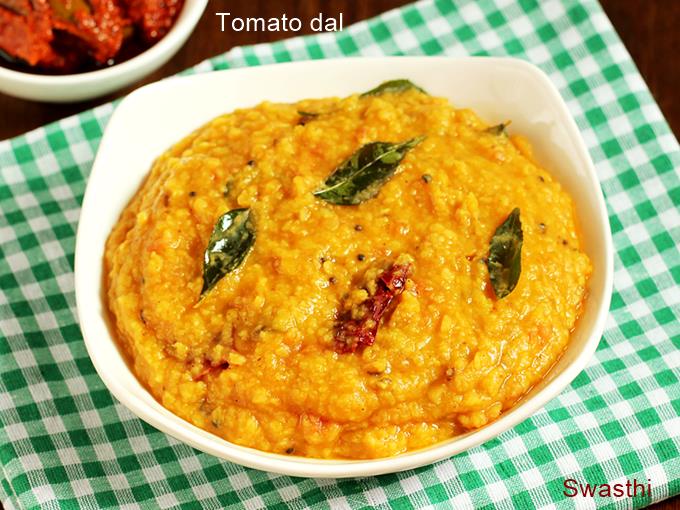 Pro Tips
1. I have not used onions as we don't like the pressure cooked flavor of onions in pappu. If you like to use add about 2 to 3 tbsp chopped onions.
2. Red chili powder is usually added to the pressure cooker along with tomatoes. Again it is personal choice, I prefer to add it to the tempering.
3. If making for toddlers or young kids, then set aside their portion after pressure cooking (before tempering with chilli). Just add ghee, salt and pepper to their portion.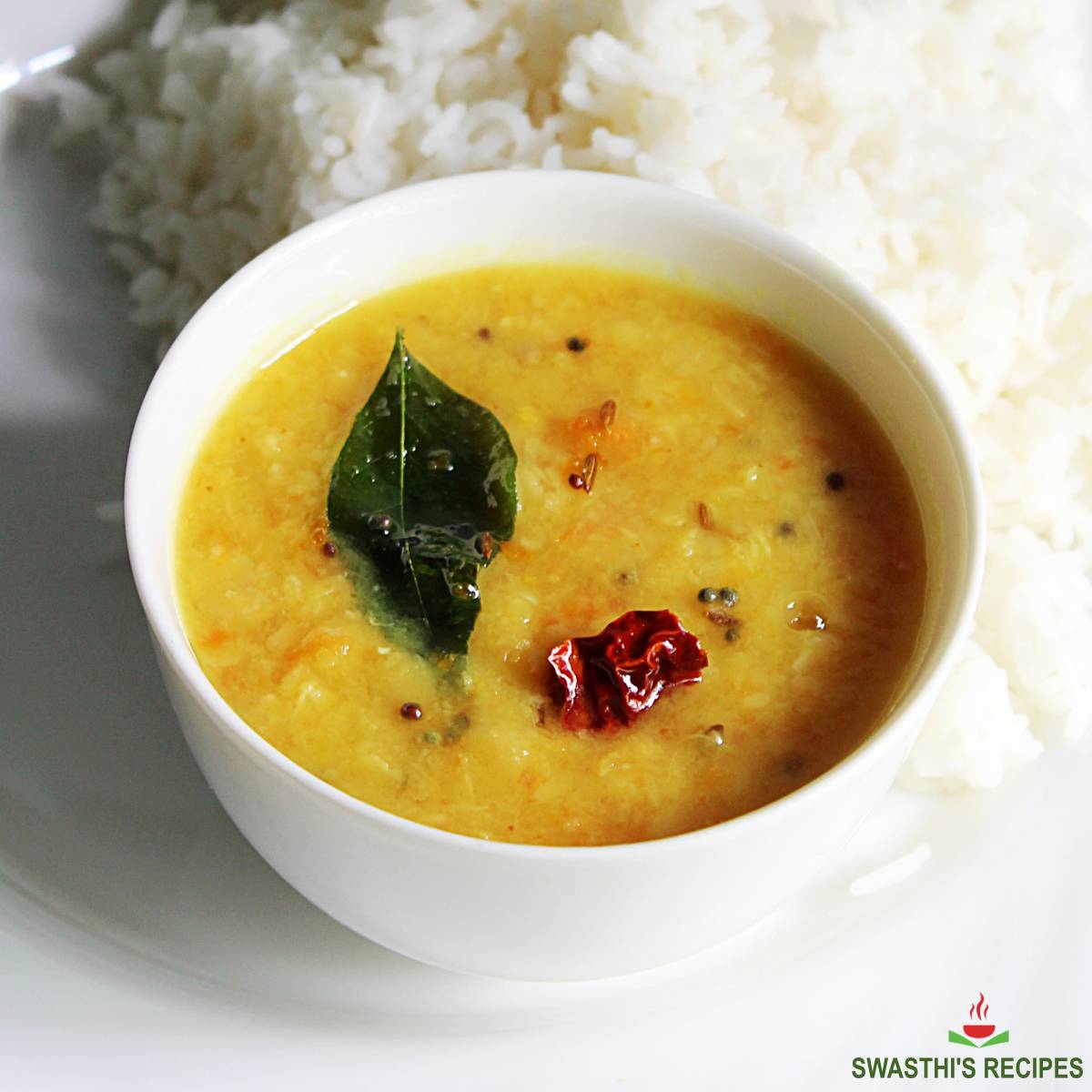 Related Recipes
Recipe Card
How to make Tomato Pappu in Pressure cooker
Cook Tomato Pappu in a Pot without cooker
Alternative quantities provided in the recipe card are for 1x only, original recipe.
For best results follow my detailed step-by-step photo instructions and tips above the recipe card.
Nutrition Facts
Tomato Pappu Recipe (Andhra Tomato Dal)
Amount Per Serving
Calories 306
Calories from Fat 108
% Daily Value*
Fat 12g18%
Saturated Fat 7g44%
Cholesterol 28mg9%
Sodium 32mg1%
Potassium 832mg24%
Carbohydrates 39g13%
Fiber 8g33%
Sugar 5g6%
Protein 12g24%
Vitamin A 450IU9%
Vitamin C 52.3mg63%
Calcium 72mg7%
Iron 3.4mg19%
* Percent Daily Values are based on a 2000 calorie diet.
Tomato Pappu Recipe first published in September 2014. Updated & republished in Jan 2023.